Fortinet FortiMail 200F

Comprehensive Messaging Security

Fortinet FortiMail 200F Series
FortiMail-200F
Email Security Appliance - 4 x 10/100/1000 ports, 1 x 1TB HDD
#FML-200F
List Price:
$3,999.00
Our Price: $2,947.66
FortiMail-200F 24x7 FortiCare and FortiGuard Base Bundle
FortiMail-200F Hardware plus 1 Year 24x7 FortiCare and FortiGuard Base Bundle
#FML-200F-BDL-640-12
List Price:
$5,998.50
Our Price: $4,421.49
FortiMail-200F Hardware plus 3 Year 24x7 FortiCare and FortiGuard Base Bundle
#FML-200F-BDL-640-36
List Price:
$9,997.50
Our Price: $7,369.16
FortiMail-200F Hardware plus 5 Year 24x7 FortiCare and FortiGuard Base Bundle
#FML-200F-BDL-640-60
List Price:
$13,996.50
Our Price: $10,316.82
FortiMail-200F 24x7 FortiCare and FortiGuard Enterprise ATP Bundle
FortiMail-200F Hardware plus 1 Year 24x7 FortiCare and FortiGuard Enterprise ATP Bundle
#FML-200F-BDL-641-12
List Price:
$7,198.20
Our Price: $5,305.79
FortiMail-200F Hardware plus 3 Year 24x7 FortiCare and FortiGuard Enterprise ATP Bundle
#FML-200F-BDL-641-36
List Price:
$13,596.60
Our Price: $10,022.05
FortiMail-200F Hardware plus 5 Year 24x7 FortiCare and FortiGuard Enterprise ATP Bundle
#FML-200F-BDL-641-60
List Price:
$19,995.00
Our Price: $14,738.31
Click here to jump to more pricing!

Overview:
FortiMail is a top-rated secure email gateway that stops volume-based and targeted cyber threats to help secure the dynamic enterprise attack surface, prevents the loss of sensitive data and helps maintain compliance with regulations. High performance physical and virtual appliances deploy on-site or in the public cloud to serve any size organization — from small businesses to carriers, service providers, and large enterprises.
Threat Prevention
Powerful antispam and antimalware, are complemented by advanced techniques like outbreak protection, content disarm and reconstruction, sandbox analysis, impersonation detection and other technologies to stop unwanted bulkemail, ransomware, business email compromise and targeted attacks.
Data Protection
Robust data loss prevention, identitybased email encryption and archiving help prevent the inadvertent loss of sensitive information and maintain compliance with corporate and industry regulations.
Security Fabric Integration
Integrations with Fortinet products as well as third-party components help customers adopt a proactive approach to security by sharing IoCs across a seamless Security Fabric.
Features & Benefits:
Multi-layered Antispam
More than a dozen sender, protocol and content inspection techniques shields networks and users from unwanted bulk email. It starts with assessing IP, domain and other reputations and continues with various validation methods such as bounce, authentication and recipient verification as well as DMARC, SPF and DKIM checks. Finally, message structure and content are analyzed based on digital signature, keywords in context, image analysis, embedded URIs and more advanced techniques such as behavior analysis and spam outbreak protection. Working together, these techniques consistently identify and block 99.98% of spam in real-world conditions.
Integrated Data Protection
A robust set of capabilities for data loss prevention, email encryption and email archiving safely deliver sensitive emails protect against the inadvertent loss of data. These features facilitate compliance with corporate policies and industry regulations.
Intuitive Email Management
Real-time dashboards, rich reporting, central quarantines and end user controls along with full MTA and mail handling capabilities provide organizations full visibility and easy control over email traffic.
Powerful Antimalware
Combining multiple static with dynamic technologies which include signature, heuristic and behavioral techniques along with optional virus outbreak prevention, FortiMail protects against a wide range of constantly evolving threats.
Advanced Threat Protection
For an even stronger defense against the very latest threat classes like business email compromise and targeted attacks, FortiMail offers optional content disarm and reconstruction, sandbox analysis, sophisticated spoof detection and more.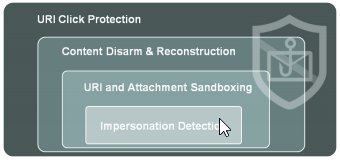 High Performance, Flexible Deployment
Easily scaling to handle more than 1.5m messages per hour with full antispam and antimalware filtering, FortiMail serves organizations of all sizes, with the option to deploy in gateway, transparent or server modes.

FEATURES SUMMARY
SYSTEM
Wide range of deployment options:
– Transparent, Gateway and Server Mode
– On-prem or public or private cloud deployment
– Cloud-Managed Service
Inbound and Outbound Inspection
Support for multiple email domains with per-domain customization:
– MSSP multi tenant support with white label support
– Multi-tier administration
IPv4 and IPv6 Address Support
Virtual Hosting using Source and/or Destination IP Address Pools
SMTP Authentication Support via LDAP, RADIUS, POP3 and IMAP
LDAP-Based Email Routing
Per User Inspection using LDAP Attributes on a Per Policy (Domain) Basis
Comprehensive Webmail Interface for Server Mode Deployments and Quarantine Management
Mail Queue Management
Multiple Language Support for Webmail and Admin Interface
SMTP RFC Compliance
Modern HTML 5 GUI
Independently tested by VBSpam, NSS, ICSA, SELabs
Compatibility with cloud services e.g. Office365, Google G-Suite
ANTISPAM
FortiGuard antispam service
– Global sender reputation
– Spam object checksums
– Dynamic Heuristic Rules
Real-time FortiGuard spam outbreak protection
Full FortiGuard URL Category Filtering includes:
– Spam, malware and phishing URLs
– Newly registered domains
Business Email Compromise (BEC):
– Multi-level Anti-spoof protection
– Impersonation analysis
Greylisting for IPv4, IPv6 addresses and email accounts
Local sender reputation (IPv4, IPv6 and End Point ID-based)
Behavioral analysis
Deep email header inspection
Integration with third-party spam URI and real-time blacklists (SURBL/RBL)
Newsletter (greymail) and suspicious newsletter detection
Block/safe lists at global, domain, and user levels
Support for enterprise sender identity standards:
– Sender Policy Framework (SPF)
– Domain Keys Identified Mail (DKIM)
– Domain-Based Message Authentication (DMARC)
Flexible action and notification profiles
Multiple system and per-user self-service quarantines
ANTIMALWARE
FortiGuard Antivirus detection:
– CPRL signature checking
– Heuristic based behavioral detection
– Greyware detection
FortiGuard Virus Outbreak protection:
– Global threat intelligence and data analytics
Active content detection (PDF & Office Documents
Rescan for threats on quarantine release
Custom file hash checking
TARGETED ATTACK PROTECTION
Content Disarm and Neutralization:
– Neutralize Office and PDF documents (remove macros, active content, attachments and more)
– Neutralize email HTML content
– Remove URL hyperlinking
– Rewrite URLs
URL Click Protect to rewrite URLs and rescan on access
Impersonation analysis — manual and automatic address impersonation detection
Cloud and On-premise sandbox integration supporting file and URL analysis.
CONTENT DETECTION
Mime and file type detection
Comprehensive data-loss prevention with file fingerprinting and sensitive data detection:
– Automatic Windows fileshare and manual upload file fingerprinting
– Heathcare, Finance, personally identifiable information and profanity detection
Automatic decryption of Archives, PDF and Office Documents using built-in and administrator-defined password lists and word detection within email body
PDF Scanning and image analysis
Dynamic Adult Image Analysis Service:
– Identify and report or block the transmission of adult content
MANAGEMENT, LOGGING, AND REPORTING
Basic/advanced management modes
Per domain, role-based administration accounts
Comprehensive activity, configurations change and incident logging and reporting
Built-in reporting module
Centralized quarantine for large scale deployments
Optional centralized logging and reporting with FortiAnalyzer
SNMP support using standard and private MIB with threshold-based traps
Local or external storage server support, including iSCSI devices
External Syslog support
Open REST API for configuration and management
HIGH AVAILABILITY (HA)
High availability supported in all deployment scenarios:
– Active-Passive mode
– Active-Active configuration synchronization mode
Quarantine and mail queue synchronization
Device failure detection and notification
Link status, failover and redundant interface support
ADVANCED
Policy-based e-mail archiving with remote storage options:
– Support for Exchange journal archiving
Comprehensive encryption support:
– Server to server TLS
– Clientless Identity-based Encryption
– S/MIME
Advanced Email Server feature set including:
– Comprehensive webmail interface
– POP3(S), IMAP(S) mail access
– Calendaring functions
– Undo Send
SAML 2.0 SSO and ADFS integration for webmail and quarantine access Advanced MSSP feature set:
– System wide rebranding
– Multi-tenancy and mass provisioning
– Delegated tiered administration and role-based control
SUPPORT
Simple support options with inclusive bundles
Advanced RMA Support
Professional services and installation support options
Deployment Options:
Choose from three modes of deployment — Transparent, Gateway, or Server mode – to meet your specific email security requirements, while minimizing infrastructure changes and service disruptions:
Gateway Mode: Provides inbound and outbound proxy mail transfer agent (MTA) services for existing email gateways. A simple DNS MX record change redirects email to FortiMail for antispam and antivirus scanning. The FortiMail device receives messages, scans for viruses and spam, then relays email to its destination email server for delivery.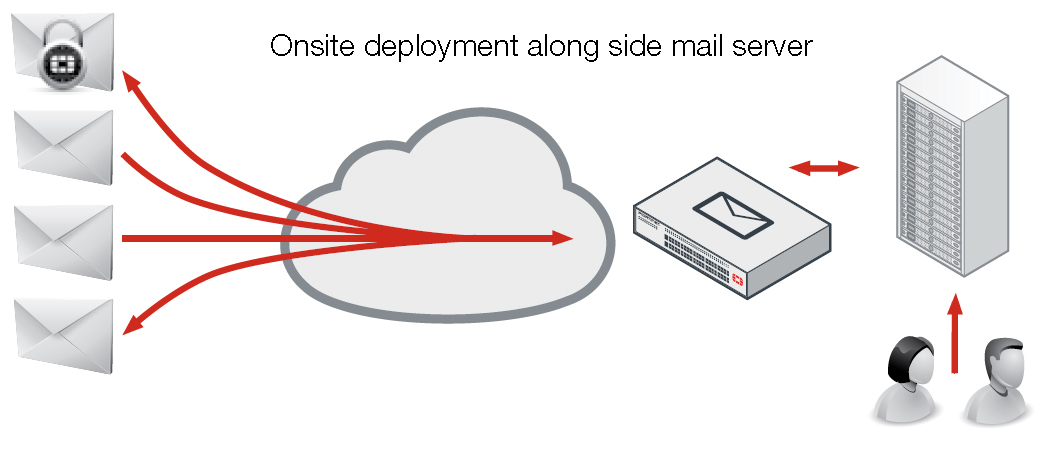 Transparent Mode: Each network interface includes a proxy that receives and relays email. Each proxy can intercept SMTP sessions even though the destination IP address is not the FortiMail appliance. FortiMail scans for viruses and spam, then transmits email to the destination email server for delivery. This eliminates the need to change the DNS MX record, or to change the existing email server network configuration.
Server Mode: The FortiMail device acts as a stand-alone messaging server with full SMTP email server functionality, including flexible support for secure POP3, IMAP and WebMail access. FortiMail scans email for viruses and spam before delivery. As in Server mode, external MTAs connect to FortiMail, allowing it to function as a protected server.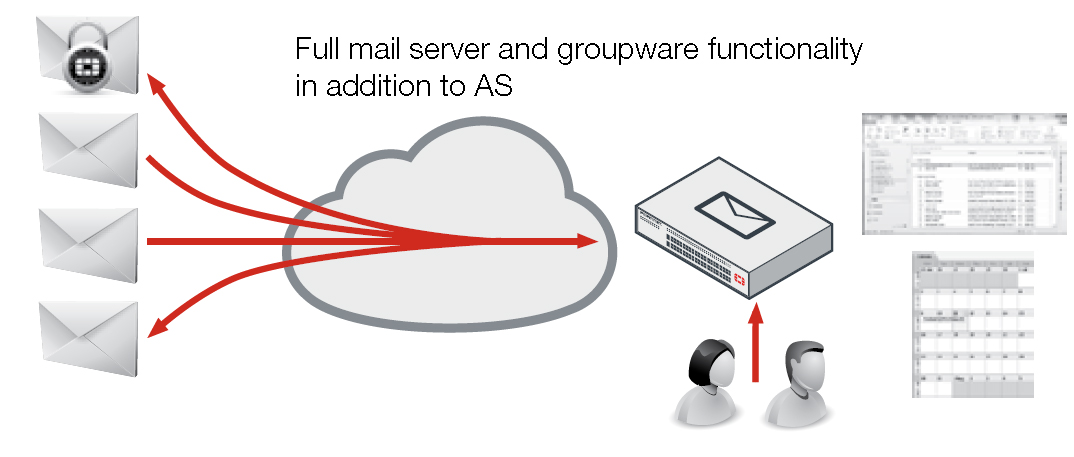 Identity-Based Encryption (IBE) IBE allows FortiMail to deliver confidential and regulated email securely — without requiring additional hardware, software user provisioning, or extra license fees. Use IBE to eliminate paper-based communications and reduce costs.
Policy-Based Encryption: Automatically encrypt messages for compliance, based on content or recipient.
Push or Pull Mode: Use Push, Pull, or a combination of modes to meet your requirements.
Easy to Deploy, Use, and Manage: Deploy IBE in any mode, including Transparent mode, without user provisioning or additional hardware or software.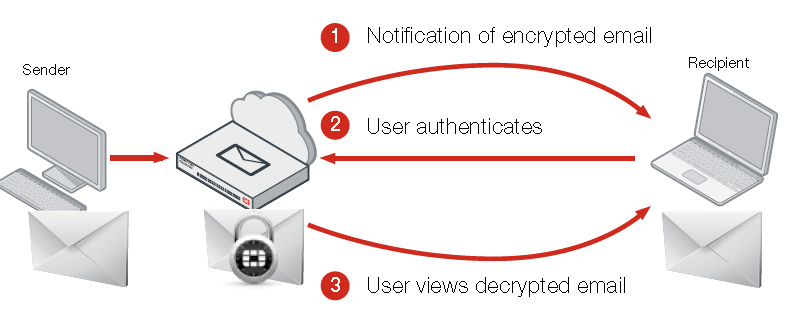 Specifications:
FortiMail 200F
FortiMail 400F
FortiMail 900E
Recommended Deployment Scenarios
Small businesses, branch offices, and organizations
Small to midsized organizations
Mid to large enterprise, education and government deparments
Hardware Specifications
10/100/1000 Interfaces (Copper, RJ45)
4
4
4
SFP Gigabit Ethernet Interface
0
0
2
SFP+ 10 Gigabit Ethernet Interface
0
0
0
Redundant Hot Swappable Power Supplies
No
No
Yes
Storage
1x 1TB
2x 1 TB
2x 2 TB
(2x 2 TB Optional)
RAID Storage Management
No
Software: 0, 1
Hardware: 0, 1, 5, 10, Hot Spare (Based on Drive Count)
Form Factor
1U
1U
1U
Power Supply
Single
Single (Dual Optional)
Dual
Hardware Specifications
Protected Email Domains
20
100
800
Recipient-based Policies (per Domain / per System)
— Incoming or Outgoing
60 / 300
400 / 1,500
800 / 3,000
Server Mode Mailboxes
150
400
1,500
Antispam, Antivirus, Authentication, and Content Profiles (per Domain / per System)
50 / 60
50 / 200
50 / 400
Performance (Messages/Hour) [Without queuing based on 100 KB message size]
Email Routing (per hour)
50 K
250 K
800 K
FortiGuard Antispam + Virus Outbreak (per hour)
40 K
200 K
500 K
FortiGuard Enterprise ATP (per hour)
30 K
150 K
400 K
Dimensions
Height x Width x Length (inches)
1.73 x 17.24 x 16.61
1.73 x 17.24 x 16.38
1.75 x 17.00 x 27.61
Height x Width x Length (mm)
44 x 438 x 422
44 x 438 x 416
44 x 438 x 701
Weight
11.9 lbs (5.4 kg)
25.0 lbs (11.0kg)
33.1 lbs (15.00 kg)
Environment
Power Source
100–240V AC, 50–60 Hz
100–240V AC, 50–60 Hz
100–240V AC, 50–60 Hz
Maximum Current
100V / 3A, 240V / 1.5A
100V / 5A, 240V / 3A
100V / 5A, 240V / 2.5A
Maximum Power Required
62 W
113 W
190 W
Power Consumption (Average)
51 W
77 W
174 W
Heat Dissipation
245 BTU/h
418 BTU/h
681 BTU/h
Humidity
5–90% non-condensing
5–90% non-condensing
5–90% non-condensing
Operating Temperature
32–104°F (0–40°C
32–104°F (0–40°C
32–104°F (0–40°C
Storage Temperature
-4–158°F (-20–70°C)
-4–158°F (-20–70°C)
-4–158°F (-20–70°C)
Compliance
FCC Part 15 Class A, C-Tick, VCCI, CE, UL/cUL, CB, RoHS
FCC Part 15 Class A, C-Tick, VCCI, CE, UL/cUL, CB, BSMI, RoHS
FCC Part 15 Class A, C-Tick, VCCI, CE, UL/cUL, CB, BSMI, RoHS
Certification
VBSpam and VB100 rated, Common Criteria NDPP, FIPS 140-2 Compliant
VBSpam and VB100 rated, Common Criteria NDPP, FIPS 140-2 Compliant
VBSpam and VB100 rated, Common Criteria NDPP, FIPS 140-2 Compliant
Pricing Notes:
FortiCare/FortiGuard Continuous Service Policy: Fortinet designed FortiCare support and FortiGuard subscriptions to be continuous. When a customer does not renew by the expiration date, then a lapse in the service period occurs. Lapses in service will now require coverage back to contract expiration date in order to maintain continuous service coverage. The maximum back coverage is limited to six months. In other words, if the coverage has lapsed for more than six months, then out of a one-year contract, six months will be used to cover the lapse in service and then the remaining service time will be used to provide continuing service. The difference between the new start date and end date will not be greater than the service period purchased.
Pricing and product availability subject to change without notice.
All Hardware pricing includes 365 days Support coverage for Hardware, and 90 days for Firmware Updates & Email/Web Technical Assistance.
Fortinet FortiMail 200F Series
FortiMail-200F
Email Security Appliance - 4 x 10/100/1000 ports, 1 x 1TB HDD
#FML-200F
List Price:
$3,999.00
Our Price: $2,947.66
FortiMail-200F 24x7 FortiCare and FortiGuard Base Bundle
FortiMail-200F Hardware plus 1 Year 24x7 FortiCare and FortiGuard Base Bundle
#FML-200F-BDL-640-12
List Price:
$5,998.50
Our Price: $4,421.49
FortiMail-200F Hardware plus 3 Year 24x7 FortiCare and FortiGuard Base Bundle
#FML-200F-BDL-640-36
List Price:
$9,997.50
Our Price: $7,369.16
FortiMail-200F Hardware plus 5 Year 24x7 FortiCare and FortiGuard Base Bundle
#FML-200F-BDL-640-60
List Price:
$13,996.50
Our Price: $10,316.82
FortiMail-200F 24x7 FortiCare and FortiGuard Enterprise ATP Bundle
FortiMail-200F Hardware plus 1 Year 24x7 FortiCare and FortiGuard Enterprise ATP Bundle
#FML-200F-BDL-641-12
List Price:
$7,198.20
Our Price: $5,305.79
FortiMail-200F Hardware plus 3 Year 24x7 FortiCare and FortiGuard Enterprise ATP Bundle
#FML-200F-BDL-641-36
List Price:
$13,596.60
Our Price: $10,022.05
FortiMail-200F Hardware plus 5 Year 24x7 FortiCare and FortiGuard Enterprise ATP Bundle
#FML-200F-BDL-641-60
List Price:
$19,995.00
Our Price: $14,738.31
FortiMail-200F 24x7 FortiCare and FortiGuard Base Bundle Contract
FortiMail-200F 1 Year 24x7 FortiCare and FortiGuard Base Bundle Contract
#FC-10-FE2HF-640-02-12
List Price:
$1,999.50
Our Price: $1,731.17
FortiMail-200F 3 Year 24x7 FortiCare and FortiGuard Base Bundle Contract
#FC-10-FE2HF-640-02-36
List Price:
$5,998.50
Our Price: $5,193.50
FortiMail-200F 5 Year 24x7 FortiCare and FortiGuard Base Bundle Contract
#FC-10-FE2HF-640-02-60
List Price:
$9,997.50
Our Price: $8,655.84
FortiMail-200F 24x7 FortiCare and FortiGuard Enterprise ATP Bundle Contract
FortiMail-200F 1 Year 24x7 FortiCare and FortiGuard Enterprise ATP Bundle Contract
#FC-10-FE2HF-641-02-12
List Price:
$3,199.20
Our Price: $2,769.87
FortiMail-200F 3 Year 24x7 FortiCare and FortiGuard Enterprise ATP Bundle Contract
#FC-10-FE2HF-641-02-36
List Price:
$9,597.60
Our Price: $8,309.60
FortiMail-200F 5 Year 24x7 FortiCare and FortiGuard Enterprise ATP Bundle Contract
#FC-10-FE2HF-641-02-60
List Price:
$15,996.00
Our Price: $13,849.34
FortiMail-200F FortiSandbox Cloud Service
FortiMail-200F 1 Year FortiSandbox Cloud Service
#FC-10-FE2HF-123-02-12
List Price:
$799.80
Our Price: $692.47
FortiMail-200F FortiGuard Virus Outbreak Protection Service
FortiMail-200F 1 Year FortiGuard Virus Outbreak Protection Service
#FC-10-FE2HF-150-02-12
List Price:
$399.90
Our Price: $346.23
FortiMail-200F Dynamic Adult Image Analysis Service
FortiMail-200F 1 Year Dynamic Adult Image Analysis Service
#FC-10-FE2HF-160-02-12
List Price:
$999.75
Our Price: $865.58
FortiMail-200F 24x7 FortiCare Contract
FortiMail-200F 1 Year 24x7 FortiCare Contract
#FC-10-FE2HF-247-02-12
List Price:
$799.80
Our Price: $692.47
FortiMail-200F 3 Year 24x7 FortiCare Contract
#FC-10-FE2HF-247-02-36
List Price:
$2,399.40
Our Price: $2,077.40
FortiMail-200F 5 Year 24x7 FortiCare Contract
#FC-10-FE2HF-247-02-60
List Price:
$3,999.00
Our Price: $3,462.33