Fortinet FortiEDR Discover, Protect and Respond - AirGap

Advanced, automated endpoint protection, detection, and response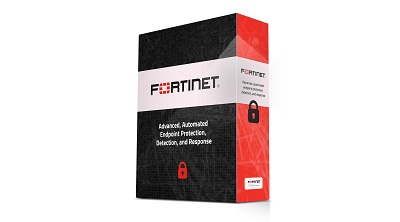 Fortinet Products
FortiEDR Discover, Protect & Respond - AirGap Subscription for 25 endpoints
Back to top
FortiEDR Discover, Protect & Respond - On-premise Internet Access Enabled Deployment (500 seats MOQ) 1 Year FortiGuard Cloud Services Internet Connected Subscription and FortiCare Premium for 25 endpoints
#FC1-10-FEDR1-352-01-12
Our Price: $2,600.00
FortiEDR Discover, Protect & Respond - On-premise Internet Access Enabled Deployment (500 seats MOQ) 2 Year FortiGuard Cloud Services Internet Connected Subscription and FortiCare Premium for 25 endpoints
#FC1-10-FEDR1-352-01-24
Our Price: $5,200.00
FortiEDR Discover, Protect & Respond - On-premise Internet Access Enabled Deployment (500 seats MOQ) 3 Year FortiGuard Cloud Services Internet Connected Subscription and FortiCare Premium for 25 endpoints
#FC1-10-FEDR1-352-01-36
Our Price: $7,800.00
FortiEDR Discover, Protect & Respond - On-premise Internet Access Enabled Deployment (500 seats MOQ) 4 Year FortiGuard Cloud Services Internet Connected Subscription and FortiCare Premium for 25 endpoints
#FC1-10-FEDR1-352-01-48
Our Price: $10,400.00
FortiEDR Discover, Protect & Respond - On-premise Internet Access Enabled Deployment (500 seats MOQ) 5 Year FortiGuard Cloud Services Internet Connected Subscription and FortiCare Premium for 25 endpoints
#FC1-10-FEDR1-352-01-60
Our Price: $13,000.00
Click here to jump to pricing!
Overview:
FortiEDR delivers real-time, automated endpoint protection with the orchestrated incident response across any communication device — including workstations and servers with current and legacy operating systems as well as manufacturing and OT systems — all in a single integrated platform, with flexible deployment options and a predictable operating cost.
Real-Time Proactive Risk Mitigation & IoT Security
Enables proactive reduction of the attack surface, including vulnerability assessment and proactive risk mitigation-based policies that enable communication controls of any discovered application with vulnerabilities.
Pre-Infection Protection
Provides the first layer of defense via a custom- built, kernel-level Next Generation machine-learning-based Anti-Virus (NGAV) engine that prevents infection from file-based malware.
Post-Infection Protection
FortiEDR is the only solution that detects and stops advanced attacks in real-time, even when the endpoint has been compromised. No breaches, no data loss, no problem. FortiEDR eliminates dwell time and provides a suite of automated Endpoint Detection and Response (EDR) features to detect, defuse, investigate, respond and remediate incidents.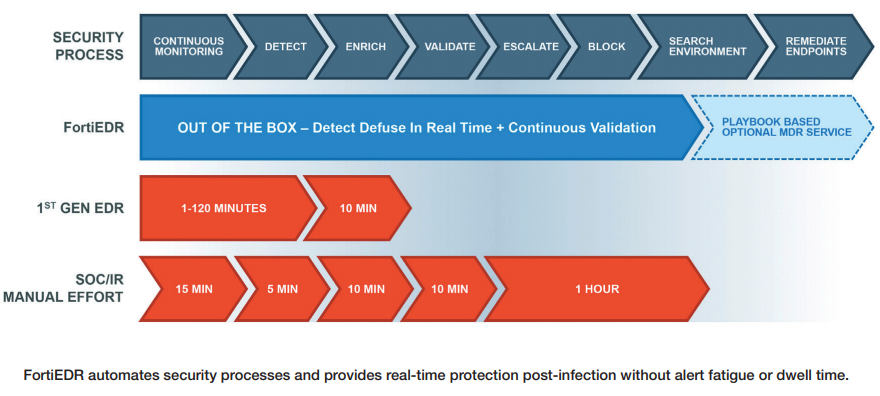 Benefits
Protection
With FortiEDR, you get proactive, real-time, automated endpoint protection with the orchestrated incident response across platforms. It stops the breach with real-time post-infection blocking to protect data from exfiltration and ransomware encryption.
Management
FortiEDR delivers a single unified console with an intuitive interface. The cloud-managed platform closes the loop and automates mundane endpoint security tasks so your people do not have to.
Scalability
With a native cloud infrastructure and a small footprint, FortiEDR can be deployed quickly and scale up to protect hundreds of thousand endpoints.
Flexibility
FortiEDR can address an array of enterprise use cases. The cloud management platform can be deployed on-premise in an airgapped environment, or on a secure cloud instance. Endpoints are protected both on- and off-line.
Cost
Eliminate post-breach operational expenses and breach damage to the organization, all for a low, predictable cost and capped TCO.
Pricing Notes:
Pricing and product availability subject to change without notice.