Fortinet FortiToken Cloud

Two-Factor Authentication Made Easy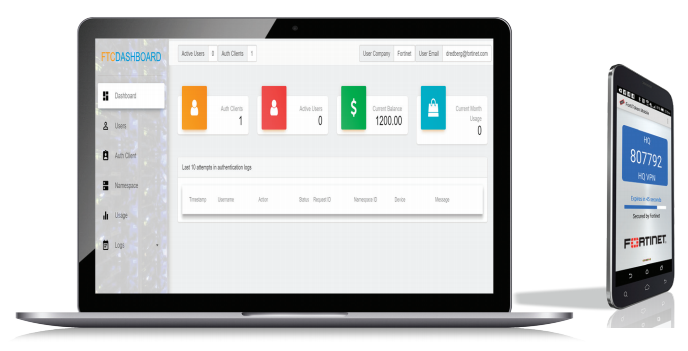 Fortinet Products
FortiToken Cloud Time-Based Subscription for up to 25 users
Back to top
FortiToken Cloud 1 Year Subscription for up to 25 users (includes 3,125 SMS credits and FortiCare Premium Support per year)
#FC1-10-TKCLD-445-01-12
Our Price: $822.00
FortiToken Cloud 2 Year Subscription for up to 25 users (includes 3,125 SMS credits and FortiCare Premium Support per year)
#FC1-10-TKCLD-445-01-24
Our Price: $1,644.00
FortiToken Cloud 3 Year Subscription for up to 25 users (includes 3,125 SMS credits and FortiCare Premium Support per year)
#FC1-10-TKCLD-445-01-36
Our Price: $2,466.00
FortiToken Cloud 5 Year Subscription for up to 25 users (includes 3,125 SMS credits and FortiCare Premium Support per year)
#FC1-10-TKCLD-445-01-60
Our Price: $4,110.00
Click here to jump to more pricing!
Overview:
With cloud management and user-friendly FortiToken Mobile Tokens included, FortiToken Cloud includes everything you need to implement two-factor in your FortiGate environment.
Many of today's most damaging security breaches have been due to compromised user accounts and passwords. Businesses of all sizes are looking to move beyond passwords alone to authenticate users. Adding a second factor to the authentication process, whether with traditional hardware, or increasingly through mobile device application, has become the new normal. In the past, implementing and managing two-factor deployments could be complex. FortiToken Cloud offers a secure, effective way to manage two-factor authentication for our FortiGate through an easy to understand, intuitive interface that can be accessed from anywhere. Best of all, our FortiToken Cloud service includes our FortiToken Mobile App with PUSH technology, simplifying the end user two-factor experience to a swipe or click to accept.

Centrally manage two-factor authentication for FortiGate
Administrators or Managed Service Providers can administer two-factor authentication for one or many FortiGate security appliances from a web interface.

Simplify administration and deployment, increase ease of use
An intuitive web interface and FortiToken Mobile Tokens included, FortiToken Cloud Service reduces licensing and deployment complexity.

No additional hardware or software required
Designed for FortiGate, FortiToken Cloud Service requires no changes in security policies or ACLs.

Quickly react to increased demand
With daily usage reports and email notifications of low balance, you are always aware of the health of your deployment. Stackable subscriptions make expanding your deployment easy.
Highlights: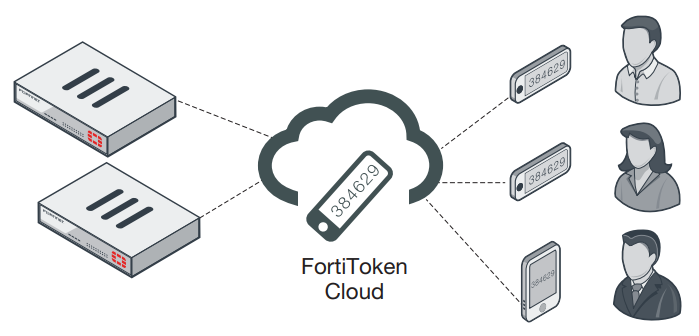 Simple to Deploy and Manage
As the second factor, FortiToken Cloud works with the FortiGate and does not interfere with the initial user name and password login process. There is no additional hardware or software required. It is easily configured in the FortiGate and does not require you to add or change existing security policies.
From the intuitive dashboard you are able to quickly asses the number of active users, your overall usage, and the number of points remaining. The system will alert you if your point balance reaches a low threshold to prevent any interruption of service. Logs capture key information about both active and previous sessions.
Scalable
Administrators are able to manage multi-factor deployments from anywhere there is an internet connection. As a Fortinet hosted service, FortiToken Cloud combines the high availability and performance necessary for the most demanding enterprises. The FortiToken Cloud interface supports the segmentation necessary for Managed Service Providers to create two-factor authentication offerings for their customers. Users and FortiGate appliances can be spread across the world or in the same data center and be part of the same managed group.
FortiToken Mobile
The mobile application has revolutionized two-factor authentication. Now with almost any mobile device (iPhone, Andriod, Windows Mobile and Windows Universal Platform) your end users can download and utilize FortiToken Mobile. Offering superior ease of use and without additional hardware other than their mobile device, users now can utilize two-factor with just the swipe or click of a finger to accept the secure token.
Pricing
FortiToken Cloud is a Subscription Service available through the purchase of points. One point equates to one FortiToken Cloud user for one month. Sold in increments of 120 points, FortiToken Cloud can easily expand as your needs change.
Features:
Highly Available Secure Managed Service

Hosted in Fortinet Data Center
24/7 monitoring

Two-Factor Authentication service specifically for FortiGate

Protect local and remote FortiGate admin, firewall and VPN users
Integration with FortiGate out of the box
No additional hardware or software to purchase, install and maintain
Add users directly from FortiGate

FortiToken Mobile Push

Login details pushed to phone for one-tap approval
View login details and approve or deny with one tap
Available on iPhone and Android platforms
Simple app install and activation

FortiToken Mobile Token codes

One-time token codes generated by mobile application
Support for iPhone, Android, Windows Universal Platform, Windows platforms
Operates without cell service or WiFi connection
Pricing Notes:
Pricing and product availability subject to change without notice.