Fortinet FortiAP S422E

Outdoor 802.11ac Wave 2 Access Point with Dual 2.4 GHz and 5 GHz Radios with a Variety of External Antenna Options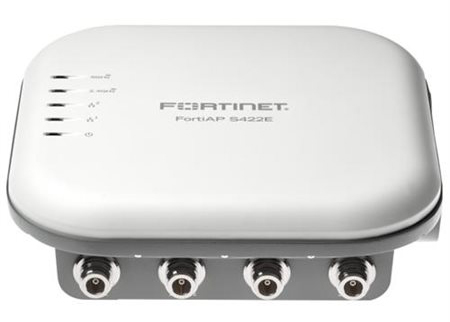 Sorry, this product is no longer available. Please contact us for a replacement.
Click here to jump to more pricing!
Overview:
The FAP-422E is our high-density 802.11ac Wave 2 outdoor access point. This enterprise class access point is ideal for large high-density outdoor environments such as an outside office building or recreation area. It supports MU-MiMO giving excellent performance throughput and the ability to support 3 simultaneous devices.
The FortiAP-S series are cloud-managed access points designed for deployment in SMBs and distributed enterprise remote sites. Managed through the free FortiCloud provisioning and management portal, they eliminate the CAPEX and complexity of deploying WLAN controllers and management servers. Two models come with 3x3 internal antennas, and two are equipped with connectors for use with external directional or panel antennas.
Cloud WiFi with Comprehensive Threat Protection
Unlike any other access points on the market, they are equipped with extra memory and a powerful dual-core processor, which enable them to perform real-time security processing on the AP itself, providing complete protection against all manner of WiFi and cyber-threats at the network edge. With Fortinet's award winning security technology embedded in the AP, the FortiAP-S series provides the most compact solution for complete content and application security in a Cloud WiFi architecture. This has significant implications for ease-of-deployment, operational efficiency and total cost of ownership.
Highlights
Industry's most compact solution for WiFi access with layer 7 security
Provisioned and managed remotely from the cloud through FortiCloud
No recurring per AP licenses for full-featured cloud-management
No hidden feature licenses for enterprise-grade WiFi capabilities
Layer 7 application control to optimize bandwidth utilization
Rogue AP detection and mitigation to satisfy PCI DSS compliance
Latest 802.11ac technology with association rate of up to 1.3 Gbps
Key Features & Benefits
Benefits of Cloud Management Without Sacrificing Security
Combines the low CAPEX and convenience of cloud management, with cloudprovided threat protection, delivered through regular FortiGuard updates.
Advanced Security Protection Embedded in the AP
On-board IPS, antivirus scanning, web-filtering and application control, protects all users and devices from the latest security threats.
Integrated WIDS and Rogue AP Suppression
Protects the network from advanced wireless threats to satisfy PCI DSS compliance. PCI-DSS compliance reports available through FortiCloud.
Pricing Notes:
FortiCare Premium Support
FortiCare Premium Ticket Handling, Advanced Hardware Replacement (NBD), Firmware and General Upgrades
FortiCare Elite Support
FortiCare Premium Support with FortiCare Elite Ticket Handling.
Prices are for one year of Premium RMA support. Usual discounts can be applied.
Annual contracts only. No multi-year SKUs are available for these services.
Contact Fortinet Renewals team for upgrade quotations for existing FortiCare contracts.
Pricing and product availability subject to change without notice.
Fortinet Products
Fortinet 24x7 FortiCare Contract
FortiAP-S422E 1 Year FortiCare Premium Support
#FC-10-PS422-247-02-12
List Price:
$264.00
Our Price: $228.57
Accessories
Spare / Replacement antenna set for FAP-U422EV and FAP-S422E. 8 antennas per pack including 4*2.4GHz 5dBi Omni N-TYPE and 4* 5GHz 7dBi Omni N-TYPE.
#FAP-400-ANT-01
List Price:
$260.00
Our Price: $234.00