Fortinet FortiAP S422E

Outdoor 802.11ac Wave 2 Access Point with Dual 2.4 GHz and 5 GHz Radios with a Variety of External Antenna Options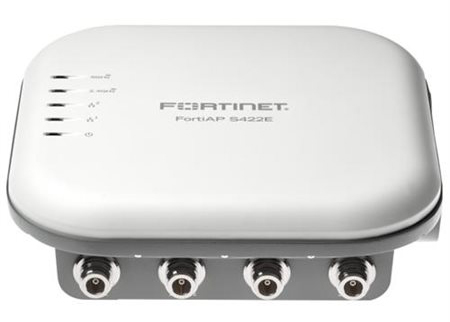 Sorry, this product is no longer available. Please contact us for a replacement.
Click here to jump to more pricing!
Overview:
The FAP-422E is our high-density 802.11ac Wave 2 outdoor access point. This enterprise class access point is ideal for large high-density outdoor environments such as an outside office building or recreation area. It supports MU-MiMO giving excellent performance throughput and the ability to support 3 simultaneous devices.
The FortiAP-S series are cloud-managed access points designed for deployment in SMBs and distributed enterprise remote sites. Managed through the free FortiCloud provisioning and management portal, they eliminate the CAPEX and complexity of deploying WLAN controllers and management servers. Two models come with 3x3 internal antennas, and two are equipped with connectors for use with external directional or panel antennas.
Cloud WiFi with Comprehensive Threat Protection
Unlike any other access points on the market, they are equipped with extra memory and a powerful dual-core processor, which enable them to perform real-time security processing on the AP itself, providing complete protection against all manner of WiFi and cyber-threats at the network edge. With Fortinet's award winning security technology embedded in the AP, the FortiAP-S series provides the most compact solution for complete content and application security in a Cloud WiFi architecture. This has significant implications for ease-of-deployment, operational efficiency and total cost of ownership.
Highlights
Industry's most compact solution for WiFi access with layer 7 security
Provisioned and managed remotely from the cloud through FortiCloud
No recurring per AP licenses for full-featured cloud-management
No hidden feature licenses for enterprise-grade WiFi capabilities
Layer 7 application control to optimize bandwidth utilization
Rogue AP detection and mitigation to satisfy PCI DSS compliance
Latest 802.11ac technology with association rate of up to 1.3 Gbps
Key Features & Benefits
Benefits of Cloud Management Without Sacrificing Security
Combines the low CAPEX and convenience of cloud management, with cloudprovided threat protection, delivered through regular FortiGuard updates.
Advanced Security Protection Embedded in the AP
On-board IPS, antivirus scanning, web-filtering and application control, protects all users and devices from the latest security threats.
Integrated WIDS and Rogue AP Suppression
Protects the network from advanced wireless threats to satisfy PCI DSS compliance. PCI-DSS compliance reports available through FortiCloud.
Deployment:
Cloud-managed and FortiGate-managed FAP-S series at remote sites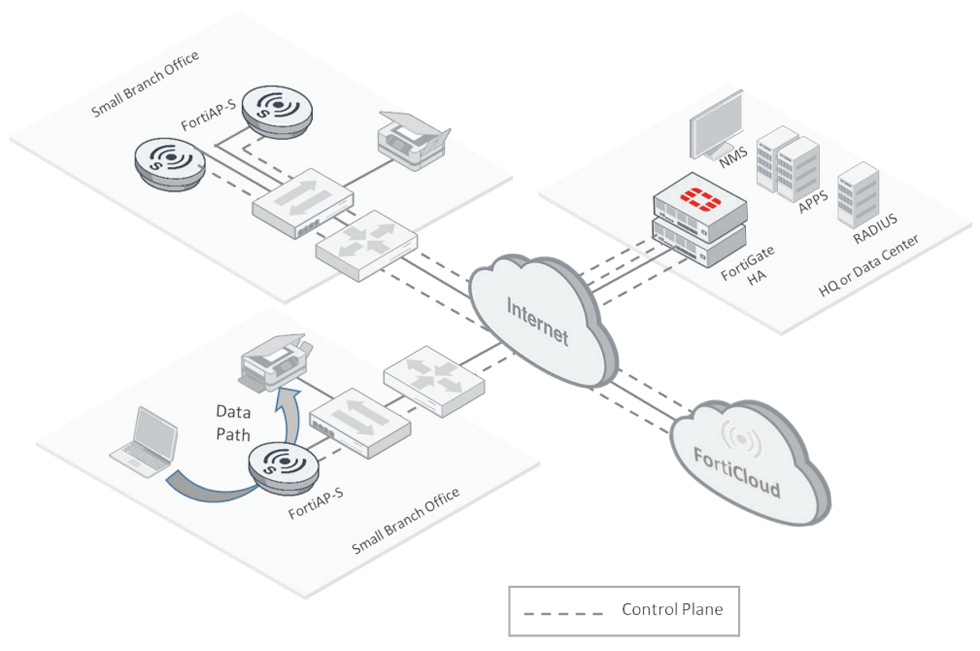 Fortinet approach to secure cloud-managed WiFi

Antenna Radiation Patterns:

RF RX/TX Performance Table:
FortiAP S422E
Radio 1 - 2.4 GHz
Radio 2 - 5 GHz
802.11 a/g
Tx Power (dBm)
Rx Sensitivity (dBm)
Tx Power (dBm)
Rx Sensitivity (dBm)
6 Mbps
21
-94
20
-90
9 Mbps
21
-92
20
-89
12 Mbps
21
-89
20
-86
18 Mbps
21
-88
20
-85
24 Mbps
21
-83
20
-80
36 Mbps
21
-78
18
-75
48 Mbps
21
-77
18
-74
54 Mbps
19
-76
17
-73
802.11n HT20
MCS 0/8/16 (BPSK)
19
-91
19
-90
MCS 1/9/17 (QPSK)
19
-89
19
-87
MCS 2/10/18 (QPSK)
19
-86
19
-84
MCS 3/11/19 (16-QAM)
19
-85
18
-82
MCS 4/12/20 (16-QAM)
19
-80
17
-77
MCS 5/13/21 (64-QAM)
18
-75
16
-72
MCS 6/14/22 (64-QAM)
18
-74
16
-71
MCS 7/15/23 (64-QAM)
18
-73
16
-70
802.11n HT40
MCS 0/8/16 (BPSK)
19
-89
19
-87
MCS 1/9/17 (QPSK)
19
-87
18
-85
MCS 2/10/18 (QPSK)
19
-84
18
-82
MCS 3/11/19 (16-QAM)
18
-83
17
-81
MCS 4/12/20 (16-QAM)
18
-78
17
-76
MCS 5/13/21 (64-QAM)
17
-73
17
-71
MCS 6/14/22 (64-QAM)
17
-72
17
-70
MCS 7/15/23 (64-QAM)
17
-71
17
-69
MCS 8/16/24 (256-QAM)
15
-66
13
-63
MCS 9/17/25 (256-QAM)
15
-65
13
-62
802.11 HT80
MCS 0 (BPSK)
18
-84
MCS 1 (QPSK)
17
-81
MCS 2 (QPSK)
17
-79
MCS 3 (16-QAM)
16
-76
MCS 4 (16-QAM)
16
-74
MCS 5 (64-QAM)
15
-73
MCS 6 (64-QAM)
15
-71
MCS 7 (64-QAM)
15
-70
MCS 8 (256-QAM)
14
-66
MCS 9 (256-QAM)
14
-59
Maximum capability of the Hardware provided (Exenculding antenna gain)
Specifications:
FortiAP-S422E
Hardware
Hardware Type
Outdoor Smart AP
Number of Radios
2
Number of Antennas
8 N-type External
Peak Antenna Gain
5 dBi for 2.4 GHz,
7 dBi for 5 GHz
Frequency Bands (GHz) *
2.400–2.4835, 5.150–5.250, 5.250–5.350, 5.470–5.725, 5.725–5.851
Frequency of Radio 1
2.4 GHz b/g/n (4x4:4 stream), 20/40 Mhz (256 QAM)
Frequency of Radio 2
5 GHz a/n/ac (4x4:4 stream), 20/40/80 Mhz (256 QAM), MU-MIMO 3 simultanous devices
Throughput
Radio 1: up to 800 Mbps,
Radio 2: up to 1.733 Gbps
Ethernet Ports
2x GE RJ45
USB Port
—
Serial Console Port
1 RS-232 x RJ45
Power over Ethernet (PoE)
Dual redundant PoE power ports with support for IEEE 802.3at (25.5 W)
WME Multimedia Extensions
Yes (4 priority queues for voice, video, data and background traffic)
Simultaneous SSIDs
16 (14 if background scanning enabled)
EAP Type(s)
EAP-TLS, EAP-TTLS/MSCHAPv2, EAPv0/EAP-MSCHAPv2, PEAPv1/EAP-GTC EAP-SIM, EAP-AKA, EAP-FAST
User/Device Authentication
WPA and WPA2 with 802.1X or Preshared key, WEP and Web Captive Portal, MAC blacklist & whitelist
Maximum Tx Power
19 dBm (80 mW)*
Physical Security
Kensington Lock
Mean Time Between Failures
>30 Years
IEEE Specifications
802.11a, 802.11b, 802.11d, 802.11e, 802.11g, 802.11h, 802.11i, 802.11j, 802.11n, 802.1x, 802.11ac, 802.3af, 802.3at, 802.3az
Mounting Options
Wall or Pole Mounting
Included Accessories
8x Dipole Antennas, power adapter and proprietary injector, pole mount bracket, grounding cable, surge protector
FortiPresence Capable
Yes
Wireless Mesh Capable
Yes
Modes of Operation
FortiGate or FortiCloud management
SSID Types Supported
Local-Bridge, Tunnel & Mesh (when managed by FortiGate)
FortiDeploy and FortiCloud Key
Yes
Concurrent Clients Per Radio (Maximum / Recommended)
512 / 128
LED Off Mode
Yes
Onboard Security Features when Managed from FortiCloud
Application Control
Yes
Block Botnet
Yes
Antivirus
Yes
Intrusion Prevention
Yes
URL Filtering
Yes
FortiGuard Security Feed
Subscription available through FortiCloud
Advanced 802.11 Features
802.11ac Wave2 MU-MIMO
Yes
Transmit Beam Forming (TxBF)
Yes
Low-Density Parity Check (LDPC) Encoding
Yes
Maximum Likelihood Demodulation (MLD)
Yes
Maximum Ratio Combining (MRC)
Yes
A-MPDU and A-MSDU Packet Aggregation
Yes
MIMO Power Save
Yes
Short Guard Interva
Yes
Wireless Monitoring Capabilities
Frequencies scanned
2.4 and 5 GHz
Background scan with client access on2.4 and 5 GHz
Yes
Full-time scan as dedicated monitor
Yes
Full-time scan with client access
No
Packet sniffer mode
Yes
Spectrum analyzer
Yes
Dimensions
Length x Width x Height
8.23 x 8.23 x 2.36 inches (20.9 x 20.9 x 6.0 cm)
Weight
4.08 lb (1.85 kg)
Package (shipping) Weight
11.42 lb (5.18 kg)
Environment
Power Supply
PoE input: 48V DV, 0.8A
Power Consumption (Average / Maximum)
18.83 W / 22 W
Humidity
5–90% non condensing
Operating Temperature
-40–140°F (-40–60°C)
Storage Temperature
-40–158°F (-40–70°C)
Directives
Low Voltage Directive • RoHS
UL2043 Plenum Material
Yes
IP Rating
IP67
Certifications
WiFi Alliance Certified
In Process
DFS Certified
In Process
* Frequency selection and power may be restricted to abide by regional regulatory compliance laws.
Pricing Notes:
FortiCare Premium Support
FortiCare Premium Ticket Handling, Advanced Hardware Replacement (NBD), Firmware and General Upgrades
FortiCare Elite Support
FortiCare Premium Support with FortiCare Elite Ticket Handling.
Prices are for one year of Premium RMA support. Usual discounts can be applied.
Annual contracts only. No multi-year SKUs are available for these services.
Contact Fortinet Renewals team for upgrade quotations for existing FortiCare contracts.
Pricing and product availability subject to change without notice.
Fortinet Products
Fortinet 24x7 FortiCare Contract
FortiAP-S422E 1 Year FortiCare Premium Support
#FC-10-PS422-247-02-12
List Price:
$264.00
Our Price: $228.57
Accessories
Spare / Replacement antenna set for FAP-U422EV and FAP-S422E. 8 antennas per pack including 4*2.4GHz 5dBi Omni N-TYPE and 4* 5GHz 7dBi Omni N-TYPE.
#FAP-400-ANT-01
List Price:
$260.00
Our Price: $234.00