Fortinet FortiAP C23JD

Wall Jack Access Point for use with FortiCloud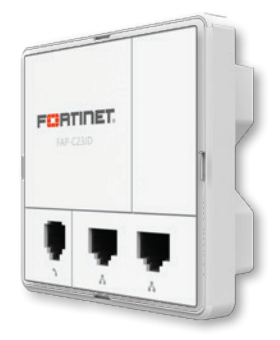 Click here to jump to more pricing!
Overview:
The FortiAP-C series are entry-level cloud-managed Access Points offering Zero-Touch provisioning to support enterprises with remote sites requiring basic wireless LAN connectivity. The FortiAP-C series are managed through the FREE FortiCloud provisioning and management portal, eliminating the CAPEX and complexity of having to deploy onsite WLAN controllers and management servers.

Cloud Management
No wireless controller required, reducing upfront CAPEX and providing the convenience of cloud management.

Ease of Deployment
Zero-touch deployments, with no requirement for onsite IT staff.

Simple Pricing
No recurring per AP licenses for full-featured cloud-management nor hidden costs.
FortiAP C23JD
The FAP-C23JD is a cost-effective in-room high-speed WiFi service over existing in-room telephone lines access point, suitable for hotel and dorm rooms. This access point can be installed in minutes, right over the existing wall plate.
Highlights
802.11n
Single Radio 2.4 GHz
2 Internal Antennas Up to 300 Mbps
Deployment: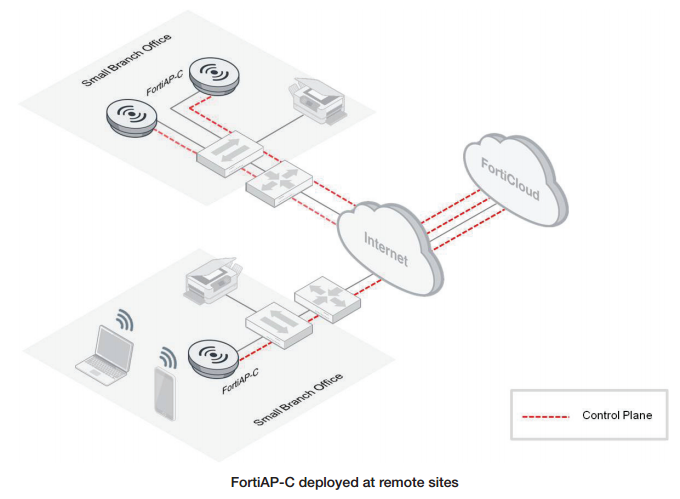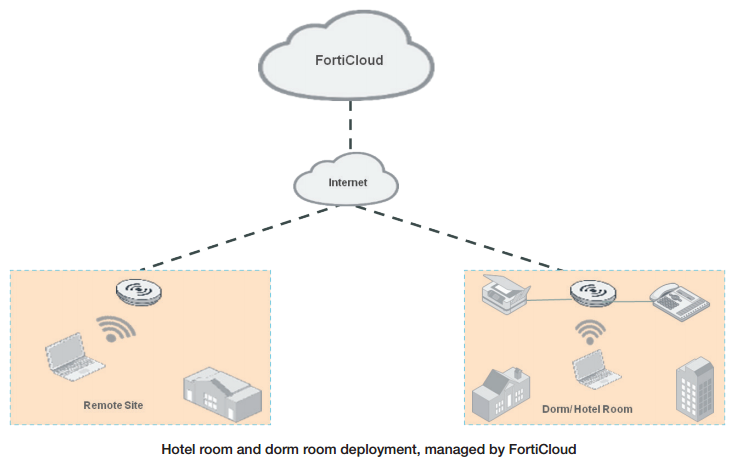 Specifications:
FortiAP C23JD Specifications
Hardware
Hardware Type
Indoor Wall Plate AP
Number of Radios
1
Number of Antennas
2 Internal
Peak Antenna Gain
2 dBi for 2.4 GHz
Frequency Bands (GHz) *
2.400–2.4835
Frequency of Radio 1
2.4 GHz 802.11b/g/n (2x2:2 stream)
20/40 MHz
Frequency of Radio 2
N/A
Maximum Data Rate
300 Mbps (2.4 G)
Ethernet Ports
3x FE RJ45 (1x 802.3af PoE back, 2 front)
USB Port
N/A
Serial Console Port
N/A
Power over Ethernet (PoE)
1x PoE RJ45 port for 802.3af (15.4 W)
Simultaneous SSIDs
4 (can be expanded to 8 later by SW)
EAP Type(s)
EAP-TLS, EAP-TTLS/MSCHAPv2, EAPv0/EAP-MSCHAPv2, PEAPv1/EAP-GTC EAP-SIM, EAP-AKA, EAP-FAST
User/Device Authentication
WPA and WPA2 with 802.1x or Preshared key, WEP and Web Captive Portal
Maximum Tx Power
20 dB
Physical Security
No
IEEE Specifications
802.11b/g/n
FortiPresence Capable
No
Wireless Mesh Capable
No
Management Systems
FortiGate or FortiCloud
SSID Types Supported
Local-Bridge, Tunne
FortiDeploy & FortiCloud Key
No
Maximum Concurrent Clients per Radio
12
LED Off Mode
LED covered by front cover
Advanced 802.11 Features
802.11n Features
20 Mhz and 40 Mhz High-Throughput (HT) Support Increased maximum frame transmission by incorporating A-MPDU and A-MSDU Packet Aggregation
Conserve power via Dynamic MIMO power save
Low-density parity check (LDPC) encoding
Yes
Maximum Ratio Combining (MRC)
Yes
A-MPDU and A-MSDU Packet Aggregation
Yes
MIMO Power Save
Yes
Short Guard Interval
Yes
WME Multimedia Extensions
Yes
Dimensions
Length x Width x Height
3.4 x 3.4 x 1.38 inches (86 x 86 x 35 mm)
Weight
1.02 lb (0.46 kg)
Package (shipping) Weight
1.3 lb (0.6 kg)
Mounting Options
Wall
Included Accessories
None
Environment
Power Supply
PoE 802.3af (15.4 W)
Maximum FAP Power Consumption with 802.3af PoE
5 W
Humidity
10–90% non condensing
Operating Temperature
32–122°F (0–50°C)
Storage Temperature
-40–158°F (-40–70°C)
Mean Time Between Failures
>10 Years
IP Rating
N/A
Certifications
CCC (China)
Yes
SRRC (China)
Yes
Warranty
Limited Lifetime Warranty
Yes
* Frequency selection and power may be restricted to abide by regional regulatory compliance laws
RF RX/TX Performance Table:
FortiAP C23JD
Radio 1
2.4 GHz
802.11 a/b/g
Average TX Power (dBm)
RX Sensitivity (dBm)
6 Mbps
20
-92
9 Mbps
20
-92
12 Mbps
20
-90
18 Mbps
20
-88
24 Mbps
20
-87
36 Mbps
20
-82
48 Mbps
19
-77
54 Mbps
17
-76
802.11 HT20
MSC 0/8/16 (BPSK)
19
-91
MSC 1/9/17 (QPSK)
19
-89
MSC 2/10/18 (QPSK)
19
-86
MSC 3/11/19 (16-QAM)
19
-84
MSC 4/12/20 (16-QAM)
19
-78
MSC 5/13/21 (64-QAM)
18
-73
MSC 6/14/22 (64-QAM)
17
-72
MSC 7/15/23 (64-QAM)
16
-72
802.11 HT40
 (BPSK)
19
-89
MSC 1/9/17 (QPSK)
19
-87
MSC 2/10/18 (QPSK)
19
-84
MSC 3/11/19 (16-QAM)
18
-82
MSC 4/12/20 (16-QAM)
18
-77
MSC 5/13/21 (64-QAM)
18
-72
MSC 6/14/22 (64-QAM)
17
-71
MSC 7/15/23 (64-QAM)
17
-70
Maximum capability of the Hardware provided (Excluding antenna gain)
Pricing Notes:
FortiCare Premium Support
FortiCare Premium Ticket Handling, Advanced Hardware Replacement (NBD), Firmware and General Upgrades
FortiCare Elite Support
FortiCare Premium Support with FortiCare Elite Ticket Handling.
Prices are for one year of Premium RMA support. Usual discounts can be applied.
Annual contracts only. No multi-year SKUs are available for these services.
Contact Fortinet Renewals team for upgrade quotations for existing FortiCare contracts.
Pricing and product availability subject to change without notice.