Fortinet FortiAP 832

802.11ac Wave 1 | Dual Radio 2.4 and 5 GHz | 6 External Antennas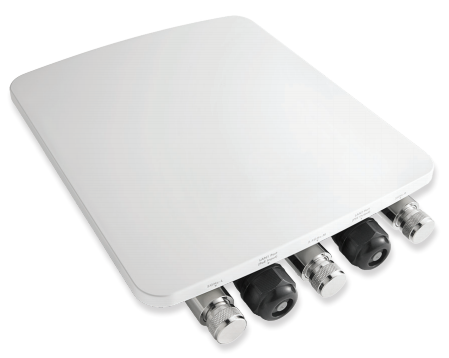 Sorry, this product is no longer available. Please Contact Us for a replacement.
Click here to jump to more pricing!
Overview:
Fortinet AP series Access Points (APs) provide a high-performance, premise-managed WiFi network with a broad range of 802.11ac Wave 1 and Wave 2 APs that ease deployment and scaling and offer a number of compelling quality-of-experience advantages. They also provide a complete portfolio of security services that offer additional means of protection to combat the ever-evolving threat landscape. Fortinet also offers an RF technology that uniquely manages the spectrum utilization, allowing it to dramatically simplify deployment vs competing solutions.
Application Control
Provides administrators with Application Visibility to prioritize applications to improve the user experience by guaranteeing more capacity to select groups, such as mission-critical applications or mobile point-of-sale (mPoS) devices.
Air Traffic Control
Provides sophisticated air traffic control mechanisms to govern station airtime so every client gets a fair turn on-air, which prevents the slowest, or the fastest, devices from hogging resources.
Single Channel Technology
Unique technology that manages spectrum utilization to overcome the interference-related deployment barriers commonly encountered in high density environments.
Highlights
Fortinet OAP832e
The OAP832e is an 802.11ac outdoor access point (AP) capable of supporting a variety of external antennas. Designed for high-density deployments such as stadiums, arenas, university campuses, hospitals, convention centers, and warehouses. The OAP832e supports an aggregate 1.75 Gbps data rate for demanding business applications like video and voice.
The OAP832e access point allows administrators to prioritize applications with Fortinet's unique channel-layering technology to improve the user experience. For schools, this means Learning Management System applications can be assigned to a dedicated channel layer, while online classroom video feeds can be carried on another channel layer. For healthcare, life-critical applications such as patient monitoring can be dynamically assigned to one channel layer, doctor and nursing applications to a second layer, and patient applications to a third.
The OAP832e also provides unique roaming support because Fortinet enables the network (not the client) to control AP client hand-off via our Air Traffic Control® technology, resulting in the industry's lowest roaming latency figures — a true zero-handoff.
Additionally, Fortinet's single-channel technology allows the OAP832e to leverage the 802.11ac design for pervasive, real-world deployments of 80 MHz channels, effectively doubling the available data rate and dramatically increasing throughput. It should be noted that all the Fortinet APs in this document can operate in multi channel mode as well as virtual cell mode.
As with other Fortinet APs, the OAP832e integrates seamlessly with FortiConnect and other applications to bring intelligent management and resilient wireless services to your network.
Benefits
Provides an optimized 802.11ac experience with Very High Throughput (VHT) capabilities
Delivers seamless mobility, with no channel planning
Offers flexible deployment options for different customer requirements
Offers full management and security assurances
Specifications:
QOS
802.11E support (including WMM)
Dynamic WMM rate adaptation
Configurable QoS rules per user and application
OPERATING MODES
Centralized deployment mode
Distributed deployment mode
Remote VPN tunnel mode
SECURITY
WEP, WPA-PSK, WPA-TKIP, WPA2-AES, 802.11i, 802.1X (EAP-TLS, EAP-TTLS, PEAP, LEAP, EAP-FAST, EAP-SIM, EAP-AKA, and EAP-MD5)
802.1X and captive portal authentication against local database on the controller, RADIUS, and Active Directory
RADIUS-assisted per-user and per-ESSID access control via MAC filtering
MANAGEMENT
Centrally managed by any Fortinet controller running System Director
Automatically discovers controllers and downloads configuration settings for plug-and-play deployment
Upgrades and management using System Director/E(z)RF® Network Manager
Support for SNMP
WIRELESS SPECIFICATIONS
Model Introduction
OAP832e IEEE802.11a/b/g/n/ac access point, dual radio with six N-type connectors for external antennas
Supported radio technologies
2.4 GHz and 5 GHz radio access point
3x3:3SS (three spatial streams)
Outdoor application
Supported 2.4 GHz (TurboQAM Mode)
Supported transmit beam-forming (TxBF)
IEEE Std 802.11ac standard
IEEE Std 802.11n/ac with Orthogonal Frequency Division Multiplexing (OFDM)
IEEE Std 802.11b with Direct Sequence Spread Spectrum (DSSS)
IEEE Std 802.11ac with 20/40/80 MHz (VHT20/40/80) channel width
IEEE Std 802.11n with 40 MHz (HT40) channel width
IEEE Std 802.11a/g with 20 MHz channel
IEEE Std 802.11b with 22 MHz channel
Supported Modulation
IEEE Std 802.11ac: BPSK, QPS K, 16-QAM, 64-QAM, and 256-QAM
IEEE Std 802.11a/g/n: BPSK, QPSK, 16-QAM, and 64-QAM
IEEE Std 802.11b: BPSK, QPSK, CCK
Featured 256-TurboQAM modulation for 2.4 GHz and 5 GHz operations
Supported MCS Index
Supported MCS0–MCS9 (NSS=1-3) for IEEE Std 802.11ac
Supported MCS0–MCS23 for IEEE Std 802.11n
Supported Frequency Bands
2.400 to 2.4835 GHz (ISM)
5.150 to 5.250 GHz (UNII-1)
5.250 to 5.350 GHz (UNII-2, DFS)
5.470 to 5.725 GHz (UNII-2 Extends, DFS)
5.725–5.825 GHz (UNII-3)
Country-specific restrictions apply: adjusted by controller upon approval
Operating Channels
2.4 GHz channels
- CH1–11 for U.S., Canada
- CH1–13 for Japan, Europe, rest of world
5 GHz HT20 (20 MHz) Channel
- Non-DFS Channel: CH36, 40, 44, 48, 144, 149, 153, 161, 165
- DFS Channel upon approval: CH 52, 56, 60, 64, 100, 104, 108, 112, 116, 120*, 124*, 128*, 132*, 136, 140, 144 (*weather radar)
5 GHz HT40 (40 MHz) Center Channel
- Non-DFS channel: CH38, 46, 151, 159
- DFS channel upon approval: CH54, 62, 102, 110, 118*, 116*, 134* 134, 142 (*weather radar)
5 GHz VHT80 (80 MHz) Center Channel
- Non-DFS channel: CH42, 155
- DFS channel upon approval: CH58, 106, 122* (*weather channel)
Platform supports Dynamic Frequency Selection (DFS & DFS/TPC) for future 5 GHz channel adoption
Country-specific restrictions apply; adjusted by controller upon approval
Supported Data Rate (Mbps)
IEEE Std 802.11ac three streams: 19.5–1300 Mbps (MCS0-HT20@800nS to MCS9-HT40@400nS)
IEEE Std 802.11ac per stream: 6.5–433.3 Mbps (MCS0-HT20@800nS to MCS9-HT40@400nS)
IEEE Std 802.11n three streams: 13–450 Mbps (MCS9-HT20@800nS to MCS23-HT40@400nS)
IEEE Std 802.11n per stream: 6.5–150 Mbps (MCS0-HT20@800nS to MCS7-HT40@400nS)
IEEE Std 802.11a/g: 6, 9, 12, 18, 24, 36, 48, 54 Mbps
IEEE Std 802.11b: 1, 2, 5.5, 11 Mbps
TRANSMIT POWER (TX) AND RECEIVER SENSITIVITY (RX) PER STREAM
| | | | |
| --- | --- | --- | --- |
| CONFIGURATION | MAXIMUM CONDUCTIVE POINT TRANSMIT POWER PER STREAM (DBM) | MAXIMUM EIRP WITH EXTERNAL ANTENNAS | RECEIVER SENSITIVITY (DBM) |
| 802.11b | 25.0 | 29.0 | -90 |
| 802.11g | 24.0 | 28.0 | -76 |
| 802.11n, 2.4 GHz HT20 | 23.0 | 28.0 | -73 |
| 802.11n, 2.4 GHz HT40 | 23.0 | 27.0 | -70 |
| 802.11a | 22.0 | 23.0 | -75 |
| 802.11n, 5 GHz, HT20 | 22.0 | 23.0 | -73 |
| 802.11n, 5 GHz, HT40 | 22.0 | 23.0 | -70 |
| 802.11ac, 5 GHz, HT20 | 22.0 | 23.0 | -69 |
| 802.11ac, 5 GHz, HT40 | 22.0 | 22.0 | -64 |
| 802.11ac, 5 GHz, VHT80 | 21.0 | 21.0 | -61 |
Configurable Transmission Power
Transmission power configurable in 1.0 dBm increments
Unused radios can be disabled via software for lower power consumption
Antennas
6 external omnidirectional antennas for 3x3 MIMO with maximum antenna gain of 6 dBi in 2.4 Ghz and 7 dBi in 5 Ghz
PHYSICAL SPECIFICATIONS
Power
Operates at IEEE 802.3at power
Powered by IEEE Std 802.1at PoE (Power over Ethernet) injector or switch
Other Interfaces
Networks: 1x 10/100/1000 Base-T Ethernet RJ45 uplink (G1), 1x 10/100/1000 Base-T Ethernet RJ45 (G2) for downlink and future expansion purposes, auto-sensing link speed and MDI/MDX
6 N-Type connectors for external antenna SKU (AP832e)
1 RJ45 port (G1) support IEEE Std 802.3af or 802.3at PoE
1 USB 2.0 port (Type-A) for future feature
1 Kensington security slot
LED Indicators
1 LED for AP Power ON status
2 LEDs for Ethernet activity over two RJ45 ports (LAN1 & LAN2)
2 LEDs for the 2.4 GHz and 5.0 GHz radio status indicator
Mounting
1.5–1.6 inch (5–7.5 cm) diameter pole-mounting kit (included).
Wall-mounting kit (included).
Dimensions
11.0 x 8.54 x 2.0 inches (28.0 x 21.7 x 5.0 cm)
Weight
OAP832e (without mounting bracket): 5 lbs (2.27 kg)
OAP832e (with mounting bracket): 7 lbs (3.18 kg)
Environmental
Operating temperature: -40˚–149°F (-40–65°C)
Operating humidity: 5–95% non-condensing
Storage temperature: -40–158˚ F (-40–70°C) ambient
Storage humidity: 5–95% non-condensing
Surge protection built in
* Frequency selection and power may be restricted to abide by regional regulatory compliance laws.
Pricing Notes:
FortiCare Premium Support
FortiCare Premium Ticket Handling, Advanced Hardware Replacement (NBD), Firmware and General Upgrades
FortiCare Elite Support
FortiCare Premium Support with FortiCare Elite Ticket Handling.
Prices are for one year of Premium RMA support. Usual discounts can be applied.
Annual contracts only. No multi-year SKUs are available for these services.
Contact Fortinet Renewals team for upgrade quotations for existing FortiCare contracts.
Pricing and product availability subject to change without notice.
Fortinet Products
FortiAP-832 24x7 FortiCare Contract
AP832 - OAP832E 1 Year FortiCare Premium Support
#FC-10-OP832-247-02-12
List Price:
$280.02
Our Price: $242.44