Fortinet FortiAP 14C Access Point

Secure Remote Access Points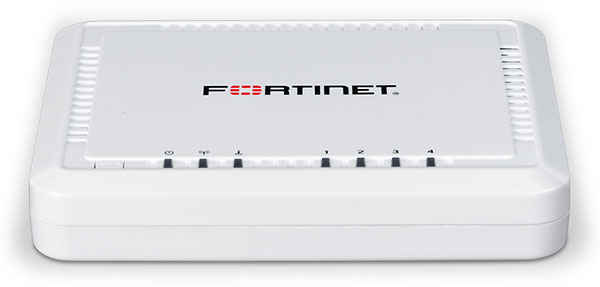 The FortiAP-14C is a low cost 1x1 MIMO access point with integrated 5 port 10/100 switch in small desktop form factor. This device enables home office connectivity to the corporate network.
Sorry, this product is no longer available. Please contact us for a replacement.
Click here to jump to more pricing!
Overview:
The need for Secure Remote Access Points
Enterprises are looking to increase productivity through uninterrupted access to applications and resources, without compromising security and agility. You want to also extend your network to your employees' home offices and increase productivity, yet you want to retain visibility and control of your wireless network traffic by enforcing the same policies. You also need a solution that is easy for the employees to self install and for you to provision quickly and troubleshoot remotely.
Integrated Wireless Security and Access Solution
Fortinet's remote wireless access points deliver secure, identity-driven WiFi client access that creates a fortified WLAN network for the home user and tunnels traffic security to the corporate network. Centrally managed by a supported FortiGate® or FortiWiFi™ platform with its integrated wireless controller, these remote APs allow you to deploy a comprehensive, integrated security solution for your wireless and wired networks. The centralized FortiGate controllers enable you to deploy comprehensive unified threat management (UTM) protection over your wireless network.
Method of Operation
Upon powering up, this family of remote FAP automatically retrieves an IP address from the home WAN router and performs a DNS lookup of the preprovisioned domain name of your company to locate the wireless controller installed in your private cloud. Once connected to the wireless controller, it provides its device certificate to authenticate itself to the wireless controller and downloads its configuration along with the SSIDs it needs to broadcast throughout the home. You can configure the corporate controller to broadcast the same office SSID at the home office for seamless roaming and zero reconfiguration of employee laptops. Once the home user connects to the office SSID in their home, all their traffic will be forwarded through a secure SSL tunnel to the corporate network without the need for any VPN clients. The wired ports can also be bridged with one of the SSIDs so devices, such as VoIP phones, can also connect to corporate office without any need for complex configuration. We have designed this product to save IT administrators time and reduce helpdesk calls.
High Performance Secure Thin Access Points
Leverage existing FortiGate or FortiWiFi platforms as controllers for low TCO
Full range of authentications and access for all use cases
Integration with FortiManager™ and FortiAnalyzer™ for unified control and reporting
Fast Roaming for uninterrupted data access
Automatic Radio Resource Provisioning (ARRP) for optimized throughput
Flexible deployment options with simple per device pricing
Layer 7 application QoS for maximum business productivity
Rogue AP control for PCI DSS compliance
Features & Benefits:
| Features | Benefits |
| --- | --- |
| Enterprise Unified Threat Management | Protects your network with the widest range of security and networking technologies seamlessly integrated into a single device: Firewall, IPS, Application Control, VPN, Web Filtering, and many others. |
| Application-Layer Quality of Service | Going above and beyond Wireless Multimedia Extensions (WME) by offering layer 7 traffic shaping and application use control. |
| 'Single Pane of Glass' Management Console | Unmatched visibility and control of all wired and wireless network traffic that eliminates blind spots in your security infrastructure and ensures consistent and effective policy enforcement and compliance. |
| Remote AP | Allows simple and secure teleworker connection for wireless and wired devices alleviating the need for host VPN agents and complex configuration. |
Deployment: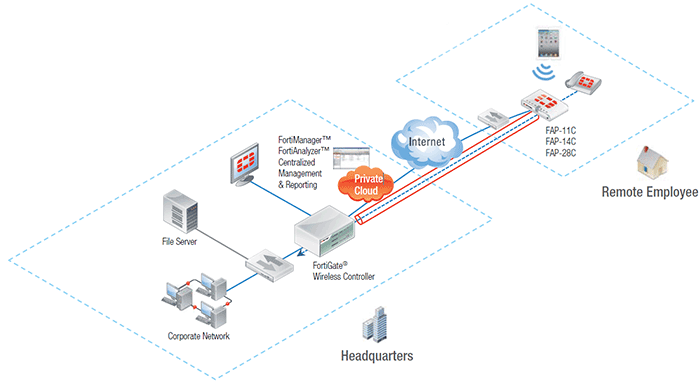 Remote AP discovers private cloud WiFi controller and securely tunnels all traffic
Performance Table:
RF RX/TX Performance Table
Radio 1, 5GHz
802.11 b
Tx Power
Rx Sensitivity
1 Mbps
17
-86
11 Mbps
16
-83
802.11 g
6 Mbps
16
-85
9 Mbps
16
-83
12 Mbps
16
-81
18 Mbps
16
-79
24 Mbps
16
-77
36 Mbps
15
-73
48 Mbps
14
-71
54 Mbps
13
-69
802.11n HT20
MCS0
15
-83
MCS1
14
-80
MCS2
14
-77
MCS3
14
-74
MCS4
14
-72
MCS5
13
-70
MCS6
12
-68
MCS7
12
-66
Specifications:

Model:
FortiAP-11C
FortiAP-14C
FortiAP-28C
Hardware Specifications
Hardware Type
Remote AP
Remote AP
Remote AP
Indoor/Outdoor Deployment
Indoor - Travel
Indoor - Home Office
Indoor - Small Office
Number of Radios
1
1
1
Number of Antennas
1 Internal
1 Internal
2
Peak Antenna Gain
3 dBi for 2.4 GHz
3 dBi for 2.4 GHz
3 dBi for 2.4 GHz, 4 dBi for 5 GHz
Frequency Bands (GHz)*
2.400 - 2.4835
2.400 - 2.4835
2.400 - 2.4835
Frequency of Radio 1
2.4GHz IEEE b/g/n
2.4GHz IEEE b/g/n
2.4 GHz IEEE b/g/n, 5 GHz IEEE a/n
Tx/Rx Streams (802.11n mode)
1x1 MIMO with 1 spatial stream
1x1 MIMO with 1 spatial stream
2x2 MIMO with 2 spatial streamsEthernet Port
150 Mbps association rate
150 Mbps association rate
300 Mbps association rate
Ethernet WAN Ports
1 x 10/100/1000
1 x 10/100
2 x 10/100/1000
Ethernet LAN Ports
1 x 10/100/1000
4 x 10/100
8 x 10/100/1000
Serial Console Port
No
USB Port
1 type A, 1 type B
No
2 type A, 1 type B
Power over Ethernet (PoE)
N/A
WME Multimedia Extensions
Yes (4 priority queues for voice, video, data and background traffic)
Simultaneous SSIDs
8 (7 for client access, 1 for monitoring)
EAP Type(s)
EAP-TLS, EAP-TTLS/MSCHAPv2, EAPv0/EAP-MSCHAPv2, PEAPv1/EAP-GTC EAP-SIM, EAP-AKA, EAP-FAST
User/Device Authentication
WPA™ and WPA2™ with 802.1x or Preshared key, WEP and Web Captive Portal, MAC blacklist & whitelist
Maximum Tx Power
17 dBm (50mW) *
IEEE Specifications
802.11b, 802.11e, 802.11g, 802.11h, 802.11i, 802.11j, 802.11n, 802.1X
Dimensions
Height x Width x Length (in)
4.3 x 3.5 x 1.5
1.06 x 4.92 x 3.86
1.38 x 8.43 x 7.09
Height x Width x Length (mm)
110 x 89 x 34
27 x 125 x 98
35 x 214 x 180
Mounting Options
0.22 kg (0.5 lbs)
0.1 kg (0.2 lbs)
0.5 kg (1.1 lbs)
Environment
Power Required
Integrated Power Plug
100–240 VAC, 50–60 Hz (external DC power adaptor)
100–240 VAC, 50–60 Hz (external DC power adaptor)
Power Consumption (AVG)
5 W
1.5 W
12 W
Power Consumption (MAX)
7 W
2 W
15 W
Heat Dissipation
17 BTU/h
4.5 BTU/h
45 BTU/h
Operating Temperature
-4–140°F (-20–60°C)
32–104°F (0–40°C)
32–104°F (0–40°C)
Storage Temperature
-4–158°F (-20–70°C)
-13–158°F (-25–70°C)
-13–158°F (-25–70°C)
Humidity
10 to 90% non-condensing
20 to 90% non-condensing
20 to 90% non-condensing
* Frequency selection and power may be restricted to abide by regional regulatory compliance laws.
Pricing Notes:
FortiCare Premium Support
FortiCare Premium Ticket Handling, Advanced Hardware Replacement (NBD), Firmware and General Upgrades
FortiCare Elite Support
FortiCare Premium Support with FortiCare Elite Ticket Handling.
Prices are for one year of Premium RMA support. Usual discounts can be applied.
Annual contracts only. No multi-year SKUs are available for these services.
Contact Fortinet Renewals team for upgrade quotations for existing FortiCare contracts.
Pricing and product availability subject to change without notice.
Fortinet Products
AC Power Adapter
AC Power Adaptor for 14C with US power plug.
#SP-FAP14C-PA-US
List Price:
$25.00
Our Price: $22.50