Fortinet FortiAP 112B Access Point

Integrated Wireless Security and Access Solutions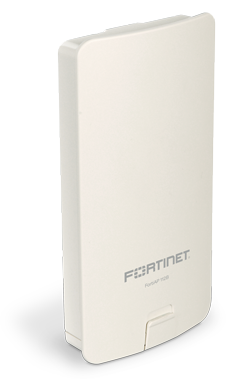 Sorry, this product is no longer available. Please Contact Us for a replacement.
Click here to jump to more pricing!
Overview:
The Wireless Access Point FortiAP-112B is an outdoor IEEE 802.11b/g/n economically priced to provide wireless access on 2.4GHz frequency up to 65Mbps. The wireless access point FortiAP 112B has built-in directional antenna, which concentrates the signal up to 6dB allowing for high performance point to multipoint connections. Just like all wireless access point FortiAP products, you can configure this versatile access point in AP mode, Mesh mode, Bridge Mode, or as a remote AP.
High Performance Secure Thin Access Pointse
Leverage existing FortiGate or FortiWiFi platforms as controllers for low TCO
Full range of authentications and access for all use cases
Integration with FortiManager and FortiAnalyzer for unified control and reporting
Fast Roaming for uninterrupted data access
Automatic Radio Resource Provisioning (ARRP) for optimized throughput
Flexible deployment options with simple per device pricing
Layer 7 application QoS for maximum business productivity
Rogue AP control for PCI DSS compliance
The Need for a Fortified Wireless LAN
Enterprises are looking to increase productivity through uninterrupted access to applications and resources, without compromising security and agility. You want to increase visibility and control of your wireless network traffic by enforcing the same policies as your wired network and eliminate potential blind spots. You also need a solution that helps you meet compliance by proactively blocking unauthorized access all while providing tools for business continuity by following industry best practices.
Integrated Wireless Security and Access Solution
Fortinet's FortiAP-112B wireless thin access point delivers secure, identity-driven WiFi client access that creates a fortified WLAN network. Centrally managed by a FortiGate® or FortiWiFi™ platform with its integrated wireless controller, FortiAPs allow you to deploy a comprehensive, integrated security solution for your wireless and wired networks. By acting as a wireless controller, FortiGate or FortiWiFi security platforms enable you to deploy comprehensive unified threat management (UTM) protection over your wireless network.
Economical and versatile thin Access Point
The FortiAP-112B provides standards-based IEEE 802.11b/g/n economically priced to deliver wireless access on the 2.4GHz frequency at data rates of up to 65Mbps. The FortiAP has builtin directional antenna which directs signal up to 6dB allowing for high performance, long reach point-to-point connections. Just like all FortiAP products, this versatile AP can be configured to operate in AP mode, Mesh mode, Bridge Mode, or as a remote AP.
In AP mode, FortiAP can provide outdoor wireless access, and leverages the FortiGate security and authentication features such as guest user self provisioning and metered bandwidth hotspots
The same access point can be used as a Mesh wireless client enabling point-to-multipoint coverage for large outdoor coverage. FortiAP includes dual Ethernet interfaces allowing a Mesh node to bridge traffic to a remote security camera or bridge two LAN networks in different buildings.
The access point can also be installed at a remote location without a physical FortiGate on site. It will tunnel its traffic securely over the Internet to a cloud-based wireless controller, allowing versatile yet low cost deployment.
Features & Benefits:
| Features | Benefits |
| --- | --- |
| Enteprise Unified Threat Management | Protects your network with the widest range of security and networking technologies seamlessly integrated into a single device: Firewall, IPS, Application Control, VPN, Web Filtering, and many others. |
| Application-Layer Quality of Service | Going above and beyond Wireless Multimedia Extensions (WME) by offering layer 7 traffic shaping and application use control. |
| Robust rogue AP control | Industry's most comprehensive monitoring, detection and suppression of rogue APs for PCI DSS compliance. |
| 'Single Pane of Glass' Management Concol | Unmatched visibility and control of all wired and wireless network traffic that eliminates blindspots in your security infrastructure and ensures consistent and effective policy enforcement and compliance. |
| One Access Point, Many Uses | Software reconfiguration allows one radio to be dedicated to wireless air monitoring while the other provides full AP functionality to client; software license allows simultaneous mesh backhaul and remote AP functionality. |
| TX Beam Forming (TxBF) and Maximal Ratio Combining (MRC) | Leads to wider coverage and optimum performance due to extended Rate over a longer range. |
Deployment: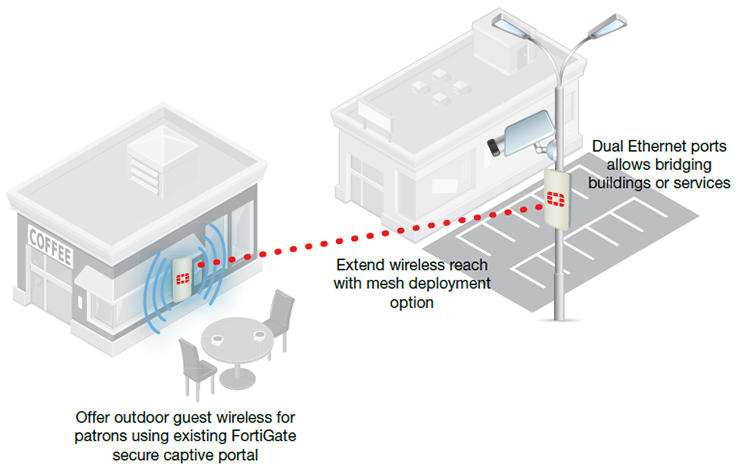 Antenna direction
The FortiAP 112B has a directional antenna located on the front of the device. The strongest signal is achieved in the 60 degree range shown in the below image.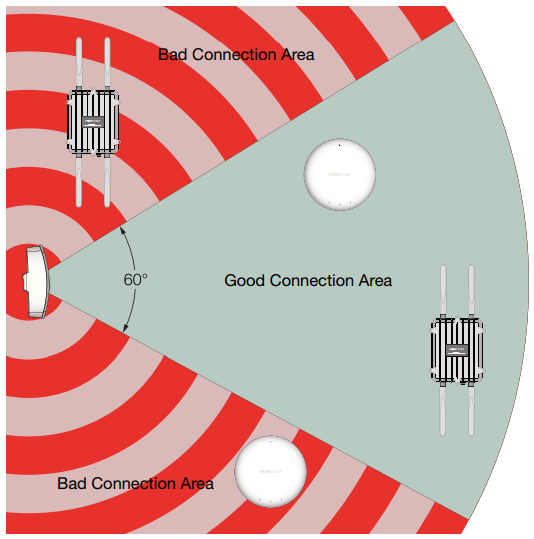 For a reliable wireless connection, the units to which you would like to connect should be within this range.
Performance Table:
RF RX/TX Performance Table
Radio 1
2.4GHz
802.11 b
Tx Power (dBm)
Rx Sensitivity
1 Mbps
24
-93
11 Mbps
24
-88
802.11 g
6 Mbps
24
-92
9 Mbps
24
-88
12 Mbps
24
-88
18 Mbps
24
-85
24 Mbps
24
-82
36 Mbps
23
-79
48 Mbps
22
-75
54 Mbps
21

-73

802.11n HT20
MCS0
24
-92
MCS1
24
-90
MCS2
24
-87
MCS3
24
-82
MCS4
23
-79
MCS5
22
-75
MCS6
21
-74
MCS7
20
-73
Specifications: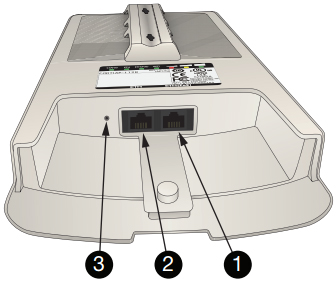 Fast Ethernet port with PoE support
Fast Ethernet port
Reset Button
FortiAP-112B
Hardware Specifications
Indoor/Outdoor Deployment
Indoor or outdoor IP55 rated
Number of Radios
1
Number of Antennas
1 Internal
Peak Antenna Gain
6dBi
Frequency Bands (GHz)*
2.400 - 2.4835
Frequency of Radio 1
2.4GHz IEEE b/g/n
Tx/Rx Streams (802.11n mode)
1x1 MIMO with 1 spatial stream 65 Mbps association rate
Ethernet Port
2 x 10/100
Serial Console Port
No
Power over Ethernet (PoE)
15.4W
WME Multimedia Extensions
Yes (4 priority queues for voice, video, data and background traffc)
Simultaneous SSIDs
8 (7 for client access, 1 for monitoring)
EAP Type(s)
EAP-TLS, EAP-TTLS/MSCHAPv2, EAPv0/EAP-MSCHAPv2, PEAPv1/EAP-GTC EAP-SIM, EAP-AKA, EAP-FAST
User/Device Authentication
WPA™ and WPA2™ with 802.1x or Preshared key, WEP and Web Captive Portal, MAC blacklist & whitelist
Maximum Tx Power
24 dBm (250mW) *
IEEE Specifications
802.11b, 802.11e, 802.11g, 802.11h, 802.11i, 802.11j, 802.11n, 802.1X
Dimensions
Length x Width x Height
7.3 in (18.5 cm) x 2.6 in (6.6 cm) x 1.3 in (3.3 cm)
Access Point Weight
9.5 oz (270 g)
Package (shipping) Weight
16.8 oz (476 g)
Mounting Options
Wall mount and Pole mount options, drywall anchors supplied
Environment
Power Adaptor
Power adapter and PoE injector included
Humidity
10% to 90% non condensing
Operating Temperature
-4 – 140 ˚F (-20 – 60 ˚C)
Storage Temperature
-4 – 158 ˚F (-20 – 70 ˚C)
Target Application
Economical Outdoor point to point bridging and guest wireless
Directives
Low Voltage Directive RoHS
* Frequency selection and power may be restricted to abide by regional regulatory compliance laws
Services & Support:
FortiGuard Security Subscription Services
FortiGuard Security Subscription Services deliver dynamic, automated updates for Fortinet products. The Fortinet Global Security Research Team creates these updates to ensure up-to-date protection against sophisticated threats. Subscriptions include antivirus, intrusion prevention, web filtering, antispam, vulnerability and compliance management, application control, and database security services.
FortiCare Support Services
FortiCare Support Services provide global support for all Fortinet products and services. FortiCare support enables your Fortinet products to perform optimally. Support plans start with 8x5 Enhanced Support with "return and replace" hardware replacement or 24x7 Comprehensive Support with advanced replacement. Options include Premium Support, Premium RMA, and Professional Services. All hardware products include a 1-year limited hardware warranty and 90-day limited software warranty.
Pricing Notes:
FortiCare Premium Support
FortiCare Premium Ticket Handling, Advanced Hardware Replacement (NBD), Firmware and General Upgrades
FortiCare Elite Support
FortiCare Premium Support with FortiCare Elite Ticket Handling.
Prices are for one year of Premium RMA support. Usual discounts can be applied.
Annual contracts only. No multi-year SKUs are available for these services.
Contact Fortinet Renewals team for upgrade quotations for existing FortiCare contracts.
Pricing and product availability subject to change without notice.
Fortinet Products
Proprietary PoE Injector
Proprietary PoE injector with US AC power adapter for FortiAP-112B.
#SP-FAP112B-PA-US
List Price:
$66.00
Our Price: $59.40