HGST CinemaStar C5K1000

2.5-inch Digital Video and Surveillance Storage for 24x7 CE Operation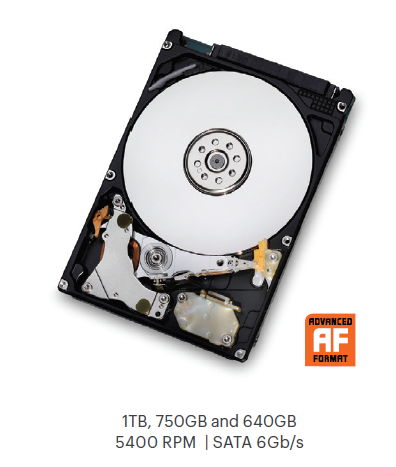 Sorry, this product is no longer available, please contact us for a replacement.
Click here to jump to more pricing!
Overview:
1 TB of Storage Capacity for Video Platforms
CinemaStar C5K1000 is the sixth generation 5400 RPM, 2.5-inch digital video hard drive that delivers an enormous 1TB capacity. This standard 9.5mm, two-disk design, also available in 640GB and 750GB models, leverages Advanced Format, which increases the physical sector size on hard drives from 512 bytes to 4096 (4K) bytes to increase drive capacities and improve error correction capabilities. Consult the HGST Advanced Format Technology Brief for more information on using these hard drives. CinemaStar C5K1000 is the first 1TB 2.5-inch CE drive with a 6Gb/s SATA interface and delivers excellent streaming performance. The C5K1000 continues to demonstrate HGST's ecological leadership with its halogen-free design and power-efficient operation. CinemaStar C5K1000 delivers massive capacity with low power and quiet acoustics to meet the needs of digital video recorders and surveillance systems in an eco-friendly, rugged design.
Designed for Digital Video Solutions
An exceptional blend of audio/visual (AV) features fine tunes the CinemaStar C5K1000 for video storage applications. HGST SmoothStream technology supports the ATA-7 streaming command set, and SCT provides time-limited error recovery and thermal monitoring capabilities. CinemaStar C5K1000 is offered with silentseek acoustics for excellent sound quality. HGST continues to provide near silent operation to make the C5K1000 an ideal choice for home DVR applications and surveillance systems. The CinemaStar C5K1000 is an eco-friendly choice due to its low power consumption and halogen-free production. This sixth generation 2.5-inch CinemaStar drive, with its superior performance, balanced capacity and powermanagement delivers greater design flexibility for next-generation video systems.
Reliability Leadership
CinemaStar C5K1000 elevates hard drive reliability to new levels with an improved protection scheme for power fluctuation and enhanced TFC for improved error rates. HGST offers customers system design and integration services including, but not limited to hard drive selection, optimization, software compatibility assessment, performance profiling, problem analysis and reliability consultation. Team HGST is ready to help you deliver a successful video device. The HGST CinemaStar product line is optimized for video applications on any size system.
HGST Quality and Service
HGST's mobile hard drives are designed to the highest quality standards and contain field-proven components. HGST provides worldwide technical support and integration services to enable global customers to bring their products to market quickly.
Quick Facts:
Highlights
Video hard drive with capacities up to 1TB
Advanced Format with 512 byte emulation
24x7 availability
Low power utilization to help reduce energy costs
SmoothStream technology
Silent-seek acoustics for quiet operation
SMART Command Transport (SCT) for streaming optimization
Applications/Environments
Digital Video Recorders (DVR)
Set-top Boxes
DVR-enabled Televisions
High-end Audio Systems
Video Surveillance Systems
Features and Benefits:
Feature / Function
Benefits
Capacity
Up to 1TB storage
Up to 370 hours of high-definition video, 1000 hrs of standard video, 350 movies or 250,000 4-min songs*
Performance

SMART Command Transport (SCT)
ERP Control

Smoother streaming and improved error recovery
Interface
SATA 6Gb/s
High data throughput
Eco-Friendly

1.5W operating power
Halogen-free design

Helps reduce energy costs in A/V applications
Smaller carbon footprint

Reliability

Thermal Fly-height Control (TFC)
Media Maintenance

Improved reliability
Extends recording life and capabilities

Acoustics
Silent seek
Ultra-quiet operation for improved sound quality
* Actual storage may vary depending on the compression rate applied. Capacities may not be combined.
Specifications:
8GB Data Buffer
32GB Data Buffer
Configuration
Interface
SATA 6Gb/s
SATA 6Gb/s
Capacity1
1TB / 750GB / 640GB
1TB
Recording Zones
30
30
Sector Size (Variable, Bytes/sector)2
512e
512e
Max Areal Density (Gbits/sq. in.)
694
694
Performance
Data buffer3 (MB)
8
32
Rotational Speed (RPM)
5400
5400
Latency Average (ms)
5.5
5.5
Interface Transfer Rate (MB/sec, max)
600
600
Media Transfer Rate (Mbits/sec, max)
998
998
Seek Time (read, ms, typical)4
15
15
Reliability
Power on Hours (POH) Per Month
732
732
Load/Unload Cycles
600,000
600,000
Availability (hrs/day x days/wk)5
24x7
24x7
Acoustics
Idle (Bels)
2.4
2.4
Operational (Bels, typical)
2.5
2.5
Power
Requirement
+5VDC(+-5%)
+5VDC(+-5%)
Operating (W, typical)6
1.5
1.5
Startup (W, peak, max)
3
3
Low Power Idle (W, avg)
0.5
0.5
Physical size
Z-Height (mm)
9.5
9.5
Dimensions (width x depth, mm)
70x100
70x100
Weight (g, max)
102
102
Environmental (Operating)
Ambient Temperature
0° to 70°C
0° to 70°C
Shock (half-sine wave)
325G/2ms
325G/2ms
Environmental (Non-Operating)
Ambient Temperature
-40° to 65°C
-40° to 65°C
Shock (half-sine wave)
350G/2ms
350G/2ms
Acoustics (A-Weighted Sound Power)
Idle (Bels, typical)
2.4
2.4
Operating6 (Bels, typical)
2.5
2.5
1 One GB is equal to one billion bytes when referring to hard drive capacity. Accessible capacity will vary depending on the operating environment and formatting.
2 Advanced Format drive: 4K physical sectors with 512 byte emulation
3 Portion of buffer used for firmware
4 Excludes command overhead
5 Designed for low duty cycle, non mission-critical applications in PC, nearline and consumer electronics environments, which vary application to application
6 Assumes CE operational conditions, IDEMA 3 streams
7 5 minutes after last host command