Fortinet AP1010E

Single Radio Plenum Rated 802.11a/b/g/n Access Point with External Antennas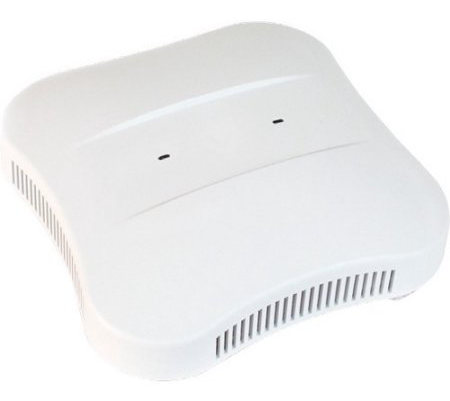 Sorry, this product is no longer available. Please contact us for a replacement.
Overview:
The AP1010 and AP1020 are 802.11a/b/g/n enterprise wireless access points with a 2x2:2 MIMO design. The AP1010 features a single radio and operates on either the 2.4 GHz or 5 GHz band to deliver a maximum data rate of 300 Mbps. The AP1020 features dual radios and operates on the 2.4 GHz and 5 GHz bands to deliver a maximum data rate of 300 Mbps per radio. Both access points offer a choice between internal and external antenna models.
The AP1010 and AP1020 simultaneously support data, voice, and video applications with superior reliability and predictability in moderate-density environments. They are designed for a broad range of general purpose uses, including classrooms, dormitories, and branch offices.
Radio frequency virtualization delivers plug-and-play deployment, easy capacity expansion, and seamless mobility. Multiple operating modes give you the flexibility to design a wireless network suited to your specific needs. The access points support centralized, distributed and mesh modes.
As key elements of Fortinet's Virtualized Wireless LAN solution, the AP1010 and AP1020 WiFi access points deliver a superior end-user experience. As with other Fortinet access points, they integrate seamlessly with the System Director wireless operating system and the Fortinet network management suite to bring intelligent management and resilient wireless services to your network.
Highlights
Supports resource-intensive applications in moderate-density environments
Simplifies deployment and delivers seamless mobility
Lets you select from a range of options to suit your needs
Offers flexible deployment options for diverse uses
Delivers wireless connectivity with superior reliability and predictability
Fortinet AP Series - Controller-Managed Access Points
Fortinet AP series Access Points (APs) provide a high-performance, premise-managed WiFi network with a broad range of 802.11ac Wave 1 and Wave 2 APs that ease deployment and scaling and offer a number of compelling quality-of-experience advantages. They also provide a complete portfolio of security services that offer additional means of protection to combat the ever-evolving threat landscape. Fortinet also offers an RF technology that uniquely manages the spectrum utilization, allowing it to dramatically simplify deployment vs competing solutions.
Application Control
Provides administrators with Application Visibility to prioritize applications to improve the user experience by guaranteeing more capacity to select groups, such as mission-critical applications or mobile point-of-sale (mPoS) devices.
Air Traffic Control
Provides sophisticated air traffic control mechanisms to govern station airtime so every client gets a fair turn on-air, which prevents the slowest, or the fastest, devices from hogging resources.
Single Channel Technology
Unique technology that manages spectrum utilization to overcome the interference-related deployment barriers commonly encountered in high density environments.