Bradford Networks' Network Sentry/RTR for Fortinet

Enabling Complete Visibility, Security and Control for BYOD
Developed following Bradford Networks' technology alliance with Fortinet, this customized version of Network Sentry/RTR correlates high fidelity security alerts from the Fortinet High Performance Network Security Platform to contain advanced cyber threats on compromised endpoints in seconds.  By automating the complex threat triage and response process, Network Sentry/RTR for Forinet minimizes the risk to assets and intellectual property, protects the brand, and reduces the impact, time, and cost resulting from cyber threats.
How it Works:
Network Sentry/RTR for Fortinet leverages its unique Live Inventory of Network Connections (LINC) to automatically correlate high fidelity security alerts from the Fortinet FortiGate Firewall Platform with detailed contextual information on compromised endpoints, users and applications. Armed with this information, Network Sentry/RTR for Fortinet triggers an automated response based on the severity and business criticality of the security event. In addition, Network Sentry/RTR for Fortinet can share user and endpoint profiles with the Fortinet Single Sign-On Agent to enable the Fortinet FortiGate FireWall Platform to apply appropriate security policies in a BYOD environment, enhancing the user experience and minimizing the attack surface for cyber criminals.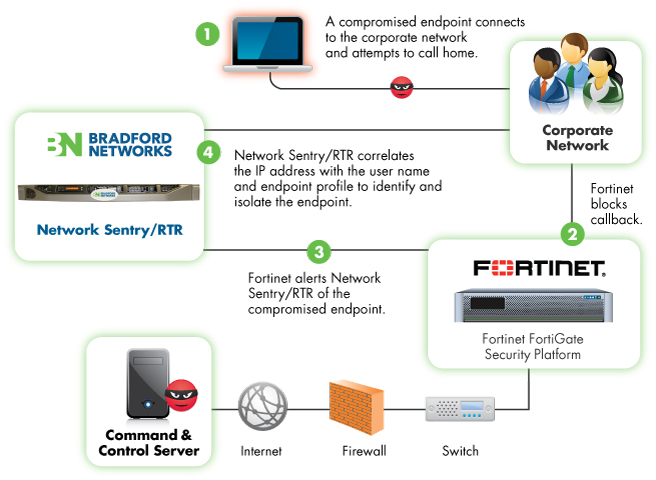 Key benefits include:
Reduce threat containment time from days to seconds
Isolate, restrict, or block compromised endpoints from the network in real-time
Leverage historical network forensics to trace the point of compromise
Bridge the workflows between the SOC (security operations center) and the NOC (network operations center) by automatically correlating silos of disparate information
Add contextual information to security alerts and events to gauge business criticality
Dynamically control every user and device's level of network access based on its security posture
Secure enterprise networks with a large number of remote locations
Documentation:
Download the Bradford Networks' Network Sentry/RTR for Fortinet Solution Brief (PDF).