Fortinet FortiVoice Hotel Management

For use with FortiVoice Enterprise Systems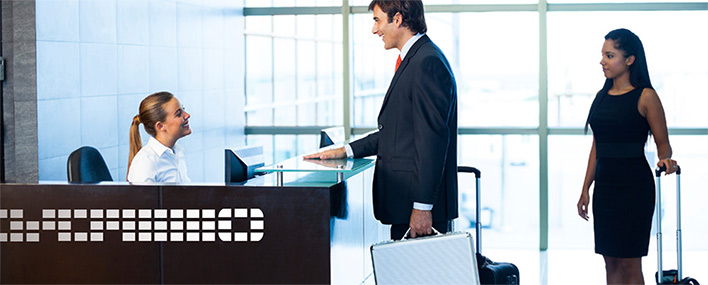 Fortinet Products
Fortinet FortiVoice Hotel Management Series
Base license for stackable FVC Hotel Mgmt (Mitel) (includes 50 rooms)
#FVE-HOTEL-BASE
List Price:
$1,349.00
Our Price: $1,167.96
Click here to jump to more pricing!
Complete hospitality phone integration
Streamlined voice functionality for hotels? Check in with the FortiVoice Hotel Management license for advanced hospitality functionality.
Highlights
Simple, stackable licensing.
User portal for guest self-service.
Complete set of hospitality functions.
Compatible with RoomMaster, Hotel Concepts, InnSoft, Virtual Matrix and more.
Your room is ready
Check in/check out, wake-up calls, room condition codes, room status, phone privileges and voicemail management are all under control with FortiVoice Hotel Management. Compatible with a variety of industry-leading property management systems, this license converts any FortiVoice Enterprise phone system into a complete hospitality solution.
Complete cost control
FortiVoice Hotel Management lets you pay for what you need today, with room for growth when you need it. The base license covers up to 50 extensions, and each additional stackable license adds 25 extensions, up to the maximum capacity of the system.
Key Features & Benefits
Check in/check out
Easily set room phones on check in with the guest's name as caller ID, dedicated voicemail and privilege-based call control.
Wake-up calls
Guests can set their own wake-up calls and reminders, directly from their phones or by accessing the user portal.
Room condition codes
Staff can set room condition codes from the room phone, including standard housekeeping presets and customizable codes for special conditions.
User portal
Guests can manage their voicemail and customize their own settings without consuming staff resources.
Download the Fortine FortiVoice Hotel Management Data Sheet (PDF).
Pricing Notes:
Hardware plus FortiCare Premium
Hardware Unit, FortiCare Premium Ticket Handling, Advanced Hardware Replacement (NBD), Firmware and General Upgrades
FortiCare Premium Support
FortiCare Premium Ticket Handling, Advanced Hardware Replacement (NBD), Firmware and General Upgrades
Prices are for one year of Premium RMA support. Usual discounts can be applied.
Annual contracts only. No multi-year SKUs are available for these services.
Contact Fortinet Renewals team for upgrade quotations for existing FortiCare contracts.
Pricing and product availability subject to change without notice.
Fortinet Products
Fortinet FortiVoice Hotel Management Series
Base license for stackable FVC Hotel Mgmt (Mitel) (includes 50 rooms)
#FVE-HOTEL-BASE
List Price:
$1,349.00
Our Price: $1,167.96
License to add 25 rooms to FortiVoice Hotel Management
#FVE-HOTEL-25
List Price:
$750.00
Our Price: $649.35
Fortinet Hotel Management FortiCare - 1 Year
FortiVoice - Hotel Management 1 Year FortiCare Premium Support (1 - 50 Rooms)
#FC1-10-FVHT1-248-02-12
List Price:
$404.70
Our Price: $350.39
FortiVoice - Hotel Management 1 Year FortiCare Premium Support (1-150 Rooms)
#FC2-10-FVHT1-248-02-12
List Price:
$1,304.70
Our Price: $1,129.61
FortiVoice - Hotel Management 1 Year FortiCare Premium Support (1-300 Rooms)
#FC3-10-FVHT1-248-02-12
List Price:
$2,654.70
Our Price: $2,298.44
FortiVoice - Hotel Management 1 Year FortiCare Premium Support (1-500 Rooms)
#FC4-10-FVHT1-248-02-12
List Price:
$4,454.70
Our Price: $3,856.88
FortiVoice - Hotel Management 1 Year FortiCare Premium Support (1-1,000 Rooms)
#FC5-10-FVHT1-248-02-12
List Price:
$8,954.70
Our Price: $7,752.98
FortiVoice - Hotel Management 1 Year FortiCare Premium Support (1-2,000 Rooms)
Fortinet Hotel Management FortiCare - 3 Year
FortiVoice - Hotel Management 3 Year FortiCare Premium Support (1 - 50 Rooms)
#FC1-10-FVHT1-248-02-36
List Price:
$1,214.10
Our Price: $1,051.17
FortiVoice - Hotel Management 3 Year FortiCare Premium Support (1-150 Rooms)
#FC2-10-FVHT1-248-02-36
List Price:
$3,914.10
Our Price: $3,388.83
FortiVoice - Hotel Management 3 Year FortiCare Premium Support (1-300 Rooms)
#FC3-10-FVHT1-248-02-36
List Price:
$7,964.10
Our Price: $6,895.32
FortiVoice - Hotel Management 3 Year FortiCare Premium Support (1-500 Rooms)
#FC4-10-FVHT1-248-02-36
List Price:
$13,364.10
Our Price: $11,570.64
FortiVoice - Hotel Management 3 Year FortiCare Premium Support (1-1,000 Rooms)
FortiVoice - Hotel Management 3 Year FortiCare Premium Support (1-2,000 Rooms)
Fortinet Hotel Management FortiCare - 5 Year
FortiVoice - Hotel Management 5 Year FortiCare Premium Support (1 - 50 Rooms)
#FC1-10-FVHT1-248-02-60
List Price:
$2,023.50
Our Price: $1,751.95
FortiVoice - Hotel Management 5 Year FortiCare Premium Support (1-150 Rooms)
#FC2-10-FVHT1-248-02-60
List Price:
$6,523.50
Our Price: $5,648.05
FortiVoice - Hotel Management 5 Year FortiCare Premium Support (1-300 Rooms)
#FC3-10-FVHT1-248-02-60
List Price:
$13,273.50
Our Price: $11,492.20
FortiVoice - Hotel Management 5 Year FortiCare Premium Support (1-500 Rooms)
FortiVoice - Hotel Management 5 Year FortiCare Premium Support (1-1,000 Rooms)
FortiVoice - Hotel Management 5 Year FortiCare Premium Support (1-2,000 Rooms)
Fortinet FortiVoice-VM
FortiVoice VM License 1 Year FortiCare Premium Support (1 - 50 Extensions)
#FC1-10-T00VM-248-02-12
List Price:
$269.70
Our Price: $233.51
FortiVoice-VM License 1 Year FortiCare Premium Support (1 - 100 Extensions)
#FC2-10-T00VM-248-02-12
List Price:
$377.10
Our Price: $326.49
FortiVoice VM License 1 Year FortiCare Premium Support (1 - 300 Extensions)
#FC3-10-T00VM-248-02-12
List Price:
$806.70
Our Price: $698.44
FortiVoice-VM License 1 Year FortiCare Premium Support (1 - 500 Extensions)
#FC4-10-T00VM-248-02-12
List Price:
$1,236.30
Our Price: $1,070.39