Fortinet FortiVoice - Cloud

For use with FortiVoice systems

Fortinet Products
FortiVoice Cloud
FortiVoice Cloud 1 Year Stackable license for 2 FortiCall VoIP trunks for the FortiVoice Enterprise system
#FC1-10-FOCLD-366-02-12
Our Price: $600.00
FortiVoice Cloud 3 Year Stackable license for 2 FortiCall VoIP trunks for the FortiVoice Enterprise system
#FC1-10-FOCLD-366-02-36
Our Price: $1,800.00
FortiVoice Cloud 5 Year Stackable license for 2 FortiCall VoIP trunks for the FortiVoice Enterprise system
#FC1-10-FOCLD-366-02-60
Our Price: $3,000.00
Click here to jump to more pricing!
Overview:
One Platform for Communication Efficiency
FortiVoice Cloud is a secure cloud-based unified communications (UC) solution that is fast to deploy and easy to activate, whether users are in the office, at home, or on the move. With simple FortiVoice Cloud web-based management, plug-andplay-ready FortiFone IP phones, and intuitive softclients for smartphones and computers, users can start communicating with their teams and customers within minutes. FortiVoice Cloud delivers reliable services and quality communications that empower business of all sizes to connect their users through a single, secure communications platform.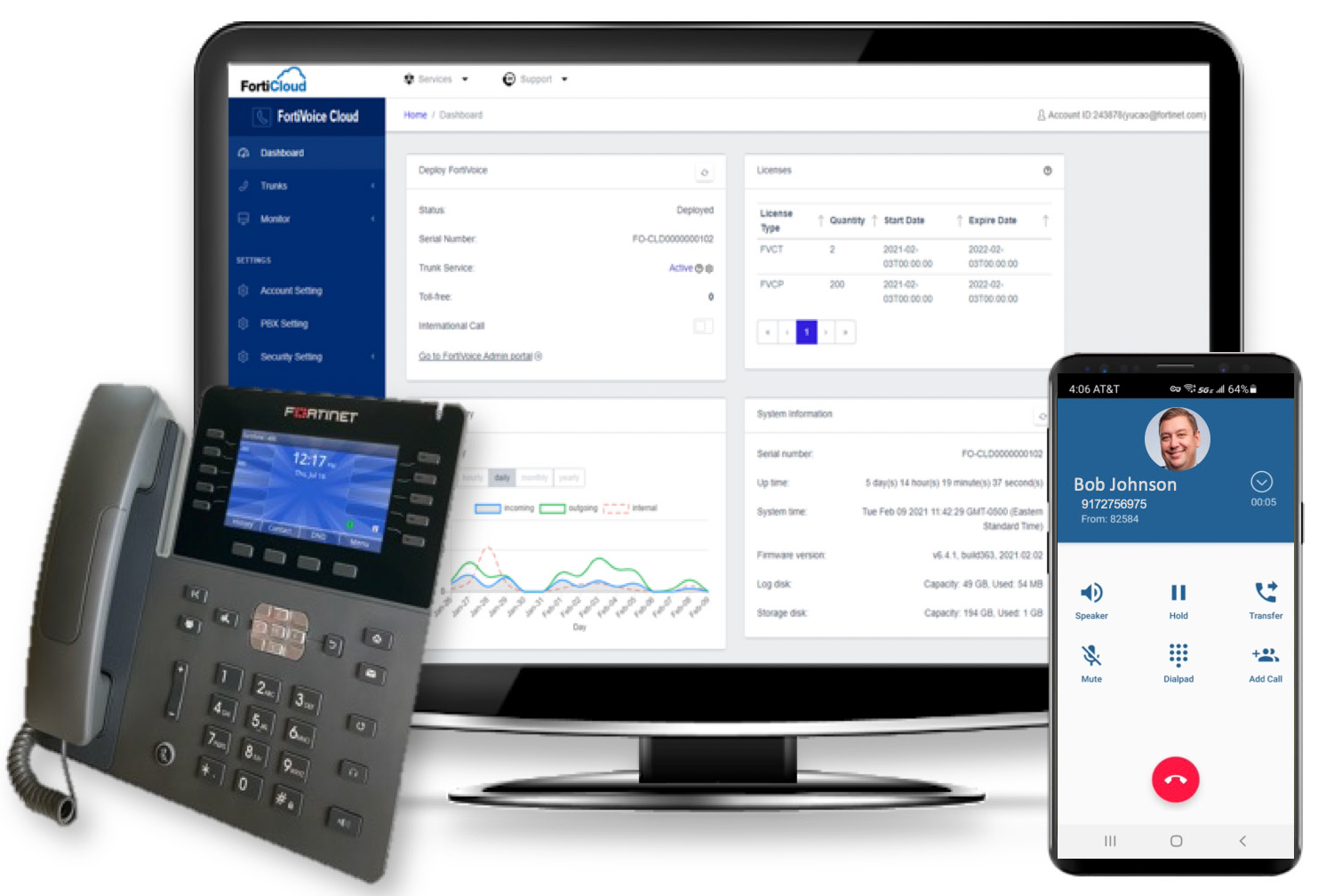 All-Inclusive, Affordable Communications


FortiVoice Cloud has everything users need to get work done, with simple subscriptions and only paying for needed call paths. It includes integrated calling, conferencing, and chat to boost employee productivity, without the premium price.

Enterprise-grade Quality of Service


FortiVoice Cloud services and data centers are protected and monitored by the broad Fortinet security ecosystem to deliver the highest uptime standard possible.

Simplified Management


The FortiVoice Cloud intuitive web console allows IT to simplify configuration across offices, devices, and users. Cloud-ready plug-and-play FortiFone devices and the mobile-ready softclient make it easy to set up and activate quickly.

End-to-end Secure Protection


As a recognized security leader by Gartner and many other industry analysts, Fortinet is the only vendor with integrated, end-to-end security protection from network infrastructure to phone communications.
Highlights
Connects everyone with one integrated solution
Offers simple phone system management from an intuitive web portal, from anywhere
Offers unlimited U.S. and Canada calling* from a secure cloud communications solution
Allows calling from a preferred device using the same business phone number
Provides real-time collaboration with chat and conferencing
Sends and receives faxes without a fax machine
Ensures protection with the broad, comprehensive Fortinet security ecosystem
Key Features:
All-in-one communications solution for any size business.
Phone System
Auto attendants
Dial-by-name directory
Ring groups
Music on hold
Scheduled call handling
Call reporting
Click-to-dial
Follow-me
Automatic hotline
Direct inward dialing (DID)
Individual voicemail
Group voicemail
Voicemail to email
Call queue
Call barge
Line/extension appearance
Rule-based dial plan
Call detail record logging
Personal blocklist
Multilingual
Calendar-based schedule
Phone Services
Unlimited North America calling*
Selection of toll-free and local numbers
International numbers for over 180 countries and territories with affordable rates
Calling
Mute/unmute
hold/unhold
Call transfer
Call park
Call forward
Three-way calling
Intercom
Caller ID modification
Personal/system speed dials
Emergency call notification and presence
SIP forking/ twinning
Collaboration
Presence
Chat/Instant messaging
Call conference/bridge
Video calling
Microsoft Teams integrations
Fax
Send and receive without a fax machine
Fax to email
Fax archive/remote storage
Automatic fax detection
Management
Web-based management portal
Customizable web appearance
Password policy enforcement
Single Sign-on
Real-time call-status monitoring
User privileges
SMDR
Alert email for system events
Security
Multi-factor authentication
LDAP, RADIUS, SAML
HTTPs auto-provisioning
IP phone endpoint-based certificate validation
SIP over TLS 1.3 and SRTP
Mobility
Mobile Softclient for Android and iOS
Desktop Softclient for Mac and Windows
*Unlimited calling is available within the continental U.S. and Canada, excluding Alaska and the Northwest Territories, Canada.
BENEFITS:
| | |
| --- | --- |
| Secure Communications | Enriched security features, encryption options, and policy management prevent unauthorized access and protect conversations and data. |
| Quick Deployment | Subscription-based solution does not require PBX installation or technical expertise. FortiVoice Cloud can be deployed and activated within minutes. |
| Comprehensive Features | All-in-one solution with HD voice, conferencing, chat, fax and more, unifies communications for better employee productivity. |
| Mobile Friendly | Intuitive FortiFone Softclient for mobile and desktop helps employees stay connected with their preferred devices from everywhere. |
| Always-on Connectivity | World-class performance and 24/7 reliability across locations with protection from the broad Fortinet security ecosystem. |
| Scalable Platform | Superior flexibility enables businesses to add extensions and call paths on demand as they to grow. |
| Plug-and-Play IP Phones | Cloud-ready FortiFone devices are auto-provisioned to work with FortiVoice Cloud seamlessly, and plug in to the network then activate. |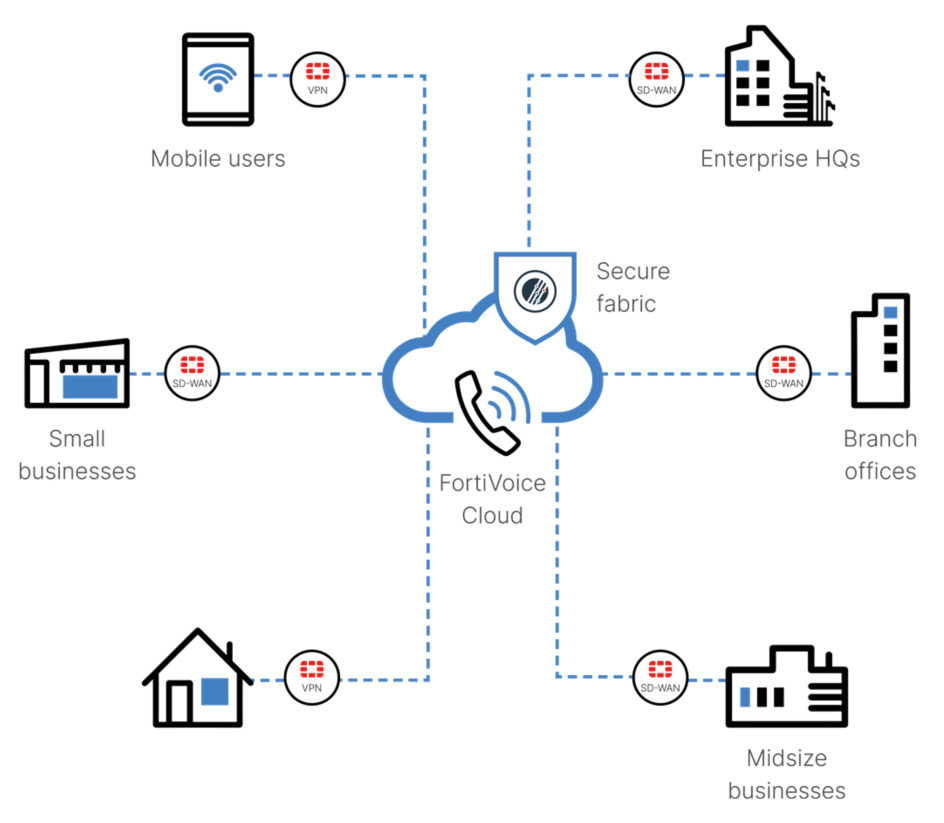 FortiVoice Cloud delivers secure communications and reliable services, protected and monitored 24/7 by the Fortinet security ecosystem
Optimal Employee Productivity and Business Efficiency
FortiVoice Cloud delivers an all-inone solution with secure calling, conferencing, chat, and fax. Its webbased console makes it easy to access phone systems from anywhere.
FortiVoice is easy to deploy and quick to activate, and offers single-pane-ofglass visibility across locations, users, and devices.
Users can install the FortiFone Softclient on their smartphones and computers for quality and reliable communications features from FortiVoice Cloud.
Pricing Notes:
24x7 FortiCare Contract
24x7 Support, Advanced Hardware Replacement (NBD), Firmware and General Upgrades
Prices are for one year of Premium RMA support. Usual discounts can be applied.
Annual contracts only. No multi-year SKUs are available for these services.
Contact Fortinet Renewals team for upgrade quotations for existing FortiCare contracts.
Pricing and product availability subject to change without notice.
Fortinet Products
FortiVoice Cloud
FortiVoice Cloud 1 Year Stackable license for 2 FortiCall VoIP trunks for the FortiVoice Enterprise system
#FC1-10-FOCLD-366-02-12
Our Price: $600.00
FortiVoice Cloud 3 Year Stackable license for 2 FortiCall VoIP trunks for the FortiVoice Enterprise system
#FC1-10-FOCLD-366-02-36
Our Price: $1,800.00
FortiVoice Cloud 5 Year Stackable license for 2 FortiCall VoIP trunks for the FortiVoice Enterprise system
#FC1-10-FOCLD-366-02-60
Our Price: $3,000.00
FortiVoice Cloud Premium Extension
FortiVoice Cloud 1 Year FortiVoice Cloud - Premium Extension
#FC-10-FOCLD-364-02-12
Our Price: $150.00
FortiVoice Cloud 3 Year FortiVoice Cloud - Premium Extension
#FC-10-FOCLD-364-02-36
Our Price: $450.00
FortiVoice Cloud 5 Year FortiVoice Cloud - Premium Extension
#FC-10-FOCLD-364-02-60
Our Price: $750.00
FortiVoice Cloud Standard Extension
FortiVoice Cloud 1 Year FortiVoice Cloud - Standard Extension
#FC-10-FOCLD-363-02-12
Our Price: $100.00
FortiVoice Cloud 3 Year FortiVoice Cloud - Standard Extension
#FC-10-FOCLD-363-02-36
Our Price: $300.00
FortiVoice Cloud 5 Year FortiVoice Cloud - Standard Extension
#FC-10-FOCLD-363-02-60
Our Price: $500.00