Fortinet FortiVoice-100T

1 T1/E1, 2 FXO, 4 FXS ports, 100 Extensions, VoIP Trunking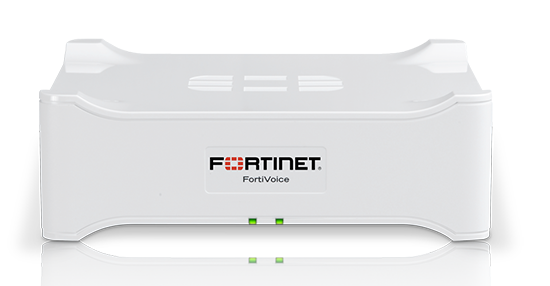 Sorry, this product is no longer available. Please Contact Us for a replacement.
Click here to jump to more pricing!
Overview:
Easy to use, affordable and reliable, FortiVoice phone systems were designed to help small and medium businesses take control of their calls. With the features of a big business phone system at a small business price, FortiVoice helps you build a better bottom line by reducing your costs while improving customer service.
FortiVoice systems come complete with everything your small office needs to ­handle calls professionally, control communication costs and stay connected everywhere. It's a compact, easy-to-use system for small, multibranch and home-based companies­with up to 400 phone users per office.
Big business features
Impress your customers with a range of features usually found only in large-scale phone systems. You can answer calls with sophisticated multi-level auto attendants and dial-by-name directories. Or connect to off-site and mobile ­telephones as though they were on-site extensions. FortiVoice allows you to seamlessly pick up calls wherever you are. And more.
VoIP, digital or traditional: connect the way you want
Most systems make you choose between VoIP and the traditional telephone ­network. FortiVoice offers a true hybrid for small business. Whether you connect to traditional, digital or VoIP lines, the system works the same way.
Improve image, control costs and stay connected anywhere.
Big business phone system at a small business price
Comes with voicemail, auto attendants, dial-by-name directory,­ ring groups and much more
Works with VoIP, traditional­ and digital telephone lines
Seamlessly integrates mobile and teleworkers
Easy to set up and easy to use
Expandable up to 400 users per location
Key Features & Benefits
Highly flexible, multi-level auto attendants
Never miss a call. Ensure all calls are answered professionally, 24 hours a day, even if everybody is busy, andwithout the cost of dedicated staff to answer the phones. Multiple levels allow customer service in different languages, or different caller options in different departments.
Connect anywhere extensions
Integrate cell phones, home phones and phones in other locations, so that callers can dial the main office number and connect with any employee, anywhere.
Multibranch VoIP networking
Optionally use VoIP to connect multiple locations, around the block or across the country with no long-distance charges.
Built-in voicemail
Save costs on phone company voicemail and consolidate cell phone and desk phone voicemails in one place. Receive voicemails in e-mail for easy retrieval and storage.
Ring groups and call queues
Line callers up in department-specific hold queues that agents can answer first-come, first-served.
Pricing Notes:
Hardware plus FortiCare Premium
Hardware Unit, FortiCare Premium Ticket Handling, Advanced Hardware Replacement (NBD), Firmware and General Upgrades
FortiCare Premium Support
FortiCare Premium Ticket Handling, Advanced Hardware Replacement (NBD), Firmware and General Upgrades
Prices are for one year of Premium RMA support. Usual discounts can be applied.
Annual contracts only. No multi-year SKUs are available for these services.
Contact Fortinet Renewals team for upgrade quotations for existing FortiCare contracts.
Pricing and product availability subject to change without notice.