Fortinet FortiVoice-100T

1 T1/E1, 2 FXO, 4 FXS ports, 100 Extensions, VoIP Trunking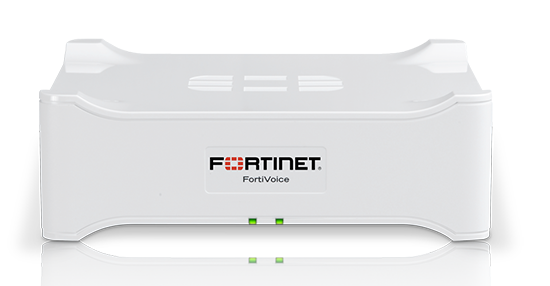 Sorry, this product is no longer available. Please Contact Us for a replacement.
Click here to jump to more pricing!
Overview:
Easy to use, affordable and reliable, FortiVoice phone systems were designed to help small and medium businesses take control of their calls. With the features of a big business phone system at a small business price, FortiVoice helps you build a better bottom line by reducing your costs while improving customer service.
FortiVoice systems come complete with everything your small office needs to ­handle calls professionally, control communication costs and stay connected everywhere. It's a compact, easy-to-use system for small, multibranch and home-based companies­with up to 400 phone users per office.
Big business features
Impress your customers with a range of features usually found only in large-scale phone systems. You can answer calls with sophisticated multi-level auto attendants and dial-by-name directories. Or connect to off-site and mobile ­telephones as though they were on-site extensions. FortiVoice allows you to seamlessly pick up calls wherever you are. And more.
VoIP, digital or traditional: connect the way you want
Most systems make you choose between VoIP and the traditional telephone ­network. FortiVoice offers a true hybrid for small business. Whether you connect to traditional, digital or VoIP lines, the system works the same way.
Improve image, control costs and stay connected anywhere.
Big business phone system at a small business price
Comes with voicemail, auto attendants, dial-by-name directory,­ ring groups and much more
Works with VoIP, traditional­ and digital telephone lines
Seamlessly integrates mobile and teleworkers
Easy to set up and easy to use
Expandable up to 400 users per location
Key Features & Benefits
Highly flexible, multi-level auto attendants
Never miss a call. Ensure all calls are answered professionally, 24 hours a day, even if everybody is busy, andwithout the cost of dedicated staff to answer the phones. Multiple levels allow customer service in different languages, or different caller options in different departments.
Connect anywhere extensions
Integrate cell phones, home phones and phones in other locations, so that callers can dial the main office number and connect with any employee, anywhere.
Multibranch VoIP networking
Optionally use VoIP to connect multiple locations, around the block or across the country with no long-distance charges.
Built-in voicemail
Save costs on phone company voicemail and consolidate cell phone and desk phone voicemails in one place. Receive voicemails in e-mail for easy retrieval and storage.
Ring groups and call queues
Line callers up in department-specific hold queues that agents can answer first-come, first-served.
Features & Benefits:
Auto attendants, ring groups, call cascades and more ensure your calls are always handled professionally and efficiently
Seamlessly integrates capacity for traditional phone lines and VoIP, giving you flexibility and cost control
Includes user-friendly Windows-based configuration software that gives you complete control over call handling
Integrates mobile workers, teleworkers and multiple locations for easy, cost-effective collaboration
Works with analog phones, IP phones or both: best with FortiFone phones, but also supports all standard analog phones and selected other IP phones
Available in 40, 70 or 100-extension capacities that can grow with your business. Maximum capacity is 400 phone users per location, in single or multiple locations
FortiVoice SMB Phone Systems

Auto attendants: 20
Voicemail
Remote extensions
Dial-by-name directory
Voicemail to e-mail
Cell/pager/e-mail message notification
Voicemail broadcast
Music on hold

Call cascade
Ring groups
Uniform call distribution
Call queue
User privileges
Caller-ID-based routing
Call detail record logging
Line appearance (with FortiFone IP phones)

Multilingual prompts and software
Call forward
Auto fax detection
Call conference/bridge
Call back/call bridge
Mode scheduling
Call hold/transfer/park/pickup
Call screening

Intercom
Distinctive ring
Public address
Remote management
Paging to select phones
Click-to-dial from Outlook
System speed dials
Automatic hotline calling
Specifications: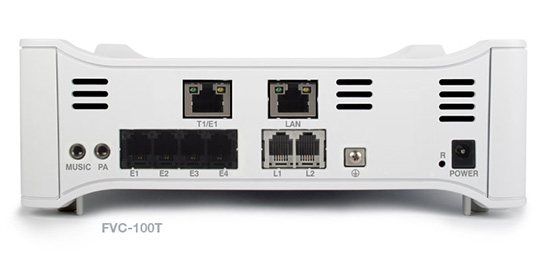 FVC-40S
FVC-40
FVC-70
FVC-100
FVC-100T
MAXIMUM1
Traditional telephone lines
0
2
4
8
2
32
VoIP trunks
8
8
8
8
8
32
T1/E1 PRI
0
0
0
0
1
1
Extension capacity2
40 (IP only)
40 (4 may be analog)
 70 (8 may be analog)
100 (4 may be analog)
100 (4 may be analog)
400
Remote extensions
20
20
35
50
50
200
Auto attendants
20
20
20
20
20
20
Memory capacity
28 hours
28 hours
 28 hours
28 hours
28 hours
112 hours
1 Up to 4 FortiVoice units can be networked on a LAN, combining line and extension capacity to these maximums. 2 Analog phones, fax machines and other devices can be used for up to 4 or 8 of the extensions on each unit.
Technical Specifications
System
Power-failure line to extension jacks*
E4 port to L1 port (not supported in Australia)
Analog extension interface*
Trunk type
Loop start
Interface impedance
600 ohms
Loop range
0–600 ohms
Total ringing load
5 REN
Analog trunks*
Trunk type
Loop start
Interface impedance
600 ohms, 600 complex/900 ohms, 900 complex
Caller ID support
FSK, all lines
VoIP features

Embedded SIP server for IP extensions
Multibranch VoIP networking
G.711 µ-law/A-law, G.729a codecs
G.168 echo cancellation
VAD, silence suppression
Adaptive jitter buffer
Packet loss concealment
8 concurrent VoIP sessions
Up to 4 service provider accounts
Fax tone detection

Dimensions
H x W x L
3 x 8.5 x 8.5 in / 7.5 x 21.6 x 21.6 cm
Weight

FVC-40S: 1.6 lbs / 0.8 kg
FVC-40: 2 lbs / 0.9 kg
FVC-70: 2.3 lbs / 1.0 kg
FVC-100: 2.5 lbs / 1.1 kg
FVC-100T: 2.2 lbs / 1.0 kg

Compliance
CE Mark, ACTA TIA/EIA/IS-968A and FCC Part 68 Industry Canada CS-03, FCC Part 15B Industry Canada ICES-003. System and power adapter comply with UL and CSA.
*Not applicable to FVC-40S
Pricing Notes:
Hardware plus FortiCare Premium
Hardware Unit, FortiCare Premium Ticket Handling, Advanced Hardware Replacement (NBD), Firmware and General Upgrades
FortiCare Premium Support
FortiCare Premium Ticket Handling, Advanced Hardware Replacement (NBD), Firmware and General Upgrades
Prices are for one year of Premium RMA support. Usual discounts can be applied.
Annual contracts only. No multi-year SKUs are available for these services.
Contact Fortinet Renewals team for upgrade quotations for existing FortiCare contracts.
Pricing and product availability subject to change without notice.