Fortinet FortiVoice-100F

2x 10/100/1000 RJ45 ports, 1x USB2.0, 1x USB3.0, 1x 240G SSD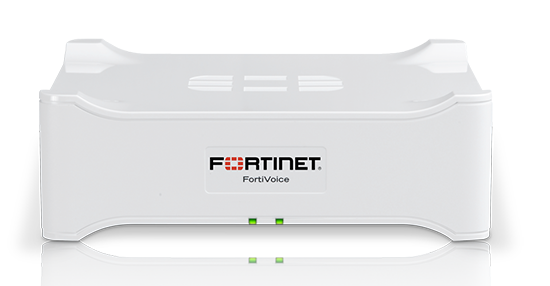 Fortinet Products
FortiVoice 100F Base Appliance
FortiVoice 100F, 2x 10/100/1000 RJ45 ports, 1x USB2.0, 1x USB3.0, 1x 240G SSD
#FVE-100F
List Price:
$2,299.00
Our Price: $1,694.59
FortiVoice-100F Hardware plus FortiCare Premium
FortiVoice-100F Hardware plus 1 Year FortiCare Premium
#FVE-100F-BDL-247-12
List Price:
$2,988.70
Our Price: $2,202.97
FortiVoice-100F Hardware plus 3 Year FortiCare Premium
#FVE-100F-BDL-247-36
List Price:
$4,368.10
Our Price: $3,219.73
FortiVoice-100F Hardware plus 5 Year FortiCare Premium
#FVE-100F-BDL-247-60
List Price:
$5,747.50
Our Price: $4,236.48
Click here to jump to more pricing!
Overview:
Centralized and Advanced Communication Features
The FortiVoice™ solutions accommodate efficient employee collaboration within a centralized, safe, and secured environment so your organization can provide the best customer service through a variety of our unique and advanced communication features. Powerful, affordable, and simple, FortiVoice phone systems have the strength to make call management easier in offices with up to 50,000 users. With integrated voice, conferencing, and fax, FortiVoice empowers you to manage calls easily across offices, control communication costs, and stay connected globally.
Rich Features for Optimal Collaboration
Enterprise-class communication systems with no additional licenses to buy or cards to install. Auto attendants, autoprovisioning, line/extension appearance, ring groups, user privileges, call queue, call barge, multi-location integration, and much more are built-in. FortiVoice all-inclusive system is easy to install and manage so you save the headache that comes with other phone systems.
Better Value from Your Investment
Unlike many PBX providers with hidden costs on advanced features or recurring subscription, which further adds up to the operational costs, FortiVoice comes with all calling features for everyone with simple and affordable pricing.
Simplified Management for Improved Efficiency
Centralized management system to reduce IT overheads and operating expenses. Configure and update your systems easily across multiple locations, monitor real-time performance and access call reports all from an intuitive management console. An additional mobile soft client helps your employees stay connected anywhere and anytime.
Always-on Connection for Business Continuity
Conjunction with FortiVoice Gateway, your system is secured with local survivability that helps sustain always-on communications, even when nature disasters or emergency events occur.
Highlights
| | |
| --- | --- |
| Multiple Line Types | Support for PRI (T1/E1) digital lines, VoIP, and traditional analog lines depending on the model. |
| Multi-location Networking | Integrates multiple locations around the block or across the country with no long-distance charges. |
| All-Inclusive Features | Line/extension appearance, call queue, call barge, phone profile, ring group, call recording, rule-based dial plan, individual/group voicemail, conference bridge, fax, and much more. |
| Flexible Management | Multiple mode scheduling, flexible number management, re-assignable extensions, and caller ID modifications. |
| Ease of Configuration | Visual auto attendant config, built-in DHCP server, auto phone provisioning, web-based management, and user web portal. |
| Comprehensive System Monitoring | Real-time call status monitoring, call statistics, call logs, call reports, and network traffic capture. |
| Secure Communications | Built-in security features, policy management, and encryption options to safeguard conversations and prevent unauthorized access. |
Pricing Notes:
Hardware plus FortiCare Premium
Hardware Unit, FortiCare Premium Ticket Handling, Advanced Hardware Replacement (NBD), Firmware and General Upgrades
FortiCare Premium Support
FortiCare Premium Ticket Handling, Advanced Hardware Replacement (NBD), Firmware and General Upgrades
Prices are for one year of Premium RMA support. Usual discounts can be applied.
Annual contracts only. No multi-year SKUs are available for these services.
Contact Fortinet Renewals team for upgrade quotations for existing FortiCare contracts.
Pricing and product availability subject to change without notice.
Fortinet Products
FortiVoice 100F Base Appliance
FortiVoice 100F, 2x 10/100/1000 RJ45 ports, 1x USB2.0, 1x USB3.0, 1x 240G SSD
#FVE-100F
List Price:
$2,299.00
Our Price: $1,694.59
FortiVoice-100F Hardware plus FortiCare Premium
FortiVoice-100F Hardware plus 1 Year FortiCare Premium
#FVE-100F-BDL-247-12
List Price:
$2,988.70
Our Price: $2,202.97
FortiVoice-100F Hardware plus 3 Year FortiCare Premium
#FVE-100F-BDL-247-36
List Price:
$4,368.10
Our Price: $3,219.73
FortiVoice-100F Hardware plus 5 Year FortiCare Premium
#FVE-100F-BDL-247-60
List Price:
$5,747.50
Our Price: $4,236.48
FortiVoice-100F FortiVoice Unified Communication Service
FortiVoice-100F 1 Year FortiVoice Unified Communication Service
#FC-10-FVF10-224-02-12
List Price:
$459.80
Our Price: $398.09
FortiVoice-100F FortiVoice Enhanced Call Center Service
FortiVoice-100F 1 Year FortiVoice Enhanced Call Center Service
#FC-10-FVF10-234-02-12
List Price:
$459.80
Our Price: $398.09
FortiVoice-100F FortiCare Premium Support
FortiVoice-100F 1 Year FortiCare Premium Support
#FC-10-FVF10-247-02-12
List Price:
$689.70
Our Price: $597.14
FortiVoice-100F 3 Year FortiCare Premium Support
#FC-10-FVF10-247-02-36
List Price:
$2,069.10
Our Price: $1,791.43
FortiVoice-100F 5 Year FortiCare Premium Support
#FC-10-FVF10-247-02-60
List Price:
$3,448.50
Our Price: $2,985.71