Fortinet FortiTester 2000E

Performance Testing and Breach Attack Simulation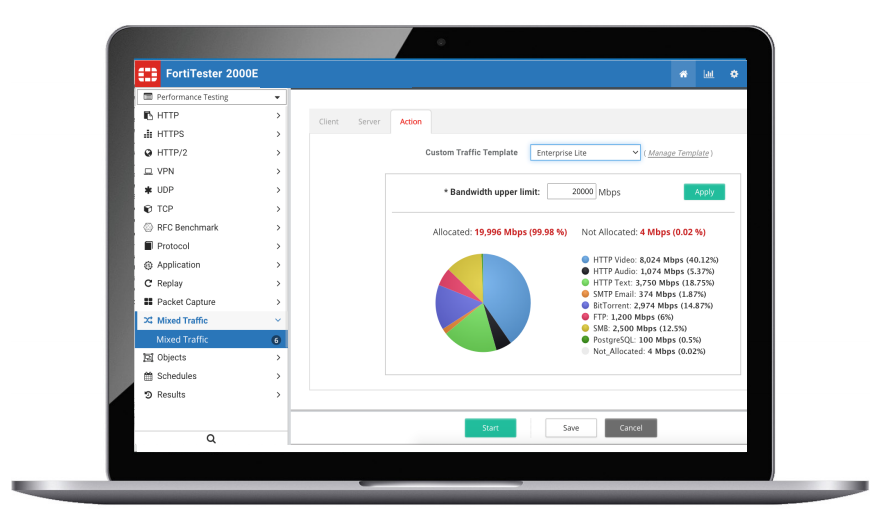 Sorry, this product is no longer available, please contact us for a replacement.
Click here to jump to more pricing!
Overview:
Fortinet's FortiTester solution offers enterprise and managed service providers a highly effective and affordable solution to ensure the most SECURE and RESILIENT infrastructure. Continuous validation is the best way to maintain a future-proof and secure infrastructure. FortiTester defines the Breach Attack Simulation (BAS) market, where security operations can assess the people, process, and technology on which the security of their organization depends.
PERFORMANCE TESTING AND TRAFFIC GENERATION
HTTP, HTTPS, HTTP/2, UDP Throughput, RFC2544, SSLVPN and IPSEC testing, Traffic enterprise mix generation, and Q-in-Q traffic generation
BREACH ATTACK SIMULATION
MITRE ATT&CK simulation testing, CVE-based IPS testing, Fuzzing testing, Web/IOT attacks, FortiGuard Malware strike pack, DDoS traffic generation and PCAP replay
COMPREHENSIVE API
Automate testing and simulation with full system, test simulation, and reporting API
Highlights
Up-to-date cyber threat simulation based on real world insight of FortiGuard
Best price and performance traffic generation and security testing system for enterprises and service providers
Flexible operation modes from one standalone device up to 8 devices combined in Test Center mode
Hardware, virtual appliances, and public cloud (AWS, Azure, GCP, OCI and Alibaba)
Server-Class hardware and packetprocessing enhancements
Throughput Testing up to 80 Gbps/ 800 Gbps Bi-directional Throughput with Standalone or Test Center mode
Easy and Simple Web UI
FORTITESTER USE CASES
SECURE INFRASTRUCTURE VALIDATION
Evaluate Advanced Threat Protection (ATP) Technology
Validate Technology, People, and Process
BREACH ATTACK SIMULATION
MITRE ATT&CK® Simulation
Pre/Post Breach Simulation
VENDOR BAKE-OFF
Datasheet Performance Evaluation
Future Proofing
PUBLIC CLOUD TESTING (AWS, AZURE, GCP, OCI, ALIBABA)
Architecture Validation
Load Testing in Market Places
Pricing Notes:
FortiCare Premium Support
FortiCare Premium Ticket Handling, Advanced Hardware Replacement (NBD), Firmware and General Upgrades
FortiCare Premium plus FortiGuard Bundle Contract
Advanced Hardware Replacement (NBD), Firmware and General Upgrades, Premium Support, FortiDB Security Service (DBS)
Prices are for one year of Premium RMA support. Usual discounts can be applied.
Annual contracts only. No multi-year SKUs are available for these services.
Contact Fortinet Renewals team for upgrade quotations for existing FortiCare contracts.
Pricing and product availability subject to change without notice.
Fortinet Products
FortiTester 2000E Enterprise Bundle with FortiCare Premium Support
FortiTester-2000E 1 Year Enterprise Bundle (IPS attack PCAPs update, malware strike pack, web protection & MITRE ATT&CK signature updates), with FortiCare Premium support
#FC-10-FTE2K-293-02-12
List Price:
$11,797.10
Our Price: $10,213.93
FortiTester 2000E FortiCare Premium Support
FortiTester-2000E 1 Year FortiCare Premium Support
#FC-10-FTE2K-247-02-12
List Price:
$3,370.60
Our Price: $2,918.27
FortiTester 2000E ATT&CK MITRE Attack Package
FortiTester-2000E 1 Year FortiTester ATT&CK MITRE Attack Package (Windows/Linux/Mac attacks based on MITRE techniques)
#FC-10-FTE2K-318-02-12
List Price:
$3,370.60
Our Price: $2,918.27
FortiTester 2000E Malware Strike Pack (FortiGuard Auto Update)
FortiTester-2000E 1 Year FortiTester Malware Strike Pack (FortiGuard auto update)
#FC-10-FTE2K-261-02-12
List Price:
$3,370.60
Our Price: $2,918.27