Fortinet FortiSwitchRugged 112D-POE

High Performance for Harsh Environments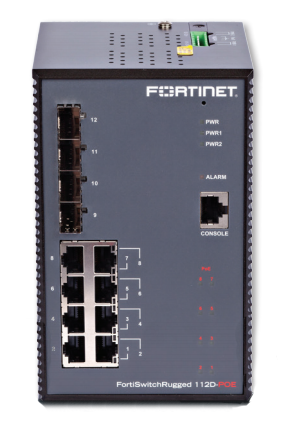 Fortinet Products
FortiSwitchRugged 112D-POE Switch
FortiSwitchRugged-112D-POE Layer 2 ruggedized FortiGate switch controller compatible PoE+ switch with 8 x GE RJ45 ports
#FSR-112D-POE
List Price:
$2,698.00
Our Price: $1,988.70
Click here to jump to more pricing!
Overview:
FortiSwitch Rugged switches deliver all of the performance and security of the trusted FortiSwitch line, but with added reinforcement that makes them ideal for deployments in harsh outdoor environments.
Resilient, sturdy and capable of withstanding intense temperature fluctuations, FortiSwitch Rugged ensures the integrity and performance of mission-critical networks in even the most challenging of deployments.
Add Ruggedized FortiGate for Tough and Powerful Protection
Engineered to survive in hostile environments with an extreme temperature range, the combination of FortiGate Rugged network security appliances with the FortiSwitch Rugged provides a connected network security solution.
Simple Network Deployment
The Power over Ethernet (PoE) capability enables simple installation of cameras, sensors and wireless access points in the network, with power and data delivered over the same network cable.
There is no need to contract electricians to install power for your PoE devices, reducing your overall network TCO.
Highlights
Mean time between failure greater than 25 years
Fanless passive cooling
DIN-rail or wall-mountable
Power over Ethernet capable including PoE+
8x GE RJ45 and 4x GE SFP slots
Redundant power input terminals
Key Features & Benefits
Sturdy IP30 construction
Built to ingress protection 30 standards, the construction of the FSR-112D-POE is designed to perform while enduring hostile conditions.
Passive cooling
With no fan and no moving parts, the mean time between failure for the FSR-112D-POE is greater than 25 years.
Redundant power inputs
Maximizes network availability by eliminating the downtime associated with failure of a power input.
Power over Ethernet capability
Seamless integration of peripheral devices such as cameras, sensors and wireless access points into the network.
Pricing Notes:
FortiCare Premium Support
FortiCare Premium Ticket Handling, Advanced Hardware Replacement (NBD), Firmware and General Upgrades
FortiCare Elite Support
FortiCare Premium Support with FortiCare Elite Ticket Handling.
Prices are for one year of Premium RMA support. Usual discounts can be applied.
Annual contracts only. No multi-year SKUs are available for these services.
Contact Fortinet Renewals team for upgrade quotations for existing FortiCare contracts.
Pricing and product availability subject to change without notice.
Fortinet Products
FortiSwitchRugged 112D-POE Switch
FortiSwitchRugged-112D-POE Layer 2 ruggedized FortiGate switch controller compatible PoE+ switch with 8 x GE RJ45 ports
#FSR-112D-POE
List Price:
$2,698.00
Our Price: $1,988.70
FortiSwitchRugged 112D-POE FortiCare Premium Support
FortiSwitchRugged-112D-POE 1 Year FortiCare Premium Support
#FC-10-W112D-247-02-12
List Price:
$269.80
Our Price: $233.59
FortiSwitchRugged-112D-POE 3 Year FortiCare Premium Support
#FC-10-W112D-247-02-36
List Price:
$809.40
Our Price: $700.78
FortiSwitchRugged-112D-POE 5 Year FortiCare Premium Support
#FC-10-W112D-247-02-60
List Price:
$1,349.00
Our Price: $1,167.96
FortiSwitchRugged 112D-POE FortiCare Elite Support
FortiSwitchRugged-112D-POE 1 Year FortiCare Elite Support
#FC-10-W112D-284-02-12
List Price:
$404.70
Our Price: $350.39
FortiSwitchRugged-112D-POE 3 Year FortiCare Elite Support
#FC-10-W112D-284-02-36
List Price:
$1,214.10
Our Price: $1,051.17
FortiSwitchRugged-112D-POE 5 Year FortiCare Elite Support
#FC-10-W112D-284-02-60
List Price:
$2,023.50
Our Price: $1,751.95
FortiSwitchRugged-112D-POE Upgrade FortiCare Premium to Elite
FortiSwitchRugged-112D-POE 1 Year Upgrade FortiCare Premium to Elite (Require FortiCare Premium)
#FC-10-W112D-204-02-12
List Price:
$134.90
Our Price: $116.80
FortiSwitchRugged-112D-POE 3 Year Upgrade FortiCare Premium to Elite (Require FortiCare Premium)
#FC-10-W112D-204-02-36
List Price:
$404.70
Our Price: $350.39
FortiSwitchRugged-112D-POE 5 Year Upgrade FortiCare Premium to Elite (Require FortiCare Premium)
#FC-10-W112D-204-02-60
List Price:
$674.50
Our Price: $583.98