Fortinet FortiSwitch 248D

Secure Access Switches

Fortinet Products
FortiSwitch 248D Switch
FortiSwitch-248D
Layer 2/3 FortiGate switch controller compatible switch with 48 x GE RJ45 ports, 4 x GE SFP
#FS-248D
List Price:
$1,734.00
Our Price: $1,501.30
Click here to jump to more pricing!
Overview:
FortiSwitch Secure Access switches deliver outstanding security, performance and manageability for threat conscious small to mid-sized businesses, distributed enterprises and branch offices. Tightly integrated into the FortiGate® Network Security Platform, the FortiSwitch Secure Access switches can be managed directly from the familiar FortiGate interface. This single pane of glass management provides complete visibility and control of all users and devices on the network, regardless of how they connect.
When a device connects to a Secure Access Switch Ethernet port, it is first identified, and then the user is authenticated. Once authenticated, access to the network is granted based on pre-defined security policy from the FortiGate, ensuring secure network access across the enterprise, without impacting the user experience.
Secure Managed Switches for Wire Closet Installation
The FortiSwitch D-Series switches are ideal for the next generation applications, where increased productivity can be achieved through faster network access speeds via dedicated Gigabit Ethernet ports. With a compact 1RU form factor, these switches are ideally suited for high density enterprise or classroom wire closet installations, delivering a truly secure network access platform for wired Ethernet devices.
Simple Network Deployment and Compliance
The Power over Ethernet (PoE) capability enables simple installation of wireless Access Points and IP phones in the network, with power and data being delivered over the same network cable. There is no need to contract electricians to install power for your PoE capable devices anymore, reducing your overall network TCO.
By leveraging the FortiSwitch VLAN segmentation feature of the switches, enterprise networks can support the convergence of voice, data and wireless traffic onto a single network platform. FortiSwitch network segmentation can even be managed from the FortiGate interface, simplifying the process of meeting compliance requirements for data separation.
Highlights
Secure Access switches suitable for wire closet and desktop installations.
Devices are identified and users authenticated prior to being granted access to the network.
Centralized security management and reporting from FortiGate interface.
Up to 48 ports in a compact 1 RU form factor.
Power over Ethernet capable, including PoE+.
Ideal for converged network environments; enabling voice, data and wireless traffic to be delivered across a single network.
Key Features & Benefits
Single Management Framework
Reduces complexity and decreases management cost with network security functions managed through a single console.
Single Policy Provisioning
The same security policy can apply to a user or device regardless of how or where they connect to the network.Enables access to certain network ports based on the role of a user within the organization, such as in shared conference rooms or engineering facilities.
Centralized Authentication
All users are authenticated against the same user database, regardless of whether they connect to the wired or wireless network, including temporary guest users.
Role-Based Ports
Enables access to certain network ports based on the role of a user within the organization, such as in shared conference rooms or engineering facilities..
Capabilities: Fortilink Mode Vs. Standalone Mode:
FORTISWITCH D-SERIES
STANDALONE SWITCH
FORTILINK MODE (FORTIGATE)
Security
802.1x Port Authentication
Yes
Yes
MAC Address-Based Authentication
No
Yes
MAC Black/White Listing
No
Yes
Layer 3,4 Stateful Firewall to Control Access
No
Yes
TACACS+/RADIUS Admin Access
Yes
Yes
DHCP Relay/DHCP Snooping
No
Yes
Virtual Domain
No
Yes
Routing
Layer 3, Dynamic Routing
No
Yes
Inter-VLAN Routing
Yes*
Yes
Policy-Based Routing
No
Yes
DNS Server
No
Yes
VLANs Supported
4K
1K
Management
Auto Discovery of Multiple Switches
1
16 (model dependent)
Software Upgrade of Switches
1 switch
Central upgrade of each switch
VLAN Configuration
1 switch
Central VLAN provisioning of entire switch network
Policy Control of Users and Devices
No
Yes
Syslog Collection
Yes
Yes (FortiGate syslog only)
Switch POE Control
Yes
Yes**
LAG support from FortiSwitch to FortiGate
Yes
Yes**
High Availability
Support for FortiGate in HA cluster
Yes
Yes**
UTM Features
Firewall
No
Yes
IPS, AV, Application Control
No
Yes
* supported in 124D, 124D-POE, 200 (except 224D-POE), 400 and 500 series.
** enabled with FOS 5.4 release
FortiSwitch Deployment Example:
FortiLink Mode
The FortiSwitch Secure Access Switch series integrates directly into the FortiGate* Connected UTM, with switch administration and access port security managed from the familiar FortiGate interface. Regardless of how users and devices connect to the network, you have complete visibility and control over your network security and access through this single pane of glass, perfectly suited to threatconscious organizations of any size.

* Selected models only
Standalone Mode
Virtualization and cloud computing have created dense high-bandwidth Ethernet networking requirements in the data center, pushing the limits of existing data center switching. FortiSwitch Data Center switches meet these challenges by providing a high performance 10 or 40 GE capable switching platform, with a low Total Cost of Ownership. Ideal for Top of Rack server or firewall aggregation applications, as well as enterprise network core or distribution deployments, these switches are purpose-built to meet the needs of today's bandwidth intensive environments.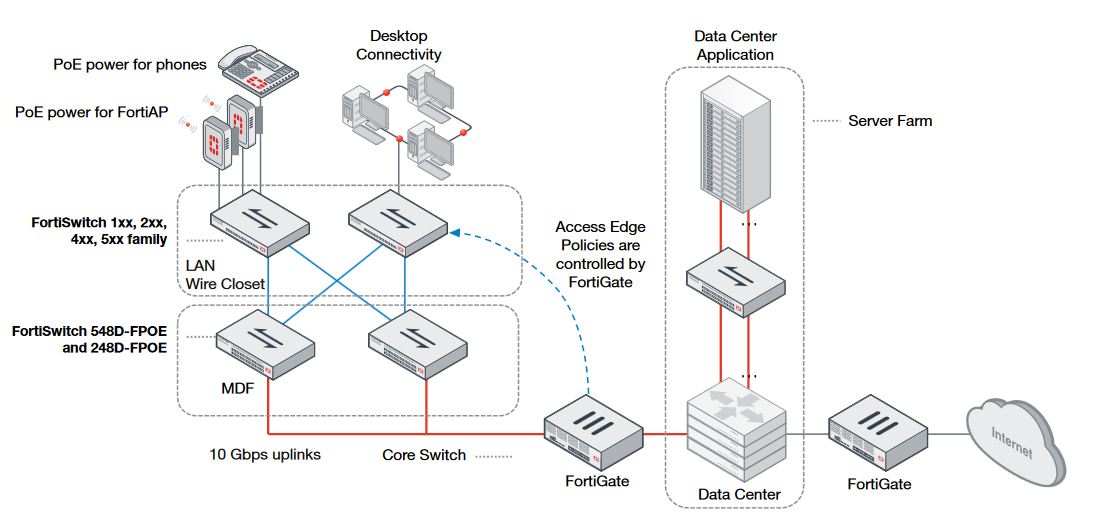 Software Features (standalone Mode):
FORTISWITCH D-SERIES
Layer 2
Jumbo Frames
Yes
Auto-negotiation for port speed and duplex
Yes
IEEE 802.1D MAC Bridging/STP (will interoperate)
Yes
IEEE 802.1w Rapid Spanning Tree Protocol (RSTP, will interoperate)
Yes
IEEE 802.1s Multiple Spanning Tree Protocol (MSTP)
Yes
IEEE 802.1p Mapping to Priority Queue
Not supported
Edge Port / Port Fast
Yes
IEEE 802.1Q VLAN Tagging
Yes
Private VLAN
Not supported on FS-108D-POE, FS-224D-POE
IEEE 802.3ad Link Aggregation with LACP
Yes
Unicast/Multicast traffic balance over trunking port (dst-ip, dst-mac, src-dst-ip, src-dst-mac, src-ip, src-mac)
Yes
IEEE 802.1AX Link Aggregation
Yes
Spanning Tree Instances (MSTP/CST)
15/1
IEEE 802.3x Flow Control and back-pressure
Yes
IEEE 802.3 10Base-T
Yes
IEEE 802.3u 100Base-TX
Yes
IEEE 802.3z 1000Base-SX/LX
Yes
IEEE 802.3ab 1000Base-T
Yes
802.3ae 10 Gigabit Ethernet
in FS-5xx, 4xx family
802.3 CSMA/CD Access Method and Physical Layer Specifications
Yes
IEEE 802.3af-2003/2009 POE
Not supported on FS-124D
Storm Control
Yes (except FS-108D-POE, FS-224D-POE)
Layer 3
Static Routing (Software-based only)
Up to 64 static routes, usable for software routing (like management traffic)
Static Routing (Hardware-based)
64 static routes (16K on FS-5xx family)*
L3 Host/ARP Entries
4K on FS-1xx, 2xx, 4xx family*
24K on FS-5xx family
Services
IGMP Snooping (v1/v2/v3)
1023 groups on FS-1xx, 2xx, 4xx, 5xx. Not supported on FS-108D-POE, FS-224D-POE
Security
Port Mirroring
Yes
Admin Authentication Via RFC 2865 RADIUS
Yes
802.1x authentication with port-based assignment
Yes
sFlow
Yes, All models except FS-108D-POE, FS-224D-POE
ACL Tables
1K entries on FS-5xx family
512 on FS-1xx, 2xx, 4xx, 5xx families
Not supported on FS-108D-POE, FS-224D-POE
Management
Telnet / SSH
Yes
HTTP / HTTPS
Yes
SNMP v1/v2c/v3
Yes
SNTP
Yes
LLDP (802.1ab, Link Layer Discovery Protocol) (receive and transmit)
Yes
Standard CLI and web GUI interface
Yes
Software download/upload: TFTP/FTP/GUI
Yes
Managed from FortiGate
Yes
RFC and MIB Support**
RFC 2571 Architecture for Describing SNMP Framework
Yes
DHCP Client
Yes
RFC 854 Telnet Server
Yes
RFC 2865 RADIUS
Yes
RFC 1643 Ethernet-like Interface MIB
Yes
RFC 1213 MIB-II
Yes
RFC 1354 IP Forwarding Table MIB
Yes
RFC 2572 SNMP Message Processing and Dispatching
Yes
RFC 1573 SNMP MIB II
Yes
RFC 1157 SNMPv1/v2c
Yes
RFC 2030 SNTP
Yes
* Check Release notes/Admin guide for Static Routing release details.
** MIBs have been tested with Solarwinds NPM tool.
Specifications:
FORTISWITCH 248D
Hardware Specifications
Total Network Interfaces
48x GE RJ45 ports and 4x GE SFP ports
Dedicated Management 10/100 Port
1
RJ-45 Serial Console Port
1
Form Factor
1 RU Rack Mount
Power over Ethernet (PoE) Ports
—
PoE Power Budget
N/A
Mean Time Between Failures
> 10 years
System Specifications
Switch Type
Web and CLI Managed
Switching Capacity
104 Gbps
Packets Per Second
155 Mpps
MAC Address Storage
16K
Network Latency
< 1µs
VLANs Supported
4K
Link Aggregation Group Size
8
Total Link Aggregation Groups
26
Packet Buffers
1.5 MB
DRAM
512 MB
FLASH
128 MB
Dimensions
Height x Width x Length (inches)
1.73 x 9.68 x 17.3
Height x Width x Length (mm)
44 x 246 x 440
Weight
7.81 lbs (3.54 kg)
Environment
Power Required
100–240V AC, 50–60 Hz
Power Supply
AC built in
Redundant Power
—
Power Consumption (Average / Maximum)
38.66 W / 39.19 W
Heat Dissipation
134 BTU/h
Operating Temperature
32–122°F (0–50°C)
Storage Temperature
-4–158°F (-20–70°C)
Humidity
10–90% non-condensing
Certification and Compliance
FCC, CE, RCM, VCCI, BSMI, UL, CB, RoHS2
Warranty
Fortinet Warranty
Limited lifetime* warranty on all models
Pricing Notes:
FortiCare Premium Support
FortiCare Premium Ticket Handling, Advanced Hardware Replacement (NBD), Firmware and General Upgrades
FortiCare Elite Support
FortiCare Premium Support with FortiCare Elite Ticket Handling.
Prices are for one year of Premium RMA support. Usual discounts can be applied.
Annual contracts only. No multi-year SKUs are available for these services.
Contact Fortinet Renewals team for upgrade quotations for existing FortiCare contracts.
Pricing and product availability subject to change without notice.
Fortinet Products
FortiSwitch 248D Switch
FortiSwitch-248D
Layer 2/3 FortiGate switch controller compatible switch with 48 x GE RJ45 ports, 4 x GE SFP
#FS-248D
List Price:
$1,734.00
Our Price: $1,501.30
FortiSwitch 200 Series Advanced Features License
SW License for FS-200 Series Switches to activate Advanced Features
#FS-SW-LIC-200
List Price:
$210.00
Our Price: $181.82
FortiSwitch 248D FortiCare Premium Support
FortiSwitch-248D 1 Year FortiCare Premium Support
#FC-10-W248D-247-02-12
List Price:
$173.40
Our Price: $150.13
FortiSwitch-248D 3 Year FortiCare Premium Support
#FC-10-W248D-247-02-36
List Price:
$520.20
Our Price: $450.39
FortiSwitch-248D 5 Year FortiCare Premium Support
#FC-10-W248D-247-02-60
List Price:
$867.00
Our Price: $750.65
FortiSwitch 248D FortiCare Elite Support
FortiSwitch-248D 1 Year FortiCare Elite Support
#FC-10-W248D-284-02-12
List Price:
$260.10
Our Price: $225.19
FortiSwitch-248D 3 Year FortiCare Elite Support
#FC-10-W248D-284-02-36
List Price:
$780.30
Our Price: $675.58
FortiSwitch-248D 5 Year FortiCare Elite Support
#FC-10-W248D-284-02-60
List Price:
$1,300.50
Our Price: $1,125.97
FortiLAN Cloud Management for FortiSwitch 200-400 Series (incl all FSW Rugged Models)
FortiLAN Cloud Management 1 Year FortiSwitch 200 - 400 Series (incl all FSW Rugged Models) FortiLAN Cloud Management SKU Including FortiCare Premium (Note, FortiCare only applicable when used with FortiLAN Cloud)
#FC-10-FSW10-628-02-12
Our Price: $115.50
FortiLAN Cloud Management 3 Year FortiSwitch 200 - 400 Series (incl all FSW Rugged Models) FortiLAN Cloud Management SKU Including FortiCare Premium (Note, FortiCare only applicable when used with FortiLAN Cloud)
#FC-10-FSW10-628-02-36
Our Price: $346.50
FortiLAN Cloud Management 5 Year FortiSwitch 200 - 400 Series (incl all FSW Rugged Models) FortiLAN Cloud Management SKU Including FortiCare Premium (Note, FortiCare only applicable when used with FortiLAN Cloud)
#FC-10-FSW10-628-02-60
Our Price: $577.50
FortiSwitch-248D Upgrade FortiCare Premium to Elite
FortiSwitch-248D 1 Year Upgrade FortiCare Premium to Elite (Require FortiCare Premium)
#FC-10-W248D-204-02-12
List Price:
$86.70
Our Price: $75.06
FortiSwitch-248D 3 Year Upgrade FortiCare Premium to Elite (Require FortiCare Premium)
#FC-10-W248D-204-02-36
List Price:
$260.10
Our Price: $225.19
FortiSwitch-248D 5 Year Upgrade FortiCare Premium to Elite (Require FortiCare Premium)
#FC-10-W248D-204-02-60
List Price:
$433.50
Our Price: $375.32