Fortinet FortiSwitch 108F

Secure Access Switches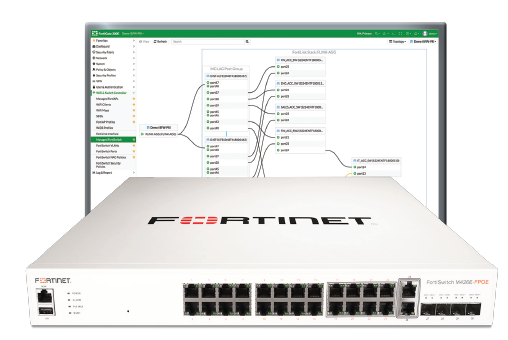 Fortinet Products
FortiSwitch 108F Switch
FortiSwitch-108F L2 Switch - 8 x GE RJ45 ports, 2 x GE SFP, Fanless, 12V/3A power adapter of input voltage 100 - 240VAC and PSE dual powered L2+ management switch, FortiGate Switch controller compatible.
#FS-108F
List Price:
$377.00
Our Price: $277.89
Click here to jump to more pricing!
Overview:
Security, Performance, and Manageability
The FortiSwitch™ Secure Access Family delivers outstanding security, performance, and manageability. Secure, simple, and scalable, FortiSwitch is the right choice for threatconscious businesses of all sizes.
Security Fabric Integration through FortiLink
FortiLink is an innovative proprietary management protocol that allows our FortiGate Next Generation Firewall to seamlessly manage any FortiSwitch. FortiLink enables the FortiSwitch to become a logical extension of the FortiGate, integrating it directly into the Fortinet Security Fabric. This management option reduces complexity and decreases management costs as network security and access layer functions are enabled and managed through a single console. FortiLink integration enables centralized policy management, including role-based access and control, making it easy to implement and manage. This control and manageability make FortiSwitch ideal for SD-Branch deployments.
Highlights
Designed for installations from desktops to wiring closets
Ideal for SD-Branch deployments
Optimal for converged network environments; enabling voice, data, and wireless traffic to be delivered across a single network
Centralized security and access management from FortiGate interface
Supports non-FortiLink deployments through onboard GUI, API, or command line configuration
Up to 48 ports in a compact 1 RU form factor
Stackable up to 300 switches per FortiGate depending on model
Supports Wire-speed switching and Store and Forward forwarding mode
Deployment
FortiLink
FortiGate managed
Security Fabric enabled
Most common deployment model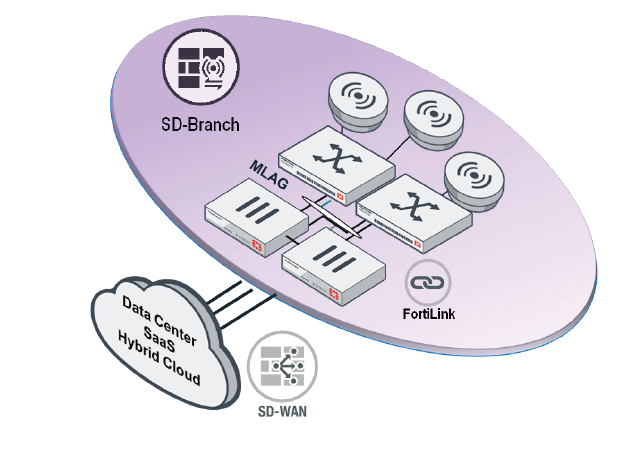 Standalone
Industry standard deployment model
Common in non-FortiGate environments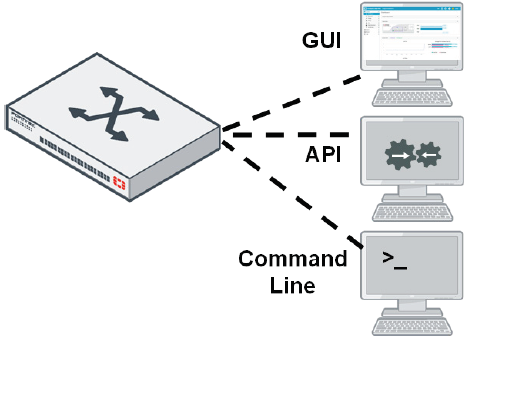 Cloud Management for both deployment options available through FortiCloud
Features:
FORTISWITCH
Layer 2
Jumbo Frames
Auto-negotiation for Port Speed and Duplex
MDI/MDIX Auto-crossover
IEEE 802.1D MAC Bridging/STP
IEEE 802.1w Rapid Spanning Tree Protocol (RSTP)
IEEE 802.1s Multiple Spanning Tree Protocol (MSTP)
STP Root Guard
STP BPDU Guard
Edge Port / Port Fast
IEEE 802.1Q VLAN Tagging
Private VLAN
IEEE 802.3ad Link Aggregation with LACP
Unicast/Multicast traffic balance over trunking port (dst-ip, dst-mac, src-dst-ip, src-dst-mac, src-ip, src-mac)
IEEE 802.1AX Link Aggregation
Spanning Tree Instances (MSTP/CST)
IEEE 802.3x Flow Control and Back-pressure
IEEE 802.3 10Base-T
IEEE 802.3u 100Base-TX
IEEE 802.3z 1000Base-SX/LX
IEEE 802.3ab 1000Base-T
IEEE 802.3ae 10 Gigabit Ethernet
IEEE 802.3az Energy Efficient Ethernet
IEEE 802.3bz Multi Gigabit Ethernet
IEEE 802.3 CSMA/CD Access Method and Physical Layer Specifications
Storm Control
MAC, IP, Ethertype-based VLANs
Virtual-Wire
Split Port (QSFP+ breakout to 4x10G SFP+ or 4x1G SFP)
Time-Domain Reflectcometry (TDR) Support
LAG min/max bundle
Rapid PVST interoperation
Ingress Pause Metering
Loop Guard
Per-port storm control
Priority-based Flow Control (802.1Qbb)
IEEE 802.1ad QinQ
VLAN Mapping
IEEE 802.3ba, 802.3bj, and 802.3bm 40 and 100 Gigabit Ethernet
Auto topology
Services
IGMP proxy / querier
MLD Snooping
MLD proxy / querier
IGMP Snooping
Layer 3
Static Routing (Hardware-based)
Dynamic Routing Protocols: OSPFv2, RIPv2, VRRP, BGP, ISIS *
Multicast Protocols: PIM-SSM *
ECMP
Bidirectional Forwarding Detection (BFD)
DHCP Relay
IP conflict detection and notification
DHCP server
Unicast Reverse Path Forwarding - uRPF
IPv6 route filtering
Filtering routemaps based on routing protocol
Security and Visibility
Port Mirroring
Admin Authentication Via RFC 2865 RADIUS
IEEE 802.1X Authentication Port-based
IEEE 802.1X Authentication MAC-based
IEEE 802.1X Guest and Fallback VLAN
IEEE 802.1X MAC Access Bypass (MAB)
IEEE 802.1X Dynamic VLAN Assignment
Radius CoA (Change of Authority)
Radius Accounting
MAC-IP Binding
sFlow
ACL
IEEE 802.1ab Link Layer Discovery Protocol (LLDP)
IEEE 802.1ab LLDP-MED
IEEE 802.1ae MAC Security (MAC Sec)
DHCP-Snooping
Dynamic ARP Inspection
Sticky MAC and MAC Limit
IEEE 802.1X open auth
IEEE 802.1X EAP pass-through
Flow Export (NetFlow and IPFIX)
ACL Multistage
ACL Multiple Ingress
ACL Schedule
IP source guard
IPv6 RA Guard
LLDP-MED ELIN support
Per-port and per-VLAN MAC learning limit
Assign VLANs via Radius attributes (RFC 4675)
High Availability
Multi-Chassis Link Aggregation (MCLAG)
Quality of Service
IEEE 802.1p Based Priority Queuing
IP TOS/DSCP Based Priority Queuing
IEEE 1588 PTP (Transparent Clock)
Explicit Congestion Notification
Egress priority tagging
Percentage Rate Control
Management
IPv4 and IPv6 Management
Telnet / SSH
HTTP / HTTPS
SNMP v1/v2c/v3
SNTP
Standard CLI and Web GUI Interface
Software download/upload: TFTP/FTP/GUI
Managed from FortiGate
Support for HTTP REST APIs for Configuration and Monitoring
Dual Firmware Support
RMON Group 1
Packet Capture
SPAN, RSPAN, and ERSPAN
Link Monitor
POE Control Modes
System Temperature and Alert
Syslog UDP/TCP
Provide warning if L2 table is getting full
Display Average Bandwidth and Allow Sorting on Physical Port / Interface Traffic
System alias command
SNMP v3 traps
* Requires 'Advanced Features' License.
Specifications:
FORTISWITCH 108F
FORTISWITCH 108F-POE
FORTISWITCH 108F-FPOE
Hardware Specifications

Total Network Interfaces

7x GE RJ45, 1x GE/POE-PD RJ45, and 2x GE SFP

8x GE RJ45 and 2x GE SFP

8x GE RJ45 and 2x GE SFP

Dedicated Management 10/100 Port

0

0

0

RJ-45 Serial Console Port

1

1

1

Form Factor

Desktop

Deskop / 19" rack bracket

Deskop / 19" rack bracket

Power over Ethernet (PoE) Ports

0

8 (802.3af/at)

8 (802.3af/at)

PoE Power Budget

0

65 W

130 W

Mean Time Between Failures

> 10 years

> 10 years

> 10 years

System Specifications

Switching Capacity (Duplex)

20 Gbps

20 Gbps

20 Gbps

Packets Per Second (Duplex)

30 Mpps

30 Mpps

30 Mpps

MAC Address Storage

8 K

8 K

8 K

Network Latency

4 μs

4 μs

4 μs

VLANs Supported

4 K

4 K

4 K

Link Aggregation Group Size

8

8

8

Total Link Aggregation Groups

8

8

8

Packet Buffers

512 KB

512 KB

512 KB

DRAM

256 MB DDR3

256 MB DDR3

256 MB DDR3

FLASH

32 MB

32 MB

32 MB

ACL

768

768

768

Spanning Tree Instances

16

16

16

Dimensions

Height x Depth x Width (inches)

1.18 x 4.72 x 7.09

1.73 x 8.23 x 9.85

1.73 x 8.23 x 9.85

Height x Depth x Width (mm)

30 x 120 x 180

44 x 209 x 250

44 x 209 x 250

Weight

1.36 lbs (0.62 kg)

3.75 lbs (1.70 kg)

4.05 lbs (1.84 kg)

Environment

Power Required

100–240V AC, 50/60 Hz / PoE-PSE(af)

100–240V AC, 50/60 Hz

100–240V AC, 50/60 Hz

Power Supply

12V/1A DC power adapter included, PoE-PD Built in

AC built in

AC built in

Redundant Power

No

No

No

Power Consumption

6.2 W

74.4 W

139.2 W

Heat Dissipation

21.142 BTU/h

34.12 BTU/h

34.56 BTU/h

Operating Temperature

32–113°F (0–45°C)

32–113°F (0–45°C)

32–113°F (0–45°C)

Storage Temperature

-49–158°F (-40–70°C)

-40–158°F (-40–70°C)

-40–158°F (-40–70°C)

Humidity

5–95% non-condensing

5–95% non-condensing

5–95% non-condensing

Air-Flow Direction

side-to-back

side-to-back

side-to-back

Certification and Compliance

FCC, CE, RCM, VCCI, BSMI, UL, CB, RoHS2

Warranty

Fortinet Warranty

Limited lifetime* warranty on all models
Rackmount:

RM-FR-T17
List Price:
$139.00
Our Price: $134.00
The RM-FR-T17 gives you the ability to mount your Fortinet desktop appliances in a 19" rack. The rack is tailored specifically for the listed models to guarantee a perfect fit. In addition, the connections are brought to the front for easy access, as well as the console port. The power supply is fixed to prevent an accidental loss of power. This model supports two firewalls and two power supplies.
Assembly will take about 5 minutes. Simply slide your Fortinet device in the kit, place the retainers, connect the supplied cables and keystones, and fix the power supply to the rack.
Specifications
Color
RAL 9003 White
Height
1U
Dimensions
(height x width x depth)
1.73 in. x 18.98 in. x 8.54 in. (44 x 482 x 217 mm)
Number of connections brought to the front
2
Console port to the front
Yes
Cables
2x 0.5m cables
Couplers
1x RJ45 coupler
Supported Models
FortiSwitch 108F
What's in the box
- 1x FortiRack + RJ45 couplers
- Cables
- Assembly materials
- Installation guide
Pricing Notes:
FortiCare Premium Support
FortiCare Premium Ticket Handling, Advanced Hardware Replacement (NBD), Firmware and General Upgrades
FortiCare Elite Support
FortiCare Premium Support with FortiCare Elite Ticket Handling.
Prices are for one year of Premium RMA support. Usual discounts can be applied.
Annual contracts only. No multi-year SKUs are available for these services.
Contact Fortinet Renewals team for upgrade quotations for existing FortiCare contracts.
Pricing and product availability subject to change without notice.
Fortinet Products
FortiSwitch 108F Switch
FortiSwitch-108F L2 Switch - 8 x GE RJ45 ports, 2 x GE SFP, Fanless, 12V/3A power adapter of input voltage 100 - 240VAC and PSE dual powered L2+ management switch, FortiGate Switch controller compatible.
#FS-108F
List Price:
$377.00
Our Price: $277.89
FortiSwitch 108F FortiCare Premium Support
FortiSwitch-108F 1 Year FortiCare Premium Support
#FC-10-F108N-247-02-12
List Price:
$37.70
Our Price: $32.64
FortiSwitch-108F 3 Year FortiCare Premium Support
#FC-10-F108N-247-02-36
List Price:
$113.10
Our Price: $97.92
FortiSwitch-108F 5 Year FortiCare Premium Support
#FC-10-F108N-247-02-60
List Price:
$188.50
Our Price: $163.20
FortiSwitch 108F FortiCare Elite Support
FortiSwitch-108F 1 Year FortiCare Elite Support
#FC-10-F108N-284-02-12
List Price:
$56.55
Our Price: $48.96
FortiSwitch-108F 3 Year FortiCare Elite Support
#FC-10-F108N-284-02-36
List Price:
$169.65
Our Price: $146.88
FortiSwitch-108F 5 Year FortiCare Elite Support
#FC-10-F108N-284-02-60
List Price:
$282.75
Our Price: $244.80
FortiLAN Cloud Management for FortiSwitch 100 Series (none-Rugged)
FortiLAN Cloud Management 1 Year FortiSwitch 100 Series (none-Rugged) FortiLAN Cloud Management SKU Including FortiCare Premium (Note, FortiCare only applicable when used with FortiLAN Cloud)
#FC-10-FSW00-628-02-12
Our Price: $46.20
FortiLAN Cloud Management 3 Year FortiSwitch 100 Series (none-Rugged) FortiLAN Cloud Management SKU Including FortiCare Premium (Note, FortiCare only applicable when used with FortiLAN Cloud)
#FC-10-FSW00-628-02-36
Our Price: $138.60
FortiLAN Cloud Management 5 Year FortiSwitch 100 Series (none-Rugged) FortiLAN Cloud Management SKU Including FortiCare Premium (Note, FortiCare only applicable when used with FortiLAN Cloud)
#FC-10-FSW00-628-02-60
Our Price: $231.00
FortiSwitch-108F Upgrade FortiCare Premium to Elite
FortiSwitch-108F 1 Year Upgrade FortiCare Premium to Elite (Require FortiCare Premium)
#FC-10-F108N-204-02-12
List Price:
$18.85
Our Price: $16.32
FortiSwitch-108F 3 Year Upgrade FortiCare Premium to Elite (Require FortiCare Premium)
#FC-10-F108N-204-02-36
List Price:
$56.55
Our Price: $48.96
FortiSwitch-108F 5 Year Upgrade FortiCare Premium to Elite (Require FortiCare Premium)
#FC-10-F108N-204-02-60
List Price:
$94.25
Our Price: $81.60