Fortinet FortiRecorder 100G

AI-enriched Network Video Recorders for Optimal Physical Security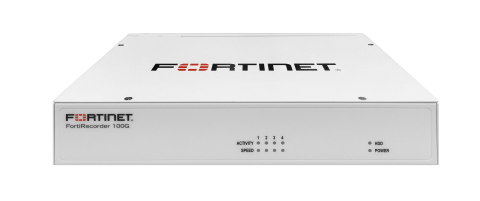 Fortinet Products
FortiRecorder-100G
FortiRecorder-100G Network Video Recorder - 4 x GE RJ45 ports, 2TB storage, 16ch
#FRC-100G
List Price:
$2,499.00
Our Price: $1,842.01
Click here to jump to more pricing!
Overview:
Protect Your Assets and Properties with Smart Physical Security
FortiRecorder is a comprehensive video management system (VMS) that provides complete video surveillance capabilities for small to large businesses. It supports a wide range of IP cameras, and its intuitive user interface allows for easy monitoring, playback, and video export.
With powerful analytics features, it can detect and alert users to potential security breaches, and its flexible deployment options make it suitable for a variety of environments. It also includes advanced video retention and archiving features, with automatic backup to reduce the risk of data loss. Overall, FortiRecorder is a reliab
FortiRecorder Web Interface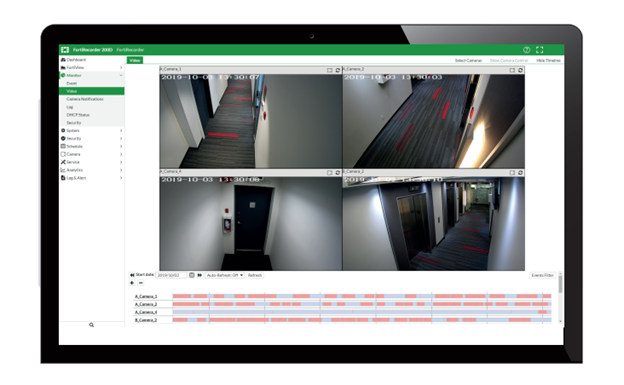 Highlights
Scheduled and manual recording
Motion detection and continuous recordings
Snapshot notifications and alerts
Available as an appliance or virtual machine
Camera live view and video playback
Event monitor with timeline
RADIUS, LDAP, SNMP and remote data storage support for flexible network integration
Pricing Notes:
FortiCare Premium Support
FortiCare Premium Ticket Handling, Advanced Hardware Replacement (NBD), Firmware and General Upgrades
FortiCare Premium plus FortiGuard Bundle Contract
Advanced Hardware Replacement (NBD), Firmware and General Upgrades, Premium Support, FortiDB Security Service (DBS)
Prices are for one year of Premium RMA support. Usual discounts can be applied.
Annual contracts only. No multi-year SKUs are available for these services.
Contact Fortinet Renewals team for upgrade quotations for existing FortiCare contracts.
Pricing and product availability subject to change without notice.
Fortinet Products
FortiRecorder-100G
FortiRecorder-100G Network Video Recorder - 4 x GE RJ45 ports, 2TB storage, 16ch
#FRC-100G
List Price:
$2,499.00
Our Price: $1,842.01
FortiRecorder-100G FortiGuard AI DB service
FortiRecorder-100G 1 Year FortiGuard AI DB service
#FC-10-FK10G-214-02-12
List Price:
$624.75
Our Price: $540.91
FortiRecorder-100G 3 Year FortiGuard AI DB service
#FC-10-FK10G-214-02-36
List Price:
$1,874.25
Our Price: $1,622.73
FortiRecorder-100G 5 Year FortiGuard AI DB service
#FC-10-FK10G-214-02-60
List Price:
$3,123.75
Our Price: $2,704.54
FortiRecorder-100G FortiCare Premium Support
FortiRecorder-100G 1 Year FortiCare Premium Support
#FC-10-FK10G-247-02-12
List Price:
$499.80
Our Price: $432.73
FortiRecorder-100G 3 Year FortiCare Premium Support
#FC-10-FK10G-247-02-36
List Price:
$1,499.40
Our Price: $1,298.18
FortiRecorder-100G 5 Year FortiCare Premium Support
#FC-10-FK10G-247-02-60
List Price:
$2,499.00
Our Price: $2,163.63