Fortinet FortiPortal

Cloud-Based Security Policy Management and Analytics for MSPs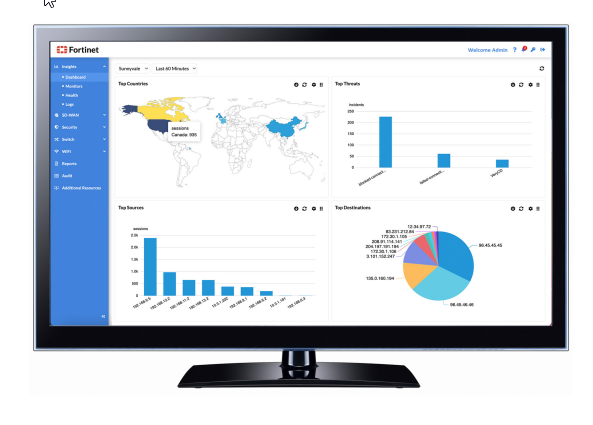 Fortinet Products
FortiPortal-VM
FortiPortal-VM License Customer self-service portal. Base license supports 10 managed devices (security instances): VDOM/VM/FortiGate/FortiWiFi. Number of FortiSwitch/FortiAP allowed is 10x of the devices licensed. Requires FortiManager and FortiAnalyzer.
Click here to jump to more pricing!
Overview:
FortiPortal is a comprehensive enduser self-service portal designed for enterprises, education Institutions, and governments — specifically optimized for service providers.
It provides Cloud-Based Security Policy Management and Analytics and enables MSSPs to assign common firewall configuration and monitoring tasks to users in different geographies, while easily integrating cyber security management products to provide organization services for security management, configuration, and analytics.
Service Provider Portal
FortiPortal enables service providers to delegate configuration tasks and analytics to end-customers, business units, and departments in a multi-tenant environment, allowing them to monitor the clients and monetize through automation. This easyto-deploy, turnkey portal delivers organization and device views that streamline the tasks of adding clients and devices.
With an informative dashboard containing intuitive widgets, service providers can quickly see license usage, license distribution, top 10 organizations, and other useful summaries, while self-branding theme enables service providers to retain their own brand on the UI. FortiPortal assists service providers in delivering the quickest time to market services by avoiding the need to develop their own costly portal.
Customer Self-Serve Portal
FortiPortal Organizations provides end-users with an easy-to-use self-service customer portal giving them access to security capabilities and monitoring such as SD-WAN monitoring and configuration, policies and firewall objects, analytical dashboards, reports, WiFi or switch monitoring, audit, and additional resources like documentation and links.
Key Features:
Delivers secure SD-WAN configuration and monitoring of SDWAN interfaces with an intuitive map
Empowers service providers to delegate end-user control, allowing users to view and understand the impact of their security policies
Promotes multi-tenancy with granular RBAC to expose only the desired configuration options and analytics
Provides simplified access to dashboards, monitors, log views, and reports
Supports APIs for integration with service providers, existing IT infrastructure, and auto on-boarding clients
Accommodates customization of the user interface to match the service provider brand
Enables service providers to add links to other resources in the GUI and provide a complete portal for endusers
Leverages FortiPortal low Total Cost of Ownership and fast time-to-market while reducing complex development and maintenance costs
Enhances reliability and scalability with a Scalable Cluster solution where all FortiPortal instances within the cluster actively serve requests
Permits end-customers to have access control on their portals with the per-tenant SSO configuration
Pricing Notes:
Pricing and product availability subject to change without notice.