Fortinet FortiMonitor 10K

Accelerate NOC Operations Fortinet Products
FortiMonitor Pro Subscription for Devices/Servers
FortiMonitor Pro Subscription for Devices/Servers 1 Year FortiMonitor Pro Subscription for 10,000 Devices/Servers and FortiCare Premium
FortiMonitor Pro Subscription for Devices/Servers 2 Year FortiMonitor Pro Subscription for 10,000 Devices/Servers and FortiCare Premium
FortiMonitor Pro Subscription for Devices/Servers 3 Year FortiMonitor Pro Subscription for 10,000 Devices/Servers and FortiCare Premium
FortiMonitor Pro Subscription for Devices/Servers 4 Year FortiMonitor Pro Subscription for 10,000 Devices/Servers and FortiCare Premium
FortiMonitor Pro Subscription for Devices/Servers 5 Year FortiMonitor Pro Subscription for 10,000 Devices/Servers and FortiCare Premium
FortiMonitor Enterprise Subscription for Devices/Servers
FortiMonitor Enterprise Subscription for Devices/Servers 1 Year FortiMonitor Enterprise Subscription for 10,000 Devices/Servers and FortiCare Premium
FortiMonitor Enterprise Subscription for Devices/Servers 2 Year FortiMonitor Enterprise Subscription for 10,000 Devices/Servers and FortiCare Premium
FortiMonitor Enterprise Subscription for Devices/Servers 3 Year FortiMonitor Enterprise Subscription for 10,000 Devices/Servers and FortiCare Premium
FortiMonitor Enterprise Subscription for Devices/Servers 4 Year FortiMonitor Enterprise Subscription for 10,000 Devices/Servers and FortiCare Premium
FortiMonitor Enterprise Subscription for Devices/Servers 5 Year FortiMonitor Enterprise Subscription for 10,000 Devices/Servers and FortiCare Premium
Overview:
Accelerate NOC Operations
As organizations accelerate digital innovation initiatives, it becomes more challenging to ensure the network infrastructure has 100% uptime. Continuous networking and security services are key to successful business outcomes and seamless user experiences.
To achieve this, an IT operations lead needs a complete picture of every service, network device, and application in any deployment, whether containers, cloud, on-premises, or hybrid.
FortiMonitor is the platform that delivers cloud-based full stack visibility combined with automated remediation of the health of the network, including — servers, network devices, containers, applications, databases, virtual appliances, and cloud infrastructures.
In the current remote workforce environment, availability, performance, security, and quality of an application all impact the end-user experience. FortiMonitor analyzes both network health metrics and application performance to identify potential problem areas that impact user access. It also enables rapid, automated remediation (also called digital experience monitoring (DEM)).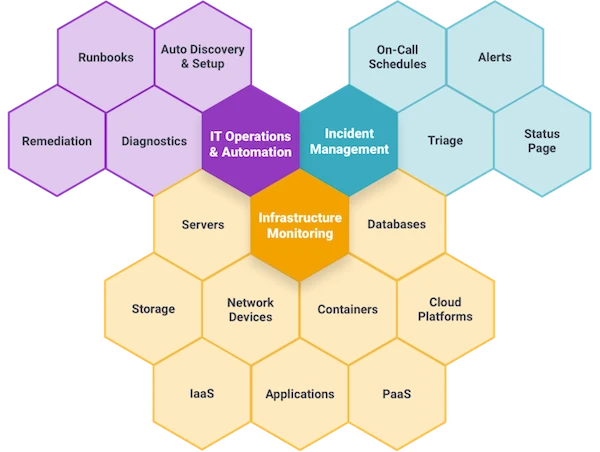 FortiMonitor highlights include:
Unified monitoring and automated incident management that reduces response and resolution times for NOC teams and, in turn, helps exceed SLAs.
Over 50 global points of presence to simulate application performance and latency that impact end-user experience (also known as synthetic transaction monitoring).
Cloud-native monitoring for Kubernetes and PaaS workloads in AWS and Azure.
Fully configurable alerting workflows with out-of-the-box integrations for third-party enterprise and modern communication tools.
Product Offerings
FortiMonitor is a SaaS-based subscription for all your network, infrastructure, cloud, container, and digital experience monitoring. Select the image below or the link for the features into Pro and Enterprise subscriptions. Additional services are also included across all bundles.
Pro
Enterprise
Monitoring and Analytics
Data Retention
12 months
24 months
Unlimited Metrics and Thresholds
Basic Synthetics
Dashboards and Reporting
On-premise and Cloud Monitoring
Monitoring Templates
Custom Metrics and Incidents
Netflow Integration
Network Configuration Management
Operations
SSO
REST API Access
Multitenancy
Advanced Team Management
Automation and AI
Custom Playbook Automation
Monitoring Policy Workflows
Topology Discovery
Advanced Event Correlation
AI-based Anomaly Detection
Additional Services
Digital Experience Monitoring (DEM)
Add-on
Add-on
Basic Node Monitoring
Add-on
Add-on
24x7 Support
Included
Included
FortiCare BPS
Included 1st Year
Included 1st Year
Pricing Notes:
FortiCare Premium Support
FortiCare Premium Ticket Handling, Advanced Hardware Replacement (NBD), Firmware and General Upgrades
FortiCare Premium plus FortiGuard Bundle Contract
Advanced Hardware Replacement (NBD), Firmware and General Upgrades, Premium Support, FortiDB Security Service (DBS)
Prices are for one year of Premium RMA support. Usual discounts can be applied.
Annual contracts only. No multi-year SKUs are available for these services.
Contact Fortinet Renewals team for upgrade quotations for existing FortiCare contracts.
Pricing and product availability subject to change without notice.