Fortinet FortiManager 3900E Appliance

Centralized Security Management

Sorry, this product is no longer available. Please Contact Us for a replacement.
Click here to jump to more pricing!
Overview:
Take Control of Your Security Infrastructure
The FortiManager family delivers the versatility you need to effectively manage your Fortinetbased security infrastructure. FortiManager drastically reduces management costs, simplifies configuration, and accelerates deployment cycles, whether you are deploying new devices, installing security policies, or Virdistributing updates.
FortiManager also provides crucial timesaving features like device auto-discovery, group management, global policies, auditing facilities, and the ability to manage complex VPN environments. FortiManager, coupled with the FortiAnalyzer™ family of centralized logging and reporting appliances, provides a comprehensive and powerful centralized management solution for your organization.
Fortinet's Versatile Management Solution
Networks are constantly evolving due to threats, organizational growth or new regulatory/business requirements. Traditional management products focus on mitigating company-wide threats through firewall policies, firmware updates and keeping content security current.
FortiManager offers enterprise class features to contain these threats, but also provides flexibility to evolve along with your ever-changing network. In addition to being able to manage hundreds or even thousands of FortiGate devices, FortiManager now includes basic FortiAnalyzer logging and reporting functions for administrators who prefer a consolidated management platform.
Key tenets of Fortinet's management versatility:
Diversity of form factors
Architectural flexibility
Highly customizable
Simple licensing
Key Features & Benefits
Integrated FortiAnalyzer Logging
This allows for a tighter integration and correlation of events and policies. A consolidated platform allows customers to more easily deploy Fortinet management products.
Hierarchical Objects Database
Facilitates reuse of common configurations across the organization in both local and global ADOM levels.
Automated Device Provisioning / Centralized Policy Configuration
Reduces cost of deploying new FortiGate or FortiClient installations and maintains policies across all managed assets.
Role-Based Administration
Enables distributed administration, an important requirement for larger organizations.
Policy/Device Auditing
Allows you to prove compliance, and track any deviations from the required security policy.
In-view Policy Object Editing
Faster rulebase editing without opening new windows or changing context.
Device Profiles
Aids in mass provisioning of managed devices.
Highlights:
Administrative Domains (ADOMs) and Global Policy
Enables a primary administrator to create groups of devices for other administrators to monitor and manage
Administrators can manage devices in their geographic location or business division
Multiple FortiGate virtual domains (VDOMs) can be divided among multiple ADOMs
Granular permissions allow assigning ADOMs and policies to particular users
Administrators can only access devices or VDOMs assigned to them
Create device configuration templates to quickly configure a new Fortinet appliance
Within each ADOM, there is a common database of objects shared by all devices and policy packages allowing users to reuse similar configurations among a group of managed assets
Global Policy capabilities are available on all FortiManager hardware models and virtual machines
JSON and XML (Web Services) APIs
JSON API — Allows MSSPs/large enterprises to create customized, branded web portals for policy and object administration
XML API — Enables administrators to automate common tasks such as provisioning new FortiGates and configuring existing devices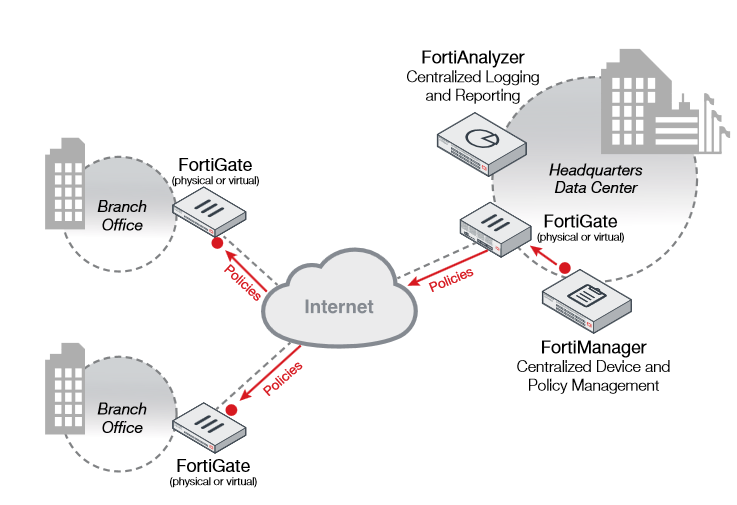 Locally Hosted Security Content
Hosting security content locally allows the administrator greater control over security content updates and provides improved response time for rating databases. Includes support for:
Antivirus definition updates
Intrusion Prevention updates
Vulnerability and Compliance Management updates
Web Filtering (select systems)
Antispam (select systems)
Command and Control
Manage devices and endpoint agents individually or as logical groups
Discover new devices automatically
Create, deploy, and monitor virtual private networks
Delegate control to other users with distributed administration features
Audit configuration changes to ensure compliance
Monitor, Analyze and Report
Access vital security and network statistics
Real-time monitoring and integrated basic reporting provide visibility into network and user activity.
For more powerful analytics, combine with a FortiAnalyzer appliance for additional data mining and graphical reporting capabilities
FortiManager Supported Devices
FortiGate and FortiCarrier Consolidated Security Appliances
FortiAP Wireless Access Points
FortiMail Messaging Security Systems
FortiWeb Web Application Security
FortiAnalyzer Reporting and Analysis Appliances
FortiSwitch Switching Platforms
FortiSandbox Advanced Threat Protection Appliances
Specifications:
FortiManager 200D
FortiManager 300D
FortiManager 400E
FortiManager 2000E
FortiManager 3000F
FortiManager 3900E
Capacity and Performance
Devices/VDOMs (Maximum)1
30
100
300
1,200
4,000
10,000
Hardware Specifications
Hardware Form Factor
1 RU Rackmount
1 RU Rackmount
2 RU Rackmount
2 RU Rackmount
3 RU Rackmount
3 RU Rackmount
Total Interfaces
4x GE
4x GE
2x GE
4x GE, 2x 10 GE SFP+
4x GE, 2x 10 GE SFP+
2x GE, 2x 10 GE SFP+
Console Port
RJ45
DB9
DB9
DB9
DB9
DB9
LCD Display
No
No
No
No
No
Yes
Storage Capacity
1 TB (1x 1 TB)
12 TB (4x 3 TB)
24 TB (8x 3 TB)
36 TB (12x 3 TB)
48 TB (16x 3 TB)
15 TB SSD (15x 1 TB SSD)
Removable Hard Drives
No
Yes
Yes
Yes
Yes
Yes
RAID Levels Supported
None
RAID 0/1/5/10
RAID 0/1/5/6/10/50/60
RAID 0/1/5/6/10/50/60
RAID 0/1/5/6/10/50/60
RAID 0/1/5/6/10/50/60
High Availability Support
Yes
Yes
Yes
Yes
Yes
Yes
Redundant Hot Swap Power Supplies
No
No
Yes
Yes
Yes
Yes
Dimensions
Height x Width x Length (inches)
1.8 x 17.1 x 13.9
1.7 x 17.2 x 19.8
3.5 x 17.2 x 25.2
3.5 x 17.2 x 25.6
5.2 x 17.2 x 25.5
3.5 x 17.2 x 26.9
Height x Width x Length (cm)
4.5 x 43.4 x 35.2
4.3 x 43.7 x 50.3
8.9 x 43.7 x 64.8
8.9 x 43.7 x 64.8
13.2 x 43.7 x 64.8
8.9 x 43.7 x 68.4
Weight
13.4 lbs (6.1 kg)
31 lbs (14.1 kg)
52 lbs (23.6 kg)
58 lbs (26.3 kg)
76 lbs (34.5 kg)
52 lbs (23.6 kg)
Environment
AC Power Supply
100–240V AC, 50–60 Hz, 6 Amp Maximum
100–240V AC, 50-60 Hz
100–240V AC, 60–50 Hz
100–240V AC, 50–60 Hz
100–240V AC, 50–60 Hz
100–240V AC, 50–60 Hz, 10 Amp Maximum
Power Consumption (Average / Maximum)
60 W / 72 W
93 W
192.5 W
195.2 W
285.5 W
391 W / 470 W
Heat Dissipation
205 BTU/h
546 BTU/h
920 BTU/h
920 BTU/h
1376 BTU/h
1637 BTU/h
Operating Temperature
32–104°F  (0–40°C)
50–95°F  (10–35°C)
50–95°F  (10–35°C)
50–95°F  (10–35°C)
50–95°F  (10–35°C)
50–95°F  (10–35°C)
Storage Temperature
-13–158ºF  (-25–70ºC)
-40–140°F  (-40–60°C)
-40–140°F  (-40–60°C)
-40–140°F  (-40–60°C)
-40–140°F  (-40–60°C)
-40–140°F  (-40–60°C)
Humidity
5–95% non-condensing
8–90% non-condensing
8–90% non-condensing
8–90% non-condensing
8–90% non-condensing
5–95% non-condensing
Operating Altitude
Up to 7,400 ft (2,250 m)
Up to 9,842 ft (3,000 m)
Up to 9,842 ft (3,000 m)
Up to 7,400 ft (2,250 m)
Up to 7,400 ft (2,250 m)
Up to 7,400 ft (2,250 m)
Compliance
Safety Certifications 
FCC Part 15 Class A, C-Tick, VCCI, CE, UL/cUL, CB
FCC Part 15 Class A, C-Tick, VCCI, CE, BSMI, KC, UL/ cUL, CB, GOST
FortiManager 200D
FortiManager 300D
FortiManager 400E
FortiManager 2000E
FortiManager 3000F
FortiManager 3900E
Locally Hosted Security Content
Antivirus
Yes
Yes
Yes
Yes
Yes
Yes
Intrusion Prevention
Yes
Yes
Yes
Yes
Yes
Yes
Vulnerability Management
Yes
Yes
Yes
Yes
Yes
Yes
Web Filtering
Yes
Yes
Yes
Yes
Yes
Yes
Antispam Databases
Yes
Yes
Yes
Yes
Yes
Yes
Locally Hosted Security Content
Chassis Management
No
No
No
Yes
Yes
Yes
Global Policies
Yes
Yes
Yes
Yes
Yes
Yes
1 Each Virtual Domain (VDOM) operating on a physical or virtual device counts as one (1) licensed network device 2 Limited in software to 10,000 devices/VDOMs 3 Storage Capacity and GB/Day of Logs are not stackable. These values represent the maximum available with purchased license.
Services:
FortiGuard Security Subscription Services
FortiGuard Security Subscription Services deliver dynamic, automated updates for Fortinet products. The Fortinet Global Security Research Team creates these updates to ensure up-to-date protection against sophisticated threats. Subscriptions include antivirus, intrusion prevention, web filtering, antispam, vulnerability and compliance management, application control, and database security services.
FortiCare Support Services
FortiCare Support Services provide global support for all Fortinet products and services. FortiCare support enables your Fortinet products to perform optimally. Support plans start with 8x5 Enhanced Support with "return and replace" hardware replacement or 24x7 Comprehensive Support with advanced replacement. Options include Premium Support, Premium RMA, and Professional Services. All hardware products include a 1-year limited hardware warranty and 90-day limited software warranty.
Pricing Notes:
Pricing and product availability subject to change without notice.
Fortinet FortiManager 3900E Series
FortiManager Device Upgrade
FortiManager device upgrade license for adding 100 Fortinet devices/vdoms (3000 series and above - hardware only)
#FMG-DEV-100-UG
List Price:
$0.00
Our Price: $10,000.00
24x7 FortiCare Contract
The FortiCare 24x7 includes 24x7 Comprehensive Support, Advanced Hardware Replacement (Next Business Day), Firmware Upgrades, VPN, and Traffic Management
1 Year 24x7 FortiCare Contract for FortiManager-3900E
#FC-10-M3900-247-02-12
Get a Quote!
Fortinet Accessories
AC power supply for FAZ-2000E, FMG-2000E, FMG-3000F, FAZ-3000F, FAZ-3900E, FMG-3900E, and FCH-3900E
#SP-FAZ2000E-PS
Our Price: $1,012.00