Fortinet FortiManager 200F

Centralized Management for Fortinet Security Networks

Sorry, this product is no longer available. Please Contact Us for a replacement.
Click here to jump to more pricing!
Overview:
With today's challenging cybersecurity landscape, Security teams are falling behind due to resource constraints and an inability to keep up with the latest threats. Complexity and the unknown diminish security effectiveness – NOC-SOC helps to rejuvenate and strengthen your Security Posture. Operationalizing Security improves response time and awareness, and Fortinet's Security Fabric is the foundation of that new approach. FortiManager provides one console to manage your network, giving you full control for your Fortinet devices with enterprise-class centralized management. FortiManager offers a common GUI to manage all your Fortinet products including FortiGates, FortiAPs, FortiSwitches, FortiClients, Managed FortiAnalyzers and more, reducing the complexity and number of skilled personnel required to manage the network.
Provides easy centralized configuration, policy-based provisioning, update management, and end to-end network monitoring for your Fortinet installation
Segregate management of large deployments easily and securely by grouping devices and agents into geographic or functional ADOMs
Manage units in a Security Fabric group as if they were a single device and display the security fabric topology
Reduce your management burden and operational costs with fast device and agent provisioning, detailed revision tracking, and thorough auditing capabilities
Easily manage complex mesh and star VPN environments while leveraging FortiManager as a local distribution point for software and policy updates
Seamless integration with FortiAnalyzer appliances provides in-depth discovery, analysis, prioritization and reporting of network security events
Quickly create and modify policies/objects with a consolidated, drag and drop enabled, in-view editor
Script and automate device provisioning, policy pushing, etc. with JSON APIs or build custom web portals with the XML API
Leverage powerful device profiles for mass provisioning and configuration of managed devices
Centrally control firmware upgrades and content security updates from FortiGuard Center Threat Research & Response
Deploy with either a physical hardware appliance or virtual machine with multiple options to dynamically increase storage
Centralized Management
FortiManager's Security Operationalized Visibility across your Fortinet Security Fabric enables true security effectiveness and foresight to identify and understand the scope of threats, and facilitates actionable response and remediation of risks.
Quantifiable Security solution information such as Security Maturity and Security Ratings produce measureable accountability, and use those ratings to compare your security preparedness internally and to that of your industry peers.
Centralized Change Management helps you update policies and objects, maintain provisioning templates and easily configure changes to your APs, Switches, SD-WAN and SDN connectors and more, including Workflow Integration with ITSM (ServiceNow) to mitigate security events and apply configuration changes and policy updates.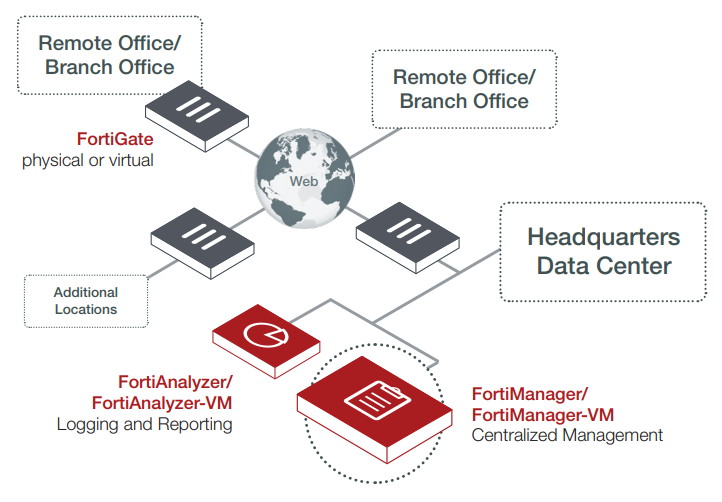 FortiManager Deployment
Single Pane-of-Glass Management
Fortinet Security Fabric delivers sophisticated security management for unified, end-to-end protection. Deploying Fortinet-based security infrastructure to battle advanced threats, and adding FortiManager to provide single-pane-of-glass management across your entire extended enterprise provides insight into network-wide traffic and threats.
FortiManager offers enterprise-class features to contain advanced threats, but also delivers the industry's best scalability to manage up to 100,000 Fortinet devices. FortiManager, coupled with the FortiAnalyzer family of centralized logging and reporting appliances, provides a comprehensive and powerful centralized management solution for your organization.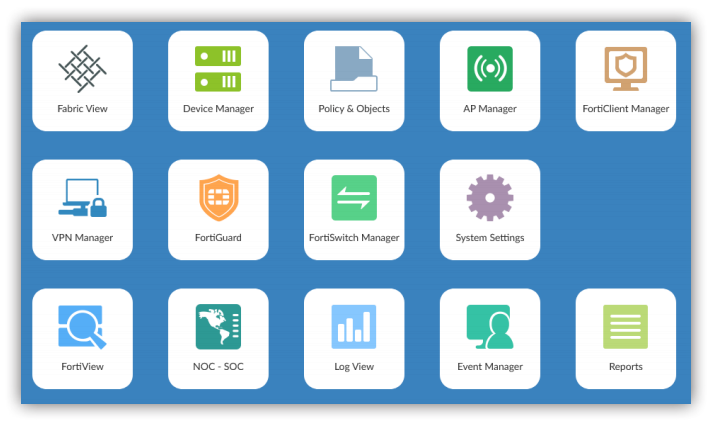 FortiManager Modules
Highlights:
Multi-Tenancy and Heirarchical — Administrative Domains (ADOMs)
FortiManager provides a hierarchical objects database to facilitate re-use of common configurations and a multi-tenancy architecture to serve multiple customers. The graphical interface makes it easy to view, create and manage ADOMs. You can use ADOMs to manage independent security environments, each ADOM with its own security policies and configuration database. FortiManager enables you to group devices logically or geographically for flexible management, and the zero-touch deployment uses templates to provision devices for quick mass deployment. Define global objects such as Firewall Objects, Policies and Security Profiles to share across multiple ADOMs. Granular permissions allow assigning ADOMs, devices and policies to users based on role and duties.
Configuration and Settings Management
Collectively configure the device settings, objects and policies across your network from a single user interface. The VPN manager simplifies the deployment and allows centrallyprovisioned VPN community and monitoring of VPN connections on Google Map. FortiAP Manager allows configuring, deploying and monitoring FortiAPs from a single console with Google Map view. The FortiClient Manager allows centralized configuration, deployment, and monitoring of FortiClients. FortiManager also provides the ability to centrally manage up to 100,000 FortiGate security appliances.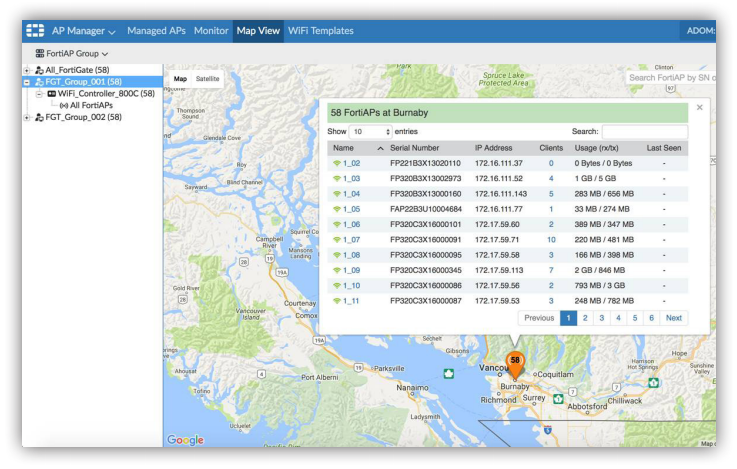 Workflow for Audit and Compliance
FortiManager enables you to review, approve and audit policy changes from a central place, including automated processes to facilitate policy compliance, policy lifecycle management, and enforced workflow to reduce risk for policy changes.
Locally Hosted FortiGuard Labs Security Content
Host security content locally for greater control over security content updates and improved response time for rating database. Includes support for: Application Control and Intrusion Prevention updates, Vulnerability Management, Antispam, Antivirus and Web Filtering updates.
Monitor and Report for Deep Visibility
Access vital security and network statistics, as well as realtime monitoring and integrated reporting provides visibility into network and user activity. For more powerful analytics, combine with a FortiAnalyzer appliance for additional data mining and graphical reporting capabilities.
Managed FortiAP & FortiExtender
Centrally manage FortiAP access points that are controlled by FortiGate devices, through FortiManager. WiFi Templates allow you to create and manage AP profiles, SSIDs, and Wireless Intrusion Detection System (WIDS) profiles and assign to managed FortiAP devices. View FortiGate controllers on a map and monitor connected clients and information about all the APs for FortiGates (fig 2). FortiExtender can be used as a primary connection or deployed as a backup connection to ensure reliability.
Managed FortiAnalyzer
You can now use the new Add FortiAnalyzer device wizard to add a FortiAnalyzer unit to FortiManager to better support managed devices with logging enabled. All devices with logging enabled will automatically send logs to the FortiAnalyzer device. You can use FortiManager to remotely access FortiView, Log View, Events Managements, and Reports on the managed FortiAnalyzer unit.
API for Automation and Orchestration
RESTful API allows MSSPs/large enterprises to create customized, branded web portals for policy and object administration. Automate common tasks such as provisioning new FortiGates and configuring existing devices. Join Fortinet Developer Network (FNDN) to access exclusive articles, how-to content for automation and customization, community-built tools, scripts and sample code.
Central SD-WAN Deployment and Monitoring
Centrally monitor SD-WAN performance. Monitor your devices on Map view with color coded icons and mouse over to view health performance statistics for each SDWAN link member. Table View provides more granular information for each SD-WAN link member, including link status, application performance and bandwidth usage.
Switch Management
The FortiSwitch Manager module enables you to centrally manage FortiSwitch templates and VLANs, and monitor FortiSwitch devices that are connected to FortiGate devices. You can configure multiple templates for specific FortiSwitch platforms that can be assigned to multiple devices. View as a graphical representation of the connected FortiSwitch devices.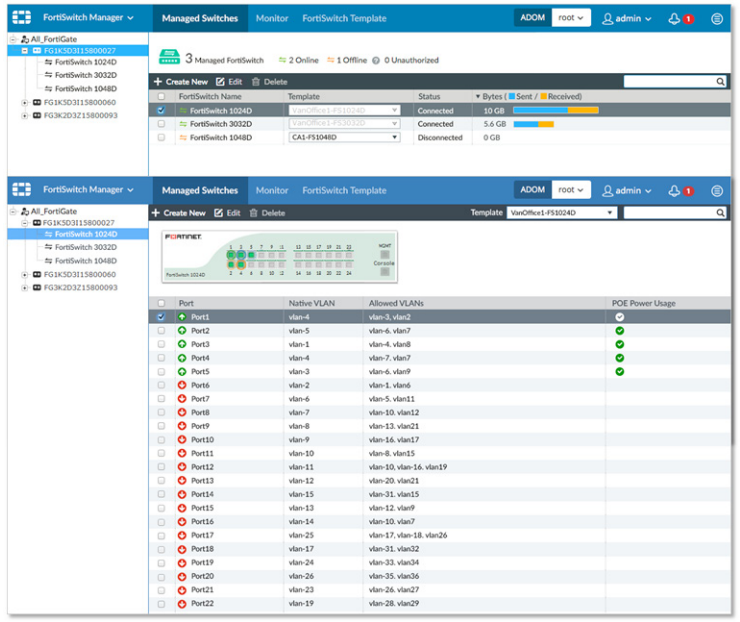 Specifications:
FortiManager 200F
FortiManager 300F
FortiManager 400E
FortiManager 2000E
FortiManager 3000F
Capacity and Performance
Devices/VDOMs (Maximum)1
30
100
300
1,200
4,000
Sustained Log Rates
50
50
50
50
150
GB/Day
2
2
2
2
10
Hardware Specifications
Storage Capacity
8 TB (2 x 4 TB)
16 TB (4 x 4 TB)
24 TB (8x 3 TB)
36 TB (12x 3 TB)
48 TB (16x 3 TB)
Usable Storage (After RAID)
4 TB
8 TB
21 TB
30 TB
42 TB
RAID Levels Supported
RAID 0/1
RAID 0/1/5/10
RAID 0/1/5/6/10/50/60
RAID 0/1/5/6/10/50/60
RAID 0/1/5/6/10/50/60
Default RAID
1
10
50
50
50
Hardware Form Factor
1 RU Rackmount
1 RU Rackmount
2 RU Rackmount
2 RU Rackmount
3 RU Rackmount
Total Interfaces
2xRJ45 GE, 2xSFP
4 x GbE RJ45, 2 x SFP
2x GE
4x GE, 2x 10 GE SFP+
4x GE, 2x 10 GE SFP+
Console Port
RJ45
RJ45
DB-9
DB-9
DB-9
Removable Hard Drives
No
Redundant Hot Swap Power Supplies
No
No
Chassis Management
Dimensions
Height x Width x Length (inches)
1.75 x 17.0 x 15.0
1.75 x 17.44 x 22.16
3.5 x 17.2 x 25.2
3.5 x 17.2 x 25.6
5.2 x 17.2 x 25.5
Height x Width x Length (cm)
4.4 x 43.2 x 38
4.4 x 44.3 x 56.3
8.9 x 43.7 x 64.8
8.9 x 43.7 x 64.8
13.2 x 43.7 x 64.8
Weight
18.9 lbs (8.6 kg)
28.6 lbs (13.0 kg)
52 lbs (23.6 kg)
58 lbs (26.3 kg)
76 lbs (34.5 kg)
Environment
AC Power Supply
100-240V 60-50Hz
100–240V AC, 50-60 Hz
100–240V AC, 50-60 Hz
100–240V AC, 50–60 Hz
100–240V AC, 50–60 Hz
Power Consumption (Average / Maximum)
65W / 130W
108W / 186W
192.5W / 275W
293.8W / 354W
449W / 541W
Heat Dissipation
445 BTU/h
634 BTU/h
920 BTU/h
1209 BTU/h
1846.5 BTU/h
Operating Temperature
32 - 104° F
(0 - 40° C)
32 - 104° F
(0 - 40° C)
41 - 95° F
(5 - 35° C)
50–95°F
(10–35°C)
50–95°F
(10–35°C)
Storage Temperature
-31–158ºF
(-35–70ºC)
-31–158ºF
(-35–70ºC)
-40 - 140° F
(-40 - 60° C)
-40–158°F
(-40–70°C)
-40–158°F
(-40–70°C)
Humidity
20 to 90% non-condensing
20 to 90% non-condensing
8 to 90% non-condensing
8 to 90% non-condensing
8 to 90% non-condensing
Operating Altitude
Up to 7,400 ft
(2,250 m)
Up to 7,400 ft
(2,250 m)
Up to 9,842 ft
(3,000 m)
Up to 7,400 ft
(2,250 m)
Up to 7,400 ft
(2,250 m)
Compliance
Safety Certifications
FCC Part 15 Class A, C-Tick, VCCI, CE, UL/cUL, CB
FCC Part 15 Class A, C-Tick, VCCI, CE, BSMI, KC, UL/cUL, CB, GOST
1 Each Virtual Domain (VDOM) operating on a physical or virtual device counts as one (1) licensed network device
* FGT 7000 Series is supported on all FMG models and does not require Chassis Management.
Pricing Notes:
Hardware plus FortiCare Premium and FortiCare BPS
Hardware Unit, FortiCare Premium Ticket Handling, Advanced Hardware Replacement (NBD), Firmware and General Upgrades, FortiCare Best Practice Service (Initial Deploy and FortiGate Upgrade/Migration) plus term of contract
FortiCare Premium plus FortiCare Best Practice Service (Initial Deploy and FortiGate Upgrade/Migration)
FortiCare Premium Ticket Handling, Advanced Hardware Replacement (NBD), Firmware and General Upgrades, FortiCare Best Practice Service (Initial Deploy and FortiGate Upgrade/Migration)
FortiCare Premium Support
FortiCare Premium Ticket Handling, Advanced Hardware Replacement (NBD), Firmware and General Upgrades
FortiCare Elite Support
FortiCare Premium Support with FortiCare Elite Ticket Handling.
Prices are for one year of Premium RMA support. Usual discounts can be applied.
Annual contracts only. No multi-year SKUs are available for these services.
Contact Fortinet Renewals team for upgrade quotations for existing FortiCare contracts.
Pricing and product availability subject to change without notice.
Fortinet Products
FortiManager-200F 24x7 FortiCare Contract
FortiManager-200F 1 Year FortiCare Premium Support
#FC-10-M200F-247-02-12
List Price:
$2,880.00
Our Price: $2,493.50
Accessories
AC power supply for FAD-400F, FAZ-300G, FMG-200G, and FWB-600E, power cable SP-FGPCOR-XX sold separately
#SP-FAD400F-PS
List Price:
$856.00
Our Price: $770.40
FortiManager - FortiCare Upgrade from Premium to Elite Upgrade FortiCare Premium to Elite (1 - 10 devices/Virtual Domains. Require FortiCare Premium support)
FortiManager - FortiCare Upgrade from Premium to Elite 1 Year Upgrade FortiCare Premium to Elite (1 - 10 devices/Virtual Domains. Require FortiCare Premium support)
#FC1-10-M3004-204-02-12
List Price:
$135.00
Our Price: $116.88
FortiManager - FortiCare Upgrade from Premium to Elite 3 Year Upgrade FortiCare Premium to Elite (1 - 10 devices/Virtual Domains. Require FortiCare Premium support)
#FC1-10-M3004-204-02-36
List Price:
$405.00
Our Price: $350.65
FortiManager - FortiCare Upgrade from Premium to Elite 5 Year Upgrade FortiCare Premium to Elite (1 - 10 devices/Virtual Domains. Require FortiCare Premium support)
#FC1-10-M3004-204-02-60
List Price:
$675.00
Our Price: $584.42
FortiManager - FortiCare Upgrade from Premium to Elite Upgrade FortiCare Premium to Elite (1 -110 devices/Virtual Domains. Require FortiCare Premium support)
FortiManager - FortiCare Upgrade from Premium to Elite 1 Year Upgrade FortiCare Premium to Elite (1 -110 devices/Virtual Domains. Require FortiCare Premium support)
#FC2-10-M3004-204-02-12
List Price:
$770.00
Our Price: $666.67
FortiManager - FortiCare Upgrade from Premium to Elite 3 Year Upgrade FortiCare Premium to Elite (1 -110 devices/Virtual Domains. Require FortiCare Premium support)
#FC2-10-M3004-204-02-36
List Price:
$2,310.00
Our Price: $2,000.00
FortiManager - FortiCare Upgrade from Premium to Elite 5 Year Upgrade FortiCare Premium to Elite (1 -110 devices/Virtual Domains. Require FortiCare Premium support)
#FC2-10-M3004-204-02-60
List Price:
$3,850.00
Our Price: $3,333.33
FortiManager - FortiCare Upgrade from Premium to Elite Upgrade FortiCare Premium to Elite (1 - 310 devices/Virtual Domains. Require FortiCare Premium support)
FortiManager - FortiCare Upgrade from Premium to Elite 1 Year Upgrade FortiCare Premium to Elite (1 - 310 devices/Virtual Domains. Require FortiCare Premium support)
#FC3-10-M3004-204-02-12
List Price:
$2,645.00
Our Price: $2,290.04
FortiManager - FortiCare Upgrade from Premium to Elite 3 Year Upgrade FortiCare Premium to Elite (1 - 310 devices/Virtual Domains. Require FortiCare Premium support)
#FC3-10-M3004-204-02-36
List Price:
$7,935.00
Our Price: $6,870.12
FortiManager - FortiCare Upgrade from Premium to Elite 5 Year Upgrade FortiCare Premium to Elite (1 - 310 devices/Virtual Domains. Require FortiCare Premium support)
#FC3-10-M3004-204-02-60
List Price:
$13,225.00
Our Price: $11,450.21
FortiManager - FortiCare Upgrade from Premium to Elite Upgrade FortiCare Premium to Elite (1 - 1010 devices/Virtual Domains. Require FortiCare Premium support)
FortiManager - FortiCare Upgrade from Premium to Elite 1 Year Upgrade FortiCare Premium to Elite (1 - 1010 devices/Virtual Domains. Require FortiCare Premium support)
#FC4-10-M3004-204-02-12
List Price:
$3,968.00
Our Price: $3,435.49
FortiManager - FortiCare Upgrade from Premium to Elite 3 Year Upgrade FortiCare Premium to Elite (1 - 1010 devices/Virtual Domains. Require FortiCare Premium support)
#FC4-10-M3004-204-02-36
List Price:
$11,904.00
Our Price: $10,306.48
FortiManager - FortiCare Upgrade from Premium to Elite 5 Year Upgrade FortiCare Premium to Elite (1 - 1010 devices/Virtual Domains. Require FortiCare Premium support)
FortiManager - FortiCare Upgrade from Premium to Elite Upgrade FortiCare Premium to Elite (1 - 5010 devices/Virtual Domains. Require FortiCare Premium support)
FortiManager - FortiCare Upgrade from Premium to Elite 1 Year Upgrade FortiCare Premium to Elite (1 - 5010 devices/Virtual Domains. Require FortiCare Premium support)
#FC5-10-M3004-204-02-12
List Price:
$8,266.00
Our Price: $7,156.70
FortiManager - FortiCare Upgrade from Premium to Elite 3 Year Upgrade FortiCare Premium to Elite (1 - 5010 devices/Virtual Domains. Require FortiCare Premium support)
FortiManager - FortiCare Upgrade from Premium to Elite 5 Year Upgrade FortiCare Premium to Elite (1 - 5010 devices/Virtual Domains. Require FortiCare Premium support)
FortiManager - FortiCare Upgrade from Premium to Elite Upgrade FortiCare Premium to Elite (1 - UL devices/Virtual Domains. Require FortiCare Premium support)
FortiManager - FortiCare Upgrade from Premium to Elite 1 Year Upgrade FortiCare Premium to Elite (1 - UL devices/Virtual Domains. Require FortiCare Premium support)
FortiManager - FortiCare Upgrade from Premium to Elite 3 Year Upgrade FortiCare Premium to Elite (1 - UL devices/Virtual Domains. Require FortiCare Premium support)
FortiManager - FortiCare Upgrade from Premium to Elite 5 Year Upgrade FortiCare Premium to Elite (1 - UL devices/Virtual Domains. Require FortiCare Premium support)
FortiManager - FortiCare Upgrade from Premium to Elite Upgrade FortiCare Premium to Elite (1 - 10,010 devices/Virtual Domains. Require FortiCare Premium support)
FortiManager - FortiCare Upgrade from Premium to Elite 1 Year Upgrade FortiCare Premium to Elite (1 - 10,010 devices/Virtual Domains. Require FortiCare Premium support)
#FC7-10-M3004-204-02-12
List Price:
$16,531.00
Our Price: $14,312.54
FortiManager - FortiCare Upgrade from Premium to Elite 3 Year Upgrade FortiCare Premium to Elite (1 - 10,010 devices/Virtual Domains. Require FortiCare Premium support)
FortiManager - FortiCare Upgrade from Premium to Elite 5 Year Upgrade FortiCare Premium to Elite (1 - 10,010 devices/Virtual Domains. Require FortiCare Premium support)