Fortinet FortiIsolator VM

Fortinet Products
FortiIsolator VM Virtual Appliance
FortiIsolator-VM Software Virtual Appliance designed for VMWare ESXi platforms (Includes 5 concurrent sessions)
#LIC-FIS-VM
List Price:
$95.00
Our Price: $82.25
Click here to jump to more pricing!
Fortinet's Browser Isolation platform, FortiIsolator, provides a next level of Advanced Threat Protection (ATP) that integrates with Fortinet's Security Fabric. It addresses the need to access shared links and web content for business purposes while maintaining the most robust internet hygiene. Specifically, FortiIsolator allows web content to be accessed without the risk of user compromise by maintaining an "air-gap" between the user's browser and the web content.

Allow user access to potentially malicious content while maintaining strict security
Native integration methods allow the use of standard browsers to access potentially malicious web content without the risk of compromising the user's desktop – preventing zero-day infections.

Broad Coverage of the Attack Surface with Security Fabric
Integrated with FortiGate and FortiMail for defense against advanced targeted attacks across network, application layers and endpoint devices.
Highlights
Problem
Zero-day malware and phishing threats delivered over the web, in email and in downloaded PDF files may result in data loss, compromise or ransomware.
Solution
With FortiIsolator, web content is executed in a remote disposable container and displayed to the user, isolating any threat.
Benefits
Protects against known and unknown malware, ransomware and other zero-day threats.
Allows users to access URLs while maintaining security and enhances productivity.
Product Summary
FortiIsolator is a clientless browser isolation solution which allows the user to access potentially malicious content using their regular browser without the risk of compromising their browser, desktop or mobile device. FortiIsolator is designed to work as unobtrusively as possible, interoperating with any modern HTML5 capable browser (ie: Edge, Chrome, Safari, Firefox), meaning no requirement for any client or plugin software on the end user device.
FortiIsolator prevents drive-by and watering hole attacks by accessing the potentially malicious content in a trusted execution container which is disposed of at the end of the browser session and presenting the user with a visual rendering of the web page. This rendered version of the web page can still be interacted with e.g. videos viewed, links clicked, and PDF files opened. However, the rendering process prevents any content from being able to cross over to the user's system.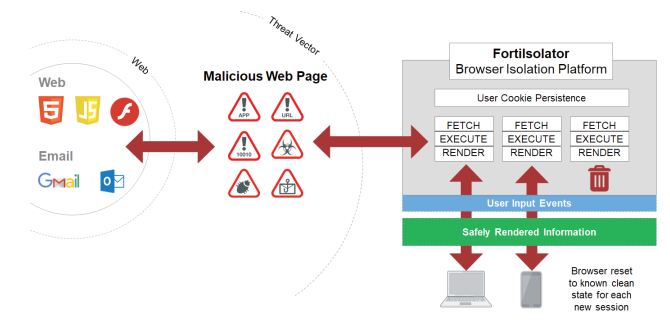 Critical threat vectors
Email is the most common attack vector for malware (92.4%) and social attacks such as phishing (96%) and the majority of that is delivered via web links. Steps can be taken to filter known malicious and unrated links, however, the latter may impact productivity. By combining FortiIsolator with your Secure Mail Gateway, Firewall, Secure Web Gateway or Desktop Client, you are able to allow users to access URLs while maintaining security — increasing productivity.
FORTIISOLATOR 1000F
Hardware Specifications
10/100/1000 Interfaces (Copper, RJ45)
4
Storage
1x 1 TB
Form Factor
1RU
Power Supply
Single (Dual Optional)
System Specifications
Concurrent Browser Sessions
250*
Supported Browsers
Chrome, Firefox, Microsoft Edge, Microsoft Internet Explorer, Safari, Opera
Integration Methods
Proxy, URL Rewrite, Transparent Inline
Performance (Messages/Hour) [Without queuing based on 100 KB message size]
Concurrent Browser Sessions
250
Dimensions
Height x Width x Length (inches)
1.73 x 17.24 x 22.83
Height x Width x Length (mm)
44 x 438 x 580
Weight
25 lbs (11.4 kg)
Environment
Power Source
100–240V AC, 50–60 Hz
Maximum Current
110V/5.0A, 220V/3.0A
Maximum Power Required
117 W
Power Consumption (Average)
67 W
Heat Dissipation
398 BTU/h
Humidity
5–90% non-condensing
Operating Temperature
32–104°F (0–40°C)
Storage Temperature
-40–158°F (-40–70°C)
Compliance
FCC Part 15 Class A, C-Tick, VCCI, CE, UL/cUL, CB, BSMI, RoHS
* 20% of the sessions are video sessions
FORTIISOLATOR-VM
Technical Specifications
Hypervisors Supported
VMWare 6.0/6.5 KVM QEMU version 0.12.1 and higher
Maximum Virtual CPUs Supported
Unlimited
Virtual NICs Required (Minimum / Maximum)
3 / 3
Virtual Machine Storage Required (Minimum /Maximum)
500 MB / 4 TB
Virtual Machine Memory Required (Minimum /Maximum)
8 GB / 128 GB
System Specifications
Concurrent Browser Sessions
Base VM license includes 2 concurrent sessions for testing. FortiIsolator Security Protection Concurrent session licenses can be purchased on annual subscription basis in blocks of 50 sessions.
Supported Browsers
Chrome, Firefox, Microsoft Edge, Microsoft Internet Explorer, Safari, Opera
Integration Methods
Proxy, URL Rewrite, Transparent Inline
Fortinet Products
FortiIsolator VM Virtual Appliance
FortiIsolator-VM Software Virtual Appliance designed for VMWare ESXi platforms (Includes 5 concurrent sessions)
#LIC-FIS-VM
List Price:
$95.00
Our Price: $82.25
FortiIsolator VM FortiIsolator Web Isolation Bundle
FortiIsolator-VM 1 Year FortiIsolator Web Isolation Bundle, Includes Web Isolation, Web Filtering, AV with FortiCare Premium Support
50 Concurrent session license (Minimum order 1 and up to 20)
#FC-10-FISVM-624-02-12
List Price:
$1,500.00
Our Price: $1,298.70
FortiIsolator-VM 3 Year FortiIsolator Web Isolation Bundle, Includes Web Isolation, Web Filtering, AV with FortiCare Premium Support
51 Concurrent session license (Minimum order 1 and up to 20)
#FC-10-FISVM-624-02-36
List Price:
$4,500.00
Our Price: $3,896.10
FortiIsolator-VM 5 Year FortiIsolator Web Isolation Bundle, Includes Web Isolation, Web Filtering, AV with FortiCare Premium Support
52 Concurrent session license (Minimum order 1 and up to 20)
#FC-10-FISVM-624-02-60
List Price:
$7,500.00
Our Price: $6,493.50