Fortinet FortiGuard Analysis & Management Services

Hosted Central Management Solutions for FortiGate Systems

Overview:
The FortiGuard Analysis and Management Service is a subscription based hosted service for FortiGate®, FortiWiFi™, and FortiMail™ appliances, as well as FortiClient™ agents. With this service, organizations can enjoy many of the centralized management, logging, and reporting capabilities found in FortiAnalyzer and FortiManager platforms, without any additional hardware to buy, install or maintain. The FortiGuard Analysis and Management Service is the ideal security management solution for smaller organizations, that have the same security needs as larger companies but limited IT resources.
FortiGuard® Analysis & Management Service Benefits:
Supports all FortiGate and FortiWiFi models for a SAAS-like solution.
Expand security capabilities without additional hardware investment to stay within budget.
Full range of reporting, analysis and logging, firmware management and configuration revision history gives smaller organizations enterprise-class management capabilities.
Hosted within Fortinet's global FortiGuard Network for maximum reliability and performance.
eDiscovery forensic analysis search tool speeds up response to electronic discovery requests.
Enhanced user interface with dashboard, reporting, and drill-down analysis widgets makes it easy to develop custom views of network and security events.
Centralized security reporting, logging and configuration management are critical components of a large enterprise's security best practices. To enable smaller organizations to benefit from these capabilities, which are typically priced out of reach of smaller organizations, Fortinet offers the FortiGuard Analysis Service and FortiGuard Management Service. By delivering the solutions via a hosted service model, businesses of all sizes using FortiGate platforms can have a robust, fault tolerant security reporting, log management and centralized management solution. There are no additional requirements for hardware, software or facilities— providing a low cost of entry for smaller organizations.
Analysis Features:
FortiGuard Analysis Service

Analysis Service Features:
On-Demand Service
Securely access the service from any Internet connected web browser.

Security and device event logging
Real-time event monitoring
Pre-configured graphical reports
Flexible report delivery options

Reporting
Ability to instantly view your risk posture, network performance and availability of applications with an easy to use interface. Reports can be generated and selected with an online calendar picker widget.
Log Management
Review logs real time or historically to assist with detailed understanding of FortiGate System Event, Traffic, Attack, Antivirus, Web Filter, Email Filter, IM, Content and VoIP logs as well as site-to-site and remote access VPN usage.
E-mail Content Archival
Store email content and track activity using advanced content analysis for complete understanding of internal and external compliance.
User Roles and Privileges
Easily control who has access to the service, what their privileges are and what alerting and reporting capabilities they are assigned.
E-Discovery
E-Mail data collection tool for forensic analysis allows you obtain e-mail data using multiple criteria.
Management Features:
FortiGuard Management Service

Management Service Features:
Configuration Template Repository
Store configuration data for multiple FortiGate devices centrally for rapid deployment of new devices using similar policies.

Ten Customizable Dashboard Widgets:

Resource Monitor [real time, historical] CPU, HDD, Memory with alert profiles
Network Monitor: interface bandwidth, SSL & IPSec Bandwidth, # of sessions
Event Monitor
Traffic Report [drill down]
Web Filtering Report [drill down]
Virus Report [drill down]
IPS Report [drill down]
Anti Spam Report [drill down]
Trap Console
Report Browser

Firmware Management
Maintain a central repository of FortiGate firmware images and update devices in real-time or on a scheduled basis.
Script Tool
Allows the deployment of identical configuration items to many devices.
Multiple Roles for Administration
Easily control who has access to the service, what their privileges are, to which devices they have access.
Simplifed Disaster Recovery
Configuation and log data is stored off-site and available 24x7x365 for business resumption.
Remote Viewing
Overcomes challenges related to site visabilty and management of remote locations.
Rapidly Deployed FortiGuard Hosted Solutions:
The FortiGuard Analysis service and the FortiGuard Management services are delivered in the same way as other FortiGuard Subscription Services. Both services are easily configured from the FortiGate device, authorized by the FortiGuard Center and in less than 10 minutes up and running. This allows for an on-demand approach to security log management, reporting, content archival, policy management and configuration management. Securely access the service from anywhere there is an Internet connection via your favorite web browser. Maintain visibility of your overall risk posture, receive detailed information for troubleshooting purposes and have assurance that your business is running securely and smoothly.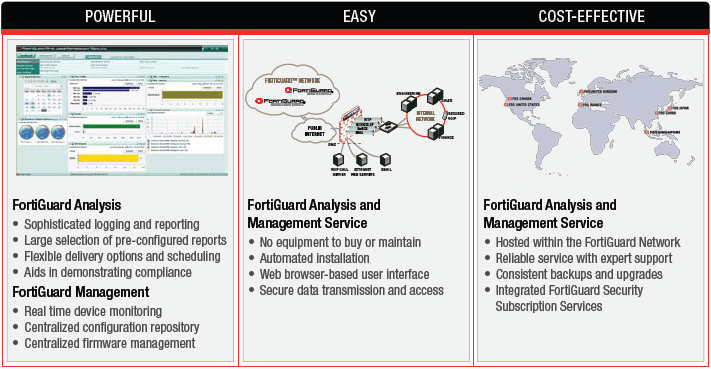 Available Service Packages:
FortiGuard Analysis and Management Service
FortiGuard Analysis Service is licensed per device. Please contact your Fortinet Sales Representative for more information. Pricing varies by storage and data transfer quotas:
Silver - 10GB Total Storage Allowance with 25MB Total Daily Transfer Allowance
Gold - 25GB Total Storage Allowance with 50MB Total Daily Transfer Allowance
Platinum - 50GB Total Storage Allowance with 100MB Total Daily Transfer Allowance