Fortinet FortiFone-380 Telephone

Simple, stripped-down IP phone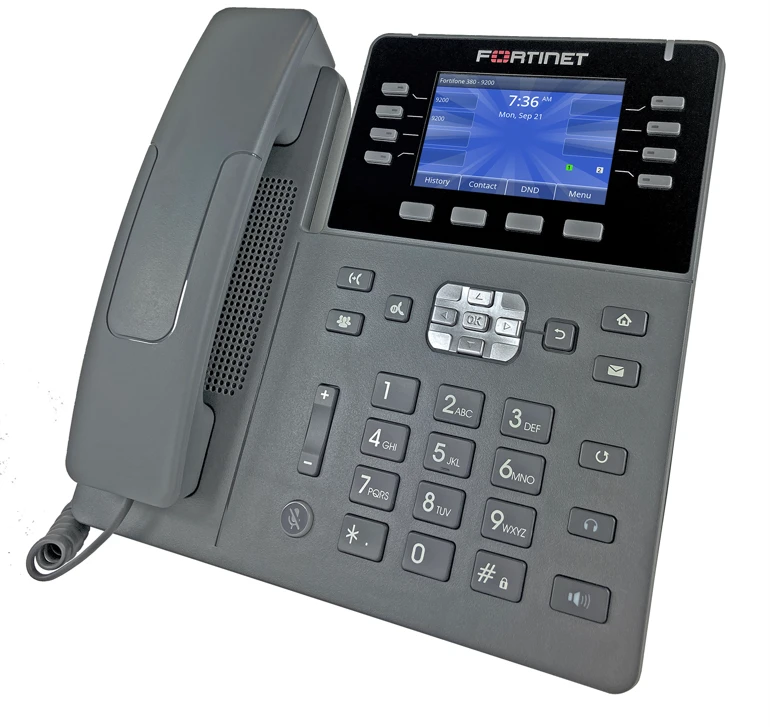 Sorry, this product is no longer available, please contact us for a replacement.
Overview:
Whether you're looking for an entry level or executive style IP phone, stay connected to your calls with a FortiFone IP phone.
Each FortiFone is a feature-rich experience with high quality audio and dedicated keys for the most common features. The FortiFone experience offers a range of options from phones that can be used in a hotel or waiting room, to phones that offer vivid color screens, with programmable line and extension appearances. Managing calls has never been easier. Stay connected with a complete office phone solution.
Key Features and Benefits
HD Quality Audio
What good is a phone if you can't hear your caller? That's why each of the FortiFones delivers crisp, clear audio through the handset and speaker.
Visual Notifications
Always be up to date on calls with easy to see missed call and voicemail notifications.
Key Appearances
Programmable key appearances on select models give you the power to not only monitor lines and extensions, but you can also program the keys for a number of features available on the FortiVoice.
Highlights
Combined with the powerful features of the FortiVoice PBX, the FortiFone delivers more than just what you need, it gives you what you want.
Call forwarding
Voicemail notification
One-touch transfers
Do not disturb
Conference calling
Speed dial
PoE (Power over Ethernet) support
Auto-discovery for easy setup
Bluetooth support on select models
Cordless DECT models
Specifications:
FON-H25
FON-H35
FON-175
FON-380
FON-475
FON-570
FON-670i / 675i
FON-C71
Telephone Features
Display
3.5" color display
2.4" color display
2.8" + 2.4" color display
3.5" (480x320) color display
7" color touchscreen
7" color touchscreen
3.1" 248x120 pixel graphic display
Line/extension/queue appearance keys
N/A
N/A
N/A
28
25
28, expandable to 108
110
N/A
Softkeys
6
6
4
4
4
4
Dedicated feature keys
6
6
5
10
11
7
5
4
Speakerphone
Full duplex
Full duplex
Full duplex
Full duplex
Full duplex
Full duplex
Full duplex
Full duplex
Backlit display
Adjustable phone angle
Headset support (RJ22)
Dedicated headset button
Call waiting
Message waiting indicator
Group paging over speaker
Intercom over speaker
Multiple ring tones
Phone book entries
500
500
Central
1000
2000
1000
Missed call log
Received call log
Outgoing call log
100 total
100 total
300 total
100 total
1500 Total
100 each
External IP extension support
Missed call indicator
Onscreen key labels
One-touch Feature Keys
Call recording
Cancel transfer
Conference
Do not disturb
Group paging
Hold
Intercom paging
One-touch blind transfer
Park
Redial
Speed dial
Trade calls
Transfer
Voicemail
Network Features
Power over Ethernet (802.3af)
Ethernet ports
2x 10/100
2x 10/100
2x 10/100
2x 10/100/1000
2x 10/100/1000
2x 10/100/1000
2x 10/100/1000
1x 10/100
Auto-discovery of FortiVoice system on LAN
LDAP
LLDP
QoS L 2 802.1p
QoS L 3 DSCP
802.1x – Network access control
DHCP client
SNTP client
SIP (RFC 3261)
SIP over UDP
SIP over TCP
SIP over TLS
RTCP
SRTP
Management
TFTP
HTTP
HTTPS
Option 66
Web management portal
Backup/Restore
Syslog
Audio Features
HD voice
G.711u
G.711A
G.723.1
G.729A
G.722
G.726
H.263, H.264 video codec support
FON-675i only
Voice activity detection (VAD)
Comfort noise generation (CNG)
Adaptive jitter buffer
300 ms
300 ms
300 ms
500 ms
300 ms
300 ms
300 ms
300 ms
DTMF in-band
DTMF out of band (RFC2833)
DTMF via SIP info
Operation
Humidity
10–65%
10–65%
10–65%
10–65%
10–65%
10–95%
10–65%
10–95%
Temperature
0–40°C
0–40°C
0–40°C
0–40°C
0–40°C
-10–50°C
0–40°C
-10–50°C
Power class
2
2
1
0
0
3
3
0
Power consumption
2 watts
2.8 watts
2 watts
11.2 watts
8.8 watts
7.5 watts
10 watts
8 watts
Display Languages
English
French
Spanish
Chinese — Simplified
Chinese — Traditiona
Catala
Czech
Dutch
Euskara
Galego
German
Hebrew
Italian
Japanese
Magyar
Polish
Portuguese
Russian
Slovenian
Turkish
Pricing Notes:
Hardware plus FortiCare Premium
Hardware Unit, FortiCare Premium Ticket Handling, Advanced Hardware Replacement (NBD), Firmware and General Upgrades
FortiCare Premium Support
FortiCare Premium Ticket Handling, Advanced Hardware Replacement (NBD), Firmware and General Upgrades
Prices are for one year of Premium RMA support. Usual discounts can be applied.
Annual contracts only. No multi-year SKUs are available for these services.
Contact Fortinet Renewals team for upgrade quotations for existing FortiCare contracts.
Pricing and product availability subject to change without notice.
Fortinet Products
FortiFone 380 FortiCare Premium Support
FortiFone-380 1 Year FortiCare Premium Support
#FC-10-FF380-247-02-12
List Price:
$43.80
Our Price: $37.92