Fortinet FortiFone-260i Telephone

Simple, stripped-down IP phone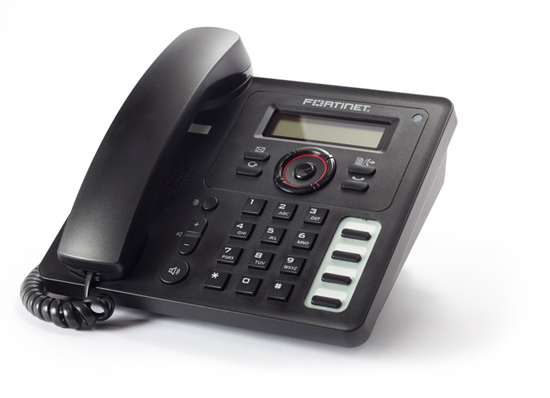 This product is no longer available, contact us for a replacement!
Pricing Notes:
Hardware plus FortiCare Premium
Hardware Unit, FortiCare Premium Ticket Handling, Advanced Hardware Replacement (NBD), Firmware and General Upgrades
FortiCare Premium Support
FortiCare Premium Ticket Handling, Advanced Hardware Replacement (NBD), Firmware and General Upgrades
Prices are for one year of Premium RMA support. Usual discounts can be applied.
Annual contracts only. No multi-year SKUs are available for these services.
Contact Fortinet Renewals team for upgrade quotations for existing FortiCare contracts.
Pricing and product availability subject to change without notice.
Overview:
The FON-260i is a simple, stripped-down IP phone for users who don't need all the bells and whistles. No blinking line appearance lights, no complications, just dial it and talk. Great for courtesy phones in reception areas or for staff with low feature requirements.
Advanced features and easy operation
FortiFone telephones combine excellent audio quality with optimum usability, providing you with maximum value. The line-up covers the needs of the whole office, from basic user to advanced attendant.
FortiFone IP phones are loaded with advanced features and configure themselves automatically, so you don't need to be an expert to install them. And, because they plug into your existing computer network, you don't need to run phone wiring to each desk.
Programmable appearance/feature keys
Whether you want instant access to FortiFone features or need to see which of your lines or extensions are in use and which are free, the FON-360i, FON-460i and FON-560i fit the bill. Each has big, bright multi-colored LED light keys with customizable functions. So you can have a phone tailored to the exact way you liketo work. Plus, once you have configured the phone's keys, you can print the dialpad with one click in the FortiVoice management software.
External IP extensions
Plug your FortiFone IP phone in anywhere and it can function just like your extension in the office. It's the perfect solution for teleworkers or employees who split their time between the office and their home office.
Features & Benefits:
4 programmable feature keys
8 dedicated feature keys
Half-duplex speakerphone
Adjustable display contrast
Message waiting indicator and counter
Distinctive ring support
Multilingual support (English, Spanish, French)
Auto-discovery of FortiVoice system on LAN
FortiFone Telephones: Seemless Integration with FortiVoice Phone Systems
High-quality speakerphones
Bright, multicolor, programmable, illuminated feature/appearance keys*
Adjustable display angle*
Power over Ethernet (POE)*
Easy to set up; auto-discovery on LAN
Group paging
* FON-360i, FON-460i and FON-560i