Fortinet FortiClient PC

Modular Security Client for PC and Mobile Endpoints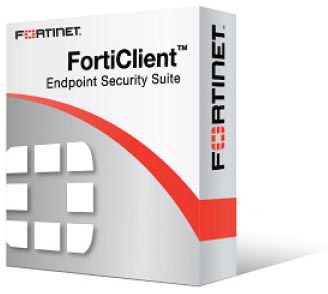 Overview:
FortiClient endpoint security provides comprehensive, dynamic security for the network endpoint. FortiClient is a client-based software solution that offers a range of security features for desktops and laptops. When used in connection with FortiGate appliances, FortiClient delivers IPsec and SSL encryption, WAN optimization, endpoint compliance, and two-factor authentication.
FortiClient is an all-in-one comprehensive security solution that extends the power of FortiGate's unified threat management to endpoints on your network. Desktops, laptops, tablets and smartphones, FortiClient enables every device - local or remote, stationary or mobile - to integrate with your FortiGate. With no per-seat license fees, FortiClient takes the headaches out of managing multiple endpoints so your users and guests can work efficiently anywhere at anytime, without compromising your security
FortiClient Features & Benefits
Improves endpoint protection by extending corporate security policies to remote users
End-to-end security with integrated endpoint control, policy enforcement, centralized management and monitoring
Integrated endpoint security bundled into a single, easily managed agent for lower total cost of ownership
FortiClient provides SSL and IPSec VPN, application firewall, antivirus/antispyware scanning, web filtering, vulnerability scanning, WAN optimization and more
Integrated with FortiGate and FortiAnalyzer for central management and logging/reporting
Multiple Platform Protection for a BYOD World
Bring Your Own Device is today's reality. The profusion of portable devices makes it inevitable that people want to work with their own tools. FortiClient supports Windows and Mac OS X computers and iOS and Android mobile devices, and also integrates your home offices, mobile workers and visiting partners.
Affordable Protection, Powerful Features
A single license is all you need to add FortiClient to your FortiGate appliance. The client is a free download that runs on each endpoint device, delivering simple and secure remote access tunnels, antivirus protection, web filtering, two-factor authentication, an application firewall and more.
More Information, More Control
FortiClient allows you to manage the security of multiple endpoint devices from the FortiGate interface. Manage settings, push new policies and track and log activities, even when remote endpoints are behind routers. FortiClient improves your endpoint visibility and control.
Industry-leading Security at Every Endpoint
With the award-winning FortiClient, each endpoint device is fully protected with the industry's fastest response against emerging threats and the backing of the FortiGuard threat research and response centre's vulnerability scanning and signature updates.
Standalone Protection
FortiClient doesn't stop there. The free client download can run in an unregistered mode, delivering a comprehensive solution to devices that aren't associated with a FortiGate secured network. Moving to a registered solution is a simple process, not requiring any additional client installation.
Features and Benefits:
Features
Benefits
VPN Policy Server
Easily create client-to-site encrypted tunnels on the fly
Premise awareness
XAuth capability
Endpoint Control
Lock down network access based on organizational security compliance policy
Checked installed and/or running 3rd party application software
Customize warning and blocked messages
WAN Optimization
Minimize remote user download times supporting: CIFS, FTP, HTTP, MAPI, and general TCP Traffic
Graphical view of bandwidth optimization
Simple GUI
A new graphical user interface
Two-Factor Authentication
FortiToken, Email and SMS-based two factor authentication
Certificate Store Integration
Antivirus & Antispyware
Provides comprehensive protection against viruses, spyware, keyloggers, Trojans, adware and grayware on the client, with updates by FortiGuard.
Powerful Personal Firewall
Monitors network traffic and enforces the appropriate application access control in your security policies.
Web Filtering
Provides real-time web content access enforcement to ensure compliance.
Advanced Antispam
Built in antispam that incorporates into MS Outlook to reduce unsolicited emails, email-borne viruses and phishing attempts.
Blended Threats and Compliance Requirements
As Internet attack sophistication increases with blended threats, an endpoint security solution that reflects that sophistication makes sense. An integrated protection suite including antispam, Web filtering, antivirus and firewall provides advanced protection against multi-vector attacks that may include email, Web and trojans that attempt to open network connections through a backdoor. With breach incidents affecting the bottom line, government and industry regulators are looking at endpoint security. Payment Card Industry (PCI) requirement 1.4 specifies installation of personal firewall software on mobile and employee-owned computers. HIPAA healthcare EPHI safeguards address protection from malicious software.
FortiClient Features
FortiClient supports the following features:
Central management of devices using FortiManager system
Provides enforcement of security policies and configuration lock down of devices with a password override feature available. Bulk installs via Windows Installer script feature for FortiClient.
Local antivirus, antispam and Web content filtering signature updates
FortiManager's Update Manager provides local hosting and deployment of FortiGuard Security Subscription Services for FortiClient. FortiGuard updates include antivirus/antispyware, web content filtering, application detection and antispam.
Single security agent available in two modes
FortiClient supports a "suite" mode which includes the complete security feature set. FortiClient also supports a "modular" install that lets you install only what you need.
Flexible product packaging
FortiClient is available in enterprise bundles at volume pricing levels based on quantity and level of support services. Fortinet provides a complete multi-layered suite of endpoint security features in FortiClient at the price point of traditional single antivirus security agents.
Centralized Policy Management
Administrators maintain complete control of the network security infrastructure with a FortiManager appliance. With a complete FCAPS (Faults, Configuration, Accounting, Performance and Security) toolset, FortiManager appliances assist in environments where security, availability and guaranteed performance are mandated.
Deployment Scalability
FortiClient deployments can scale to an unlimited number of devices and receive security subscription updates from the FortiGuard update service or from the FortiManager system.
Low Total Cost of Ownership
Unlike point product agents that provide a single security feature, FortiClient is a true unified security agent that bundles all the necessary capabilities into a single low cost and easy to manage application.
Deployment Scenarios:
Fortinet Security Framework
FortiClient plays an important role in completing most any FortiGate installation. This advanced endpoint protection solution helps close potential security gaps in network architecture, strengthening your security posture by adding an essential layer of protection to PCs and laptops connecting from the LAN or from offsite remote locations. FortiClient provides integration with FortiGate, FortiManager and FortiAnalyzer.

Enhances FortiGate Endpoint Control
FortiGate users benefit from endpoint control, enforcing a policy based approach to FortiClient use.
Endpoint Control with Application Detection
VPN (IPSec and SSL)
WAN Optimization
Eases Deployment with FortiManager
FortiManager users benefit from streamlined FortiClient deployment and centralized management.
Bulk Deployments of FortiClient Updates
Auto Discovery of New ForitClients
Set Management Events and Alerts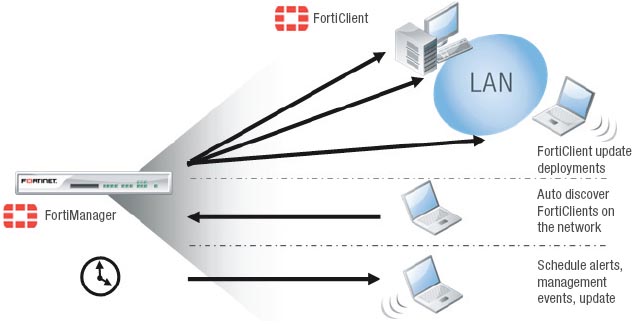 Integrates with FortiAnalyzer Reporting
FortiAnalyzer users benefit from FortiClient log capture for integrated endpoint reporting and analysis.
Endpoint Security Reports
Automate Report Scheduling
Vulnerability Analysis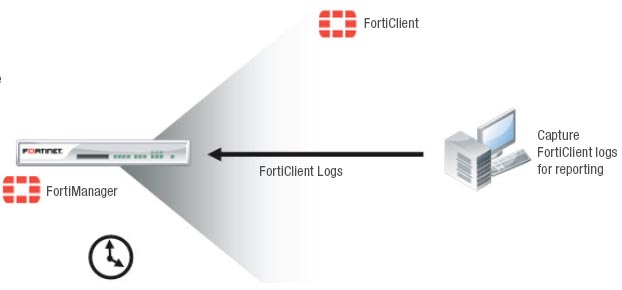 FortiClient Securing Personal and Mobile Computing:
Application Protection

Application hacker tool kits utilize single or blended application malware techniques to compromise a devices operating system and associated applications. FortiClient application multi-layered protection thwarts viruses, spyware, adware, keylogger, dialer and grayware techniques used by cyber criminals.
Network Protection

\
Network reconnaissance, sniffing of clear text traffic and zero day network worms attempt to comprise devices. FortiClient multi-layered Personal Firewall and IPsec VPN capabilities thwart various network techniques used by cyber criminals.
Content Policy Protection & Enforcement

Inappropriate email spam content typically harbors an array of malware intended to negatively impact productivity, while unsanctioned Web content access violates corporate guidelines. FortiClient antispam and Web content filtering features protect against unwanted email content and restricts unapproved web content access.
Product Comparison:


Comparison
Windows
Mac OS X
Android
iOS
Basic
IPsec VPN
SSL VPN
Web Mode Only
Two-Factor Authentication
Antivirus
Web Filtering
WAN Optimization
Application Firewall
Vulnerability Scanning
Client Certificate Support
Registered with FortiGate*
Centralized Management
Centralized Endpoint Logging
Configuration Provisioning
Policy Compliance Enforcement
Windows AD SSO Agent
*Requires FortiOS 5.0
The list above may contain features which are not available on all platforms. Consult appropriate FortiClient Admin Guide to
Specifications:


Technical Specifications
Operating System Supprted

Windows 8, Windows 7 32-bit and 64-bit, Windows Vista 32-bit and 64-bit, Windows XP 32-bit and 64-bit
Mac OS X v10.8 Mountain Lion, Mac OS X v10.7 Lion, Mac OS X v10.6 Snow Leopard
iOS 5.1 or later (iPhone, iPad, iPod Touch)
Android OS 4.0.4 or later (phone and tablet

Encryption
AES 128/192/256, DES/3DES
Deployment Options
Manual Interactive,
Manual Silent,
Active Directory GPO,
Third Party Distribution Tools
Authentication Options
RADIUS,
LDAP,
Local Database,
xAuth,
TACACS+,
Digital Certificates (X509 format),
FortiToken
VPN Protocols
SSL (Tunnel Mode)
IPSec
Wan Optimization
CIFS, FTP, HTTP, MAPI, General TCP traffic
Connection Options
Auto Connect VPN before Windows logon, IKE Mode config for FortiClient VPN IPsec tunnel
Note: All specifications are based on FortiClient 5.0.
Security Features:


General:

Endpoint Control with Application Detection
Anti-Leak Banned Word List
Desktop Antivirus
Remote VPN Client
WAN Optimization Client
Personal Firewall
Antivirus Scanning / Cleaning
Quarantine Infected Files
Registry Monitoring
User-Definable File Types for Scanning
Scans Compressed Files
Scheduled Scanning
Antivirus and Spyware Scanning
Manual and Scheduled Updates
Antivirus Logs

Centralized Management:

Client Version and Status Monitoring
Update Server Override
Central Logging and Reporting
Configuration Lockdown
Group Configurations

User Authentication:

Extended Authentication (XAUTH)
Management, Logging, and Monitoring
Searchable VPN Logs
VPN Tunnel Diagnostics Test
VPN Connection Monitor
Packet Logs

Antivirus / AntiSpyware:

Configurable File Types to Scan Including Files with No Extension
Manual Scan
Real-time Protection
Automatic Submission of Suspicious Files to Fortinet
Notification Virus Signature is Out of Date
Email Scanning Incoming and Outgoing Including Attachments
Heuristics Scanning
Virus File Quarantine

Personal Firewall:

Configurable Network Security Zones
Intrusion Prevention
Advanced Firewall Rules
Security Levels: Low, Medium, and High
Application Access Control
Intrusion Blocking
Zone-Based Traffic Control
Active Connection Monitor

Antispam:

Customizable Banned Word List
Customizable Black/White List
Continuously Updated Database
Automatic Submission of MIS-Rated Emails

Cryptography:

3DES And DES
SHA-1 And MD5
AES (128, 192, 256-Bit)
PKI
PKCS #7 Certificate Chains
PKCS #12 Certificate Import

IPSec VPN:

Autokey IKE (Preshared) / Authkey IKE Certificate
ESP and AH
NAT Traversal
Main and Aggressive Mode IKE
Redundant Gateway Support
DHCP over IPsec
Manual Virtual IP
Multiple Remote Networks
VPN Policy Retrieval from FortiGate Unit
Dead Peer Detection
Simplified Configuration Process
Split Tunneling

SSL VPN

IKE Negotiation
Retrieve Dropped Connections
VPN Monitor
Policy Compliancy Tool

Web Content Filtering:

76 Categories
HTTPS Site Inspection/Blocking
Password Protected Config
Customizable Block Profiles
Predefined Usage Profiles for Adults and Children
User Definable Block / Bypass List
Continuously Updated Database

Language Support

English
French
Japanese
Korean
Simplified Chinese
Slovak
Services & Support:


FortiGuard Security Subscription Services
FortiGuard Security Subscription Services deliver dynamic, automated updates for Fortinet products. The Fortinet Global Security Research Team creates these updates to ensure up-to-date protection against sophisticated threats. Subscriptions include antivirus, intrusion prevention, web filtering, antispam, vulnerability and compliance management, application control, and database security services.
FortiCare Support Services
FortiCare Support Services provide global support for all Fortinet products and services. FortiCare support enables your Fortinet products to perform optimally. Support plans start with 8x5 Enhanced Support with "return and replace" hardware replacement or 24x7 Comprehensive Support with advanced replacement. Options include Premium Support, Premium RMA, and Professional Services. All hardware products include a 1-year limited hardware warranty and 90-day limited software warranty.