Fortinet FortiCarrier 3600E

High-Scale Carrier-Grade Network Service Appliance (CGN)
Sorry, this product is no longer available, contact us for a replacement!
Overview:
Highlights
Built for BYOD and IoT scales with support for 450 million concurrent sessions
Specialized architecture capable of processing massive signaling surges up to 3 million connections per second
Compact 3RU form factor is ideal for space-constraint applications and lowers colocation cost for service providers
Comprehensive Carrier-Grade NAT and IPv6 migration option including: NAT44, NAT444, NAT64/DNS64, NAT46
Fortinet introduces the FortiCarrier 3000 E-Series appliances — a Carrier-Grade Network (CGN) solution that is purpose-built from the ground up to facilitate the massive device growth of the all-connected world. The platform's advanced architecture comes with the industry's largest connection scale designed for the most-demanding IPv4 BYOD roll-out and tomorrow's IPv6 IoT expansion.
Proven Carrier-Grade Network Service (CGN) Solution
The FortiCarrier series has long provided iron-clad security services in many service provider and large enterprise networks. The new FortiCarrier 3000 E-Series focuses on the Carrier-Grade IPv4/v6 Network services, based on the same familiar interface and proven carrier-grade reliability of the FortiCarrier OS.
Coupled with a new architecture that is designed specifically for mobile deployments, the new FortiCarrier 3000 E-Series brings high predictability and service-level consistency to environments that generate massive amounts of connection set-ups and tear-downs. Thanks to Fortinet's powerful Security Processing Unit (SPU) XP, FortiCarrier 3000 E-Series leads the industry in high-scalability (450 million concurrent sessions) and high-performance (160 Gbps) in a single CGN appliance.
Transparent Connectivity Service for the All-Connected World
The explosive growth of mobile devices and cloud services has created massive networks with no boundaries. To compound the issue, the recent global depletion of public IPv4 addresses strains the existing IPv4 infrastructures and increases the demand for Carrier-Grade Network IPv4 (CG-NAT) services.
Our new FortiCarrier 3000 E-Series fills that requirement with purpose-built Carrier-Grade IPv4/v6 Network service appliances. The platform's advanced architecture comes with the industry's largest concurrent connection scale designed to meet the most demanding requirements of IPv4 BYOD roll-outs and tomorrow's IPv6 IoT expansions of large carrier networks.
FortiCarrier CG-NAT and IPv6 migration service is:
Powered by Fortinet's high-performance security processors (SPU XP2)
Based on highly-effective and extensible security operating system
Built for operational efficiency and the lowest TCO
Available in two models: FCR-3600E (10 GE) and FCR-3800E (100 GE)
Key Features & Benefits
High Performance in Three Dimensions
Specialized architecture designed for the most demanding IPv4/ v6 mobile network expansions that require massive connection scalability, high forwarding capacity and powerful processor to stabilize core networks from frequent signaling surges.
Reduces Upgrade Churns
Comprehensive Carrier-Grade NAT (NAT44, NAT444) options to meet any legacy IPv4 network upgrade requirements. A broad range of advanced IPv6 Migration technologies are included.
Lowest Total Cost of Ownership
The three-dimensional high-performances combined with the rich feature set in CG-NAT and IPv6 migration technologies enable FortiCarrier 3000 E-Series to offer the lowest total cost of ownership (TCO) of any CGN appliances in the market.
Features:
NAT and Session Setup
Fixed/deterministic NAT: private IP to public IP mapping and/or port range mapping
Port block allocation (PBA) mode for lower logging overhead and higher cps rate
Single port allocation (SPA) mode for better port resource sharing
Full cone NAT (EIM/EIF) support
Hairpinning support § User quota control on port resource usage
User quota control on max concurrent session count
Source port preservation pool for special applications
Essential service pool enables better user experience
Resource Pool Management
Software assisted IP selection for dynamic NAT: round robin or random
Session Handling
Per application time-out control
ICMP translation
GRE/PPTP/L2TP translation
IP fragment translation
IP fragments are first defragmented and then translated
Application Layer Gateway support (FTP/TFTP/SIP/MGCP/ PPTP/L2TP/ICMP Error/IP-options)
Logging on NAT mapping or every session
Two logs per mapping/session
Support up to 16 logging servers with hash-based load balance
Syslog over UDP
NetFlow v9 or IPFIX over UDP
Customized template can be supported with advance notice
HA clustering: active/passive mode with hardware-based NAT/ session sync
IPv6 Support and Transition
IPv6 Network address translation support including NAT66, NAT64 and DNS64 (DNS proxy) and NAT46
IPv6 firewall policies
IPv6 in dynamic routing including RIPng and BGP
Dual stack routing
IPv6 Tunneling
SIP over IPv6
DHCPv6, ICMPv6 and IPv6 IPsec VPN
CPU to handle the IPv6 traffic
Deployment:
Mobile Service Providers
The FortiCarrier 3000 E-Series CGN provides two critical functions for mobile broadband services. The architecture's high scalability can be used to generate more revenue by expanding the subscriber base and the associated IP address infrastructure capacity, from a single internet-facing IP address into hundreds of thousands more private IP addresses.
Additionally, a deployment of the CGN appliance on the Gi/sGi interface also enhances the overall network security by hiding the subscribers' IP addresses from the internet.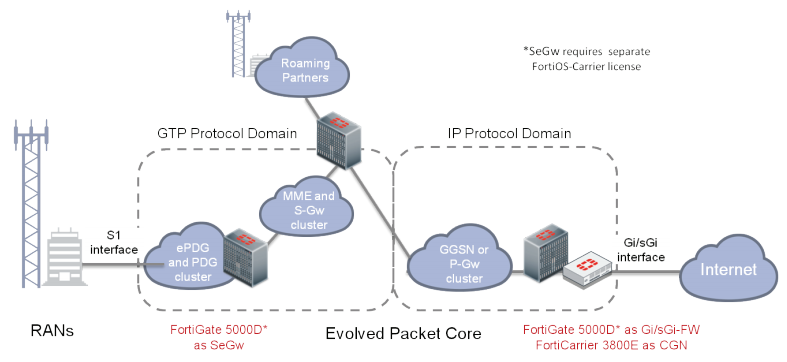 CGN Deployment in Mobile Service Provider Networks
Enterprise or Managed Service Providers
The comprehensive IPv4 and IPv6 feature sets allow FortiCarrier 3000 E-Series CGN to provide maximum deployment flexibility. Broad options of tunneling and encapsulation of IPv4 and IPv6 technologies are available to seamlessly connect any type of IP clients into any type of IP networks and finally to any internet content.
The accompanying diagram shows a typical use case — starting with the expansion of an existing IPv4 network and followed by the introduction of a new IPv6 network. Using different IPv4 and IPv6 transition technologies, both new native IPv6 and IPv4 clients can coexist.
To completely secure the mobile Evolved Packet Core, Fortinet recommends a complementary FortiGate with the FortiOS-Carrier license to be deployed as a Gi/sGi firewall. The same FortiGate can perform a secondary function as a RAN Security gateway to aggregate advanced mobile protocols, such as GTP, SCTP and IPsec.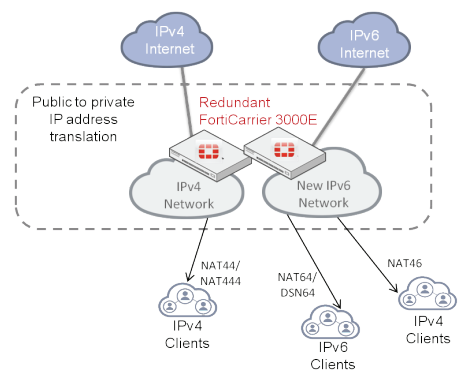 CGN Deployment in Enterprise or Managed Service Provider Networks
Specifications:

Interfaces
GE RJ45 Management Port
2x USB Ports
Console Port
32x 10 GE SFP+ Ports
High-Speed Network Interfaces: 2x 100 GE QSFP28
FortiCarrier 3600E
FortiCarrier 3800E
System Specifications
Throughput
160 Gbps
160 Gbps
Packet per Second
120 Mpps
120 Mpps
Connection per Second (Full TCP)
3 Million
3 Million
Concurrent Sessions
450 Million
450 Million
Hardware Specifications
Network Interfaces
32x 10 GE SFP+
32x 10 GE SFP+, 2x 100 GE QSFP28
GE RJ45 Management Interface
1
1
Storage
2x 480 GB (960 GB total)
2x 480 GB (960 GB total)
Power Supply
Dual
Dual
Environment
Form Factor
3U Appliance
3U Appliance
Input Voltage
100–240V AC, 50–60 Hz
100–240V AC, 50–60 Hz
Power Consumption (Average / Maximum)
613 W / 834 W
633 W / 858 W
Maximum Current
120V/12A, 240V/7A
120V/12A, 240V/7A
Heat Dissipation
2847 BTU/h
2929 BTU/h
Operating Temperature
32–104°F (0–40°C)
32–104°F (0–40°C)
Storage Temperature
-13–158°F (-25–70°C)
-13–158°F (-25–70°C)
Humidity
20–90% non-condensing
20–90% non-condensing
Compliance
Regulatory Compliance
FCC Part 15 Class A, VCCI, CE, CB, UL/c
FCC Part 15 Class A, VCCI, CE, CB, UL/c
Safety
CSA, CE, UL
CSA, CE, UL
Dimensions
Height x Width x Length (inches)
5.16 x 17.24 x 26.18
Height x Width x Length (mm)
131 x 438 x 665
Weight
55.98 lbs (25.39 kg)
57.17 lbs (25.93 kg)