Fortinet FortiCam MC51

Smart Security Cameras for Any Business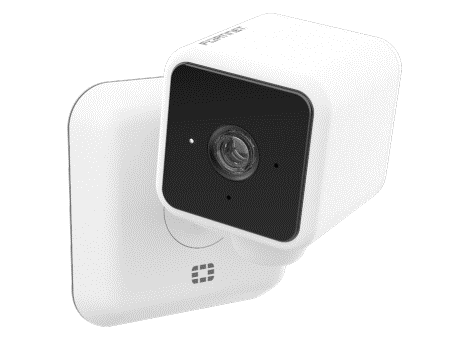 Fortinet Products
FortiCam-MC51
5 Megapixel Mini Cube IP Camera, 8m IR LED, 3.16mm fixed lens, 1x 10/100 port with 802.3af PoE, Audio, HDR, Wifi, BLE, Indoor Use
FortiCam-MC51 5 Megapixel Mini Cube IP Camera, 8m IR LED, 3.16mm fixed lens, 1x 10/100 port with 802.3af PoE, Audio, HDR, Wifi, BLE, Indoor Use
#FCM-MC51
List Price:
$439.00
Our Price: $323.59
Click here to jump to more pricing!
Overview:
Cameras Built for High-performance Video Surveillance
Get complete visual coverage inside and out with FortiCameras. With options for indoor and outdoor, vandal-proof, weatherproof, low-light night vision, fixed and motorized zoom lenses, and two-way audio, there's a FortiCamera for every environment.
FortiCamera security cameras are easy to set up and license-free. Just connect the camera to the FortiRecorder network via a PoE switch and you're up and running. No software installation, no patches and, unlike using third-party cameras, no license fees.
FortiCamera is completely integrated with FortiRecorder video recorders and the AI-powered FortiCentral video management software (VMS). This integrated video surveillance solution gives you centralized control and optimized visibility all in one single place.
---
FortiCamera MC51
This mini cube security camera is designed for sophisticated indoor environments like offices, boutique retail, hospitality, etc. The modern design is easy for wall and ceiling mounting or placed on a shelf. This 5 mega-pixel security camera is packed with advanced features to protect your businesses, such as IR LED, low-light sensor, and two-way built-in microphone and speaker. Its Bluetooth support allows easy network configuration. Built-in Wi-Fi helps with those hard-to-reach locations for broader security coverage within your premises.
Highlights
Scheduled and manual recording
Motion detection and continuous recordings
Snapshot notifications and alerts
SD card edge recording
Camera live view and video playback
Event monitor with timeline
RADIUS, LDAP, SNMP, and remote data storage support for flexible network integration
Centralized management, maintenance, and monitoring
Mobile access on iOS and Android
---
Use Cases
Preventing Thefts, Burglaries, and Vandalism
Fortinet empowers organizations to fight and prevent crimes with an integrated video surveillance system. The reliable FortiCamera gives organizations a full security coverage, day and night, for every entry point within your properties: lobbies, shipping and receiving areas, emergency exits, parking lots, garages, and more. Organizations have a centralized control and visibility from a single management platform, onsite or remotely, 24/7.
Delivering a Safe and Secure Environment
Built to perform in all weather and lighting conditions, FortiCamera delivers HD image quality with smart motion detection and low-light sensitivity technologies that capture all the activity details within your offices and the surrounding areas. Combined with FortiRecorder AI-enabled systems, Fortinet video surveillance empowers organizations to build safer environments by automatically detecting suspicious objects, vehicles, and faces, then triggering events and notifications to prevent potential incidents.
Boosting Operational Efficiency
Smart cameras and video analysis can also collect and analyze both working habits and environment conditions to improve your business efficiency. Factories and manufacturing, for example, can benefit from physical security systems to reduce waste, control hazardous materials, and ensure regulatory compliance. FortiCamera along with the video surveillance solution gives organizations a simplified management platform with all-inclusive security and AI-analysis capabilities to optimize business protection and operational efficiency
Sustaining Capacity and Density Control
Restaurants, retail stores, and government buildings are often required to limit the number of people in specific areas. The Fortinet physical security solution goes beyond a standard video surveillance system. FortiCamera, combined with FortiRecorder and AI-powered FortiCentral, accurately detects people entering the area and provides capacity information to help businesses manage the number of people on their premises. Additional heatmap analytics give you a visualization of the traffic frequency of an area to help you improve your business.
Pricing Notes:
FortiCare Premium Support
FortiCare Premium Ticket Handling, Advanced Hardware Replacement (NBD), Firmware and General Upgrades
FortiCare Premium plus FortiGuard Bundle Contract
Advanced Hardware Replacement (NBD), Firmware and General Upgrades, Premium Support, FortiDB Security Service (DBS)
Prices are for one year of Premium RMA support. Usual discounts can be applied.
Annual contracts only. No multi-year SKUs are available for these services.
Contact Fortinet Renewals team for upgrade quotations for existing FortiCare contracts.
Pricing and product availability subject to change without notice.
Fortinet Products
FortiCam-MC51
5 Megapixel Mini Cube IP Camera, 8m IR LED, 3.16mm fixed lens, 1x 10/100 port with 802.3af PoE, Audio, HDR, Wifi, BLE, Indoor Use
FortiCam-MC51 5 Megapixel Mini Cube IP Camera, 8m IR LED, 3.16mm fixed lens, 1x 10/100 port with 802.3af PoE, Audio, HDR, Wifi, BLE, Indoor Use
#FCM-MC51
List Price:
$439.00
Our Price: $323.59
FortiCam-MC51 FortiCare Premium Support
FortiCam-MC51 1 Year FortiCare Premium Support
#FC-10-CM51A-247-02-12
List Price:
$87.80
Our Price: $76.02
FortiCam-MC51 3 Year FortiCare Premium Support
#FC-10-CM51A-247-02-36
List Price:
$263.40
Our Price: $228.05
FortiCam-MC51 5 Year FortiCare Premium Support
#FC-10-CM51A-247-02-60
List Price:
$439.00
Our Price: $380.09