Fortinet FortiAP U433F

4x4 Wi-Fi 6 (802.11ax), Indoor wireless AP: Tri radio, Internal antenna, 1 x 2.5 GE & 1 x GE RJ45 ports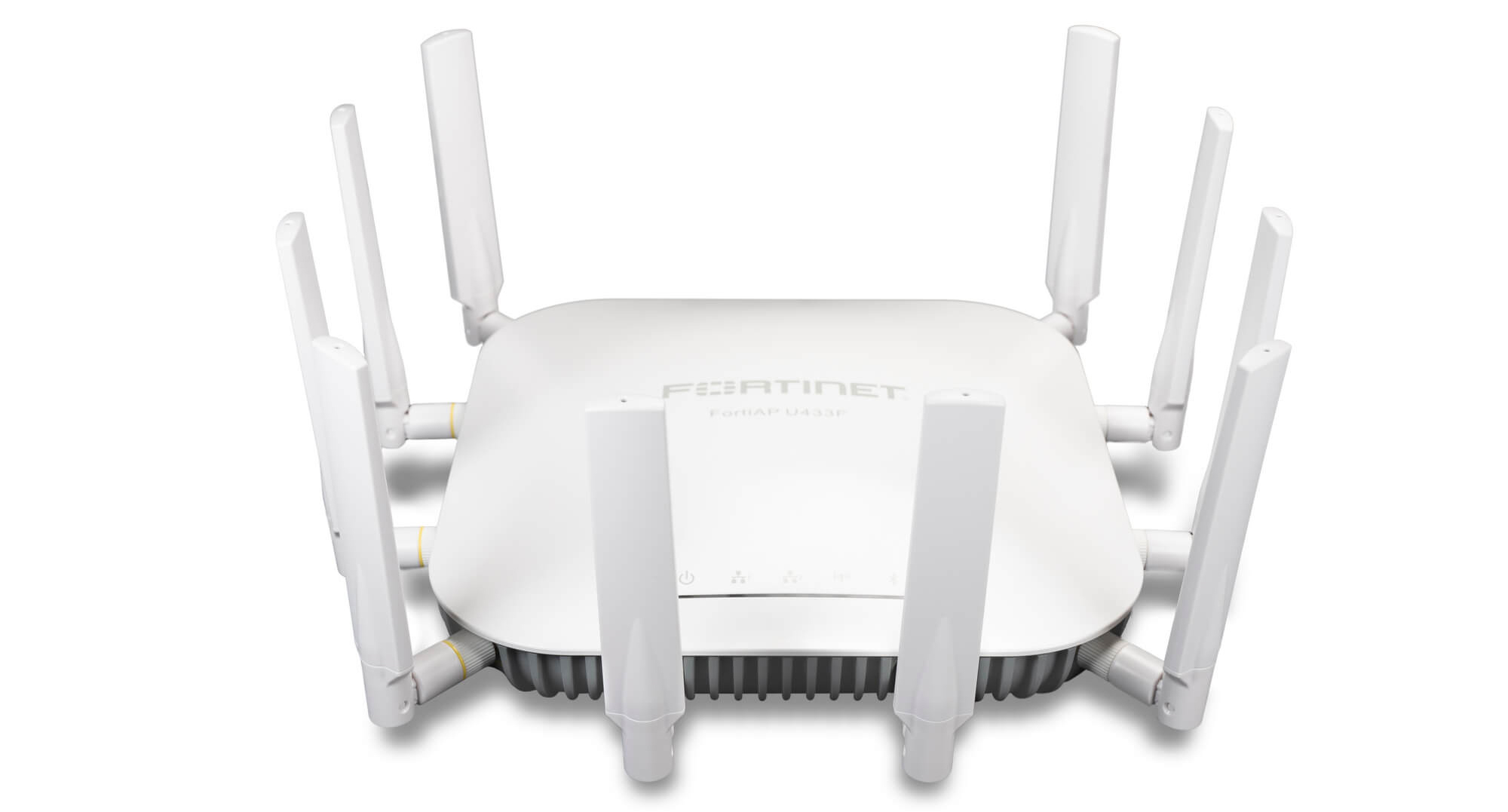 Fortinet Products
FortiAP U433F Access Point
FortiAP-U433F Indoor Wireless Universal AP - Tri radio (2x 802.11 a/b/g/n/ac/ax, 4x4 MIMO and 1x 802.11 a/b/g/n/ac Wave 2, 2x2 MU-MIMO), external antennas included, 1x 100/1000/2500 Base-T RJ45, 1x 10/100/1000 Base-T RJ45, BT/BLE, 1x Type A USB, 1x RS-232 RJ45 Serial Port. Ceiling/wall mount kit included.For power order: 802.3at PoE injector GPI-130. Optional DC power adaptor SKU SP-FAP43F-PA-X-5. Region Code A
#FAP-U433F-A
List Price:
$1,350.00
Our Price: $995.09
Click here to jump to more pricing!
Overview:
FortiAP Cloud Overview
Managing standalone access points can be a logistical challenge. Network administrators need to deploy, monitor, troubleshoot, and optimize their wireless network on a continual basis. FortiAP management via FortiAP Cloud centralizes the lifecycle management of standalone FortiAPs with a simple, intuitive, and easy-to-use cloud interface that is accessible from anywhere.
FortiAP Universal access points are managed centrally by the FortiAP Cloud provisioning and management portal, the integrated WLAN controller of any FortiGate security appliance, or by the FortiWLC dedicated Wireless LAN Controller platform.
FortiAP U431F and U433F
These enterprise class 802.11ax indoor APs provide three radios. These top-of-the-line access points provide OFDMA, a 2.5 Gigabit Ethernet port plus an additional 1 Gbps Ethernet port for PoE diversity. The APs can be configured for dual 5 GHz band access while still providing coverage for devices on the 2.4 GHz band, or can be configured to offer dedicated scanning. The integrated BLE radio can be used for beacons and locationing applications.
802.11ax
Tri-Radio 5 GHz + 5 GHz + 2.4 GHz or 5 GHz + 2.4 GHz + scanning
10 Antennas
4x4 MIMO
Up to 4,804 Mbps + 4,804 Mbps + 300 Mbps
Universally Manageable Access Points
Fortinet's FortiAP-U Series offers a wide range of Access Points capable of being managed by any of Fortinet's controller and management options: Cloud, FortiOS, or WLAN Controller. Perfect from everything from a large campus to hundreds of branch locations. Access Points are available across the performance spectrum up to the fastest Wi-Fi 6 4x4:4 devices.

Universal Access Management
Ability to intelligently support stand-alone controllers (FortiWLC), integrated security controllers (FortiGate) and cloud management options, establish a new benchmark in flexibility, performance and security.

Latest Wi-Fi technologies
Wi-Fi 6 technology with data rates of up to 4.8 Gbps and OFDMA improves client throughput and overall network efficiency.

Unmatched Security Protection
Integrates with Fortinet's Security Fabric providing unparalleled cybersecurity protection at the network edge.
Pricing Notes:
FortiCare Premium Support
FortiCare Premium Ticket Handling, Advanced Hardware Replacement (NBD), Firmware and General Upgrades
FortiCare Elite Support
FortiCare Premium Support with FortiCare Elite Ticket Handling.
Prices are for one year of Premium RMA support. Usual discounts can be applied.
Annual contracts only. No multi-year SKUs are available for these services.
Contact Fortinet Renewals team for upgrade quotations for existing FortiCare contracts.
Pricing and product availability subject to change without notice.
Fortinet Products
FortiAP U433F Access Point
FortiAP-U433F Indoor Wireless Universal AP - Tri radio (2x 802.11 a/b/g/n/ac/ax, 4x4 MIMO and 1x 802.11 a/b/g/n/ac Wave 2, 2x2 MU-MIMO), external antennas included, 1x 100/1000/2500 Base-T RJ45, 1x 10/100/1000 Base-T RJ45, BT/BLE, 1x Type A USB, 1x RS-232 RJ45 Serial Port. Ceiling/wall mount kit included.For power order: 802.3at PoE injector GPI-130. Optional DC power adaptor SKU SP-FAP43F-PA-X-5. Region Code A
#FAP-U433F-A
List Price:
$1,350.00
Our Price: $995.09
FortiAP U433F FortiCare Premium Support
FortiAP-U433F 1 Year FortiCare Premium Support
#FC-10-P433F-247-02-12
List Price:
$135.00
Our Price: $116.88
FortiAP-U433F 3 Year FortiCare Premium Support
#FC-10-P433F-247-02-36
List Price:
$405.00
Our Price: $350.65
FortiAP-U433F 5 Year FortiCare Premium Support
#FC-10-P433F-247-02-60
List Price:
$675.00
Our Price: $584.42
FortiAP U433F FortiCare Elite Support
FortiAP-U433F 1 Year FortiCare Elite Support
#FC-10-P433F-284-02-12
List Price:
$202.50
Our Price: $175.32
FortiAP-U433F 3 Year FortiCare Elite Support
#FC-10-P433F-284-02-36
List Price:
$607.50
Our Price: $525.97
FortiAP-U433F 5 Year FortiCare Elite Support
#FC-10-P433F-284-02-60
List Price:
$1,012.50
Our Price: $876.62
FortiAP-U433F Upgrade FortiCare Premium to Elite
FortiAP-U433F 1 Year Upgrade FortiCare Premium to Elite (Require FortiCare Premium)
#FC-10-P433F-204-02-12
List Price:
$67.50
Our Price: $58.44
FortiAP-U433F 3 Year Upgrade FortiCare Premium to Elite (Require FortiCare Premium)
#FC-10-P433F-204-02-36
List Price:
$202.50
Our Price: $175.32
FortiAP-U433F 5 Year Upgrade FortiCare Premium to Elite (Require FortiCare Premium)
#FC-10-P433F-204-02-60
List Price:
$337.50
Our Price: $292.21
AC Power Adapter
Pack of 5 AC Power Adaptor for FAP-U431F and FAP-U433F with US power plug
#SP-FAP43F-PA-US-5
List Price:
$190.00
Our Price: $171.00