Fortinet FortiAP U432F

4x4 Wi-Fi 6 (802.11ax), Outdoor wireless AP: Tri radio, External antenna, 1 x 2.5GE & 1 x GE RJ45 ports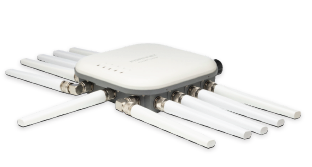 Fortinet Products
FortiAP U432F Access Point
FortiAP-U432F Outdoor Universal AP - Tri radio (1x 2.4GHz/5GHz 4x4 Wi-Fi 6, 1x 5GHz 4x4 Wi-Fi 6, 1x 2.4GHz/5GHz 1x1 Wi-Fi 5), external antennas included, 1x 100/1000/2500 RJ45, 1x 10/100/1000 RJ45, IoT Enabled (BT/BLE), 1x RS-232 RJ45 Serial Port. Pole/wall mount kit and PoE injector included. Region Code A
#FAP-U432F-A
List Price:
$2,250.00
Our Price: $1,658.48
Click here to jump to more pricing!
Overview:
This enterprise class 802.11ax ruggedized indoor/outdoor AP provides three radios. As a top-of-the-line Wi-Fi 6 access point it provides OFDMA, a 2.5 Gigabit Ethernet port, plus an additional 1 Gbps Ethernet port with PoE out. The AP can be configured for dual 5 GHz band access while still providing coverage for devices on the 2.4 GHz band, or can be configured to offer dedicated scanning. The integrated BLE radio can be used for beacons and locationing applications.
802.11ax | Tri-Radio 5 GHz + 5 GHz + 2.4 GHz or 5 GHz + 2.4 GHz + scanning | 10 Antennas
4x4 MIMO | Up to 4,804 Mbps + 4,804 Mbps + 300 Mbps

Ability to intelligently support integrated security controllers (FortiGate), and cloud management options with FortiGuard services at the edge; and establish a new benchmark in flexibility, performance, and security.

Wi-Fi 6 technology with data rates of up to 4.8 Gbps and OFDMA improves client throughput and overall network efficiency.

Integrates with Fortinet's Security Fabric, providing unparalleled cybersecurity protection at the network edge.
---
Deployments:
Fortinet UTP access points are designed to support a variety of deployments from branches, to medium to large offices, schools, universities, hospitals, hotels, and large retail stores. These access points can serve such a wide range of applications because they can be managed by any of Fortinet's control and management. By supporting UTP services at the edge, deployments have the flexibility to enable security services wherever they need them in their network.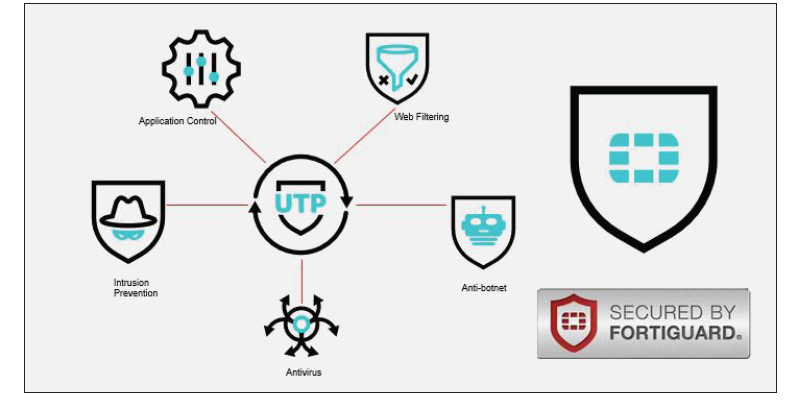 Education
The Education sector is at rising risk from cyber attacks. This in conjunction with requirements to protect minors from inappropriate materials can make deploying wireless a challenge. Our integrated secure wireless controller (FortiGate) ensures secure student access to learning resources while FortiGuard services provides cybersecurity protection.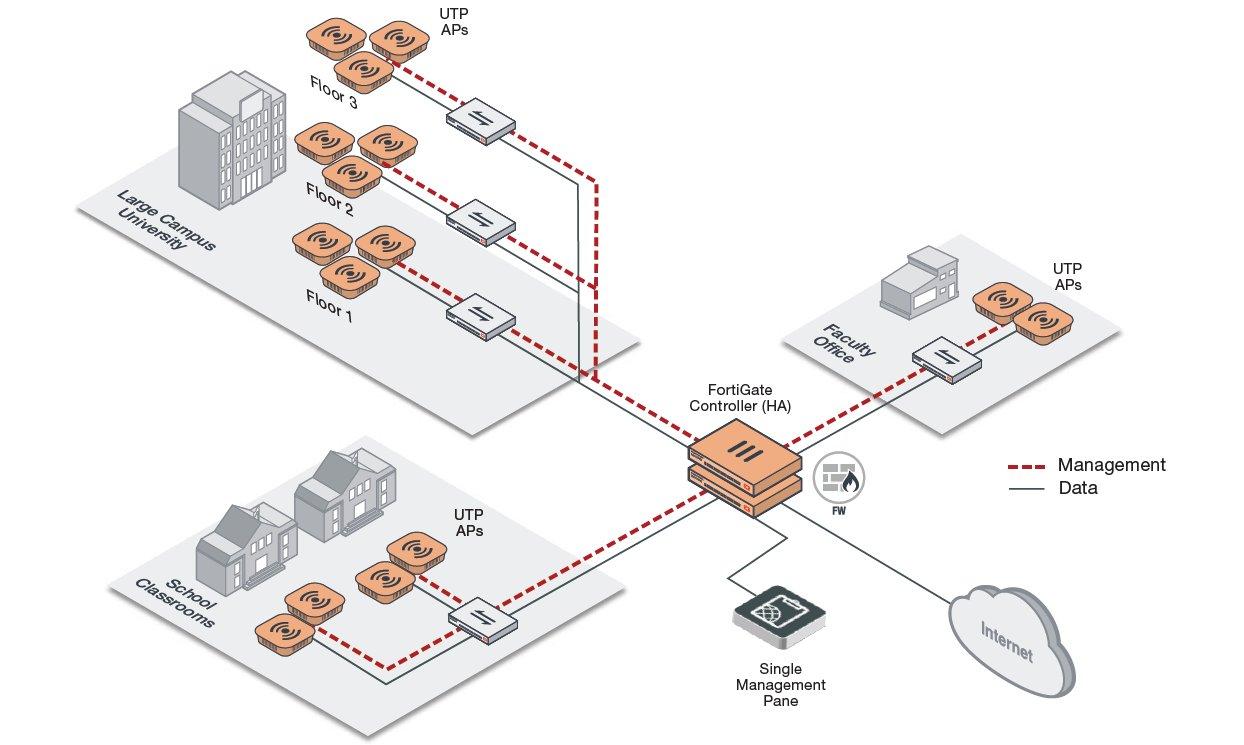 Healthcare
Patient safety is priority one. Fortinet UTP APs empower hospitals to improve patient safety by enabling life-critical applications such as telemetry requiring low bandwidth but exceptionally high reliability. Our dedicated wireless controllers (integrated WLAN controller of any FortiGate security appliance) connected to our access points ensures patient safety remains paramount, while providing improved performance for wireless enabled medical devices.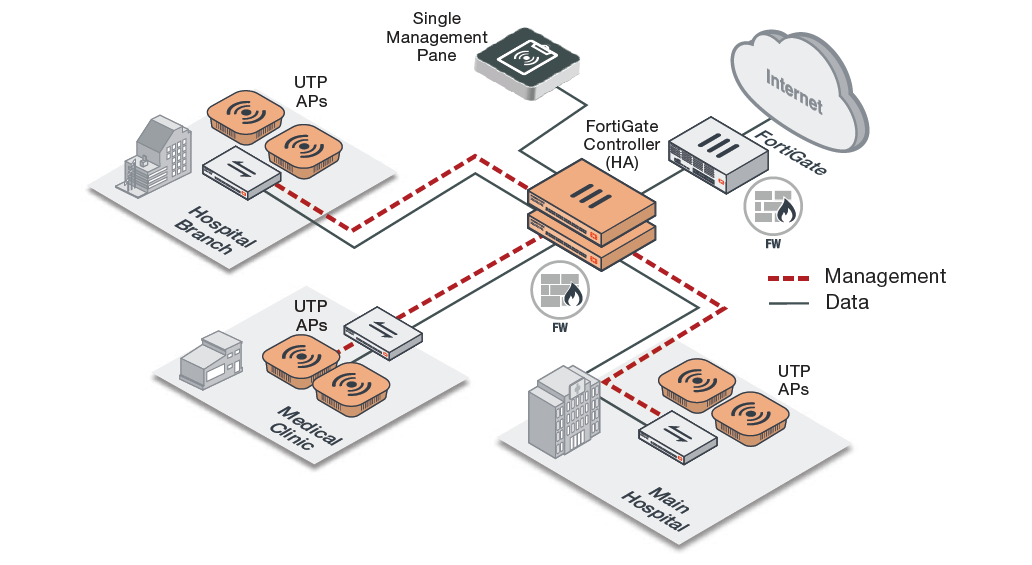 Small/Medium Business
Retailers can streamline WiFi store deployments through the combination of Universal APs and FortiCloud management. This, in combination with FortiDeploy for zero-touch provisioning and deployment offers a cost effective solution for retail IT.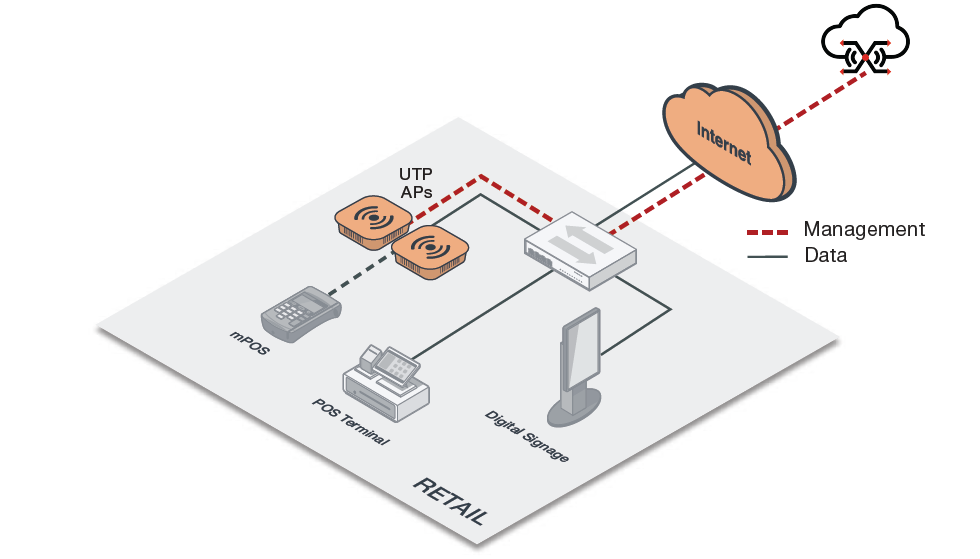 Pricing Notes:
FortiCare Premium Support
FortiCare Premium Ticket Handling, Advanced Hardware Replacement (NBD), Firmware and General Upgrades
FortiCare Premium plus FortiGuard Bundle Contract
Advanced Hardware Replacement (NBD), Firmware and General Upgrades, Premium Support, FortiDB Security Service (DBS)
Prices are for one year of Premium RMA support. Usual discounts can be applied.
Annual contracts only. No multi-year SKUs are available for these services.
Contact Fortinet Renewals team for upgrade quotations for existing FortiCare contracts.
Pricing and product availability subject to change without notice.
Fortinet Products
FortiAP U432F Access Point
FortiAP-U432F Outdoor Universal AP - Tri radio (1x 2.4GHz/5GHz 4x4 Wi-Fi 6, 1x 5GHz 4x4 Wi-Fi 6, 1x 2.4GHz/5GHz 1x1 Wi-Fi 5), external antennas included, 1x 100/1000/2500 RJ45, 1x 10/100/1000 RJ45, IoT Enabled (BT/BLE), 1x RS-232 RJ45 Serial Port. Pole/wall mount kit and PoE injector included. Region Code A
#FAP-U432F-A
List Price:
$2,250.00
Our Price: $1,658.48
FortiAP U432F FortiCare Premium Support
FortiAP-U432F 1 Year FortiCare Premium Support
#FC-10-PU432-247-02-12
List Price:
$225.00
Our Price: $194.81
FortiAP-U432F 3 Year FortiCare Premium Support
#FC-10-PU432-247-02-36
List Price:
$675.00
Our Price: $584.42
FortiAP-U432F 5 Year FortiCare Premium Support
#FC-10-PU432-247-02-60
List Price:
$1,125.00
Our Price: $974.03
FortiAP U432F FortiCare Elite Support
FortiAP-U432F 1 Year FortiCare Elite Support
#FC-10-PU432-284-02-12
List Price:
$337.50
Our Price: $292.21
FortiAP-U432F 3 Year FortiCare Elite Support
#FC-10-PU432-284-02-36
List Price:
$1,012.50
Our Price: $876.62
FortiAP-U432F 5 Year FortiCare Elite Support
#FC-10-PU432-284-02-60
List Price:
$1,687.50
Our Price: $1,461.04
FortiAP-U432F Upgrade FortiCare Premium to Elite
FortiAP-U432F 1 Year Upgrade FortiCare Premium to Elite (Require FortiCare Premium)
#FC-10-PU432-204-02-12
List Price:
$112.50
Our Price: $97.40
FortiAP-U432F 5 Year Upgrade FortiCare Premium to Elite (Require FortiCare Premium)
#FC-10-PU432-204-02-60
List Price:
$562.50
Our Price: $487.01
FortiAP-U432F 3 Year Upgrade FortiCare Premium to Elite (Require FortiCare Premium)
#FC-10-PU432-204-02-36
List Price:
$337.50
Our Price: $292.21