Fortinet FortiAP U231F

2x2 MIMO | Up to 1,201 Mbps + 1,201 Mbps + 574 Mbps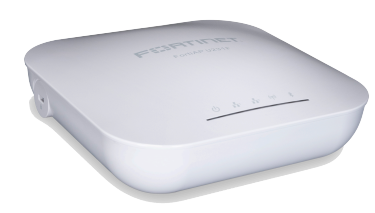 Estimated Shipping Date Pending. Please Contact Us for further details.
Fortinet FortiAP Series
FortiAP-U231F
Indoor Wireless Universal AP - Tri radio (802.11 b/g/n/ax 2x2 MU-MIMO, 802.11 a/n/ac/ax 2x2 MU-MIMO and 1x 802.11 a/b/g/n/ac Wave 2, 2x2 ), internal antennas, 2x 10/100/1000 RJ45 port, BT/BLE, 1x Type A USB, 1x RS-232 RJ45 Serial Port. Ceiling/wall mount kit included.For power order: 802.3at PoE injector GPI-130 or AC adapter SP-FAP200-PA. Region Code A
#FAP-U231F-A
List Price:
$650.00
Our Price: $479.11
Click here to jump to more pricing!
Overview:
The FortiAP-U family offers a wide range of models with the additional flexibility of dual 5 GHz support for WiFi 6 APs. Perfect for everything from a large campus to hundreds of branch locations the FortiAP-U family has a variety of form factors and performance levels. FortiAP-U access points are managed centrally by the integrated WLAN controller of any FortiGate® security appliance, through the FortiAP Cloud provisioning and management portal, or through standalone controllers (FortiWLC). Protect your LAN Edge from the campus to the branch with these high capacity capable APs.
Universal Access Management
Ability to intelligently support standalone controllers (FortiWLC), integrated security controllers (FortiGate), and cloud management options; and establish a new benchmark in flexibility, performance, and security.
Latest Wi-Fi technologies
Wi-Fi 6 technology with data rates of up to 4.8 Gbps and OFDMA improves client throughput and overall network efficiency.
Unmatched Security Protection
Integrates with Fortinet's Security Fabric, providing unparalleled cybersecurity protection at the network edge.
Highlights:
Fortinet Universal access points are designed to support a variety of deployments from branches, to medium to large offices, schools, universities, hospitals, hotels, and large retail stores. The Universal access points can serve such a wide range of applications because they can be managed by any of Fortinet's control and management offerings: FortiGate, FortiWLC, and FortiAP Cloud.
Education
The Education sector is at rising risk from cyber attacks. This in conjunction with requirements to protect minors from inappropriate materials can make deploying wireless a challenge. Our integrated secure wireless controller (FortiGate) ensures secure student access to learning resources while FortiGuard services provides cybersecurity protection.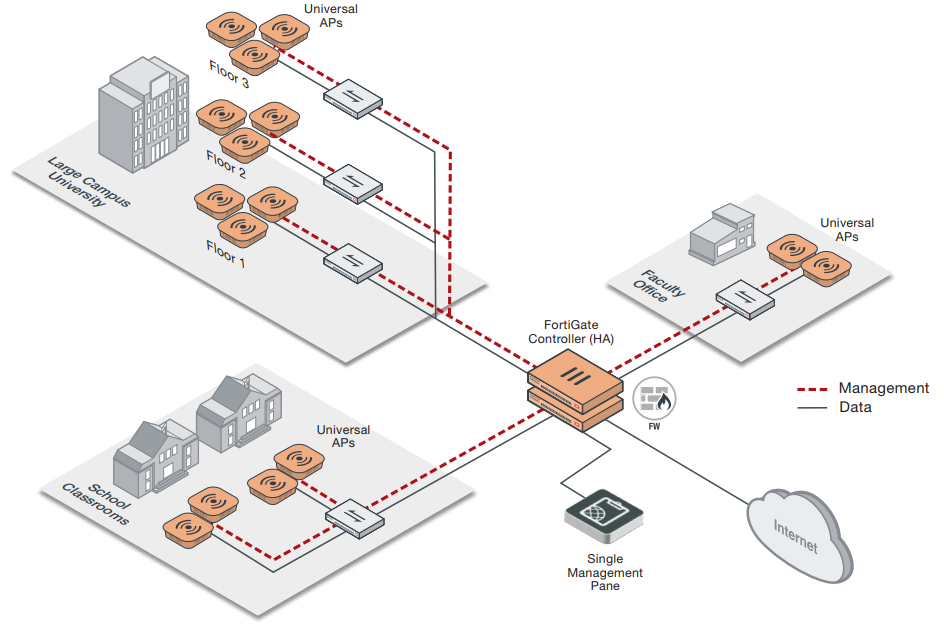 Healthcare
Patient safety is priority one. Fortinet Universal APs empower hospitals to improve patient safety by enabling life-critical applications such as telemetry requiring low bandwidth but exceptionally high reliability. Our dedicated wireless controllers (integrated WLAN controller of any FortiGate security appliance) connected to our Universal access points ensures patient safety remains paramount, while providing improved performance for wireless enabled medical devices.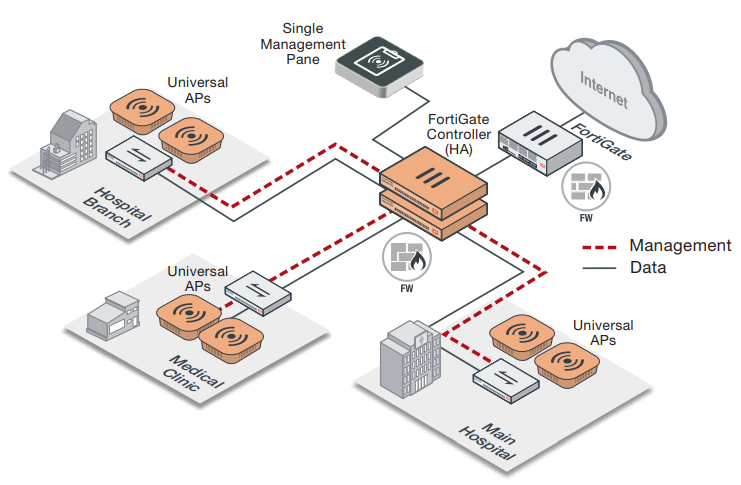 Small/Medium Business
Retailers can streamline Wi-Fi store deployments through the combination of Universal APs and FortiAP Cloud management. This, in combination with FortiDeploy for zero-touch provisioning and deployment, offers a cost-effective solution for retail IT.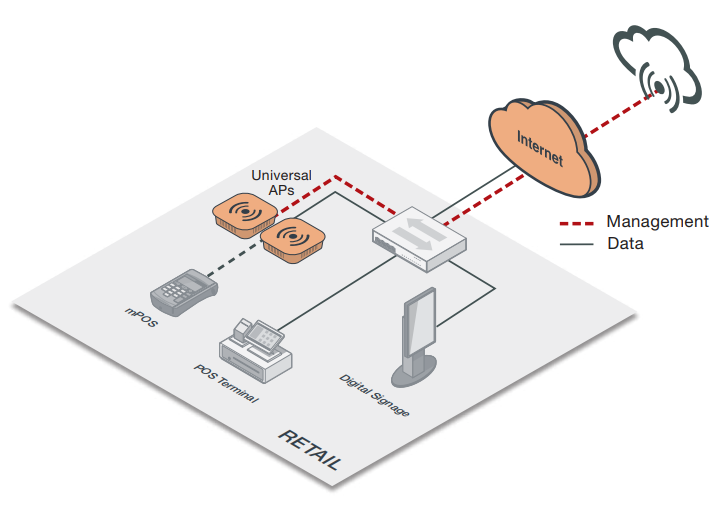 This enterprise class Wi-Fi 6 (802.11ax) indoor AP provides three radios as well as features such as OFDMA and dual 1 Gbps Ethernet ports for PoE diversity. The APs can be configured for dual 5 GHz band access while still providing coverage for devices on the 2.4 GHz band, or can be configured to offer dedicated scanning. The integrated BLE radio can be used for beacons and locationing applications.
Specifications:
FortiAP U433F
Hardware
Hardware Type
Indoor AP
Number of Radios
3 + 1 BT/BLE
Number of Antennas
4 Dual band WiFI + 2 WiFi+Dual band Scanning + 1 Single band 2.4GHz BLE/ZigBee
Antenna Type and Peak Gain
PIFA antenna
Dual band: 3.97 dBi for 2.4GHz and 5.89 dBi for 5GHz
Single band 5Ghz antenna 5dBi for 2.4GHz band
BLE antenna 3.5dBi at 2.4GHz band
Frequency Bands (GHz)
Radio 1 Capabilities
Band: 2.4 GHz or 5.0 GHz(High Band) a/b/g/n/ac/ax (2x2:2 stream)
Channel width: 20/40/80MHz
Modulation: BPSK, QPSK, 64/256/1024 QAM
Radio 2 Capabilities
5.0 GHz a/b/g/n/ac/ax (2x2:2 stream)
Channel width: 20/40/80MHz
Modulation: BPSK, QPSK, 64/256/1024QAM
Radio 3 Capabilities
Service: (2x2:2 stream)
Band: 2.4 GHz service b/g/n/ax
Channel width: 20/40MHz
Modulation: BPSK, QPSK, 64/256/1024QAM
Scan: dual band scan
Maximum Data Rate
Radio 1: up to 1201 Mbps
Radio 2: up to 1201 Mbps
Radio 3: up to 574 Mbps
Bluetooth Low Energy (BT/BLE) Radio
Bluetooth scanning and iBeacon advertisement @ 10 dBm max TX power
Interfaces
2x 10/100/1000 Base-T RJ45, 1x Type 2.0 USB, 1x RS-232 RJ45 Serial Port
Power over Ethernet (PoE)
1 x 802.3at PoE default 1 x 802.af PoE with reduce TX power and no USB function
Simultaneous SSIDs
Up to 24 (21 if background scanning enabled)
EAP Type(s)
EAP-TLS, EAP-TTLS/MSCHAPv2, EAPv0/EAP-MSCHAPv2, PEAPv1/EAP-GTC, EAP-SIM, EAP-AKA, EAP-FAST
User/Device Authentication
WPA™, WPA2™, and WPA3™ with 802.1x or Preshared key, WEP, Web Captive Portal, MAC blocklist & allowlist
Maximum Tx Power
Radio 1: 2.4GHz: 23 dBm / 200 mW (2 chains combined)
5GHz: 22 dBm / 158 mW (2 chains combined)
Radio 2: 5GHz: 22 dBm / 158 mW (2 chains combined)
Radio 3: 2.4GHz: 23 dBm / 200 mW (2 chains combined)
5GHz: 22 dBm / 158 mW (2 chains combined)
Kensington Lock
Yes
IEEE Standards
802.11a, 802.11b, 802.11e, 802.11g, 802.11h, 802.11i, 802.11j, 802.11k, 802.11n, 802.11r, 802.11v, 802.11ac, 802.11ax, 802.1Q, 802.1X, 802.3ad, 802.3af, 802.3at, 802.3az
SSID Types Supported
Local-Bridge, Tunnel, and Mesh
Per Radio Client Capacity
Up to 512 clients per radio (all radios)
Cellular Co-existence
Yes
Reset Button
Yes
LED Off Mode
Yes
Advanced 802.11 Features
Transmit Beam Forming (TxBF)
Yes
Low-Density Parity Check (LDPC) Encoding
Yes
Maximum Likelihood Demodulation (MLD)
Yes
Maximum Ratio Combining (MRC)
Yes
A-MPDU and A-MSDU Packet Aggregation
Yes
OFMDA
Yes
2.4 GHz OFDMA
Yes
Spatial Reuse (BSS Coloring)
Yes
HE-MU-MIMO
Yes
UL MU-MIMO 802.11ax mode
Yes
UL MU-MIMO 802.11ac mode
Yes
DL-MU-MIMO
Yes
Enhanced Target Wake Time (TWT)
Yes
ZeroWait DFS /Agile DFS
Yes
Wireless Monitoring Capabilities
Rogue Scan Radio Modes
Background, Dedicated
WIPS / WIDS Radio Modes
Background, Dedicated (recommended)
Packet Sniffer Mode
Yes
Spectrum Analyzer
Yes
Dimensions
Length x Width x Height
6.5 x 6.5 x 2.05 inches (165 x 165 x 52 mm)
Weight
1.5 lbs (0.68 kg)
Package (shipping) Weight
2.6 lbs (1.185 kg)
Mounting Options
Ceiling, T-Rail and Wall
Included Accessories
Standard Mount kit for Ceiling, T-Rail and Wall
Environment
Power Supply
SP-FAP200-PA-XX
Power Consumption (Maximum)
18.5 W
Humidity
5 - 90% non condensing
Operating / Storage Temperature
32–122°F (0 - 50°C) / -22–158°F (-30–70°C)
Directives
Low Voltage Directive • RoHS
UL2043 Plenum Material
Yes
Mean Time Between Failures
>10 Years
IP Rating
N/A
Surge Protection Built In
--
Hit-less PoE Failover
N/A
Certifications
Wi-Fi Alliance Certified
No
DFS
No
Warranty
Limited Lifetime Warranty
Yes
Antenna Radiation Patterns: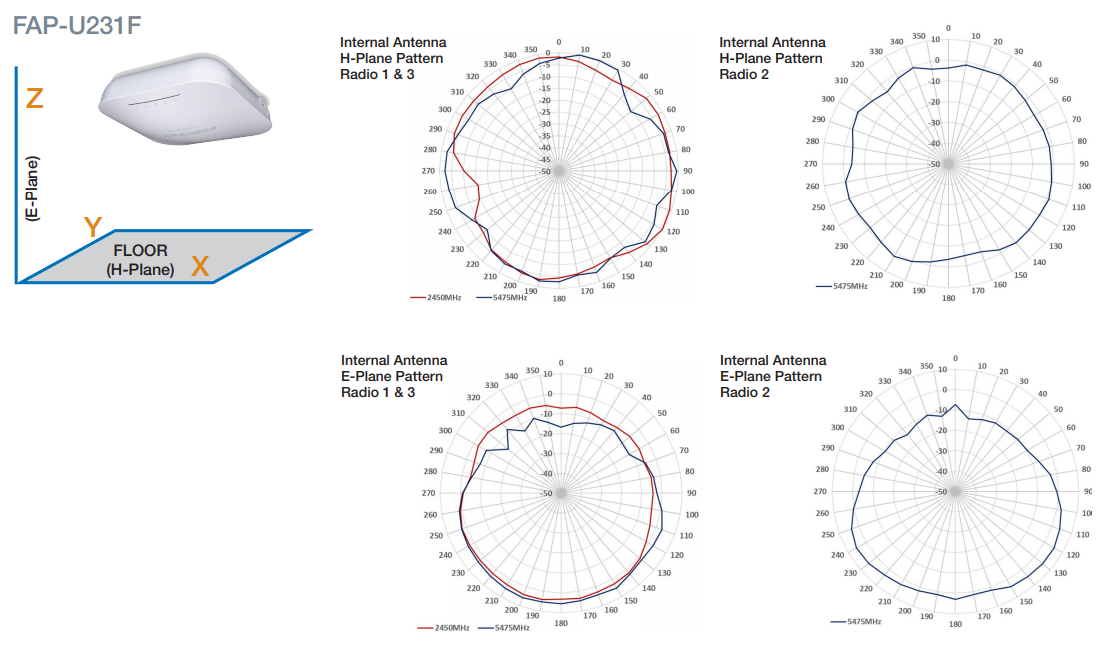 Pricing Notes:
24x7 FortiCare Contract
24x7 Support, Advanced Hardware Replacement (NBD), Firmware and General Upgrades
Prices are for one year of Premium RMA support. Usual discounts can be applied.
Annual contracts only. No multi-year SKUs are available for these services.
Contact Fortinet Renewals team for upgrade quotations for existing FortiCare contracts.
Pricing and product availability subject to change without notice.
Fortinet FortiAP Series
FortiAP-U231F
Indoor Wireless Universal AP - Tri radio (802.11 b/g/n/ax 2x2 MU-MIMO, 802.11 a/n/ac/ax 2x2 MU-MIMO and 1x 802.11 a/b/g/n/ac Wave 2, 2x2 ), internal antennas, 2x 10/100/1000 RJ45 port, BT/BLE, 1x Type A USB, 1x RS-232 RJ45 Serial Port. Ceiling/wall mount kit included.For power order: 802.3at PoE injector GPI-130 or AC adapter SP-FAP200-PA. Region Code A
#FAP-U231F-A
List Price:
$650.00
Our Price: $479.11
Fortinet FortiAP-U231F 24x7 FortiCare Contract
FortiAP-U231F 1 Year 24x7 FortiCare Contract
#FC-10-P231F-247-02-12
List Price:
$65.00
Our Price: $56.28
FortiAP-U231F 3 Year 24x7 FortiCare Contract
#FC-10-P231F-247-02-36
List Price:
$195.00
Our Price: $168.83
FortiAP-U231F 5 Year 24x7 FortiCare Contract
#FC-10-P231F-247-02-60
List Price:
$325.00
Our Price: $281.38
Fortinet FortiAP-U231F Next Day Delivery Premium RMA Service (Requires 24x7 or ASE FortiCare)
FortiAP-U231F 1 Year Next Day Delivery Premium RMA Service (Requires 24x7 or ASE FortiCare)
#FC-10-P231F-210-02-12
List Price:
$232.50
Our Price: $201.30
Fortinet FortiAP-U231F 4-Hour Hardware Delivery Premium RMA Service (Requires 24x7 or ASE FortiCare)
FortiAP-U231F 1 Year 4-Hour Hardware Delivery Premium RMA Service (Requires 24x7 or ASE FortiCare)
#FC-10-P231F-211-02-12
List Price:
$278.00
Our Price: $240.69
Fortinet FortiAP-U231F 4-Hour Hardware and Onsite Engineer Premium RMA Service (Requires 24x7 or ASE FortiCare)
FortiAP-U231F 1 Year 4-Hour Hardware and Onsite Engineer Premium RMA Service (Requires 24x7 or ASE FortiCare)
#FC-10-P231F-212-02-12
List Price:
$343.00
Our Price: $296.97