Fortinet FortiAIOps-VM

Artificial Intelligence with Machine Learning for Enhanced LAN and WAN Network Operations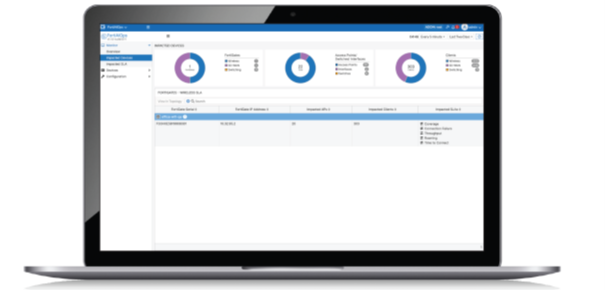 Sorry, this product is no longer available, please contact us for a replacement.
Click here to jump to more pricing!
Overview:
Simplify Network Operations
FortiAIOps empowers organizations to leverage Artificial Intelligence (AI) and Machine Learning (ML) to simplify their daily lives when managing a complex network. Artificial Intelligence can systematically consume the extensive amount of data being produced throughout the Securiy Fabric, correlate it, and analyze the results with Machine Learning so that you don't have to. FortiAIOps works across our FortiGate managed SD-WAN, Wireless, and Switching portfolios (FortiAP and FortiSwitch) to keep the network experience for your users operating at peak levels.
The Fortinet AI-powered approach makes it possible for teams to predict potential issues before they happen, receive recommended actions, and automate tasks such as fixes. This action gives more time back to IT to take care of the stategic initiatives that matter to your company.
FortiAIOps operates as a Management Application Extension within FortiManager to keep your Fabric Management Center a single entity with one login and one place to go to manage the Fortinet Security Fabric.
Key Features:
AI-Powered Insights: Cross correlate events and data from across the deployment to quickly identify issues.
Machine Learning Against Trends: Learn what's normal for your network and your traffic, then keep that performance across time.
Automated Response: take human response time out of the equation by letting FortiAIOps handle issues.
Benefits:
Lower TCO: Reduce the amount of time staring at management screens or trying to resolve issues by leveraging the power of artificial intelligence to get to root cause quickly.
Reduce Trouble Tickets: Identify and correct issues before they start impacting users.
Greater Workforce Productivity: When the network works, employees can work. FortiAIOps ensures that your operations continue uninterrupted.
Pricing Notes:
FortiCare Premium Support
FortiCare Premium Ticket Handling, Advanced Hardware Replacement (NBD), Firmware and General Upgrades
FortiCare Premium plus FortiGuard Bundle Contract
Advanced Hardware Replacement (NBD), Firmware and General Upgrades, Premium Support, FortiDB Security Service (DBS)
Prices are for one year of Premium RMA support. Usual discounts can be applied.
Annual contracts only. No multi-year SKUs are available for these services.
Contact Fortinet Renewals team for upgrade quotations for existing FortiCare contracts.
Pricing and product availability subject to change without notice.