Fortinet FortiSandbox 3000E

Multi-Layer Proactive Threat Mitigation

Fortinet Products
Fortinet FortiSandbox 3000E

FortiSandbox-3000E Advanced Threat Protection System
4 x GE RJ45, 2 x 10GbE SFP+ Slots, redundant PSU, 8 VMs with Win7 , Win8 , Win10 and (1) MS office licenses included. Upgradable to a maximum of 56 licensed VMs.
#FSA-3000E
Our Price: $103,500.00
Click here to jump to more pricing!
Overview:
Today's most sophisticated cybercriminals are increasingly bypassing traditional antimalware solutions and inserting advanced persistent threats deep within networks. These highly targeted attacks evade established signature-based detection by masking their malicious nature in many ways — compression, encryption, polymorphism, the list of techniques goes on.
Some have even begun to evade virtual "sandbox" environments using VM detection, "time bombs" and more. Fighting today's attacks requires a comprehensive and integrated approach — more than antimalware. More than a virtual sandbox. More than a separate monitoring system.
FortiSandbox offers a robust combination of proactive detection and mitigation, actionable threat insight and integrated and automated deployment. At its foundation is a unique, duallevel sandbox which is complemented by Fortinet's award-winning antimalware and optional integrated FortiGuard threat intelligence. Years of Fortinet threat expertise is now packaged up and available on site or in the cloud via FortiSandbox.
Proactive Detection and Mitigation
Suspicious codes are subjected to multi-layer pre-filters prior to execution in the virtual OS for detailed behavioral analysis. The highly effective pre-filters include a screen by our AV engine, queries to cloud-based threat databases and OS-independent simulation with a code emulator, followed by execution in the full virtual runtime environment. Once a malicious code is detected, granular ratings along with key threat intelligence is available, a signature is dynamically created for distribution to integrated products and full threat information is optionally shared with FortiGuard Labs for the update of global threat databases.
Actionable Insight
All classifications — malicious and high/medium/low risk — are presented within an intuitive dashboard. Full threat information from the virtual execution — including system activity, exploit efforts, web traffic, subsequent downloads, communication attempts and more — is available in rich logs and reports.
The ultimate combination of proactive mitigation, advanced threat visibility and comprehensive reporting.
Secure virtual runtime environment exposes unknown threats
Unique multi-layer prefilters aid fast and effective threat detection
Rich reporting provides full threat lifecycle visibility
Inspection of many protocols in one appliance simplifies deployment and reduces cost
Integration and automation with Fortinet threat prevention products enhances rather than duplicates security infrastructure
Independent testing and certification validates effectiveness
Advanced Threat Protection Framework:
The most effective defense against advanced targeted attacks is founded on a cohesive and extensible protection framework. The Fortinet framework uses security intelligence across an integrated solution of traditional and advanced security tools for network, application and endpoint security, and threat detection to deliver actionable, continuously improving protection.
Fortinet integrates the intelligence of FortiGuard Labs into FortiGate next generation firewalls, FortiMail secure email gateways, FortClient endpoint security, FortiSandbox advanced threat detection, and other security products to continually optimize and improve the level of security delivered to organizations with a Fortinet solution.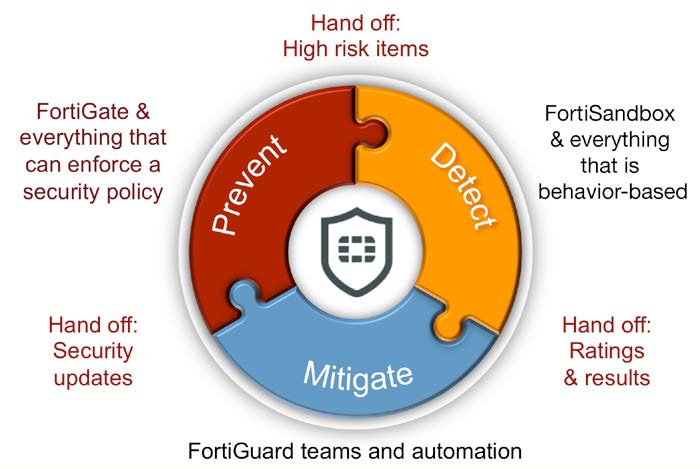 Prevent Attacks
Fortinet next generation firewalls, secure email gateways, web application firewalls, endpoint security and similar solutions use security such as antivirus, web filtering, IPS, and other traditional security techniques to quickly and efficiently prevent known threats from impacting an organization.
Detect and Analyze Threats
FortiSandbox and other advanced detection techniques step in to detect "Zero-day" threats and sophisticated attacks, delivering risk ratings and attack details necessary for remediation.
Mitigate Impact and Improve Protection
In a Fortinet solution, detection findings can be used to trigger prevention actions to ensure the safety of resources and data until remediation is in place. Finally, the entire security ecosystem updates to mitigate any impact from future attacks through the strong, integrated threat intelligence research and services of FortiGuard Labs.
Features:
VM Sandboxing
Complement your established defenses with cuttingedge capability — analyzing suspicious and high-risk files in a contained environment to uncover the full attack lifecycle using system activity and callback detection.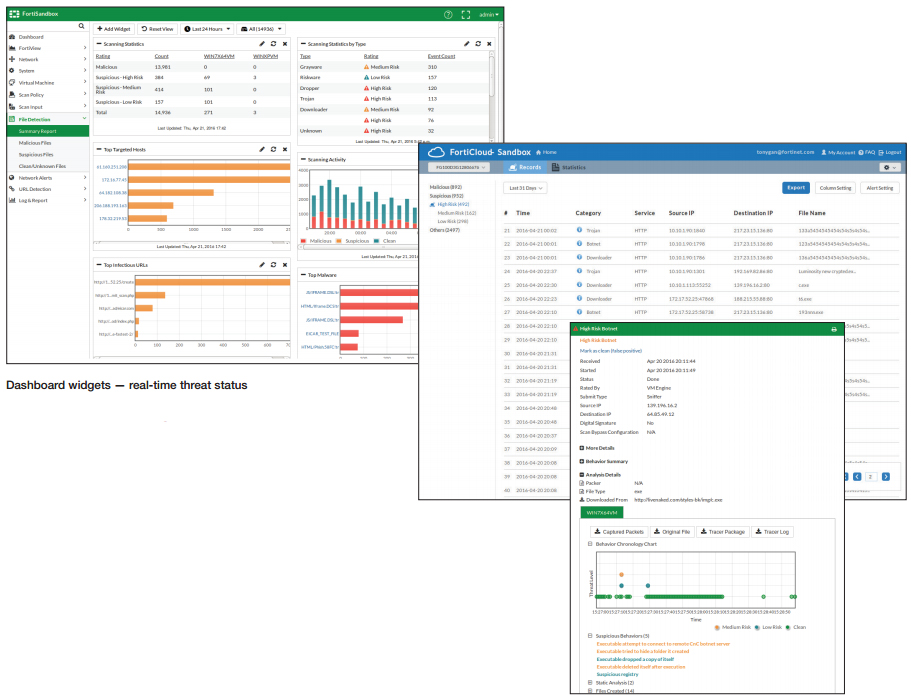 File Analysis Tools
Reports with captured packets, original file, tracer log and screenshot provide rich threat intelligence and actionable insight after files are examined. This is to speed up remediation and updated protection.
Remediation
Fortinet's ability to uniquely integrate various products with FortiSandbox offers automatic protection with incredibly simple setup. Once a malicious code is determined, the analyzer will develop and forward the dynamically generated signature to all registered devices and clients. These devices then examine subsequent files against the latest DB.

Multi-tiered file processing optimizes resource usage that improves security, capacity and performance
AV Engine
Applies top-rated (95%+ Reactive and Proactive) AV Scanning. Serves as an efficient pre-filter.
Cloud Query
Real-time check of latest malware information
Access to shared information for instant malware detection
Code Emulation
Quickly simulates intended activity
OS independent and immune to evasion/obfuscation
Full Virtual Sandbox
Secure run-time environment for behavioral analysis/rating
Exposes full threat lifecycle information
Call Back Detection
Identifies the ultimate aim, call back and exfiltration
Features Summary
Administration
Supports WebUI and CLI configurations
Multiple administrator account creation
Configuration file backup and restore
Notification email when malicious file is detected
Weekly report to global email list and FortiGate administrators
Centralized search page which allows administrators to build customized search conditions
Frequent signature auto-updates
Automatic check and download new VM images
VM status monitoring
Radius Authentication for administrators
Networking/Deployment
Static Routing Support
File Input: Offline/sniffer mode, On-demand file upload, file submission from integrated device(s)
Option to create simulated network for scanned file to access in a closed network environment
High-Availability Clustering support
Port monitoring for fail-over in a cluster
Systems Integration
File Submission input: FortiGate, FortiClient, FortiMail, FortiWeb
File Status Feedback and Report: FortiGate, FortiClient, FortiMail, FortiWeb
Dynamic Threat DB update: FortiGate, FortiClient, FortiMail

Periodically push dynamic DB to registered entities.
File checksum and malicious URL DB

Update Database proxy: FortiManager
Remote Logging: FortiAnalyzer, syslog server
Web-based API with which users can upload samples to scan indirectly
Bit9 end point software integration
Advanced Threat Protection
Virtual OS Sandbox:

Concurrent instances
OS type supported: Windows XP, Windows 7, Windows 8.1, Windows 10 and Android
Anti-evasion techniques: sleep calls, process and registry queries
Callback Detection: malicious URL visit, Botnet C&C communication and attacker traffic from activated malware
Download Capture packets, Original File, Tracer log and Screenshot

File type support:

Archived: .tar, .gz, .tar.gz, .tgz, .zip, .bz2, .tar.bz2, .bz, .tar.Z,.cab, .rar, .arj
Executable files: (eg: .exe, .dll), PDF, Windows Office Document, AdobeFlash and JavaArchive (JAR) files
Script files: .js,.bat,.vbs,.ps1,.cmd
Media files: .avi, .mpeg, .mp3, .mp4

Protocols/applications supported:

Sniffer mode: HTTP, FTP, POP3, IMAP, SMTP, SMB
Integrated mode with FortiGate: HTTP, SMTP, POP3, IMAP, MAPI, FTP, IM and their equivalent SSL encrypted versions
Integrated mode with FortiMail: SMTP, POP3, IMAP
Integrated mode with FortiWeb: HTTP

Customize VMs with support file types support
Isolate VM image traffic from system traffic
Network threat detection in Sniffer Mode: Identify Botnet activities and network attacks, malicious URL visit
Scan SMB/NFS network share and quarantine suspicious files. Scan can be scheduled
Scan embedded URLs inside document files
Integrate option for third partyYara rules
Option to auto-submit suspicious files to cloud service for manual analysis and signature creation
Option to forward files to a network share for further third-party scanning
Files checksum whitelist and blacklist option
URLs submission for scan and query from emails and files
Monitoring and Report
Real-Time Monitoring Widgets (viewable by source and time period options): Scanning result statistics, scanning activities (over time), top targeted hosts, top malware, top infectious urls, top callback domains
Drilldown Event Viewer: Dynamic table with content of actions, malware name, rating, type, source, destination, detection time and download path
Logging — GUI, download RAW log file
Report generation for malicious files: Detailed reports on file characteristics and behaviors – file modification, process behaviors, registry behaviors, network behaviors, vm snapshot, behavior chronology chart
Further Analysis: Downloadable files — Sample file, Sandbox tracer logs and PCAP capture
Deployment:
Easy Deployment
FortiSandbox supports inspection of many protocols in one unified solution, thus simplifies network infrastructure and operations. Further, it integrates with FortiGate as a new capability within your existing security framework.
The FortiSandbox is the most flexible threat analysis appliance in the market as it offers various deployment options for customers' unique configurations and requirements. Organizations can also have all three input options at the same time.
Standalone
This deployment mode relies on inputs from spanned switch ports or network taps. It may also include administrators' on-demand file uploads using the GUI. It is the most suitable infrastructure for adding protection capabilities to existing threat protection systems from various vendors.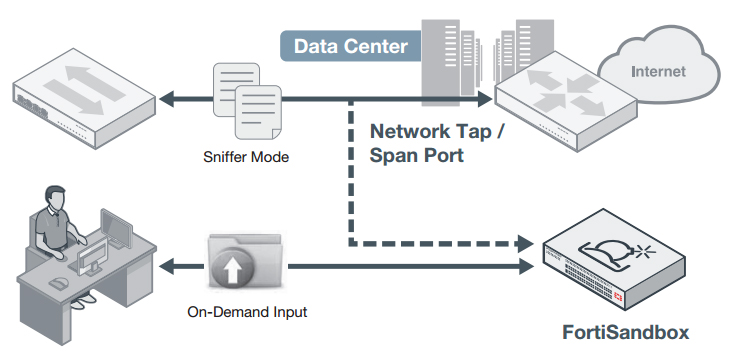 Integrated
Various Fortinet products, namely FortiGate, FortiMail, FortiWeb and FortiClient can intercept and submit suspicious content to FortiSandbox when they are configured to interact with FortiSandbox. The integration will also provide timely remediation and reporting capabilities to those devices.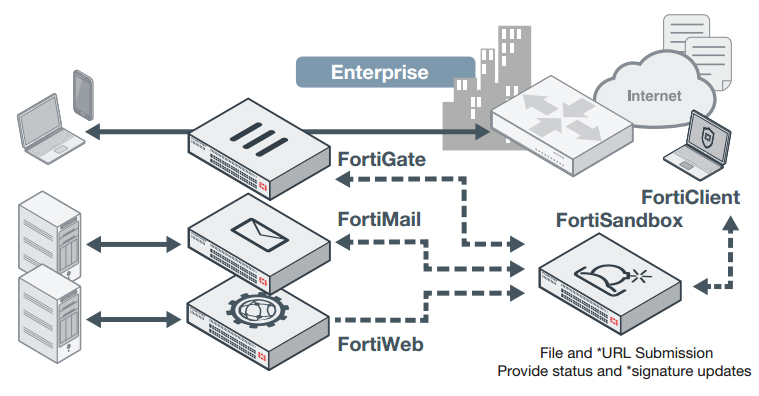 * Not applicable to FortIWeb
Distributed
This deployment is attractive for organizations that have distributed environments, where FortiGates are deployed in the branch offices and submit suspicious files to a centrallylocated FortiSandbox. This setup yields the benefits of lowest TCO and protects against threats in remote locations.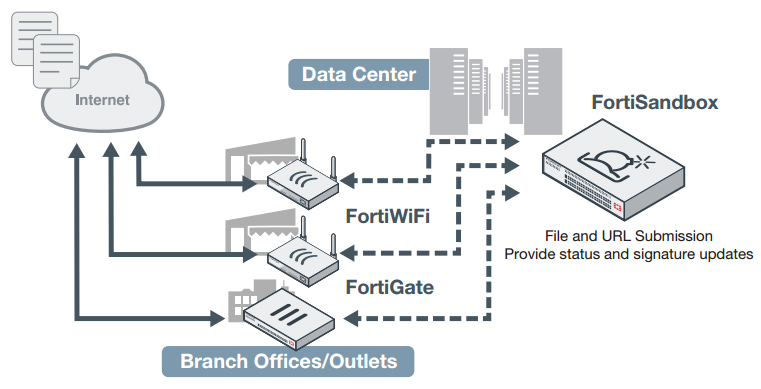 Specifications:
FSA-1000D
FSA-3000D
FSA-3000E
FSA-3500D
Hardware
Form Factor
2 RU
2 RU
2 RU
3 RU (with default 5 nodes, up to 8 maximium)
Total Network Interfaces
6x GE RJ45 ports, 2x GE SFP slots
4x GE RJ45 ports, 2x GE SFP slots 2x 10 GE SFP+ slots
4x GE RJ45 ports, 2x 10 GE SFP+ slots
20x GE RJ45 ports, 10x 10 GE SFP+ slots (4x GE RJ45 ports, 2x 10 GE SFP+ slots per node)
Storage Capacity
4 TB (max. 8 TB)
8 TB (max. 16 TB)
8 TB HDD (max. 24 TB)
10 TB (2 TB per node) HDD
Power Supplies
2x Redundant PSU
2x Redundant PSU
2x Redundant PSU
2x Redundant PSU
System
VM Sandboxing (Files/Hour)
160
560
1,120
720* (Upgradable** to 1,200) (160 per node)
AV Scanning (Files/Hour)
6,000
15,000
15,000
30,000* (Upgradable** to 48,000) (6,000 per node)
Number of VMs
8
28
56***
36* (Upgradable** to 60) (8 per node)
Dimensions
Height x Width x Length (inches)
3.5 x 17.2 x 14.5
3.3 x 19.0 x 29.7
3.5 x 17.2 x 25.5
5.2 x 17.5 x 29.5
Height x Width x Length (mm)
89 x 437 x 368
84 x 482 x 755
89 x 437 x 647
133 x 445 x 749
Weight
27.60 lbs (12.52 kg)
71.5 lbs (32.5 kg)
43 lbs (19.52 kg)
88 lbs (39.92 kg)
Environment
Power Consumption (Average / Maximum)
115 / 138 W
392 / 614.6 W
538.6 / 549.6 W
625 / 735.6 W
Maximum Current
100V/5A, 240V/3A
110V/10A, 220V/5A
100–240V / 9.8–5A
12A@100V, 8A@240V
Heat Dissipation
471 BTU/h
2,131.14 BTU/h
1,943.82 BTU/h
2,728.9 BTU/h
Power Source
100–240V AC, 60–50 Hz
100–240V AC, 60–50 Hz
100–240V AC, 60–50 Hz
100–240V AC, 60–50 Hz
Humidity
5–95% non-condensing
20–90% non-condensing
8–90% (non-condensing)
8–90% (non-condensing)
Operation Temperature Range
32–104°F (0–40°C)
50–95°F (10–35°C)
50–95°F (10– 35°C
50–95°F (10– 35°C)
Storage Temperature Range
-13–158°F (-25–70°C)
-40–149°F (-40–65°C)
-40 –158°F (-40–70°C
-40 –158°F (-40–70°C)
Compliance
Certifications
FCC Part 15 Class A, C-Tick, VCCI, CE, BSMI, KC, UL/cUL, CB, GOST
* Based on the assumption that 1 blade will be used as master in HA-cluster mode.
** By adding 3 more SAM-3500D nodes to the same chassis.
*** 8 Windows VM licenses included with hardware, remaining 48 sold as an upgrade license.
FortiGate
FortiClient
FortiMail
FortiWeb
FSA Appliance and VM
File Submission
*FortiOS V5.0.4+
FortiClient for Windows OS V5.4+
FortiMail OS V5.1+
FortiWeb OS V5.4+
File Status Feedback
*FortiOS V5.0.4+
FortiClient for Windows OS V5.4+
FortiMail OS V5.1+
FortiWeb OS V5.4+
File Detailed Report
*FortiOS V5.4+
FortiClient for Windows OS V5.4+
FortiMail OS V5.1+
–
Dynamic Threat DB Update
*FortiOS V5.4+
FortiClient for Windows OS V5.4+
FortiMail OS V5.3+
FortiWeb OS V5.4+
FortiSandbox Cloud
File Submission
*FortiOS V5.2.3+
–
FortiMail OS V5.3+
FortiWeb OS 5.5.3+
File Status Feedback
*FortiOS V5.2.3+
–
FortiMail OS V5.3+
FortiWeb OS 5.5.3+
File Detailed Report
*FortiOS V5.2.3+
–
–
–
Dynamic Threat DB Update
*FortiOS V5.4+
–
FortiMail OS V5.3+
FortiWeb OS 5.5.3+
*some models may require CLI configuration
Pricing Notes:
Pricing and product availability subject to change without notice.
Fortinet Products
Fortinet FortiSandbox 3000E

FortiSandbox-3000E Advanced Threat Protection System
4 x GE RJ45, 2 x 10GbE SFP+ Slots, redundant PSU, 8 VMs with Win7 , Win8 , Win10 and (1) MS office licenses included. Upgradable to a maximum of 56 licensed VMs.
#FSA-3000E
Our Price: $103,500.00
Hardware plus 24x7 FortiCare plus AV, IPS, Web Filtering, File Query and SandBox Engine Updates

FortiSandbox-3000E Hardware plus 1 Year 24x7 FortiCare and FortiGuard Threat Intelligence (AV, IPS, Web Filtering, File Query and SandBox Engine Updates)
#FSA-3000E-BDL-970-12
Our Price: $161,415.00.00

FortiSandbox-3000E Hardware plus 3 Year 24x7 FortiCare and FortiGuard Threat Intelligence (AV, IPS, Web Filtering, File Query and SandBox Engine Updates)
#FSA-3000E-BDL-970-36
Our Price: $255,527.00

FortiSandbox-3000E Hardware plus 5 Year 24x7 FortiCare and FortiGuard Threat Intelligence (AV, IPS, Web Filtering, File Query and SandBox Engine Updates)
#FSA-3000E-BDL-970-60
Our Price: $356,878.00
License Upgrade for FSA-3000E
License Upgrade for FSA-3000E – Includes (16)Windows and (3)MS Office licenses for FortiSandbox-3000E
#FSA-3000E-UPG-LIC-16
Our Price: $45,000.00
8x5 FortiCare plus FortiGuard Sandbox Services (AV, IPS, Web Filtering, File Query and SandBox Engine Updates)
1 Year 8x5 FortiCare plus FortiGuard Sandbox Services (AV, IPS, Web Filtering, File Query and SandBox Engine Updates) for FortiSandbox-3000E
#FC-10-SA30K-969-02-12
List Price: $44,550.00
Our Price: $38,571.00
3 Year 8x5 FortiCare plus FortiGuard Sandbox Services (AV, IPS, Web Filtering, File Query and SandBox Engine Updates) for FortiSandbox-3000E
#FC-10-SA30K-969-02-36
List Price: $116,944.00
Our Price: $101,250.00
5 Year 8x5 FortiCare plus FortiGuard Sandbox Services (AV, IPS, Web Filtering, File Query and SandBox Engine Updates) for FortiSandbox-3000E
#FC-10-SA30K-969-02-60
List Price: $194,906.00
Our Price: $168,750.00
24x7 FortiCare plus AV, IPS, Web Filtering, File Query and SandBox Engine Updates
FortiSandbox-3000E 1 Year 24x7 FortiCare plus FortiGuard Threat Intelligence (AV, IPS, Web Filtering, File Query and SandBox Engine Updates)
#FC-10-SA30K-970-02-12
List Price: $57,915.00
Our Price: $50,143.00
FortiSandbox-3000E 3 Year 24x7 FortiCare plus FortiGuard Threat Intelligence (AV, IPS, Web Filtering, File Query and SandBox Engine Updates)
#FC-10-SA30K-970-02-36
List Price: $152,027.50
Our Price: $131,625.00
FortiSandbox-3000E 5 Year 24x7 FortiCare plus FortiGuard Threat Intelligence (AV, IPS, Web Filtering, File Query and SandBox Engine Updates)
#FC-10-SA30K-970-02-60
List Price: $253,378.00
Our Price: $219,375.00
PRMA Bundle Contract
1 Year Next Day Delivery Bundle Contract for FortiSandbox-3000E
Includes 24x7 FortiCare plus AV, IPS, Web Filtering, File Query and SandBox Engine Updates
#FC-10-SA30K-943-02-12
List Price: $65,540.00
Our Price: $56,745.00
1 Year 4-Hour Delivery Bundle Contract for FortiSandbox-3000E
Includes 24x7 FortiCare plus AV, IPS, Web Filtering, File Query and SandBox Engine Updates
#FC-10-SA30K-944-02-12
List Price: $75,935.00
Our Price: $65,745.00
1 Year 4-Hour Onsite Delivery Bundle Contract for FortiSandbox-3000E
Includes 24x7 FortiCare plus AV, IPS, Web Filtering, File Query and SandBox Engine Updates
#FC-10-SA30K-945-02-12
List Price: $90,785.00
Our Price: $78,602.00