Fortinet FortiManager 400A Appliances
Centralized Management for Fortinet Security Networks

The FortiManager 400A has been discontinued. If you currently own a FortiManager 400A and need to renew your services or subscriptions, click here to jump to more pricing!
Overview:
The FortiManager family of appliances supply the tools needed to effectively manage any size Fortinet security infrastructure, from a few devices to thousands of appliances and end-point security agents. The appliances provide centralized policy-based provisioning, configuration, and update management for FortiGate, FortiWiFi, and FortiMail appliances, as well as FortiClient end point security agents. They also offer end-to-end network monitoring for added control. FortiManager delivers a lower TCO for Fortinet implementations by minimizing both initial deployment costs and ongoing operating expenses. Managers can control administrative access and simplify policy deployment using role-based administration to define user privileges for specific management domains and functions by aggregating collections of Fortinet appliances and agents into independent management domains. By locally hosting security content updates for managed devices and agents, FortiManager appliances minimize Web filtering rating request response time and maximize network protection.
FortiManager Benefits:
Support for up to 4,000 appliances or virtual domains (VDOMs) and 100,000 FortiClient agents from a single appliance for efficient command and control of the largest deployments.
Minimizes initial deployment and ongoing operating expenses of Fortinet security infrastructures.
Faster provisioning of new devices and agents and management of security policies across groups of assets reduces management burden and operational costs.
Detailed revision tracking increases visibility and auditing capabilities.
Easily manage complex mesh and star VPN environments.
Role as local distribution point for managed assets improves control over security and software updates.
Seamless integration with FortiAnalyzer appliances delivers in-depth discovery, analysis, prioritization and reporting of network security events.
Managing Network Security
Networks are under constant attack from threats that aim to infect systems, steal confidential information, relay spam, cause denial of service conditions and more. Managing a security infrastructure to combat these threats is increasingly challenging as networks grow in size and complexity. Network and security administrators have traditionally deployed and maintained multiple security products to protect their networks, but are increasingly realizing the operational benefits of the Fortinet family of multi-threat security systems. FortiGate™ appliances and FortiClient™ end-point security systems allow administrators to consolidate their and simplify their security infrastructure. Yet managing multiple Fortinet products without a centralized management solution can still limit network-wide visibility and result in unnecessary management overhead.
Centralized Security Management
FortiManager centralized management appliances deliver the essential tools necessary to effectively manage the smallest to the largest Fortinetbased security infrastructures. Whether deploying a few or thousands of new devices or agents, distributing updates or installing security policies across managed assets, FortiManager appliances simplify tasks commonly associated with managing FortiGate devices and FortiClient agents. Device discovery, group management, auditing facilities and the ability to manage complex mesh and star VPN environments are just of a few of the time-saving features that FortiManager appliances offer. Complemented by the FortiAnalyzer™ centralized logging and reporting appliance, the FortiManager appliance is a comprehensive and powerful centralized management solution.

| Features | Benefits |
| --- | --- |
| Appliance-Based Centralized Management | Simplifies the deployment and maintenance associated with the central management solution by eliminating third-party operating systems and hardware requirements |
| Automated Device Provisioning / Centralized Policy Configuration | Reduces time to deploy new FortiGate or FortiClient installations and maintain policies across all managed assets |
| Local Caching of FortiGuard Services | Reduces time to distribute FortiGuard antivirus and IPS service updates and improves response times to FortiGuard Web filtering and antispam rating requests |
| Role-Based Administration | Enables distributed administration, an important requirement for service providers managing multiple customer deployments or large enterprises with multiple administrator types |
| Policy/Device Auditing | Ensure compliance by monitoring device configuration changes, complete with revision history and policy version comparison tools |
Integrated Management Solutions
FortiManager appliances provide a secure web-based management interface for the command and control of managed assets. Seamless integration with FortiAnalyzer appliances complete the centralized management solution with in-depth discovery, analysis, prioritization and reporting of network security events. Both interfaces work together to provide real-time, actionable information empowering the administrator with the knowledge and power to enforce the security policy across the enterprise and keep assets protected.
Deployments:
FortiManager centralized management appliances facilitate the deployment, monitoring and maintenance of one or many Fortinet security solutions.
Command and Control

The FortiManager appliance's secure web-based user interface serves as a launching point for all major management functions. Device Manager and FortiClient Manager modules are used with FortiGate and FortiClient assets from the deployment phase through the monitoring and maintenance phases.
Manage Updates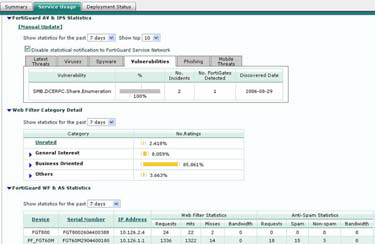 \
The FortiManager appliance provides powerful tools that simplify the ongoing management of managed assets. For example, the Service Usage area displays statistics and security content update information from the FortiGuard Network. Localized caching of updates and databases translate to decreased response time for Web filtering and antispam rating requests and decreased time needed to apply antivirus and intrusion prevention updates across the security infrastructure.
Monitor, Analyze and Report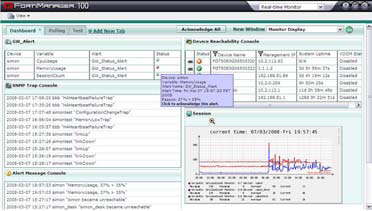 The FortiManager appliance's Real-Time Monitor module provides easy access to the knowledge required to monitor complex networks. When combined with with the FortiAnalyzer appliance, FortiManager appliances offer enhanced real-time and historical reporting, logging and data mining capabilities.
Technical Specifications:

FortiManager Models
FMG-100
FMG-400A
FMG-3000
FMG-3000B
System Specifications
Security Hardened Platform
Yes
Yes
Yes
Yes
Number of Licensed Network Devices*
10
200
500
4,000
Number of FortiClient Devices
2,500
10,000
25,000
100,000
Hardware Specifications
10/100 Ethernet
4
4
N/A
N/A
10/100/1000 Ethernet
N/A
2
2
4
RS-232 Console Connection Port
Yes
Yes
Yes
Yes
LCD Display
No
Yes
Yes
No
Internal Hard Drive Capacity
250 GB
250 GB
250 GB
2 TB
High Availability Configurations
Yes
Yes
Yes
Yes
Redundant Hot-Swappable Power Supplies
N/A one licensed network device
N/A
Yes
Yes
Logging and Reporting Capabilities
External FortiAnalyzer
External FortiAnalyzer
External FortiAnalyzer
External FortiAnalyzer
Dimensions (H, W, L)
2 x 13.5 x 6.75 in
(5 x 33.7 x 17.5 cm)
1.75 x 16.8 x 10 in
(4.5 x 42.7 x 25.4 cm)
3.5 x 16.75 x 13.5 in
(8.9 x 42.7 x 33 cm)
2.5 x 17.5 x 29.0 in
(8.9 x 44.5 x 73.7 cm)
Weight
4.4 lbs (2 kg)
7.3 lbs (3.3 kg)
17.5 lbs (8 kg)
63.0 lbs (28.6 kg)
Rack Mountable
Yes
Yes
Yes
Yes
Input Voltage
100-240 VAC
100-240 VAC
100-240 VAC
100-240 VAC
Input Current
0.8A
1.6A
6A
9A
Average Power Consumption (AC)
50W
140W
175W
340W
Environmental
Operating Temperature
32 to 104 deg F (0 to 40 deg C)
Storage Temperature
-13 to 158 deg F (-25 to 70 deg C)
Humidity
5 to 95% non-condensing
Regulatory
Regulatory
FCC Class A Part 15.
CE
Supports
Supported FortiGate Models
FG-50-100A
All
All
All
Recommended FortiGate Models
FG-50-100A
FG-50-800
All
All
* Each Virtual Domain (VDOM) operating on a physical device equals
FortiManager Key Functional Areas:


FortiManager Key Functional Areas:
Device Manager
The Device Manager module enables complete remote configuration and maintenance of a single device or a group of devices with equal effort. Administrators can find device health information, license status and FortiGuard service usage statistics by device or group. Finally, revision tracking, scripting facilities, policy templates and firmware management are all functions of the Device Manager module.
VPN Manager
The VPN Module allows simplified VPN deployment, management, and monitoring of FortiGate units, external VPN peers and clients. For added efficiency, traffic profiles, IPSec authentication parameters, IPSec tunnel parameters and custom services can be stored as reusable configuration objects.
Real-Time Monitor
The Real-Time Monitor (RTM) module allows administrators to actively monitor the status of large numbers of FortiGate devices at a glance. Included with the RTM module is the ability to apply filter profiles and thresholds individually or to groups of FortiGate devices. Also included are powerful features such as custom alerting and alarming settings with options for email alerts and SNMP message generation.
FortiClient Manager
Efficiently manage FortiClient agents with tools designed to relieve the burden of inventory, status and policy management. FortiManager allows administrators to enforce the security policy on all managed assets whether inside or outside the private network.
FortiAnalyzer Integration
FortiManager and FortiAnalyzer user interfaces are integrated to provide seamless transitions from device and client management to log analysis and reporting functions.
Empowerment
Administrators maintain complete control of the network security infrastructure with a FortiManager appliance. With a complete FCAPS (Faults, Configuration, Accounting, Performance and Security) toolset, FortiManager appliances assist in environments where security, availability and guaranteed performance are mandated.
Convenience
Deploying and operating security infrastructure is quick and easy with the FortiManager appliance. Combined with a secure web-based user interface, FortiManager appliances offer not only the power to deploy, but also the ability to easily adapt to new threats and changes in the security policy. Other convenient features include: reusable configuration objects, configurable alerting methods and SNMP support.
Scability
FortiManager appliances are available in multiple hardware models to meet network requirements. From one to thousands of devices or agents, FortiManager appliances scale to effectively manage the security infrastructure.
Typical Applications:
Large Organizations
FortiManager-3000 / FortiManager-3000B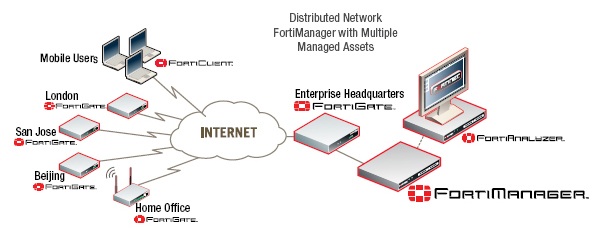 Small-to-Medium Organizations
FortiManager-100 / FortiManager-400A

Managed Security Service Providers
FortiManager-3000 / FortiManager-3000B

Services & Support:


FortiGuard Security Subscription Services
FortiGuard Security Subscription Services deliver dynamic, automated updates for Fortinet products. The Fortinet Global Security Research Team creates these updates to ensure up-to-date protection against sophisticated threats. Subscriptions include antivirus, intrusion prevention, web filtering, antispam, vulnerability and compliance management, application control, and database security services.
FortiCare Support Services
FortiCare Support Services provide global support for all Fortinet products and services. FortiCare support enables your Fortinet products to perform optimally. Support plans start with 8x5 Enhanced Support with "return and replace" hardware replacement or 24x7 Comprehensive Support with advanced replacement. Options include Premium Support, Premium RMA, and Professional Services. All hardware products include a 1-year limited hardware warranty and 90-day limited software warranty.
Documentation:

Download the Fortinet FortiManager Datasheet (PDF).
Fortinet FortiCare 8x5 Subscriptions
FortiManager-400A FortiCare 8x5, Renewals
The FortiCare 8x5 Renewal includes 8x5 Enhanced Support, Return and Replace, Firmware Upgrades, VPN, Traffic Management
8x5 FortiCare for FortiManager-400A, 1-Year Renewal
#FC-10-M0401-311-02-12
Our Price: $1,499.00
Fortinet FortiCare 24x7 Subscriptions
FortiManager-400A FortiCare 24x7, Renewals
The FortiCare 24x7 Renewal includes 24x7 Comprehensive Support, Advanced Hardware Replacement (NBD), Firmware Upgrades, VPN, and Traffic Management
24x7 FortiCare for FortiManager-400A, 1-Year Renewal
#FC-10-M0401-247-02-12
Our Price: $2,499.00