Fortinet FortiMail 400
Flexible Email Security System to Defend Against Spam and Malicious Content

The FortiMail 400 has been discontinued. If you currently own a FortiMail 400 and need to renew your services or subscriptions, click here to jump to more pricing!
Overview:
The FortiMail-100 delivers the complete feature set of the FortiMail family in a cost-effective platform, making it ideal for Small Office/Home Office (SOHO) and Remote Office/Branch Office (ROBO) applications. Its all-in-one secure email server capability reduces deployment and operational costs, processing up to 54,000 emails per hour with full antivirus and antispam filtering.
The FortiMail family of secure email appliances provide an effective barrier against the ever-rising volume of spam, maximum protection against sophisticated email attacks, and features designed to facilitate regulatory compliance. FortiMail offers both inbound and outbound scanning, advanced antispam and antivirus filtering capabilities, IP address black/white listing functionality, and extensive quarantine and archiving capabilities. Three deployment modes offer maximum versatility: transparent mode for seamless integration into existing networks with no IP address changes, gateway mode as a proxy MTA for existing email gateways, or full email server functionality for SMBs and remote offices.
FortiMail Benefits:
Layered protection (FortiGate + FortiMail) improves email security, separates low-latency perimeter and high-latency email functions for more efficient operation
Advanced inspection capabilities and additional IP/antispam filtering functions improves protection against sophisticated email-based threats
Stops spam before it consumes mail system and network resources, reducing capital expenditures on email functionality
Advanced email content archiving, quarantining, and routing capabilities help achieve regulatory compliance
Three modes of operation provide flexible deployment options (Transparent, Gateway, and Server)
Turn-key deployment, integrated management, logging and reporting, and fully-automated security updates reduce IT management burden and operational expenses, with no per-user licensing fees
Email is a Mission Critical Business Application
In today's networks, email is one of the most predominant business communication methods. Unfortunately, email has also become one of the most common vehicles for proliferating blended threats comprised of viruses, worms, spyware and spam. These blended attacks can negatively impact business productivity, cause business downtime and lead to identity theft. In response, companies have leveraged point product security technologies, such as antispam, to patch against single threaded attacks. In addition, legislation has been introduced to ensure that companies comply with security best practices for email archiving that enable forensic and legal audits. Email is a mission critical application for all businesses that must be secured.
Complete Email Security in One Appliance
FortiMail™ is a specialized email security system that provides multi-layered protection against blended threats comprised of spam, viruses, worms and spyware. The FortiMail system relies on a customized operating system that cleans emails through corresponding FortiMail antispam, antivirus and antispyware engines. To ensure up to date email protection, FortiMail relies on Fortinet FortiGuard™ antivirus, antispyware and antispam security subscription services that are powered by a worldwide 24x7 Global Threat Research Team. FortiMail provides unparalleled deployment flexibility and powerful bi-directional email routing, Quality of Service (QoS), virtualization and archiving capabilities with a lower total cost of ownership.
Key Solution Features and Benefits:
Complete Multi-Layered Security
Complete solution providing industry leading security features including antispam, antivirus and antispyware with signatures continually updated via FortiGuard service.
Highest Levels of Performance and Reliability
Specialized Mail Transfer Agent (MTA) engine manages peak capacity while applying intelligent routing and QoS policies. High-availability configurations are available to ensure maximum up-time.
Deployment Flexibility
Only email security solutions that can be deployed in transparent, gateway or server modes.
Cost-Effective to Own and Operate
Integrated antispam, antivirus and antispyware protection without per user or mail box pricing restrictions.
Multi-Layered Email Security
Securing email requires multi-layered protection against inbound and outbound risks that proliferate spam, viruses and spyware to email infrastructure and users. At the same time, email content policies must be enforced and good email must be archived for compliance purposes. Unique to inbound risks, are DHA (Directory Harvest Attacks) and DOS (Denial of Service) attacks, which must be part of a multi-layered email security strategy. For outbound risks an email security solution must ensure that infected zombie PC's that relay spam do not lead to a legitimate enterprise network becoming added to a Real-Time Black List (RBL).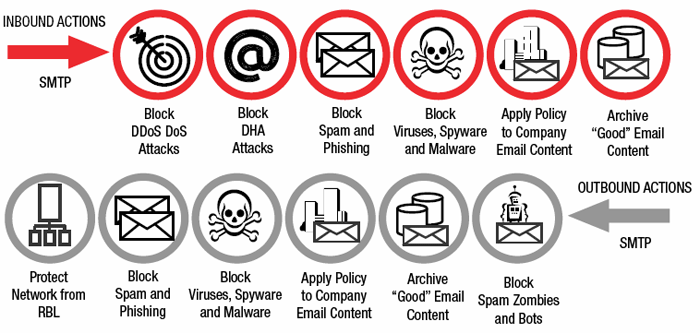 Deployments:
Email Security Patches are Ineffective:
To defend against blended threats, organizations have deployed a costly point product array of antivirus, antispyware and antispam technologies at the network perimeter. For most organizations this approach has proven to be prohibitive both from a capital and operational cost perspective. Furthermore, requirements for email archiving and routing further compound the proliferation of email point product technologies. Deploying an excessive amount of email security and routing infrastructure is an ineffective method to protect against blended threats and to comply with email archiving guidelines.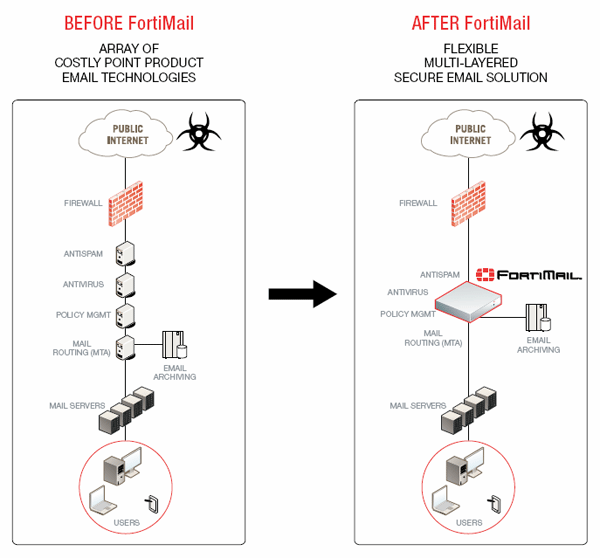 FortiMail Email Security System:
FortiMail is the world's most flexible turn-key email security system that can be deployed to protect and complement existing email infrastructure. FortiMail provides ICSA Labs certified protection against blended spam, virus and spyware threats. In addition, FortiMail's rich routing and archiving capabilities ensure that organizations can comply with best practice email archiving guidelines. FortiMail empowers organizations with a flexible system that cost effectively secures email communication.
Technical Specifications: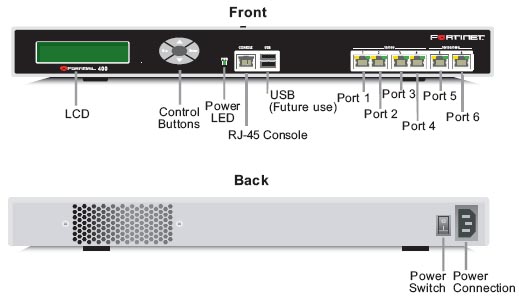 FortiMail Series Specifications:
FortiMail Series
FortiMail 100
FortiMail 400
FortiMail 2000A
FortiMail 4000A
Features
Security Hardened Platform
10/100 Ethernet
4
4
0
0
10/100/1000 Ethernet
0
2
4
2
Total Hard Drive Capacity
250 GB
500 GB
1.5 TB
3.0 TB
RAID Storage Management
N/A
Yes (0,1)
Yes (0,1,5,10,50)
Yes (0,1,5,10,50)
LCD Display
N/A
N/A
Redundant Hot Swappable Power Supplies
N/A
N/A
Email Domains
50
500
3,000
3,000
Recipient-Based Policies (Per Domain) For Incoming Mail
20
40
100
100
Recipient-Based Policies for Outgoing Mail
50
500
1,500
1,500
Server Mode Mailboxes
200
1,000
3,000
3,000
Antispam Profiles
60
175
550
550
Antivirus Profiles
60
175
550
550
Authentication Profiles
60
175
550
550
Content Profiles
60
175
550
550
Email Aliases
256
256
256
256
Tiered Administration Domains
5
25
50
50
Performance: (Messages / hour)*
RAID Mode
RAID 0
RAID 1
RAID 10
RAID 10
Email Routing
64,800
187,200
331,200
345,600
FortiGuard Antispam
57,600
162,000
288,000
302,400
FortiGuard Antispam + AntiVirus
54,000
154,800
280,800
295,200
Specifications
Dimensions
2 x 13.5 x 6.75 in
(5 x 33.7 X 17.5 cm)
1.75 x 16.8 x 10 in
(4.5 x 42.7 X 25.4 cm)
3.5 x 17.5 x 29 in
(8.9 x 44.5 X 73.7 cm)
3.5 x 19 x 27 in
(8.9 x 48.3 X 68.6 cm)
Weight
4.4 lbs (2 kg)
7.3 lbs (3.3 kg)
53.4 lbs (24.2 kg)
68 lbs (30.8 kg)
Rack Mountable
N/A
Input Voltage
100-240VAC
100-240VAC
100-240VAC
100-240VAC
Input Current
0.8A
4A
9A
9A
Environment
Operating Temperature
32 to 104 deg F (0 to 40 deg C)
Storage Temperature
-13 to 158 deg F (-25 to 70 deg C)
Humidity
5 to 95% non-condensing
Regulatory
Regulatory
FCC Class A Part 15 / CE Mark
*True throughput without queuing based on 3 KB message size
Benefits:


FortiMail devices support the following secure email features:
FortiMail Multi-Layered Security
The comprehensive functionality and high performance of FortiMail enables complete antispam, antivirus and antispyware protection.
Standards-Based Messaging Engine
FortiMail utilizes a standards-based Mail Transfer Agent (MTA) optimized to provide the highest levels of performance.
No Per User/Per Mailbox Pricing
Unlike email security point products technologies that charge on a per user or mail box basis, the FortiMail system provides complete multi-layered antivirus, antispam and antispyware security protection for an unlimited number of users or mailboxes.
Deployment Flexibility
Support for Transparent, Gateway or Server operating modes allows FortiMail to seamlessly integrate into existing networks.
High Reliability & Serviceability
High-end FortiMail systems support hot swappable power supplies and flexible RAID storage configurations that provide very high reliability and ease of serviceability.
Email Archiving
Local and remote storage, enables visibility and auditing capabilities into every aspect of email usage to help enforce use policies.
Logging and Reporting
FortiMail provides system-wide antivirus / antispam event logging, comprehensive reporting and scheduled report generation.
Transparent (Bridge) Mode
Seamless installation in front of existing email servers with no IP address changes or changes to the existing mail server network configuration.
Gateway (Relay) Mode
Provides inbound and outbound proxy MTA services for existing email gateways. Simple DNS MX record change redirects email to FortiMail for spam and antivirus scanning.
Server Mode
FortiMail functions as a full featured SMTP mail server with flexible support for secure POP3, IMAP and WebMail access.
Features:
FortiMail series platforms provide the following security features:

Transparent Gateway and Server Mode Features:

Multiple Email Domain Support
High Availability (HA) Support
SMTP Mail Gateway for Existing Email Servers
Integrated Policy-Based Email Routing and Queue Management
Outbound Mail Relay for Improved Mail Security
Granular Layered Detection Policies for Spam And Viruses
Addresses, IP Addresses, or Domains
Per User Antivirus and Antispam Scanning Using LDAP Attributes on a Per Policy (Domain) Basis
LDAP-Based Email Routing
Quarantined Email Access with WebMail and POP3
Daily Quarantine Summaries
Policy-Based Email Archiving of Inbound and Outbound Messages with Backup Support for Remote Storage
Mail Queue Support for Failed, Deferred, and Undeliverable Email
SMTP Authentication Support Through LDAP, RADIUS, POP3 or IMAP
Per User Automatic White List
SNMP Support Using Standard Mibs And Private MIB with Threshold Based Traps
Maintains a Local Sender Reputation List Based on:

Number of Viruses Sent
Amount of Spam Sent
Number of Bad Recipients

Dynamic DNS (DDNS)
Greylist Database Persistence
Security Hardened Operating System
Multiple Language Support
Regex Pattern Matching
Sender Policy Framework (SPF)
DomainKeys
DomainKeys Identified Mail (DKIM)

Server Mode Specific Features:

The Following Features are Supported in Server Mode ONLY: POP3, SMTP, and IMAP Email Services
SMTP over SSL Support
Disk Quota Policy Support for User Accounts
Secure WebMail Client Access
User, Group and Alias List Support
Local Account and LDAP Authentication
Bulk Folder Support for Spam Mail

High Availability (HA):

Supported for Gateway, Transparent, and Server Modes
Active-Passive Configuration
Mail Data Synchronization
Stateful Failover
Device Failure Detection and Notification
Link Status Monitor
Link Failover

Antivirus / AntiSpyware Protection:

Virus Scan SMTP Messages
Compressed Attachment and Nested Archive Support
Quarantine Infected Files
Replacement Message Notification
Block by File Type
Attachment Filtering

Denial-Of-Service Protection:

Denial of Service (Mail Bombing)
Recipient Address Attack
Email Rate Limiting
Reverse DNS Check (Anti-Spoofing)
Forged Sender Address

AntiSpam - Content Level Detection:

Inbound and Outbound Email Filtering
Extensive Heuristic Spam Filters
Dynamic Heuristic Rule Updates
Attachment/Content Filtering
Deep Email Header Inspection
Bayesian Statistic Filtering
Spam URI Real-Time Blocklists (SURBL)
Banned Word Filtering
Inbound and Outbound Email Filtering
Spam Quarantining and Spam Tagging
Spam Management (Accept, Relay, Reject or Discard) Based on Email SHASH Spam Checksum Blocklist
Spam Image Analysis Scanning
PDF Scanning / PDF Image Scanning
FortiGuard Antispam Service
Global and User Customized Black/White Lists
3rd Party Real-Time Black Listed (RBL) Support
Forged IP Checking
Greylist Checking

Management Logging and Reporting:

Quick-Start Setup Wizard
Basic / Advanced Management Modes
Real-time Email Statistics
Tiered Administration Accounts
Quarantine Search Capability
Automated PDF report scheduling
Configuration Change and Management Event Logging
Antivirus Incident Logging
Antispam Activity Logging
External or Local Syslog Server Support
Expanded Central Reporting with FortiReporter Support
Critical Events And Virus Incident Alerting
Comprehensive Reporting with Over 140 Reports In Seven Categories
Scheduled Report Generation
Services & Support:


FortiGuard Security Subscription Services
FortiGuard Security Subscription Services deliver dynamic, automated updates for Fortinet products. The Fortinet Global Security Research Team creates these updates to ensure up-to-date protection against sophisticated threats. Subscriptions include antivirus, intrusion prevention, web filtering, antispam, vulnerability and compliance management, application control, and database security services.
FortiCare Support Services
FortiCare Support Services provide global support for all Fortinet products and services. FortiCare support enables your Fortinet products to perform optimally. Support plans start with 8x5 Enhanced Support with "return and replace" hardware replacement or 24x7 Comprehensive Support with advanced replacement. Options include Premium Support, Premium RMA, and Professional Services. All hardware products include a 1-year limited hardware warranty and 90-day limited software warranty.
Documentation:

Download the Fortinet FortiMail Datasheet (PDF).
Fortinet Products
FortiMail-400 1 Year Hardware Premium Bundle Upgrade
1 Year Hardware Bundle Upgrade from 8x5 to 24x7 FortiCare Contract for FortiMail-400
#FC-10-00411-274-01-12
Our Price: $1,709.00
Fortinet Bundle Renewals
FortiMail-400 8x5 Bundle Subscription Renewal
The 8x5 Bundle Subscription renewal includes 8X5 Hardware Return and Replace (3 Days), Firmware Upgrades, 8x5 Enhanced Support, Anti-Virus, IPS, Content Filtering and Anti-Spam.
8x5 for FortiMail-400, 1-Year Bundle Renewal
#FC-10-00411-952-02-12
Our Price: $3,801.00
FortiMail-400 24x7 Bundle Subscription Renewal
The 24x7 Bundle Subscription renewal includes Advanced Hardware Replacement (NBD), Firmware Upgrades, 24X7 Comprehensive Support, Anti-Virus, IPS, Content Filtering and Anti-Spam.
24x7 for FortiMail-400, 1-Year Bundle Renewal
#FC-10-00411-953-02-12
Our Price: $4,100.00
Fortinet FortiGuard Subscriptions Renewal
FortiGuard Subscriptions 1-Year Renewal
AntiVirus (AV) Service for FortiMail-400, 1-Year Renewal
#FC-10-00411-100-02-12
Our Price: $2,499.00
AntiSpam (AS) Service for FortiMail-400, 1-Year Renewal
#FC-10-00411-114-02-12
Our Price: $1,799.00
Fortinet FortiCare 8x5 Subscriptions
FortiMail-400 FortiCare 8x5, Renewals
The FortiCare 8x5 Renewal includes 8x5 Enhanced Support, Return and Replace, Firmware Upgrades, VPN, Traffic Management
8x5 FortiCare for FortiMail-400, 1-Year Renewal
#FC-10-00411-311-02-12
Our Price: $1,499.00
Fortinet FortiCare 24x7 Subscriptions
FortiMail-400 FortiCare 24x7, Renewals
The FortiCare 24x7 Renewal includes 24x7 Comprehensive Support, Advanced Hardware Replacement (NBD), Firmware Upgrades, VPN, and Traffic Management
24x7 FortiCare for FortiMail-400, 1-Year Renewal
#FC-10-00411-247-02-12
Our Price: $2,499.00