Fortinet FortiGate 621B
ASIC-Powered Security at Switching Speeds

Fortinet Products
FortiGate-621B
Fortinet FortiGate-621B Firewall
#FG-621B
Our Price: $12,995.00
FortiGate-621B 8x5 Enhanced Bundle
Fortinet FortiGate-621B 8x5 Enhanced Bundle, 1 Year


*Includes Hardware Unit, Return and Replace, Firmware Upgrades, 8x5 Enhanced Support, Antivirus, IPS, Web Content Filtering, & Antispam

FG-621B-BDL
Our Price: $18,995.00
FortiGate-621B 24x7 Comprehensive Bundle
Fortinet FortiGate-621B 24x7 Comprehensive Bundle, 1 Year


*Includes Hardware Unit, Advanced Hardware Replacement (NBD), Firmware Upgrades, 24X7 Comprehensive Support, Antivirus, IPS, Web Content Filtering, & Antispam

FG-621B-BDL-950-12
Our Price: $21,218.00
Click here to jump to more pricing!
Overview:
The evolution of network security threats has driven the expansion of security products to include multiple threat recognition systems within a single appliance. Unified Threat Management systems from Fortinet include firewall, VPN, intrusion prevention, antivirus, antimalware, antispam and web content filtering to identify numerous types of threats from a single device. While the ease of use of UTM products has created a prolific adoption trend, administrators still struggle with limited physical deployment options due to the available throughput and port density of mid-range devices.
The FortiGate-620B and FortiGate-621B appliances answer the call of growing enterprise networks by integrating a purpose-built security processing ASIC, known as the FortiASIC Network Processor, into the FortiGate system to deliver security throughput at switching speeds. Sixteen hardware accelerated interfaces (expandable to 20 on FortiGate-620B) allow networks to enforce firewall policy between network segmentation points for layered security with switch-like performance. An additional purpose-built ASIC, known as the FortiASIC Content Processor, provides additional acceleration for content intensive security technologies such as intrusion prevention and antivirus scanning. The addition of an Advanced Mezzanine Card (AMC) expansion slot on the FortiGate-620B allows for even more flexibility, offering additional ASICaccelerated ports for additional throughput or hard disk-based storage for local logging and content archiving. The FortiGate-621B includes 64 GB of local solid state storage. With numerous accelerated multi-threat security interfaces, organizations can create multiple security zones for various departments, users, access methods, and even devices to enforce network security at accelerated speeds.
FortiGate-620B/621B Benefits:
Delivers up to 20 Gbps firewall throughput, with optional AMC module
20 GbE interfaces (24 total with optional AMC module on FortiGate-620B) enables flexibility and performance for your growing network
IPv6-ready platform with strong authentication options for secure network access and security policy compliance
Integrated consolidated security features offer the ability to augment existing systems and add new functionality or replace aging security infrastructures
A "single pane of glass" management console makes it easy for you to deploy and manage
High port density enables network security segmentation for security event isolation, policy granularity and improved network visibility
FortiGate Multi-Threat Security Solutions
Fortinet's multi-layered security solutions efficiently and economically provide an integrated set of security services in a single, easy-to-manage high-performance appliance that is capable of supporting a wide range of deployment scenarios. In addition, FortiGuard Subscription Services include everything from technical support, antivirus updates, antispyware, antispam, and Web content filtering to ensure that your security environment remains current and your corporate resources are protected against the latest blended threats. Finally, FortiGate systems come with a one-year limited hardware warranty and 90-day limited software warranty.
Features & Benefits:


| Features | Benefits |
| --- | --- |
| Hardware Acceleration | Up to 20 Gbps FW & 15 Gbps VPN combined with 1Gbps IPS and 250 Mbps AV acceleration ensures security is never a bottleneck |
| Twenty 10/100/1000 interfaces (expandable to 24) | Facilitates numerous internal segmentation points throughout the network |
| Modular Expansion | Flexible expansion options for fouradditional NP-accelerated ports or HDD for local logging and archiving |
| Unified Security Architecture | Multi-threat protection from a single device increases security and lowers costs |
| Challenge | Solution |
| Voice, video, and other time-sensitive applications require extremely lowlatency during transit | FortiGate-620B/-621B appliances ensure that security is never a bottleneck, thanks to the FortiASIC network processor which provides microsecond latency, up to 20 Gbps firewall performance, and up to 15 Gbps IPSec VPN performance. |
| Many security devices have a limited number of ports, preventing desired internal network segmentation | FortiGate-600 series appliances come standard with twenty (20) 10/100/1000 interfaces (expandable to 24 interfaces), to permit a wide-array of deployments. |
| Most security devices have limited expansion capabilities | The FortiGate-600 series feature an AMC expansion bay to expand the base system with additional security processing, accelerated interface, bypass, or wide area network modules. |
| To obtain effective protection from threats, it's necessary to cobble multiple products together to form a solution | Fortinet combines firewall, VPN, intrusion prevention, antivirus, antispam, web filtering, data leakage prevention, application control, and more into a single platform, providing an effective all-in-one solution. |
Integrated Multi-Threat Protection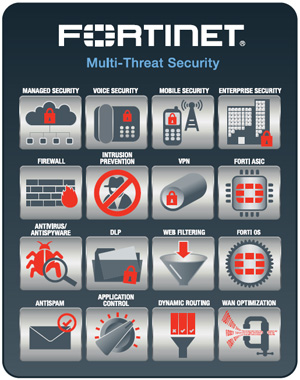 The FortiGate product family provides cost-effective, comprehensive protection against network, content, and application-level threats. It defends your environment from complex, sophisticated attacks without degrading network availability and affecting application performance.
FortiGate platforms combine the purpose-built FortiOS™ security operating system with custom FortiASIC processors and other hardware to provide a comprehensive and highperformance array of security and networking functions.
The FortiGate product family delivers the highest level of network, content, and application security for enterprises of all sizes, while reducing total cost of ownership. With Fortinet, you deploy the network security you need to protect your intellectual property, preserve the privacy of critical customer information, and maintain regulatory compliance.
FortiOS 5.0 Software
FortiOS 5.0, the world's most powerful security operating system, is the foundation for all Fortinet FortiGate integrated security platforms. It provides more security, intelligence and control to help enterprises be better protected against today's advanced threats and enable more secure BYOD environments.
More Security Fighting Advanced Threats
More Security to fight advanced threats. A client reputation feature gives enterprises a cumulative security ranking of each device based on a range of behaviors and provides specific, actionable information that enables organizations to identity compromised systems and potential zero-day attacks in real time. The new advanced anti-malware detection system adds an on-device behavior-based heuristic engine and cloud-based AV services that includes an operating system sandbox and botnet IP reputation database. Together with superior industry-validated AV signatures, FortiOS 5.0 delivers unbeatable multi-layered protection against today's sophisticated malware.

Client Reputation with Cumulative Rankings
OS Sandbox
Advanced Botnet Protection

More Control Securing Mobile Devices
More Control to secure mobile devices and BYOD environments by identifying devices and applying specific access policies as well as ecurity profiles, according to the device type or device group, location and usage.

Device Identification & Visibility
New Identity Based Policies
Endpoint Control

More Intelligence Build Smart Policies
More Intelligence with automatic adjustment of role-based policies for users and guests based on location, data and application profile. Enhanced reporting and analysis also provides administrators with more intelligence on the behavior of their network, users, devices, applications and threats.

Provide Guest Access with Confidence
Enhanced Visibility & Reporting and Overal User Experience
Extended Single Sign On Capabilities
The FortiASIC Advantage
FortiASIC is the foundation of Fortinet's unique hardware technology. FortiASIC is a family of purpose built, high-performance network and content processors that uses an intelligent proprietary content scanning engine and multiple algorithms to accelerate compute-intensive security services. FortiASIC provides the performance required to deliver enterprise and carrier-class UTM services. Coupled with the FortiOS security hardened Operating System, FortiASIC delivers extreme performance and security.
Technical Specifications: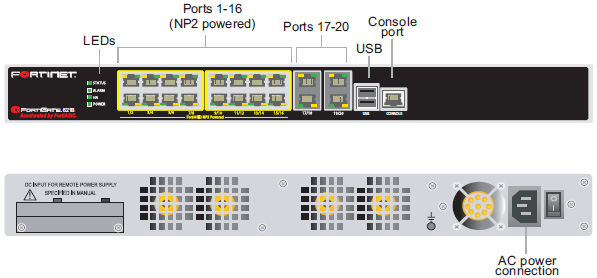 FortiGate Model
FortiGate-620B
FortiGate-621B
Hardware Specifications
Standard 10/100/1000 Interfaces (RJ-45)
20
20
Network Interfaces with Optional Module
24
N/A
AMC Expansion Slot
1 Single Width
N/A
Local Storage Included
N/A
64 GB SSD
System Performance
Firewall Throughput (1518 byte UDP)
16 Gbps (20 Gbps with ASM-FB4)
16 Gbps
Firewall Throughput (64 byte UDP)
16 Gbps (20 Gbps with ASM-FB4)
16 Gbps
IPSec VPN Throughput
12 Gbps (15 Gbps with ASM-FB4)
12 Gbps
IPS Throughput
2.5 Gbps
Antivirus Throughput (Proxy-based)
350 Mbps
Antivirus Throughput (Flow-based)
750 Mbps
Gateway-to-Gateway IPSec VPN Tunnels (System / VDOM)
10,000 / 5,000
Client-to-Gateway IPSec VPN Tunnels
20,000
SSL-VPN Users (Recommended Max)
500
SSL-VPN Throughput
300 Mbps
Concurrent Sessions (TCP)
1,000,000
New Sessions/Sec (TCP)
25,000
Policies (Max)
100,000
Unlimited User Licenses
Yes
Virtual Domains (VDOMs)
10
Mean Time Between Failures
More than 5 years
High Availability Configurations
Active/Active, Active/Passive, Clustering
Dimensions
Height
1.77 in (4.5 cm)
Width
17 in (43.2 cm)
Length
15.5 in (39.4 cm)
Weight
20 lb (9.1 kg)
Rack Mountable
Yes
Environmental
AC Power Required
100-240 VAC, 60-50 Hz, 5-3 Amp (Max)
Heat Dissipation
604 BTU
DC Power
-48V DC (Normal)
Power Consumption (AVG)
225 W
Redundant Power Supply
Requires External Option (FG-620B-RPS)
Operating Temperature
32 - 104 °F (0 - 40 °C)
Storage Temperature
-13 - 158 °F (-25 - 70 °C)
Humidity
20 to 90% non-condensing
Compliance
Compliance
FCC Class A Part 15, UL/CUL, CE, C Tick, VCCI
Certifications
ICSA Labs: Firewall, SSL VPN, IPS, Antivirus
All performance values are "up to" and vary depending on system configuration Antivirus performance is benchmarked using HTTP traffic (32 Kbyte Objects) IPS performance is measured base on NSS like test methodology with 44K HTTP files.
FortiGate-620B/-621B External Redundant Power Supply Option
Number of FG-620B or FG-621B Devices Supported
2 (via dual AC power input channels)
SKU Number
FG-620B-RPS
Dimensions
Height
1.74 in (4.41 cm)
Width
17.4 in (44.2 cm)
Length
11.85 in (30.1 cm)
Rack Mountable
Yes
Power Required
Up to 2 circuits, 100-240 VAC, 60-50 Hz, 8-5 Amp (Max)
Heat Dissipation
522 BTU
Environment
Operating temperature
32 to 104°F (0 to 40°C)
Storage temperature
-13 to 158°F (-35 to 70°C)
Humidity
20 to 90% non-condensing
Compliance
FCC Class A Part 15, UL/CUL, CE, C Tick, VCCI
AMC Expansion Modules:


Fortinet AMC Expansion Modules
The AMC standard, also known as AdvancedMC™, was developed by the PCI Industrial Computers Manufacturers Group (PICMG), which has over 100 companies building to the specification. AdvancedMC has been developed to meet the requirements for the next generation of carrier grade communications equipment.

Accelerated Interface Modules
The Fortinet ASM-FB4 accelerated interface module adds incremental hardware accelerated network interfaces to FortiGate platforms for wire-speed firewall performance and near wire-speed IPSec VPN performance. Up to 12 Gbps aggregate firewall throughput and up to 9 Gbps aggregate VPN throughput is possible with the FG-300 series when using the optional ASM-FB4 Fortinet Accelerated Interface Module.

Bypass Modules
Fortinet ASM-CX4 and ASM-FX2 modules provide bypass functionality to FortiGate platforms, automatically bridging network traffic in the event of a system or power failure.

Storage Modules
Fortinet storage modules provide localized storage facilities to FortiGate platforms, with support for builtin and external storage systems.

4-Port FortiASIC hardware accelerated Gigabit SFP module
(Includes 4x SX SFP transceivers)
4 Gbps Firewall performance
3 Gbps IPsec (3DES) VPN performance

80 Gigabyte hard disk drive storage module
High duty cycle hard drive design
Services & Support:


FortiGuard Security Subscription Services
FortiGuard Security Subscription Services deliver dynamic, automated updates for Fortinet products. The Fortinet Global Security Research Team creates these updates to ensure up-to-date protection against sophisticated threats. Subscriptions include antivirus, intrusion prevention, web filtering, antispam, vulnerability and compliance management, application control, and database security services.
FortiCare Support Services
FortiCare Support Services provide global support for all Fortinet products and services. FortiCare support enables your Fortinet products to perform optimally. Support plans start with 8x5 Enhanced Support with "return and replace" hardware replacement or 24x7 Comprehensive Support with advanced replacement. Options include Premium Support, Premium RMA, and Professional Services. All hardware products include a 1-year limited hardware warranty and 90-day limited software warranty.
Documentation:

Download the Fortinet FortiGate 620B/621B Datasheet (PDF).
Fortinet FortiGate 621B-DC (FG-621B-DC) is also available with DC Power,
Request a Quote for Pricing here!
Fortinet Products
FortiGate-621B
Fortinet FortiGate-621B Firewall
#FG-621B
Our Price: $12,995.00
FortiGate-621B 8x5 Enhanced Bundle
Fortinet FortiGate-621B 8x5 Enhanced Bundle, 1 Year


*Includes Hardware Unit, Return and Replace, Firmware Upgrades, 8x5 Enhanced Support, Antivirus, IPS, Web Content Filtering, & Antispam

FG-621B-BDL
Our Price: $18,995.00
Fortinet FortiGate-621B 8x5 Enhanced Bundle, 2 Year


*Includes Hardware Unit, Return and Replace, Firmware Upgrades, 8x5 Enhanced Support, Antivirus, IPS, Web Content Filtering, & Antispam

FG-621B-BDL-900-24
Our Price: $24,245.00
Fortinet FortiGate-621B 8x5 Enhanced Bundle, 3 Year


*Includes Hardware Unit, Return and Replace, Firmware Upgrades, 8x5 Enhanced Support, Antivirus, IPS, Web Content Filtering, & Antispam

FG-621B-BDL-900-36
Our Price: $27,995.00
FortiGate-621B 24x7 Comprehensive Bundle
Fortinet FortiGate-621B 24x7 Comprehensive Bundle, 1 Year


*Includes Hardware Unit, Advanced Hardware Replacement (NBD), Firmware Upgrades, 24X7 Comprehensive Support, Antivirus, IPS, Web Content Filtering, & Antispam

FG-621B-BDL-950-12
Our Price: $21,218.00
Fortinet FortiGate-621B 24x7 Comprehensive Bundle, 2 Year


*Includes Hardware Unit, Advanced Hardware Replacement (NBD), Firmware Upgrades, 24X7 Comprehensive Support, Antivirus, IPS, Web Content Filtering, & Antispam

FG-621B-BDL-950-24
Our Price: $28,043.00
Fortinet FortiGate-621B 24x7 Comprehensive Bundle, 3 Year


*Includes Hardware Unit, Advanced Hardware Replacement (NBD), Firmware Upgrades, 24X7 Comprehensive Support, Antivirus, IPS, Web Content Filtering, & Antispam

FG-621B-BDL-950-36
Our Price: $32,918.00
FortiGate-621B 1 Year Hardware Bundle Upgrade
1 Year Hardware Bundle Upgrade from 8x5 to 24x7 FortiCare Contract for FortiGate-621B
#FC-10-00622-274-01-12
Our Price: $2,223.00
Fortinet Bundle Renewals
FortiGate-621B 8x5 Bundle Subscription Renewal
The 8x5 Bundle Subscription renewal includes 8X5 Hardware Return and Replace (3 Days), Firmware Upgrades, 8x5 Enhanced Support, Anti-Virus, IPS, Content Filtering and Anti-Spam.
8x5 for FortiGate-621B, 1-Year Bundle Renewal
#FC-10-00622-900-02-12
Our Price: $6,000.00
8x5 for FortiGate-621B, 2-Year Bundle Renewal
#FC-10-00622-900-02-24
Our Price: $11,250.00
8x5 for FortiGate-621B, 3-Year Bundle Renewal
#FC-10-00622-900-02-36
Our Price: $15,750.00
FortiGate-621B 24x7 Bundle Subscription Renewal
The 24x7 Bundle Subscription renewal includes Advanced Hardware Replacement (NBD), Firmware Upgrades, 24X7 Comprehensive Support, Anti-Virus, IPS, Content Filtering and Anti-Spam.
24x7 for FortiGate-621B, 1-Year Bundle Renewal
#FC-10-00622-950-02-12
Our Price: $7,800.00
24x7 for FortiGate-621B, 2-Year Bundle Renewal
#FC-10-00622-950-02-24
Our Price: $14,625.00
24x7 for FortiGate-621B, 3-Year Bundle Renewal
#FC-10-00622-950-02-36
Our Price: $20,475.00
Fortinet FortiGuard Subscriptions Renewal
FortiGuard Subscriptions 1-Year Renewal
AntiVirus (AV) Service for FortiGate-621B, 1-Year Renewal
#FC-10-00622-100-02-12
Our Price: $3,249.00
IPS Service for FortiGate-621B, 1-Year Renewal
#FC-10-00622-108-02-12
Our Price: $2,599.00
Web Service for FortiGate-621B, 1-Year Renewal
#FC-10-00622-112-02-12
Our Price: $5,198.00
AntiSpam (AS) Service for FortiGate-621B, 1-Year Renewal
#FC-10-00622-114-02-12
Our Price: $2,340.00
AV, IPS, Web, and AS Service for FortiGate-621B, 1-Year Renewal
#FC-10-00622-107-02-12
Our Price: $9,370.00
Fortinet FortiCare 8x5 Subscriptions
FortiGate-621B FortiCare 8x5, Renewals
The FortiCare 8x5 Renewal includes 8x5 Enhanced Support, Return and Replace, Firmware Upgrades, VPN, Traffic Management
8x5 FortiCare for FortiGate-621B, 1-Year Renewal
#FC-10-00622-311-02-12
Our Price: $1,950.00
8x5 FortiCare for FortiGate-621B, 2-Year Renewal
#FC-10-00622-311-02-24
Our Price: $3,657.00
8x5 FortiCare for FortiGate-621B, 3-Year Renewal
#FC-10-00622-311-02-36
Our Price: $5,119.00
Fortinet FortiCare 24x7 Subscriptions
FortiGate-621B FortiCare 24x7, Renewals
The FortiCare 24x7 Renewal includes 24x7 Comprehensive Support, Advanced Hardware Replacement (NBD), Firmware Upgrades, VPN, and Traffic Management
24x7 FortiCare for FortiGate-621B, 1-Year Renewal
#FC-10-00622-247-02-12
Our Price: $3,249.00
24x7 FortiCare for FortiGate-621B, 2-Year Renewal
#FC-10-00622-247-02-24
Our Price: $6,092.00
24x7 FortiCare for FortiGate-621B, 3-Year Renewal
#FC-10-00622-247-02-36
Our Price: $8,529.00