Fortinet FortiGate 300A
Unified Threat Management Solutions

Overview:
Blended Security Threats:
Network security threats are devastating to enterprise networks. Intellectual property, revenue, customer and company records, and other mission-critical resources are at risk. Unfortunately enterprise networks often lack adequate security solutions much less the human resources to recognize the business risks – that is until the damage is already done. Point-products providing security solutions for specific purposes may provide adequate protection against specific single-threaded threats, however a new breed of blended-threats and attacks utilize a multitude of attack vectors. Furthermore assembling an array of point products is costly and requires significant expertise to engineer, maintain and manage. Most small to medium size businesses cannot afford such overhead, yet should tragedy strike the potential business costs are enormous. Fortunately cost-effective, evergreen multi-threat protection is now available to businesses of any size. The FortiGate-200 through -800 series of advanced security systems integrate all-in-one multi-threat protection into cost-effective plug-n-play security platforms that effectively block today's blended attacks including intrusion attempts, viruses, worms, phishing, spyware, spam and many other types of malware. The Fortinet FortiGuard® global 24x7 threat detection and update service provides the networking industry's fastest response time to ensure latest security threats are detected and automatic security updates are available before your business is impacted.
Security Platforms That Meet the Challenge:
FortiGate security platforms are based on Fortinet's revolutionary FortiASIC Content Processor technology, which enables a comprehensive suite of real-time security solutions while delivering the highest levels of network performance. The FortiGate-200-800 series platforms provide a complete security solution including content inspection firewall, IPSEC and SSL VPN, intrusion prevention, Web filtering, antispam, antivirus, antispyware, and IM and P2P controls that prevent blended attacks, as well as providing integrated traffic shaping functions, making them the most cost effective, convenient and powerful network protection solutions available. In addition, Fortinet's per-device security subscriptions and turnkey appliance design makes them an affordable and easy-to-manage security solution for small-to-medium enterprises.
Fortinet's Multi-Layered Security Solution:
Fortinet's multi-layered security solutions efficiently and economically provide an integrated set of security services in a single, easy-to-manage high-performance appliance that is capable of supporting a wide range of deployment scenarios. In addition, FortiGuard Subscription Services include everything from technical support, antivirus updates, antispyware, antispam, and Web content filtering to ensure that your security environment remains current and your corporate resources are protected against the latest blended threats. FortiGate systems come with a one-year limited hardware warranty and 90-day limited software warranty.
Deployments:
Fortinet's family of mid-range security appliances are designed for mid-size enterprise networks.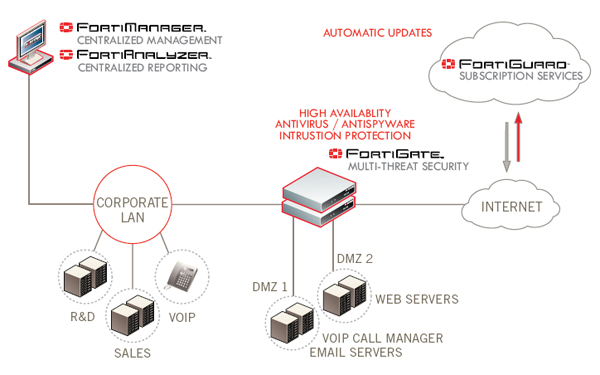 Secure Web Access
Firewall + Antivirus + Web Filtering
The primary source of threats to the Enterprise network is undoubtedly from uncontrolled employee access to the Internet and Web-based services. Yet today every business not only relies on the Internet for productivity enhancements and competitive advantage, but literally depends on the Internet for business success. With all the benefits of the Internet, also come potential risks such as viruses and worms that disrupt services or destroy valuable data, and a myriad of security challenges including information theft/ leakage, inappropriate usage and the need to comply with regulatory mandates. The FortiGate-200-800 series of midrange security appliances provide a turn-key suite of ICSA Labs certified multi-layered security applications to stop blended attacks from affecting your business.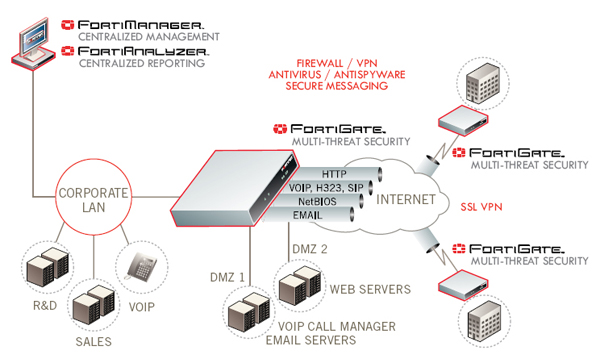 Secure Perimeter Access
Firewall + VPN+ Intrusion Prevention + Antivirus
Enterprises often have complex network topologies and, therefore, complex network security requirements. Typical deployments mean linking several sites together—ranging from home offices to larger remote offices—and ensuring that the security implementation is seamless. Security devices for these environments need to provide a wide variety of performance metrics and connectivity options. Fortinet's line of mid-range security appliances offer integrated 4-port switches, 10/100/1000 Ethernet ports, up to 1 Gbps firewall throughput, and up to 200 Mbps 3DES VPN throughput. These options include the full security suite of ICSA Labs certified multi-layered security applications to stop blended attacks from affecting your enterprise's productivity.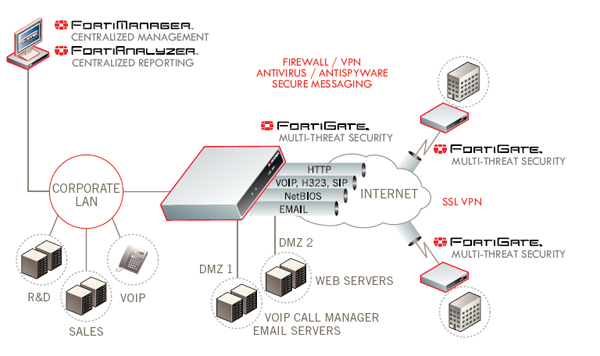 Secure Messaging Access
Antispam+ Antivirus + IM / P2P Controls
The FortiGate line of security appliances has a flexible architecture that allows each one to quickly adapt to emerging technologies and threats such as IM, P2P, and VOIP applications and identity theft methods such as spyware, phishing, and pharming attacks. Flexible deployment options such as NAT, Route, and Transparent modes allow FortiGate devices to be easily deployed into most network designs. Core networking features, such as High Availability (HA) and support for dynamic routing protocols like RIP, OSPF, and BGP, allow them to be deployed into complex full mesh network environments that require maximum network availability.
Technical Specifications: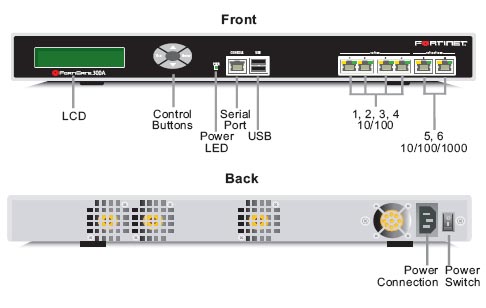 FortiGate 200-800 Series Specifications
FortiGate Models
FortiGate-200A
FortiGate-224B
FortiGate-300A
FortiGate-400A
FortiGate-500A
FortiGate-800/800F
Hardware Specifications:
Total 10/100 Interfaces
8
26
4
4
8
4
Switch Interfaces
4
24
n/a
n/a
4
n/a
Configurable Ports
n/a
n/a
4
4
4
4
Fixed WAN / DMZ Ports
2/2
2
n/a
n/a
n/a
n/a
Total 10/100/1000 Interfaces (Copper)
n/a
2 (switched)
2
2
2
4 (FG-800 only)
1Gb SFP Interfaces (Fiber)*
n/a
n/a
n/a
n/a
n/a
4 (FG-800F only)
* SX transceivers are standard; LX transceivers are available as an additional option
System Performance:
Firewall Throughput
150 Mbps
150 Mbps
400 Mbps
500 Mbps
600 Mbps
1 Gbps
VPN 3DES Throughput
70 Mbps
70 Mbps
120 Mbps
140 Mbps
150 Mbps
200 Mbps
Antivirus Throughput
30 Mbps
30 Mbps
70 Mbps
100 Mbps
120 Mbp
150 Mbps
IPS Throughput
100 Mbps
100 Mbps
200 Mbps
300 Mbps
400 Mbps
600 Mbps
Dedicated IPSec VPN Tunnels
200
200
1,500
2,000
3,000
3,000
Unlimited User Licenses
Yes
Yes
Yes
Yes
Yes
Yes
Concurrent Sessions
400,000
400,000
400,000
400,000
400,000
400,000
New Sessions/Second.
4K
4K
10K
10K
10K
10K
Policies
2,000
2,000
5,000
5,000
8,000
20,000
* Antivirus performance is measured based on HTTP traffic with 32Kbyte file attachments and IPS performance is measured base on UDP traffic with 512 byte packet size. Actual performance may vary depends on network traffic and environment
Physical:
Dimensions
(H, W, L, weight)
1.75 inches, 16.8 inches, 10 inches,7.3 lbs
1.75 inches, 16.8 inches,10 inches,7.3 lbs
1.75 inches, 16.8 inches,10 inches,7.3 lbs
1.75 inches,17 inches,12.6 inches,11.9 lbs
1.75 inches, 17 inches,12.6 inches, 12.6 inches,11.9 lbs
1.75 inches,16.75 inches,12 inches,10 lbs
Rack Mountable
Yes
Yes
Yes
Yes
Yes
Yes
AC Power Required
100-240 VAC, 50-60 Hz, 8.0 Amp (Max)
Power Consumption (AVG)
100W
110W
120W
130W
140W
100W
Environmental
Operating temperature: 32 to 104 deg F (0 to 40 deg C)
Storage temperature: -13 to 158 deg F (-25 to 70 deg C)
Humidity: 5 to 95% non-condensing
Compliance
FCC Class A Part 15, UL/CUL, C Tick, CE, VCCI
Certifications
ICSA Labs Certified: Firewall, Antivirus, IPS
Benefits:
Fortinet Unified Security Solutions
All-inclusive, cost-effective security solution
Fortinet offers a lower total cost of ownership with the most complete set of functions including: antivirus, intrusion prevention, antispyware, web content filtering, and antispam
Automated updates of antivirus/antispyware and IPS security content
Around-the-clock protection against the latest threats. Virus and intrusion encyclopedia covers more than 60,000 different threats
High performance custom hardware
The Fortinet FortiASIC delivers superior performance and reliability, ensuring that the security appliance does not become a network bottleneck
Integrated multi-port switch
Eliminates the need for external switches and provides enhanced connectivity options
Secure Web UI for easy deployment and management
Quick and easy configuration wizard walks administrators through initial setup and graphical user interface offers at-a-glance security event and performance monitoring
Security hardened custom Operating System (OS)
Underlying FortiOS is ICSA Labs-certified and offers a comprehensive command-line interface
Fortinet's ASIC-Based Advantage:
FortiASIC is the foundation of Fortinet's unique hardware technology. FortiASIC is a family of purpose built, high-performance network and content processors that uses an intelligent proprietary content scanning engine and multiple algorithms to accelerate compute-intensive security services. FortiASIC provides the performance required to deliver enterprise and carriers-class UTM services. Coupled with the FortiOS security hardened Operating System, FortiASIC delivers extreme performance and security.
FortiOS: Developed for Security:
FortiOS is the software foundation of FortiGate multi-threat security platforms. Developed solely for security, performance and reliablity, it is a purpose-built operating system that leverages power of the the FortiAISC content and network processors. FortiOS enables a comprehensive suite of security services – content inspection firewall, IPS, antivirus, web filtering, antispam, IM/P2P, virtual network security and bandwidth shaping. FortiOS is a complete suite of UTM security services and is certified for Common Criteria EAL 4+.
Features:
FortiGate-200-800-series platforms provide the following security features:

Firewall:

ICSA Labs Certified (Enterprise Firewall)
NAT, PAT, Transparent (Bridge)
Routing Mode (RIP v1 & v2, OSPF, BGP, & Multicast)
Policy-Based NAT
Virtual Domains (NAT/Transparent mode)
VLAN Tagging (802.1Q)
User Group-Based Authentication
SIP/H.323 NAT Traversal
WINS Support
Customized Protection Profiles

Virtual Private Network (VPN):

ICSA Labs Certified (IPSec & SSL)
PPTP, IPSec, and SSL
Dedicated Tunnels
DES, 3DES, and AES Encryption Support
SHA-1/MD5 Authentication
PPTP, L2TP, VPN Client Pass Through
Hub and Spoke VPN Support
IKE Certificate Authentication
IPSec NAT Traversal
Dead Peer Detection
RSA SecurID Support

Intrusion Prevention System (IPS):

ICSA Labs Certified (NIPS)
Protection From Over 3000 Threats
Protocol Anomaly Support
Custom Signature Support
Automatic Attack Database Update

Antivirus:

ICSA Labs Certified (Gateway Antivirus)
Includes AntiSpyware and Worm Prevention
HTTP/SMTP/POP3/IMAP/FTP/IM and Encrypted VPN Tunnels
Automatic "Push" Virus Database Update
File Quarantine Support
Block by File Size or Type

Web Filtering:

URL/Keyword/Phrase Block
URL Exempt List
Content Profiles
Blocks Java Applet, Cookies, Active X
FortiGuard Web Filtering Support

Antispam:

Real-Time Blacklist/Open Relay Database Server
MIME Header Check
Keyword/Phrase Filtering
IP Address Blacklist/Exempt List
Automatic Real-Time Updates From FortiGuard Network

Traffic Shaping:

Policy-based Traffic Shaping
Differentiated Services (DiffServ) Support
Guarantee/Max/Priority Bandwidth

Networking/Routing:

Multiple WAN Link Support
PPPoE Support
DHCP Client/Server
Policy-Based Routing
Dynamic Routing (RIP v1 & v2, OSPF, BGP, & Multicast)
Multi-Zone Support with Routing Between Zones
Route Between Virtual LANs (VDOMS)

Management/Administration Options:

Console Interface (RS-232)
WebUI (HTTP/HTTPS)
Telnet / Secure Command Shell (SSH)
Role-Based Administration
Multi-language Support
Multiple Administrators and User Levels
Upgrades and Changes Via TFTP and WebUI
System Software Rollback
Central Management via FortiManager (optional)

Logging/Monitoring:

Internal Logging
Log to Remote Syslog/WELF server
Graphical Real-Time and Historical Monitoring
SNMP
Email Notification of Viruses And Attacks
VPN Tunnel Monitor
Optional FortiAnalyzer Logging

User Authentication Options:

Local Database
Windows Active Directory (AD) Integration
External RADIUS/LDAP Integration
IP/MAC Address Binding
Xauth over RADIUS for IPSEC VPN
RSA SecurID Support

Virtual Domains (VDOMs):

Separate Firewall/Routing domains
Separate Administrative domains
Separate VLAN interfaces
10 VDOMs (standard)

High Availability (HA):

Active-Active, Active-Passive
Stateful Failover (FW and VPN)
Device Failure Detection and Notification
Link Status Monitor
Link failover

Instant Messenger / Peer-to-Peer Access Control:

AOL-IM
Yahoo
MSN
ICQ
Gnutella
BitTorrent
WinNY
Skype
eDonkey
KaZaa
Services & Support:
FortiGuard Security Subscription Services:
With FortiGuard™ Security Subscription services enabled, customers can rest assured that their Fortinet security platforms are performing optimally and protecting their corporate assets with the latest security intelligence. FortiGuard services deliver the latest security content directly to Fortinet products. Fortinet offers four standard subscription services: Antivirus, Intrusion Prevention, Web Filtering and Antispam services to protect against multiple types of new and emerging threats. FortiGuard services are updated by the Fortinet Global Threat Research Team, a team of experts working around the clock and around the world to keep Fortinet customers secure. The Fortinet Global Threat Research Team enables Fortinet to deliver comprehensive multi-threat protection, including zero-day protection from new and emerging threats. The FortiGuard Network is a network of global data centers that automatically deliver updates quickly and reliably to Fortinet products.
For customers requiring guaranteed response time to suspicious malware threats, Fortinet offers a premier version of the FortiGuard Antivirus Security Subscription service. Along with Service Level Agreements (SLAs), the premier service provides the customer with a direct conduit to the Fortinet Global Threat Research Team.
Fortinet also offers a premier version of the FortiGuard Web Filtering Security Subscription service. This higher-tier service offering includes guaranteed SLAs and a larger quota for rating URLs submitted to the Fortinet Global Threat Research Team.
FortiCare Support Services:
Includes:

24/7/365 FortiCare Web-based support
8x5 telephone-based technical support (24x7 - optional)
1-Year limited hardware warranty
90-day limited software warranty
Technical account management service available
Professional services available
Documentation:

Download the Fortinet FortiGate 200-800 Series Datasheet (.PDF)
Fortinet Products
FortiGate-300A 1 Year Hardware Bundle Upgrade
1 Year Hardware Bundle Upgrade from 8x5 to 24x7 FortiCare Contract for FortiGate-300A
#FC-10-00301-951-01-12
Our Price: $1,111.00
Fortinet Bundle Renewals
FortiGate-300A 8x5 Bundle Subscription Renewal
The 8x5 Bundle Subscription renewal includes 8X5 Hardware Return and Replace (3 Days), Firmware Upgrades, 8x5 Enhanced Support, Anti-Virus, IPS, Content Filtering and Anti-Spam.
8x5 for FortiGate-300A, 1-Year Bundle Renewal
#FC-10-00301-900-02-12
Our Price: $2,923.00
FortiGate-300A 24x7 Bundle Subscription Renewal
The 24x7 Bundle Subscription renewal includes Advanced Hardware Replacement (NBD), Firmware Upgrades, 24X7 Comprehensive Support, Anti-Virus, IPS, Content Filtering and Anti-Spam.
24x7 for FortiGate-300A, 1-Year Bundle Renewal
#FC-10-00301-950-02-12
Our Price: $3,767.00
Fortinet FortiGuard Subscriptions Renewal
FortiGuard Subscriptions 1-Year Renewal
AntiVirus (AV) Service for FortiGate-300A, 1-Year Renewal
#FC-10-00301-100-02-12
Our Price: $1,624.00
IPS Service for FortiGate-300A, 1-Year Renewal
#FC-10-00301-108-02-12
Our Price: $1,299.00
Web Service for FortiGate-300A, 1-Year Renewal
#FC-10-00301-112-02-12
Our Price: $2,598.00
AntiSpam (AS) Service for FortiGate-300A, 1-Year Renewal
#FC-10-00301-114-02-12
Our Price: $1,169.00
AV, IPS, Web, and AS Service for FortiGate-300A, 1-Year Renewal
#FC-10-00301-107-02-12
Our Price: $4,683.00
Fortinet FortiCare 8x5 Subscriptions
FortiGate-300A FortiCare 8x5, Renewals
The FortiCare 8x5 Renewal includes 8x5 Enhanced Support, Return and Replace, Firmware Upgrades, VPN, Traffic Management
8x5 FortiCare for FortiGate-300A, 1-Year Renewal
#FC-10-00301-311-02-12
Our Price: $974.00
Fortinet FortiCare 24x7 Subscriptions
FortiGate-300A FortiCare 24x7, Renewals
The FortiCare 24x7 Renewal includes 24x7 Comprehensive Support, Advanced Hardware Replacement (NBD), Firmware Upgrades, VPN, and Traffic Management
24x7 FortiCare for FortiGate-300A, 1-Year Renewal
#FC-10-00301-247-02-12
Our Price: $1,624.00