Fortinet FortiGate 200B/200B-POE Series
Wire-Speed Protection for Wired & Wireless Networks


FortiGate 200B



FortiGate 200B-POE
Fortinet Products
FortiGate-200B
FortiGate-200B Firewall


*Includes 4x10/100/1000 FortiASIC-accelerated ports, 4x10/100/1000 & 8x10/100 non-accelerated ports, 1 FSM slot




*Special Blowout Price - Hurry, stock is limited!

#FG-200B
Our Price: $2,995.00


Special: $2,342.00

FortiGate-200B-POE Firewall


*Includes 4x10/100/1000 NP2 accelerated 10/100/1000, 4x10/100/1000 and 8x10/100 non-accelerated ports (POE source capable), 1 FSM slot




*Special Blowout Price - Hurry, stock is limited!

#FG-200B-POE
Our Price: $3,495.00


Special: $2,733.00

FortiGate-200B 8x5 Enhanced Bundle
Enhanced Bundles include Hardware Unit, Return and Replace, Firmware Upgrades, 8x5 Enhanced Support, Antivirus, IPS, Web Content Filtering, & Antispam.
FortiGate-200B 8x5 Enhanced Bundle, 1 Year


*Special Blowout Price - Hurry, stock is limited!

FG-200B-BDL
Our Price: $4,195.00


Special: $3,280.00

FortiGate-200B-POE 8x5 Enhanced Bundle, 1 Year


*Special Blowout Price - Hurry, stock is limited!

FG-200B-POE-BDL
Our Price: $4,995.00


Special: $3,906.00

FortiGate-200B 24x7 Comprehensive Bundle
Comprehensive Bundles include Hardware Unit, Advanced Hardware Replacement (NBD), Firmware Upgrades, 24X7 Comprehensive Support, Antivirus, IPS, Web Content Filtering, & Antispam.
FortiGate-200B 24x7 Comprehensive Bundle, 1 Year


*Special Blowout Price - Hurry, stock is limited!

FG-200B-BDL-950-12
Our Price: $4,707.00


Special: $3,680.00

FortiGate-200B-POE 24x7 Comprehensive Bundle, 1 Year


*Special Blowout Price - Hurry, stock is limited!

FG-200B-POE-BDL-950-12
Our Price: $5,593.00


Special: $4,373.00

FortiGate-200B Trade Up Program Comprehensive Bundles - Learn More
FortiGate-200B Trade Up Bundle, 2 Year
*Includes Hardware Unit, Advanced Hardware Replacement (NBD), Firmware Upgrades, 24X7 Comprehensive Support, AV, IPS, CF and AS
*Requires Qualifying Trade-up Product. Learn more!
#VG-TUG-200B-24
Our Price: $6,072.00


Special: $4,008.00

FortiGate-200B Trade Up Bundle, 3 Year
*Includes Hardware Unit, Advanced Hardware Replacement (NBD), Firmware Upgrades, 24X7 Comprehensive Support, AV, IPS, CF and AS
*Requires Qualifying Trade-up Product. Learn more!
#VG-TUG-200B-36
Our Price: $7,047.00


Special: $4,652.00

FortiGate-200B-POE Trade Up Program Comprehensive Bundles - Learn More
FortiGate-200B-POE Trade Up Bundle, 2 Year
*Includes Hardware Unit, Advanced Hardware Replacement (NBD), Firmware Upgrades, 24X7 Comprehensive Support, AV, IPS, CF and AS
*Requires Qualifying Trade-up Product. Learn more!
#VG-TUG-200B-POE-24
Our Price: $7,300.00


Special: $4,818.00

FortiGate-200B-POE Trade Up Bundle, 3 Year
*Includes Hardware Unit, Advanced Hardware Replacement (NBD), Firmware Upgrades, 24X7 Comprehensive Support, AV, IPS, CF and AS
*Requires Qualifying Trade-up Product. Learn more!
#VG-TUG-200B-POE-36
Our Price: $8,518.00


Special: $5,622.00
Click here to jump to more pricing!
Overview:
The FortiGate-200B series of consolidated network security platforms deliver wire-speed performance and integrated threat management. Purpose-built processors provide up to 5 Gbps firewall throughput, enabling you to protect your essential applications and systems without affecting throughput. The FortiGate-200B series lowers your operating and capital costs by consolidating multiple stand-alone security tools, including WLAN controllers.
FortiGate-200B/200B-POE Features & Benefits:
Delivers up to 5 Gbps firewall throughput with 8 GbE interfaces
FortiGate-200B-POE powers up to 8 wireless access points with integrated POE interfaces
IPv6-ready platform with strong authentication options for secure network access and security policy compliance
FSM expansion bay provides greater flexibility by supporting localized storage and reporting of event data, and WAN optimization
Centralized management and reporting through FortiManager and FortiAnalyzer appliances simplify the deployment and management of your security infrastructure
A "single pane of glass" management console makes it easy for you to deploy and manage
Unmatched Performance and Protection
The FortiGate-200B and FortiGate-200B-POE platforms deliver wire-speed performance and integrated threat management for wired or wireless networks. Their purpose-built processors provide up to 5 Gbps firewall throughput, enabling you to protect your applications and network without affecting availability or performance.
The FortiGate-200B series provides comprehensive threat protection with Fortinet's unmatched range of enterprise-grade security technologies. It delivers firewall, VPN (IPSec and SSL), intrusion prevention, antivirus/antispyware, antispam, and web filtering technologies The platforms also provides application control, data loss prevention, dynamic routing for IPv4 and IPv6, end point NAC, and SSL-encrypted traffic inspection. With no per-user pricing, you can deploy the specific technologies you need for your unique environment.
Wireless LAN Support
The FortiGate-200B series allows you to manage all of your security policies for both your wired and wireless networks from a single platform. Both models can act as wireless controllers for FortiAP wireless access points (WAPs). The FortiGate- 200B-POE also delivers Power Over Ethernet (POE) for up to 8 WAPs. Consolidating all network traffic through the FortiGate-200B series enables you to increase your network visibility and improve policy compliance while eliminating the need to manage a separate WLAN network.
Fortinet Storage Module
The FortiGate-200B series also includes a Fortinet Storage Module (FSM) bay. The optional FSM provides disk-based storage for you to archive content locally for policy compliance. Alternately, you can use the FSM to enable WAN optimization, which improves network performance while reducing your costs.
Switch-Like Performance
FortiASIC purpose-built processors ensure that your security countermeasures will not become a network bottleneck. The FortiASIC CP6 processor delivers acceleration for encryption/decryption features, including IPSec VPN and SSL inspection. The FortiASIC NP2 processor delivers firewall and VPN throughput at switching speeds by performing high-speed processing of network flows.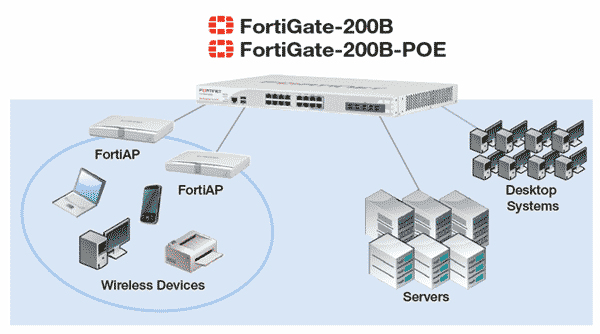 Protection for Wired and Wireless Networks
Both the FortiGate-200B and FortiGate- 200B-POE platforms allow you to manage all of your security policies for both your wired and wireless networks. Both models can act as wireless controllers for FortiAP WAPs. The FortiGate-200B-POE has the added benefit of delivering POE for up to 8 WAPs.
You can also reduce your costs and increase your policy compliance by consolidating all network traffic through the FortiGate-200B series. Consolidation eliminates the need to manage a separate WLAN and increases your overall network visibility.
Features & Benefits:


| Features | Benefits |
| --- | --- |
| Enterprise-grade protection for smaller networks | Enables small and medium businesses to deploy FortiGate's unmatched protection and performance at an affordable price |
| Wireless Controller for Wireless Access Points | Eliminates potential security blind spots by integrating policy enforcement for wired and wireless networks |
| Centralized management | FortiManager and FortiAnalyzer centralized management and reporting appliances simplify the deployment, monitoring, and maintenance of the security infrastructure |
Integrated Multi-Threat Protection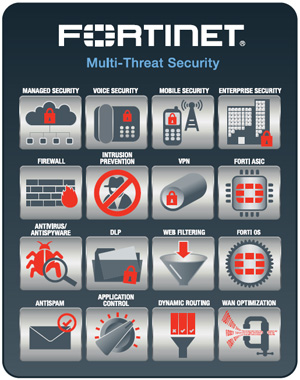 The FortiGate product family provides cost-effective, comprehensive protection against network, content, and application-level threats. It defends your environment from complex, sophisticated attacks without degrading network availability and affecting application performance.
FortiGate platforms combine the purpose-built FortiOS™ security operating system with custom FortiASIC processors and other hardware to provide a comprehensive and highperformance array of security and networking functions.
The FortiGate product family delivers the highest level of network, content, and application security for enterprises of all sizes, while reducing total cost of ownership. With Fortinet, you deploy the network security you need to protect your intellectual property, preserve the privacy of critical customer information, and maintain regulatory compliance.
FortiOS 5.0 Software
FortiOS 5.0, the world's most powerful security operating system, is the foundation for all Fortinet FortiGate integrated security platforms. It provides more security, intelligence and control to help enterprises be better protected against today's advanced threats and enable more secure BYOD environments.
More Security Fighting Advanced Threats
More Security to fight advanced threats. A client reputation feature gives enterprises a cumulative security ranking of each device based on a range of behaviors and provides specific, actionable information that enables organizations to identity compromised systems and potential zero-day attacks in real time. The new advanced anti-malware detection system adds an on-device behavior-based heuristic engine and cloud-based AV services that includes an operating system sandbox and botnet IP reputation database. Together with superior industry-validated AV signatures, FortiOS 5.0 delivers unbeatable multi-layered protection against today's sophisticated malware.

Client Reputation with Cumulative Rankings
OS Sandbox
Advanced Botnet Protection

More Control Securing Mobile Devices
More Control to secure mobile devices and BYOD environments by identifying devices and applying specific access policies as well as ecurity profiles, according to the device type or device group, location and usage.

Device Identification & Visibility
New Identity Based Policies
Endpoint Control

More Intelligence Build Smart Policies
More Intelligence with automatic adjustment of role-based policies for users and guests based on location, data and application profile. Enhanced reporting and analysis also provides administrators with more intelligence on the behavior of their network, users, devices, applications and threats.

Provide Guest Access with Confidence
Enhanced Visibility & Reporting and Overal User Experience
Extended Single Sign On Capabilities
Fortinet's ASIC-Based Advantage
FortiASIC is the foundation of Fortinet's unique hardware technology. FortiASIC is a family of purpose built, high-performance network and content processors that uses an intelligent proprietary content scanning engine and multiple algorithms to accelerate compute-intensive security services. FortiASIC provides the performance required to deliver enterprise and carrier-class UTM services. Coupled with the FortiOS security hardened Operating System, FortiASIC delivers extreme performance and security.
Technical Specifications: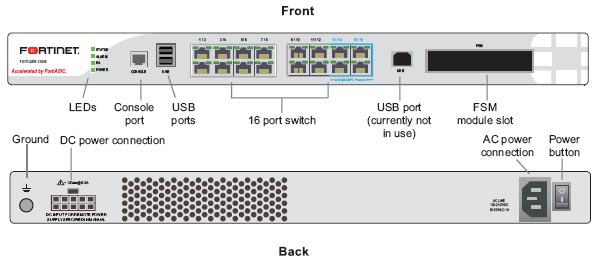 FortiGate Model
FortiGate-200B
FortiGate-200B-POE
Hardware Specifications
10/100/1000 FortiASIC NP2-Accelerated Interfaces (Copper, RJ-45)
4
4
10/100/1000 Interfaces (Copper, RJ-45)
4
4
10/100 Switch Interfaces (Copper, RJ-45)
8
0
10/100 Switch Interfaces - PoE (Copper, RJ-45)
0
8
FSM Storage Bay
1
1
Console (Copper, RJ-45)
1
1
USB Interfaces
3
3
Operating System
Hardened FortiOS
Hardened FortiOS
System Performance
Firewall Throughput (512/1518 byte UDP packets)
5 Gbps
Firewall Throughput (64 byte UDP packets)
4 Gbps
IPSec VPN Throughput
2.5 Gbps
IPS Throughput*
500 Mbps
Antivirus Throughput*
95 Mbps
Gateway-to-Gateway IPSec VPN Tunnels
2,000
Client-to-Gateway IPSec VPN Tunnels
2,000
Concurrent Sessions
500,000
Concurrent SSL VPN Users (Recommended Max)
200
Firewall Policies (Max)
6,000
Virtual Domains (Max / Default)
10 / 10
Unlimited User Licenses
Yes
Wireless Acces Points Supported
32
Dimensions
Height
1.75 in (4.45 cm)
Width
17 in (43.20 cm)
Length
11.6 in (29.35 cm)
Weight
9 lbs 13 oz (4.45 kg)
Rack Mountable
Yes
Environment
Power Required
100-240 VAC, 60 - 50 Hz, 2-1 Amp
100-240 VAC, 60 - 50 Hz, 5-4 Amp
Power Consumption (AVG)
74W
Varies based on number of PoE Ports used.
Operating Temperature
34 to 104°F (0 to 40°C)
Storage Temperature
-31 to 158°F (-35 to 70°C)
Humidity
20 to 90% non-condensing
Compliance and Certifications
Compliance
FCC Class A Part 15, UL/CUL, C Tick, VCCI
Certifications
ICSA Labs: Firewall, Antivirus, IPSec VPN, Intrusion Prevention
*Antivirus performance is measured based on HTTP traffic with 32Kbyte file attachments and IPS performance is measured based on UDP traffic with 512byte packet size. Actual performance may vary depending on network traffic and environments.
FortiOS 4.0 Video:
Learn more about the features and merits of the new FortiOS 4.0 operating system and its four main new features: WAN Optimization, Data Leakage Prevention, SSL Inspection and Application Control, and how they can be used to secure and accelerate networks of all sizes.
Services & Support:


FortiGuard Security Subscription Services
FortiGuard Security Subscription Services deliver dynamic, automated updates for Fortinet products. The Fortinet Global Security Research Team creates these updates to ensure up-to-date protection against sophisticated threats. Subscriptions include antivirus, intrusion prevention, web filtering, antispam, vulnerability and compliance management, application control, and database security services.
FortiCare Support Services
FortiCare Support Services provide global support for all Fortinet products and services. FortiCare support enables your Fortinet products to perform optimally. Support plans start with 8x5 Enhanced Support with "return and replace" hardware replacement or 24x7 Comprehensive Support with advanced replacement. Options include Premium Support, Premium RMA, and Professional Services. All hardware products include a 1-year limited hardware warranty and 90-day limited software warranty.
Documentation:

Download the Fortinet FortiGate-200B Datasheet (.PDF)
Fortinet Products
FortiGate-200B
FortiGate-200B Firewall


*Includes 4x10/100/1000 FortiASIC-accelerated ports, 4x10/100/1000 & 8x10/100 non-accelerated ports, 1 FSM slot




*Special Blowout Price - Hurry, stock is limited!

#FG-200B
Our Price: $2,995.00


Special: $2,342.00

FortiGate-200B-POE Firewall


*Includes 4x10/100/1000 NP2 accelerated 10/100/1000, 4x10/100/1000 and 8x10/100 non-accelerated ports (POE source capable), 1 FSM slot




*Special Blowout Price - Hurry, stock is limited!

#FG-200B-POE
Our Price: $3,495.00


Special: $2,733.00

FortiGate-200B 8x5 Enhanced Bundle
Enhanced Bundles include Hardware Unit, Return and Replace, Firmware Upgrades, 8x5 Enhanced Support, Antivirus, IPS, Web Content Filtering, & Antispam.
FortiGate-200B 8x5 Enhanced Bundle, 1 Year


*Special Blowout Price - Hurry, stock is limited!

FG-200B-BDL
Our Price: $4,195.00


Special: $3,280.00

FortiGate-200B-POE 8x5 Enhanced Bundle, 1 Year


*Special Blowout Price - Hurry, stock is limited!

FG-200B-POE-BDL
Our Price: $4,995.00


Special: $3,906.00

FortiGate-200B 8x5 Enhanced Bundle, 2 Year


*Special Blowout Price - Hurry, stock is limited!

FG-200B-BDL-900-24
Our Price: $5,245.00


Special: $4,101.00

FortiGate-200B-POE 8x5 Enhanced Bundle, 2 Year


*Special Blowout Price - Hurry, stock is limited!

FG-200B-POE-BDL-900-24
Our Price: $6,308.00


Special: $4,932.00

FortiGate-200B 8x5 Enhanced Bundle, 3 Year


*Special Blowout Price - Hurry, stock is limited!

FG-200B-BDL-900-36
Our Price: $5,995.00


Special: $4,688.00

FortiGate-200B-POE 8x5 Enhanced Bundle, 3 Year


*Special Blowout Price - Hurry, stock is limited!

FG-200B-POE-BDL-900-36
Our Price: $7,245.00


Special: $5,665.00

FortiGate-200B 24x7 Comprehensive Bundle
Comprehensive Bundles include Hardware Unit, Advanced Hardware Replacement (NBD), Firmware Upgrades, 24X7 Comprehensive Support, Antivirus, IPS, Web Content Filtering, & Antispam.
FortiGate-200B 24x7 Comprehensive Bundle, 1 Year


*Special Blowout Price - Hurry, stock is limited!

FG-200B-BDL-950-12
Our Price: $4,707.00


Special: $3,680.00

FortiGate-200B-POE 24x7 Comprehensive Bundle, 1 Year


*Special Blowout Price - Hurry, stock is limited!

FG-200B-POE-BDL-950-12
Our Price: $5,593.00


Special: $4,373.00

FortiGate-200B 24x7 Comprehensive Bundle, 2 Year


*Special Blowout Price - Hurry, stock is limited!

FG-200B-BDL-950-24
Our Price: $6,072.00


Special: $4,748.00

FortiGate-200B-POE 24x7 Comprehensive Bundle, 2 Year


*Special Blowout Price - Hurry, stock is limited!

FG-200B-POE-BDL-950-24
Our Price: $7,300.00


Special: $5,708.00

FortiGate-200B 24x7 Comprehensive Bundle, 3 Year


*Special Blowout Price - Hurry, stock is limited!

FG-200B-BDL-950-36
Our Price: $7,047.00


Special: $5,510.00

FortiGate-200B-POE 24x7 Comprehensive Bundle, 3 Year


*Special Blowout Price - Hurry, stock is limited!

FG-200B-POE-BDL-950-36
Our Price: $8,518.00


Special: $6,661.00

FortiGate-200B Trade Up Program Comprehensive Bundles - Learn More
FortiGate-200B Trade Up Bundle, 2 Year
*Includes Hardware Unit, Advanced Hardware Replacement (NBD), Firmware Upgrades, 24X7 Comprehensive Support, AV, IPS, CF and AS
*Requires Qualifying Trade-up Product. Learn more!
#VG-TUG-200B-24
Our Price: $6,072.00


Special: $4,008.00

FortiGate-200B Trade Up Bundle, 3 Year
*Includes Hardware Unit, Advanced Hardware Replacement (NBD), Firmware Upgrades, 24X7 Comprehensive Support, AV, IPS, CF and AS
*Requires Qualifying Trade-up Product. Learn more!
#VG-TUG-200B-36
Our Price: $7,047.00


Special: $4,652.00

FortiGate-200B-POE Trade Up Program Comprehensive Bundles - Learn More
FortiGate-200B-POE Trade Up Bundle, 2 Year
*Includes Hardware Unit, Advanced Hardware Replacement (NBD), Firmware Upgrades, 24X7 Comprehensive Support, AV, IPS, CF and AS
*Requires Qualifying Trade-up Product. Learn more!
#VG-TUG-200B-POE-24
Our Price: $7,300.00


Special: $4,818.00

FortiGate-200B-POE Trade Up Bundle, 3 Year
*Includes Hardware Unit, Advanced Hardware Replacement (NBD), Firmware Upgrades, 24X7 Comprehensive Support, AV, IPS, CF and AS
*Requires Qualifying Trade-up Product. Learn more!
#VG-TUG-200B-POE-36
Our Price: $8,518.00


Special: $5,622.00

FortiGate-200B 1 Year Hardware Bundle Upgrade
1 Year Hardware Bundle Upgrade from 8x5 to 24x7 FortiCare Contract for FortiGate-200B
#FC-10-00202-274-01-12
Our Price: $512.00
FortiGate-200B 1 Year Hardware Bundle Upgrade
1 Year Hardware Bundle Upgrade from 8x5 to 24x7 FortiCare Contract for FortiGate-200B-POE
#FC-10-00203-274-01-12
Our Price: $598.00
FortiGate Storage Module
64 GB Solid State Drive for FortiGate with FSM slot


*Provides localized storage of local logging, contentn archiving for policy compliance and WAN optimization (local caching)

#FSM-064
Our Price: $995.00
Fortinet Bundle Renewals
FortiGate-200B 8x5 Bundle Subscription Renewal
The 8x5 Bundle Subscription renewal includes 8X5 Hardware Return and Replace (3 Days), Firmware Upgrades, 8x5 Enhanced Support, Anti-Virus, IPS, Content Filtering and Anti-Spam.
8x5 for FortiGate-200B, 1-Year Bundle Renewal
#FC-10-00202-900-02-12
Our Price: $1,200.00
8x5 for FortiGate-200B, 2-Year Bundle Renewal
#FC-10-00202-900-02-24
Our Price: $2,250.00
8x5 for FortiGate-200B, 3-Year Bundle Renewal
#FC-10-00202-900-02-36
Our Price: $3,150.00
FortiGate-200B-POE 8x5 Bundle Subscription Renewal
8x5 for FortiGate-200B-POE, 1-Year Bundle Renewal
#FC-10-00203-900-02-12
Our Price: $1,500.00
8x5 for FortiGate-200B-POE, 2-Year Bundle Renewal
#FC-10-00203-900-02-24
Our Price: $2,813.00
8x5 for FortiGate-200B-POE, 3-Year Bundle Renewal
#FC-10-00203-900-02-36
Our Price: $3,938.00
FortiGate-200B 24x7 Bundle Subscription Renewal
The 24x7 Bundle Subscription renewal includes Advanced Hardware Replacement (NBD), Firmware Upgrades, 24X7 Comprehensive Support, Anti-Virus, IPS, Content Filtering and Anti-Spam.
24x7 for FortiGate-200B, 1-Year Bundle Renewal
#FC-10-00202-950-02-12
Our Price: $1,560.00
24x7 for FortiGate-200B, 2-Year Bundle Renewal
#FC-10-00202-950-02-24
Our Price: $2,925.00
24x7 for FortiGate-200B, 3-Year Bundle Renewal
#FC-10-00202-950-02-36
Our Price: $4,095.00
FortiGate-200B-POE 24x7 Bundle Subscription Renewal
The 24x7 Bundle Subscription renewal includes Advanced Hardware Replacement (NBD), Firmware Upgrades, 24X7 Comprehensive Support, Anti-Virus, IPS, Content Filtering and Anti-Spam.
24x7 for FortiGate-200B-POE, 1-Year Bundle Renewal
#FC-10-00203-950-02-12
Our Price: $1,950.00
24x7 for FortiGate-200B-POE, 2-Year Bundle Renewal
#FC-10-00203-950-02-24
Our Price: $3,657.00
24x7 for FortiGate-200B-POE, 3-Year Bundle Renewal
#FC-10-00203-950-02-36
Our Price: $5,119.00
Fortinet FortiGuard Subscriptions Renewal
FortiGuard Subscriptions 1-Year Renewal for FortiGate-200B
AntiVirus (AV) Service for FortiGate-200B, 1-Year Renewal
#FC-10-00202-100-02-12
Our Price: $748.00
IPS Service for FortiGate-200B, 1-Year Renewal
#FC-10-00202-108-02-12
Our Price: $599.00
Web Service for FortiGate-200B, 1-Year Renewal
#FC-10-00202-112-02-12
Our Price: $1,198.00
AntiSpam (AS) Service for FortiGate-200B, 1-Year Renewal
#FC-10-00202-114-02-12
Our Price: $539.00
AV, IPS, Web, and AS Service for FortiGate-200B, 1-Year Renewal
#FC-10-00202-107-02-12
Our Price: $2,159.00
FortiGuard Subscriptions 1-Year Renewal for FortiGate-200B-POE
AntiVirus (AV) Service for FortiGate-200B-POE, 1-Year Renewal
#FC-10-00203-100-02-12
Our Price: $874.00
IPS Service for FortiGate-200B-POE, 1-Year Renewal
#FC-10-00203-108-02-12
Our Price: $699.00
Web Service for FortiGate-200B-POE, 1-Year Renewal
#FC-10-00203-112-02-12
Our Price: $1,398.00
AntiSpam (AS) Service for FortiGate-200B-POE, 1-Year Renewal
#FC-10-00203-114-02-12
Our Price: $630.00
AV, IPS, Web, and AS Service for FortiGate-200B-POE, 1-Year Renewal
#FC-10-00203-107-02-12
Our Price: $2,520.00
Fortinet FortiCare 8x5 Subscriptions
FortiGate-200B FortiCare 8x5, Renewals
The FortiCare 8x5 Renewal includes 8x5 Enhanced Support, Return and Replace, Firmware Upgrades, VPN, Traffic Management
8x5 FortiCare for FortiGate-200B, 1-Year Renewal
#FC-10-00202-311-02-12
Our Price: $449.00
8x5 FortiCare for FortiGate-200B, 2-Year Renewal
#FC-10-00202-311-02-24
Our Price: $842.00
8x5 FortiCare for FortiGate-200B, 3-Year Renewal
#FC-10-00202-311-02-36
Our Price: $1,179.00
FortiGate-200B-POE FortiCare 8x5, Renewals
8x5 FortiCare for FortiGate-200B-POE, 1-Year Renewal
#FC-10-00203-311-02-12
Our Price: $525.00
8x5 FortiCare for FortiGate-200B-POE, 2-Year Renewal
#FC-10-00203-311-02-24
Our Price: $985.00
8x5 FortiCare for FortiGate-200B-POE, 3-Year Renewal
#FC-10-00203-311-02-36
Our Price: $1,379.00
Fortinet FortiCare 24x7 Subscriptions
FortiGate-200B FortiCare 24x7, Renewals
The FortiCare 24x7 Renewal includes 24x7 Comprehensive Support, Advanced Hardware Replacement (NBD), Firmware Upgrades, VPN, and Traffic Management
24x7 FortiCare for FortiGate-200B, 1-Year Renewal
#FC-10-00202-247-02-12
Our Price: $748.00
24x7 FortiCare for FortiGate-200B, 2-Year Renewal
#FC-10-00202-247-02-24
Our Price: $1,403.00
24x7 FortiCare for FortiGate-200B, 3-Year Renewal
#FC-10-00202-247-02-36
Our Price: $1,965.00
FortiGate-200B-POE FortiCare 24x7, Renewals
24x7 FortiCare for FortiGate-200B-POE, 1-Year Renewal
#FC-10-00203-247-02-12
Our Price: $874.00
24x7 FortiCare for FortiGate-200B-POE, 2-Year Renewal
#FC-10-00203-247-02-24
Our Price: $1,639.00
24x7 FortiCare for FortiGate-200B-POE, 3-Year Renewal
#FC-10-00203-247-02-36
Our Price: $2,295.00