Fortinet FortiFone-675i

Next-generation SMB phone systems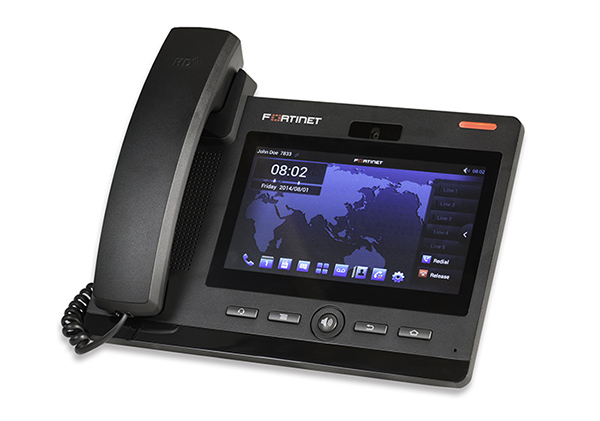 Fortinet FortiFone 675i Series
FortiFone-675i
Fortinet FortiFone-675i

Executive video IP phone with 7"colour touch screen, 100 programmable keys, POE and 10/100/1000 LAN and PC connections
#FON-675i
List Price: $500.00
Our Price: $391.00
FortiVoice Accessories
FON-670i/675i Power adapter
#FVC-PS670i-NA
Our Price: $25.00
Introducing the FON-670i and FON-675i, a great combination of business-class features and vivid touchscreen. An executive phone with programmable appearance keys and the features you need at your fingertips. With an optional HD video camera and HDMI out port to compliment these features, this new FortiFone is a power house.
Highlights
Android OS with 7-inch color touchscreen
Up to 100 programmable keys
Video call support (FON-675i only)
HDMI port supporting external projectors
Gigabit Ethernet ports with PoE support
Features
Phone

Auto-discovery of FortiVoice system on the LAN
Message waiting indicator and counter
SIP transport with UDP, TCP or TLS
6 SIP lines
LLDP-MED
QoS with 802.1p/q and DSCP

Video (FON-675i only)

Video codec: H.264 / H.263
Video format: MP4 / 3GP / FLV
Video call resolution: up to 1280x720p
Bandwidth usage: 64 kbps–4 Mbps
Frame rate: 10–30 fps
Picture-in-Picture

Audio

Codec: G.722, G.711(A/μ), G.723.1, G.729AB
DTMF: In-band, Out-of-band (RFC 2833) and SIP INFO
Voice Activity Detection
Comfort Noise Generation
Adaptive jitter buffer
Packet Loss Concealment

Hardware

Quad Core CPU
7-inch TFT 800x480 capacitive multi touchscreen
RJ9 headset jack
10/100/1000 Base-T RJ45 for LAN and PC
Power over Ethernet (802.3af)
USB 2.0 port and SD interface
Camera with adjustable position (FON-675i only)

Call

Call forwarding
Call transfer
Call holding
Call waiting
Do not disturb
Auto answer
Intercom
BLF/BLA
Documentation:
Download the Fortine FortiFone FON-670i/675i Series Data Sheet (PDF).
Fortinet FortiFone 675i Series
FortiFone-675i
Fortinet FortiFone-675i

Executive video IP phone with 7"colour touch screen, 100 programmable keys, POE and 10/100/1000 LAN and PC connections
#FON-675i
List Price: $500.00
Our Price: $391.00
FortiVoice Accessories
FON-670i/675i Power adapter
#FVC-PS670i-NA
Our Price: $25.00