Fortinet FortiDB 2000B
Database Security and Compliance

Fortinet Products
FortiDB-2000B
Fortinet FortiDB-2000B Appliance
- Includes license for 60 database instances
#FDB-2000B-EMS01
Our Price: $29,995.00
FortiDB-2000B Bundle
Fortinet FortiDB-2000B plus 1 year 8x5 Forticare and FortiGuard Bundle
- 1-year subscription to all FortiGuard services: Antivirus, IPS, Web Content Filtering, & Antispam
- 1-year FortiCare maintenance and 8X5 support
#FDB-2000B-EMS01-BDL
Our Price: $37,495.00
Click here to jump to more pricing!
Overview:
The FortiDB-2000B appliance provides scalable database vulnerability assessment and compliance solutions for large enterprises in a quickly-installed, easily managed package. Its centralized web-based management application ensures consistent database security policies across the organization without imposing a high management burden on database and IT staff. Following auto-discovery of every database on the network regardless of subnet boundaries, the FortiDB-2000B scans for security problems and provides advice on how to fix them with vulnerability assessments that can be viewed within minutes of installation. Ongoing scans of all your databases assure continued protection based on extensive built-in best practices plus easily-customized individual organizational standards. 24 x 7 database activity monitoring captures all forms of database activity to detect erroneous or malicious activity. Database auditing records all database activity for complete and accurate audit trails, with independent storage for additional security.
Targeting large enterprises the FortiDB-2000B appliance provides scalable database security and compliance solution. Utilizing its flexible policy framework, the FortiDB-2000B allows quick and easy implementation of internal IT control frameworks for database activity monitoring (DAM/DAA), IT audit, and regulatory compliance.
FortiDB-2000B Features & Benefits:
Enterprise-class protection for up to 60 databases extends built-in database security features for comprehensive protection against internal and external threats.
Flexible audit data collection methods enable you to utilize native audit, network sniffer or agents to handle complex environments
Web-based centralized management of multiple distributed, heterogeneous databases enables consistent policy enforcement across the enterprise
Independent audit storage provides an additional security layer for audit integrity, including self-auditing of FortiDB
Out-of-the-box reports help you to meet security and compliance requirements such as SOX and PCI
Quick time-to-value with hundreds of pre-populated policies covering known exploits, configuration weaknesses, and operational risks
Automated Security and Compliance
The FortiDB family of appliances and software delivers a complete Database and Application security product line. It delivers centrally managed security, audit policy compliance and Vulnerability Management (VM) for databases and applications across your extended enterprise. FortiDB enables you to meet the challenges of increasing access to your business-critical data in ERP, CRM, or SCM systems while decreasing the threat of data breach. Its sophisticated database activity monitoring (DAM) and advanced reporting automatically documents your policy compliance with internal policies as well as government or industry regulations such as PCI-DSS,
Comprehensive Monitoring and Audit
FortiDB enforces acceptable use policies and alerts on database security threats. It continuously monitors all access to personally identifiable data (PID) residing in your databases. FortiDB's full-featured monitoring and auditing technology manages critical tasks such as change control, internal controls, privileged user monitoring, privacy protection and policy based auditing. Its change control features keep track of all changes related to database structures and users. This includes both Data Definition Language (DDL) and Data Control Language (DCL). FortiDB also automatically generates user activity baselines for easy policy configuration. FortiDB provides three collection methods - Selective Native Audit, Network Sniffer and Agents. Allowing to utilize all three methods within the same installation, FortiDB provides greater flexibility than any other product.
Detect Weaknesses Automatically
FortiDB's Vulnerability Management features automatically detects new security weaknesses, policy noncompliance. In addition, customers can scan their networks to detect and discover new databases and a Sensitive Data Discovery function allows identifying database elements that hold sensitive data such as credit card numbers, Social Security numbers and much more. FortiDB appliances and software ship with hundreds of pre configured policies that address industry and governmental compmliance requirements, as well as security best practices. They include a comprehensive set of standards-based reports that provide specific, actionable information. The FortiGuard Global Threat Research Team provides dynamic policy and signature updates. This industry-leading research and remediation advice enables you to strengthen the integrity and security of your databases quickly and effectively.
Low Impact Total Cost of Ownership (TCO)
Failing to keep up with today's regulations for data security can be cost prohibitive. FortiDB simplifi es the process with regular policy and signature updates via XML, and current industry leading remediation advice that strengthens the integrity and security of databases—mitigating internal threats, managing database vulnerabilities to prevent costly breaches, and improving visibility of access policy security violations. Native audit guarantees a 100% capture rate. And the low impact, non-intrusive agent-less architecture simplifying deployment does not interfere with database operations or put applications at risk.
Features & Benefits:


| Features: | Benefits: |
| --- | --- |
| Centralized policy configuration and enforcement | Simplifies the creation and enforcement of data protection policies, which reduces the risk of data loss while increasing policy compliance. |
| Assessment | Provides remediation advice after vulnerability scans. Discovers sensitive data in databases. Also establishes user activity Baselines for more efficient policy configuration. |
| Captures all types of database activities (Selects, DMLs, DDLs and DCLs) | Captures database activities, either utilizing the native audit, network protocol agents, or network sniffers. Alerts can be sent via SNMP, SMTP and SYSLOG to SEIM products. |
| Automation of compliance | Captures audit data from heterogeneous environments for automated compliance reporting. |
| Supports virtualized environments | Ensures comprehensive policy compliance enforcement in both virtualized and standard environments. |
FortiDB Eases Regulatory Compliance
Sensitive data discovery; aids in PCIDSS compliance
Periodic scan of every Database in your network
Automatic user activity baseline generation for easy configuration
Built-in best practices for regulations such as SOX
Out of the box policies for both Security and Audit
Flexible deployment and web-based management
Flexible audit data collection methods - native auditing, network sniffer or light-weight agents
Independent and secure audit storage
Comprehensive Audit/Compliance reports
Automated policy updates by FortiGuard services
Technical Specifications: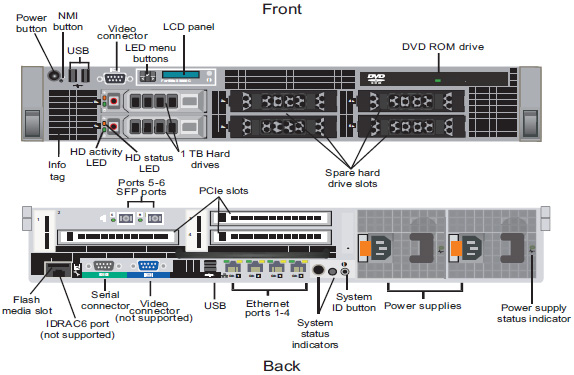 FortiDB Models
FortiDB-400C
FortiDB-1000C
FortiDB-2000B
FortiDB Models
Hardware Specifications
Security Hardened Platform
Yes
Yes
Yes
Number of Licensed Database Instances
10
30
60
10/100/1000 Interfaces
4
4
4
Number of Hard Drives
1
1
1
Total Hard Drive Capacity
1 TB
1 TB (2 TB option)
1 TB (6 TB option)
Storage Key (Boot Image)
2 GB Onboard Flash
1 GB USB
1 GB USB
Redundant Hot Swappable Power Supplies
No
No
Yes
Hardware Form Factor
Rack Mount (1-RU)
Rack Mount (1-RU)
Rack Mount (2-RU)
Dimensions
Height
1.7 in (4.5 cm)
1.69 in (4.3 cm)
3.5 in (8.9 cm)
Width
17.1 in (43.5 cm)
17.09 in (43.4 cm)
17.5 in (43.8 cm)
Length
14.3 in (36.4 cm)
24.7 (62.71 cm)
27.5 in (69.8 cm)
Weight
14.15 lbs (6.42 kg)
24.2 lbs (11 kg)
55.3 lbs (25.1 kg)
Environmental
AC Power Required
100 – 240 VAC, 50 – 60 Hz, 4 Amp (Max)
100 – 240 VAC, 50 – 60 Hz, 7 Amp (Max)
100 – 240 VAC, 50 – 60 Hz, 9.4 Amp (Max)
Power Consumption (AVG)
181 W
189 W
317 W
Operating Temperature
32 – 104 deg F
(0 – 40 deg C)
32 – 104 deg F
(0 – 40 deg C)
50 to 95 deg F
(10 to 35 deg C)
Storage Temperature
-31 to 158 deg F
(-35 to 70 deg C)
-40 to 149 deg F
(-40 to 65 deg C)
-40 to 149 deg F
(-40 to 65 deg C)
Humidity
10 to 90% non-condensing
5 to 95% non-condensing
20 to 80% non-condensing
Compliance
FCC Part 15 Class A, C-Tick, VCCI, CE, UL/cUL, CB
FCC Class A Part 115 / CE Mark
FCC Class A Part 115 / CE Mark
Supported Platforms
Database
DB2 UDB V8 (VA only), DB2 UDB V9.x (VA only), DB2 UDB V9.5, DB2 UDB V9.7, MS SQL Server 2000, MS SQL Server 2005, MS SQL Server 2008, MySQL 5.1, 5.5, Oracle 9i, Oracle 10gR1 (VA only), Oracle 10gR2, Oracle 11g, SybaseASE 12.5 (VA only), Sybase ASE 15.x
Repository Database
Apache Derby 10.x, Microsoft SQL Server 2005, Microsoft SQL Server 2008, Oracle 10gR2, Oracle 11g, PostgreSQL 8.3
Browser
Internet Explorer 7,8; Firefox 3,4,5
Screenshots:
FortiDB Software
Fortinet also gives you the ability to deploy FortiDB database security software on a range of software platforms. You can install FortiDB on Red Hat Linux, AIX, Solaris 10, Windows XP/Vista, Windows Server 2003, as well as virtualized environments. FortiDB software delivers the same centralized policy management for vulnerability management and database activity monitoring as FortiDB appliances.

Dashboard
FortiDB's dashboard displays essential Vulnerability Assessment and Database Activity Monitoring/Audit information.



Activity Profiling
FortiDB automatically generates user activity baselines for easy policy configuration.

Alert Summary
High level overview of alerts and trends.

Alerts Analysis
Detailed trend analysis allows users to improve their internal control infrastructure.
Services & Support:


FortiGuard Security Subscription Services
FortiGuard Security Subscription Services deliver dynamic, automated updates for Fortinet products. The Fortinet Global Security Research Team creates these updates to ensure up-to-date protection against sophisticated threats. Subscriptions include antivirus, intrusion prevention, web filtering, antispam, vulnerability and compliance management, application control, and database security services.
FortiCare Support Services
FortiCare Support Services provide global support for all Fortinet products and services. FortiCare support enables your Fortinet products to perform optimally. Support plans start with 8x5 Enhanced Support with "return and replace" hardware replacement or 24x7 Comprehensive Support with advanced replacement. Options include Premium Support, Premium RMA, and Professional Services. All hardware products include a 1-year limited hardware warranty and 90-day limited software warranty.
Documentation:

Download the Fortinet FortiDB Database Security Datasheet (PDF).
Fortinet Products
FortiDB-2000B
Fortinet FortiDB-2000B Appliance
- Includes license for 60 database instances
#FDB-2000B-EMS01
Our Price: $29,995.00
FortiDB-2000B Bundle
Fortinet FortiDB-2000B plus 1 year 8x5 Forticare and FortiGuard Bundle
- 1-year subscription to all FortiGuard services: Antivirus, IPS, Web Content Filtering, & Antispam
- 1-year FortiCare maintenance and 8X5 support
#FDB-2000B-EMS01-BDL
Our Price: $37,495.00
FortiDB-2000B 1 Year Hardware Bundle Upgrade
1 Year Hardware Bundle Upgrade from 8x5 to 24x7 FortiCare Contract for FortiDB-2000B
#FC-10-D2000-274-01-12
Our Price: $5,129.00
Fortinet Bundle Renewals
FortiDB-2000B 8x5 Bundle Subscription Renewal
The 8x5 Bundle Subscription renewal includes 8X5 Hardware Return and Replace (3 Days), Firmware Upgrades, 8x5 Enhanced Support, Anti-Virus, IPS, Content Filtering and Anti-Spam.
8x5 for FortiDB-2000B, 1-Year Bundle Renewal
#FC-10-D2000-902-02-12
Our Price: $7,500.00
FortiDB-2000B 24x7 Bundle Subscription Renewal
The 24x7 Bundle Subscription renewal includes Advanced Hardware Replacement (NBD), Firmware Upgrades, 24X7 Comprehensive Support, Anti-Virus, IPS, Content Filtering and Anti-Spam.
24x7 for FortiDB-2000B, 1-Year Bundle Renewal
#FC-10-D2000-957-02-12
Our Price: $9,750.00
Fortinet FortiDB Security Service (DBS)
FortiDB Security Service (DBS)
FortiDB Security Service (DBS) for FortiDB-2000B, 1-Year
#FC-10-D2000-135-02-12
Our Price: $5,999.00
Fortinet FortiCare 8x5 Subscriptions
FortiDB-2000B FortiCare 8x5
The FortiCare 8x5 Renewal includes 8x5 Enhanced Support, Return and Replace, Firmware Upgrades, VPN, Traffic Management
8x5 FortiCare for FortiDB-2000B, 1-Year
#FC-10-D2000-311-02-12
Our Price: $4,499.00
Fortinet FortiCare 24x7 Subscriptions
FortiDB-2000B FortiCare 24x7
The FortiCare 24x7 Renewal includes 24x7 Comprehensive Support, Advanced Hardware Replacement (NBD), Firmware Upgrades, VPN, and Traffic Management
24x7 FortiCare for FortiDB-2000B, 1-Year
#FC-10-D2000-247-02-12
Our Price: $7,499.00