Fortinet FortiCam MB40

Video Security IP Camera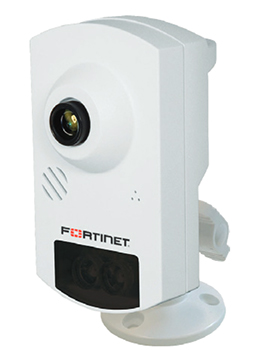 Fortinet FortiCam-MB40 Series
Fortinet FortiCam-MB40

Fortinet FortiCam-MB40
4 Megapixel Fixed Mini Box IP Camera, 5m IR LED, 2.8mm fixed lens, 1x 10/100 port with 802.3af PoE, Indoor Use
#FCM-MB40
List Price: $369.00
Our Price: $332.00
Click here to jump to more pricing!
Overview:
Get complete visual coverage inside and out with FortiCameras. With options for indoor and outdoor, vandal-proof, weatherproof, lowlight night vision, fixed and motorized zoom lenses and 2-way audio, there's a FortiCam that fits every environment. All FortiCams deliver crisp, high-resolution HDTV-quality images to any FortiRecorder NVR, either continuously or triggered by a range of events, including motion and/or audio detection.
Easy to set up, license-free
With FortiCameras, installation is a breeze. They support PoE, eliminating the need for AC power. Just connect the camera to the FortiRecorder network via a PoE switch and you're up and running. No software installation, no patches and, unlike using third-party cameras, no license fees.
The Power to See Everything: the Complete Video Security Solution
Combined with the FortiRecorder NVR, FortiCameras give you everything you need for complete facility video security.
Scheduled and manual recording
Motion detection and continuous recordings
Snapshot notifications and alerts
Web-based interface (no software installation required)
Camera live view and video playback
Event monitor with timeline
RADIUS, LDAP, SNMP and remote data storage support for flexible network integration
Powerful Windows client FortiRecorder Central
Mobile access on iOS and Android
Key Features & Benefits
Clear high-definition visuals, even in the dark
Your security footage won't be much use if you can't see what's going on. HDTV-quality and advanced low-light and infrared ensure that you can see the details.
Continuous or event-based surveillance
Capture everything or capture selectively based on events including motion detection, sound detection or scheduled times.
Auto-discovery by FortiRecorder NVRs
Setup is a snap: plug into FortiRecorder network and the rest is automatic.
Highlights:
FortiCamera FD40
A flagship of Fortinet's Network camera lineup this model has it all. High-performance 4MP resolution at 30 fps captures the smallest detail through a precision motorized 3x autofocus zoom lens. Complicated or low light situations are mastered with ease using True Shutter Ultra-WDR (>120 dB) and excellent low light sensitivity (0.01lx in b/w). In case this is not enough, a long range 130-foot IR spot will brighten the darkest scene. Triple-axis wall or ceiling mount plus 3/4" EMT conduit compatibility are the professional choice for installation. This rugged camera is designed to IK10 rating for vandalism and is suitable for extreme temperatures from -55°C to +55°C while still using standard PoE 802.3af.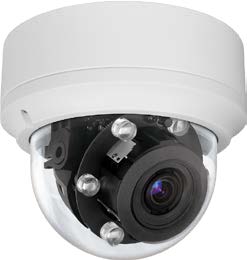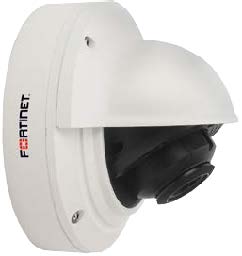 FortiCamera FD20
This fixed dome camera is a popular configuration and delivers outstanding flexibility and utility at an affordable price. The crisp 1080p resolution image can cover up to 91degrees horizontal making it perfect for left to right corner views. Its direct wall mountable triple-axis modular design allows mounting flexibility by installing the baseplate and housing first while adding the camera module later. Rated IK10 for vandalism, removable sun shield and indoor/outdoor capabilities with good 100-foot IR range round this versatile camera model.
FortiCamera MD20
With smooth lines and unobtrusive size, this camera looks good indoors and it is tough enough for sheltered outdoor positions. Despite the small package it has full HD 1080p resolution at 30 fps. The easy to adjust eyeball design can point the 70-degree view fixed lens at doors, customer areas, reception desks or hallways. When the lights go out a high powered IR LED steps in giving you carefree 24/7 surveillance.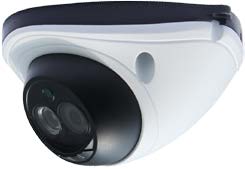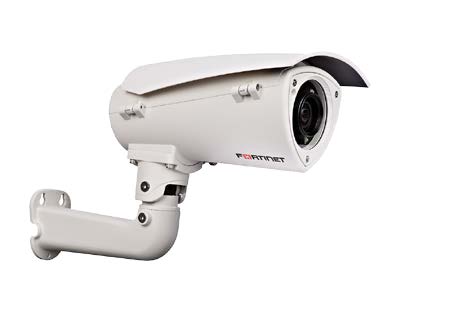 FortiCamera OB30
Bold and rugged — this camera makes a statement both visually and technically. Performance features like the 3x motorized zoom lens with autofocus generating razor sharp images on the 3 megapixel sensor are enhanced by the sturdy housing rated IK10 for vandalism and IP67 for water and dust resistance. The integrated heater extends temperature range to -40–60°C. To master high contrast light situations the FCM-OB30 has a >100 dB Shutter WDR mode. Smart IR harnesses the power of its 100-foot range LED illumination by automatically lowering intensity if close targets appear. This avoids overexposure while still keeping the full night vision range.
FortiCamera CB20
The FortiCam CB20 offers great quality video in almost any situation. It's compact design looks good indoors and out. The wide angle varifocal lens delivers crisp panoramic views or zoomed-in views for details. Advanced infrared LED technology delivers an extended 100-foot range at night. Mounting in any direction is a breeze with the sturdy cable-managed bracket. A no-frills approach and focus on core features makes this model a price/performance winner.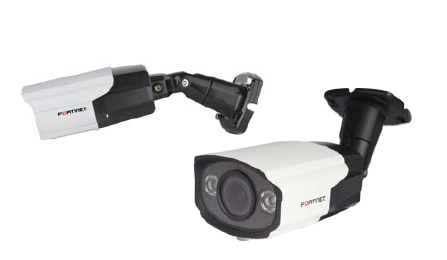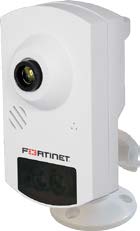 FortiCamera MB40
Designed with a clean and modern housing, the premium FCM-MB40 mini box camera combines versatility with easy setup. Small and lightweight with a swivel bracket that can be mounted on the top or back of the camera, it is very easy to install. This is a perfect choice for entrances and door surveillance where the true Wide Dynamic Range (>120 dB) masters challenging light contrasts and faces can be captured with high resolution clarity. The wide angle 100-degree lens allows good overview in confined indoor environments. Audio is supported with the built-in microphone. For low light and even complete darkness, this camera has incorporated Day/Night mode, 3D motion compensated noise reduction and a 15-foot IR illuminator.
FortiCamera SD20
Any video surveillance project will benefit from the addition of professional-grade FortiCamera FCM-SD20 high-speed dome cameras in strategic positions. Its 360-degree continuous pan operation and above-horizon tilt provides a watch-tower overview. Quickly look around and smoothly follow incidents with precision mechanics and high-quality autofocus. Then narrow it down utilizing ultra-fine adjustment/positioning.
View close-up detail, identify faces and read license plates at long distances with 2MP HD digital clarity. The superior optical 30x zoom range is supported by electronic image stabilization to allow steady shots at long range even if wind or vibration is present.
For ease of mind, true wide dynamic range (shutter WDR >96dB) masters tricky light situations while 0.09lx night sensitivity generates great images even in dimly lit areas.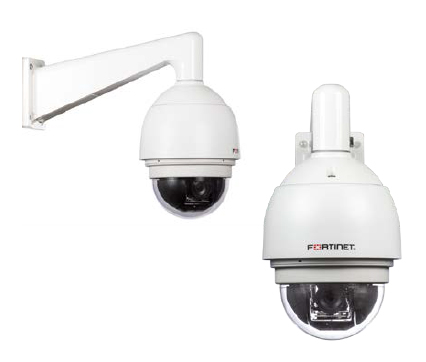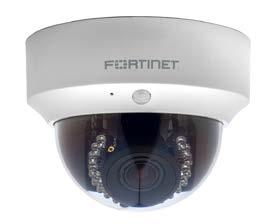 FortiAPCam 214B
Integrating a camera plus WiFi access point, the FortiAPCam 214B cuts clutter and simplifies the installation of your security and your wireless systems by combining the two. It delivers the high-security wireless networking that Fortinet's access points are known for in the body of a high-resolution day and night security camera with a wide dynamic range, passive infrared sensor, DI/DO and tamper detection.
Wide dynamic range (WDR) technology compensates for lighting imbalances, capturing detail that other cameras can miss. Built-in infrared LED lights allow it to see in the dark up to 45 feet away. Varifocal lens with wide viewing angle to match almost any situation. The passive infrared (PIR) sensor detects motion up to 15 feet away, automatically activating the infrared lights. The built-in wireless access point delivers secure, identity-driven WiFi access. Managed by a FortiGate or FortiWiFi platform with its integrated wireless controller, the FortiAPCam 214B allows you to deploy a comprehensive integrated security solution for your wireless and wired networks. The access point is 802.11 a/b/g/n standards-based and operates on both 2.4 GHz b/g/n and 5 GHz a/n.
Specifications:
FORTICAMERA MB40
Description
Day/Night IP Video Security Camera
Format
Mini Box, Indoor
Sensor Type
4 mega-pixel, 1/3" Progressive CMOS
Iris
F2.0, fixed
Optical Zoom
–
Digital Zoom
–
Focal Length
f = 2.8 mm
View Angle
H: 100°
Minimum Illumination
0.1 Lux (Color), 0.01 Lux (B/W) @ F2.0
Wide Dynamic Range
Shutter WDR (>120 dB)
Streaming Protocols
RTSP
Video Compression
MJPEG / H.264 (MPEG-4 Part 10/AVC)
Image Resolution
2688 x 1512 at 15 frames per second
2304 x 1296 at 30 frames per second
1920 x 1080 at 30 frames per second in Shutter WDR mode
SXGA / 720P / XGA / SVGA / D1 / VGA / CIF
Audio
Two-way, built-in mic and speaker
Interface
1 DI, 1 DO, RJ45 Ethernet 10/100 Mbps
Mounting
Wall, ceiling, bracket included
Operation
Pan / Tilt
–
Presets / Accuracy / Speed
–
IRLED / IRC
5m / Yes
EIS / DNR
– / 3DNR
Dimensions
Height x Width x Length (inches)
3.8 x 2.2 x 2.4
Height x Width x Length (mm)
97 x 56 x 61
Weight
0.26 lbs (120 g)
Environment
Power Source
PoE (802.3af) / DC 12V
Power Consumption (Average)
4.6 W IR ON
Operating Temperature
14–122°F (-10–50°C)
Humidity
10–90% non-condensing
Compliance
Regulatory and Standards
CE / FCC / RoHS
Pricing Notes:
Pricing and product availability subject to change without notice.
Fortinet FortiCam-MB40 Series
Fortinet FortiCam-MB40

Fortinet FortiCam-MB40
4 Megapixel Fixed Mini Box IP Camera, 5m IR LED, 2.8mm fixed lens, 1x 10/100 port with 802.3af PoE, Indoor Use
#FCM-MB40
List Price: $369.00
Our Price: $332.00
8x5 FortiCare Contract
*8x5 Support, Hardware Replacement, Firmware and General Upgrades, VPN, Traffic Management
1 Year 8x5 FortiCare Contract for FortiCam-MB40
#FC-10-CMB40-311-02-12
List Price: $18.45
Our Price: $16.00
3 Year 8x5 FortiCare Contract for FortiCam-MB40
#FC-10-CMB40-311-02-36
List Price: $48.43
Our Price: $42.00
5 Year 8x5 FortiCare Contract for FortiCam-MB40
#FC-10-CMB40-311-02-60
List Price: $80.72
Our Price: $70.00
24x7 FortiCare Contract
*24x7 Support, Advanced Hardware Replacement (Next Business Day), Firmware and General Upgrades, VPN, and Traffic Management
1 Year 24x7 FortiCare Contract for FortiCam-MB40
#FC-10-CMB40-247-02-12
List Price: $36.90
Our Price: $32.00
3 Year 24x7 FortiCare Contract for FortiCam-MB40
#FC-10-CMB40-247-02-36
List Price: $96.86
Our Price: $84.00
5 Year 24x7 FortiCare Contract for FortiCam-MB40
#FC-10-CMB40-247-02-60
List Price: $161.44
Our Price: $140.00