Fortinet FortiAP-224E

802.11ac Wireless Access Points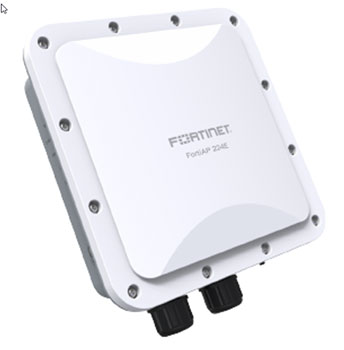 Fortinet FortiAP-224E Series
FortiAP-224E

FortiAP-224E
Dual radio outdoor wireless wave 2 AP with internal antenna (802.11 b/g/n and 802.11 a/n/ac/ac2, 2x2 MU-MIMO), BLE radio, 2 x GE RJ45 port and 1 SFP port. IP67 water resistance, and 802.3af PoE powered. Region Code A
#FAP-224E-A
List Price:
$700.00
Our Price: $516.00
Click here to jump to more pricing!
Overview:
The Need for a Fortified Wireless LAN
Enterprises are looking to increase productivity through uninterrupted access to applications and resources, without compromising security and agility. You want to increase visibility and control of your wireless network traffic by enforcing the same policies as your wired network and eliminate potential blind spots. You also need a solution that meets compliance by proactively blocking unauthorized access, all while providing tools for business continuity by following industry best practices.
Integrated Wirespeciless Security and Access Solution
Fortinet's FortiAP wireless thin access points deliver secure, identity-driven WiFi client access that creates a fortified WLAN network. Centrally managed by a FortiGate® or FortiWiFi™ platform with its integrated Wireless Controller, FortiAPs allow you to deploy a comprehensive, integrated security solution for your wireless and wired networks. By acting as a Wireless Controller, FortiGate or FortiWiFi security platforms enable you to deploy comprehensive Unified Threat Management (UTM) protection over your wireless network.
Highest Performance and Most Versatile Thin Access Point
The FortiAP-221 and FortiAP-320C are IEEE 802.11a/b/g/n/ac standards-based, and operate on both 2.4 GHz b/g/n and 5 GHz a/n spectrums. Supporting the latest 802.11ac technology, including 80 MHz channels width, both access points achieve a 280% throughput improvement over their 802.11n equivalents.
The FortiAP-221C is a next generation smoke detector form factor access point, perfect for discrete installations, such as hotel or school hallways. Supporting 2x2 MIMO technology with two spatial streams, this access point provides association rates of up to 867 Mbps.
The FortiAP-320C has been designed with dual redundant PoE Ethernet ports which provide maximum resiliency and wireless network uptime, making this AP ideal for mission critical environments such as hospitals and factories. This access point is sealed and can withstand an extended temperature range, making it suitable for non temperature controlled warehouse type environments. The plenum-rated enclosure also allows deployment above ceiling tiles in office environments. Leveraging powerful 3x3 MIMO technology and three spatial streams, this access point provides association rates of up to 1,300 Mbps.
The FortiAP-224E is a new member of our 802.11ac Wave 2 family with MU-MIMO capability and transmit beam forming capable of handling an astounding 512 clients per radio. This high-performance dual-band AP is ruggedized with an Ingress Protection IP67-rated enclosure capable of withstanding extended temperature ranges. The FortiAP-224E is suitable for deployment in the harsh conditions. It has 4 internal antennas for WiFi and one Bluetooth and also provides SFP cage to allow for long-distance fiber connectivity and is suitable for mission-critical bridging or mesh deployments.
High Performance Secure Thin Access Points
Supports latest 802.11ac technology with association rate of up to 1.3 Gbps
Leverage existing FortiGate or FortiWiFi platforms as controllers for low TCO
Full range of authentications and access options for all use cases
Integration with FortiManager and FortiAnalyzer for centralized management and reporting
Fast roaming for uninterrupted data access
Automatic Radio Resource Provisioning (ARRP) for optimized throughput
Flexible deployment options with simple per device pricing
Layer 7 application QoS for maximum business productivity
Rogue AP detection and mitigation to satisfy PCI DSS compliance
Features:
Differentiating Features & Benefits
Enterprise Unified Threat Management
Protects your network with the widest range of security and networking technologies seamlessly integrated into a single device: Firewall, IPS, Application Control, VPN, Web Filtering, and many others.
Application-Layer Quality of Service
Going above and beyond Wireless Multimedia Extensions (WME) by offering layer 7 traffic shaping and application use control.
Robust Rogue AP Control
Industry's most comprehensive monitoring, detection and suppression of rogue APs for PCI DSS compliance.
'Single Pane of Glass' Management Console
Unmatched visibility and control of all wired and wireless network traffic that eliminates blind spots in your security infrastructure and ensures consistent and effective policy enforcement and compliance.
TX Beam Forming (TxBF) and Maximal Ratio Combining (MRC)
Leads to wider coverage and optimum performance due to extended rate over a longer range.
Specifications:
FortiAP-224E
Hardware
Indoor/Outdoor Deployment
Indoor/Outdoor Universal AP
Number of Radios
2
Number of Antennas
4 Internal
Peak Antenna Gain
6 dBi for 2.4 GHz, 8 dBi for 5 GHz
Frequency Bands (GHz)*
2.400–2.4835, 5.150–5.250, 5.250–5.350, 5.470–5.725, 5.725–5.850
Frequency of Radio 1
2.4 GHz b/g/n (2x2:2 stream) 20/40 MHz (256 QAM)
Frequency of Radio 2
5 GHz a/n/ac (2x2:2 stream) 20/40/80 MHz (256 QAM) MU-MIMO 2 simultanous devices
Throughput
Radio 1 – Up to 400 Mbps, Radio 2 – Up to 867 Mbps
Ethernet Port
1x GE RJ45, 1x GE RJ45 (PoE)
Optical Fiber
1x SFP cage
Serial Console Port
Internal console port
Power over Ethernet (PoE)
IEEE 802.3af/at (12.5 W / 30 W)
Simultaneous SSIDs
16 (14 if background scanning enabled)
EAP Type(s)
EAP-TLS, EAP-TTLS/MSCHAPv2, EAPv0/EAP-MSCHAPv2, PEAPv1/EAP-GTC EAP-SIM, EAP-AKA, EAP-FAST
User/Device Authentication
WPA™ and WPA2™ with 802.1x or Preshared key, WEP and Web Captive Portal, MAC blacklist & whitelist
Maximum Tx Power
24 dBm (251 mW) @ 2.4 GHz per chain
24 dBm (251 mW) @ 5 GHz per chain
Physical Security
N/A
IEEE Specifications
802.11a, 802.11b, 802.11d, 802.11e, 802.11g, 802.11h, 802.11i, 802.11j, 802.11n, 802.1x, 802.3af, 802.11ac, 802.3at, 802.3az
FortiPresence Capable
Yes
Wireless Mesh Capable
Yes
Modes of Operatio
FortiGate or FortiCloud management
SSID Types Supported
Local-Bridge, Tunnel & Mesh (when managed by controller)
FortiDeploy & FortiCloud Key
Yes
Concurrent Clients Per Radio
(Maximum / Recommended)
512 / 40
LED Off Mode
Yes
Wireless Monitoring Capabilities
802.11ac Wave2 MU-MIMO
Yes
Transmit Beam Forming (TxBF)
Yes
Low-Density Parity Check
(LDPC) Encoding
Yes
Maximum Likelihood
Demodulation (MLD)
Yes
Maximum Ratio Combining (MRC)
Yes
A-MPDU and A-MSDU Packet Aggregation
Yes
MIMO Power Save
Yes
Short Guard Interval
Yes
WME Multimedia Extensions
Yes (4 priority queues for voice, video, data and background traffic)
Wireless Monitoring Capabilities
Frequencies scanned
2.4 and 5 GHz
Background scan with client access on 2.4 and 5 GHz
Supported
Full-time scan as dedicated Monitor
Supported
Full-time scan with client access on 5 GHz
Supported
Dimensions
Length x Width x Height
8.4 x 8.4 x 2.66 inches (214 x 214 x 67.5 mm)
Weight
3.8 lb (1,735 g)
Package (shipping) Weight
5.82 lb (2.64 kg)
Mounting Options
Adjustable Pole mount kit (right/left rotation: 25°, tilt up: -20°, tilt down: 90°)
Included Accessories
Wall/Pole mount kit and 6M grounding cable
Environment
Power Adapter**
PSE Device
Power Consumption (Avg / Max)
14.33 W / 18.33 W
Humidity
5% to 90% non-condensing
Operating / Storage Temperature
-4–149°F (-20–65°C) / -4–158°F (-20–70°C)
Directives
Low Voltage Directive • RoHS
UL2043 Plenum Material
N/A (Top Cover)
Mean Time Between Failures
>10 Years
IP Rating
IP67
Certifications
WiFi Alliance Certified
In Process
DFS Certified
In Process
CB
IEC 60950-1
UL
UL 609550-1, CSA C22.2 No. 60950-1
FCC
FCC Part 15 Subpart B (Class B), Subpart C and Subpart E
IC
RSS-247, RSS-GEN, RSS-102, ICES-003
CE
CE R&TTE Directive 2014/53/EU (EN 300 328, EN 301 893, EN 301 489, EN62311)
EMC Directive 2004/108/EC (EN55032, EN 55024)
Warranty
Limited Lifetime Warranty
1 Year
Pricing Notes:
Pricing and product availability subject to change without notice.
Fortinet FortiAP-221C Series
FortiAP-224E

FortiAP-224E
Dual radio outdoor wireless wave 2 AP with internal antenna (802.11 b/g/n and 802.11 a/n/ac/ac2, 2x2 MU-MIMO), BLE radio, 2 x GE RJ45 port and 1 SFP port. IP67 water resistance, and 802.3af PoE powered. Region Code A
#FAP-224E-A
List Price:
$700.00
Our Price: $516.00
FortiAP-224E 24x7 FortiCare Contract
FortiAP-224E 1 Year 24x7 FortiCare Contract
#FC-10-P228E-247-02-12
List Price:
$70.00
Our Price: $61.00
FortiAP-224E 3 Year 24x7 FortiCare Contract
#FC-10-P228E-247-02-36
List Price:
$210.00
Our Price: $181.82
FortiAP-224E 5 Year 24x7 FortiCare Contract
#FC-10-P228E-247-02-60
List Price:
$350.00
Our Price: $303.03
FortiAP-224E 8x5 FortiCare Contract
FortiAP-224E 1 Year 8x5 FortiCare Contract
#FC-10-P228E-311-02-12
List Price:
$35.00
Our Price: $30.00
FortiAP-224E 3 Year 8x5 FortiCare Contract
#FC-10-P228E-311-02-36
List Price:
$105.00
Our Price: $90.91
FortiAP-224E 5 Year 8x5 FortiCare Contract
#FC-10-P228E-311-02-60
List Price:
$175.00
Our Price: $151.51
Accessories
Fiber Cable connection for FAP-224E (10 pack) - Weatherproof -- SFP optics not included
#FAP-224E-FBR-10
Our Price: $575.00
Premium Mounting Kit for FAP-224E (5 pack)
#FAP-224E-MNT-5
Our Price: $747.50